Microsoft Excel is the most commonly used software in the world for data storage and manipulation. It makes use of spreadsheets for the purpose of organization of data which can then be analyzed using different formulas and statistical analysis tools. MS Excel is a very reliable software tool. However, just like any other software application, MS Excel is prone to error messages as well. Excel files can get corrupted which can result in loss of data. There are several error messages that can crop up if an MS Excel file gets damaged. The MS excel file of data lost error is among them.
Part 1: What is the MS Excel Document Error?
The MS Excel Document Error which is also known as the MS Excel File of Data Lost Error is a common error that is encountered when using MS Excel. The actual error message that you see on your screen upon opening the excel file is "File Error: Data May Have Been Lost". Seeing this error message must be a cause of serious concern to you. Such error messages indicate that there is a possibility that some or all of the data that is on the excel file might have been lost. There can be a number of reasons for the appearance of this error message. The following are some of the possibilities.
1. Opening File in a Different Version of MS Excel
Usually, the MS Excel document error is caused when you try opening a file that was created in a previous version of the software in a newer version. Since the older version does not have the features that are a part of the newer version, the software thinks that the excel file is missing them and generates the error that some data may be lost. So, this error message shouldn't be a cause of much concern to you as there is no actual loss of data. You can easily resolve this error by simply opening the file in the older version of Excel in which it was created.
2. Corruption of the MS Excel File
The second reason that can cause this error message to flash across your screen is corruption of the MS Excel file that you wish to open. Now, there can be various reasons for the excel file to get damaged enough for the software to display this error message. The following are some of the factors that can cause an excel file to get corrupted.
Virus Infection
Viruses can cause excel files to corrupt. A corrupted excel file can lose data very easily, resulting in the displaying of this error message when they are opened. In such an event, you would have to repair corrupted excel file in order to resolve this issue.
Unexpected System Shutdown
If the system isn't shut down properly because of a sudden power cut or human error then again the excel files that are open at that time might get damaged. These damaged excel files might lose data too. When such damaged excel files are accessed, the software generates this error message.
Corruption of the MS Excel
Corruption of the MS Excel software might also be a reason that results in the corruption of excel files and consequently in the appearance of the "file of data lost" error message.
Part 2: With 'Open and Repair' Feature to Repair Corrupt or Damaged Excel File
If a corrupted excel file is the reason for the displaying of the MS excel document error then you will have to do an Excel file repair to fix it. One of the ways through which you can repair a corrupt or damaged excel file is by using the 'Open and Repair' feature provided by the Excel software. Here is how you can use it to repair corrupted excel file.
Step 1: Click 'Open' after clicking 'File'
Step 2: In the dialog box that appears, search for the damaged excel file.
Step 3: Select the damaged workbook.
Step 4: Find the Open and Repair option in the menu that appears after clicking the arrow located next to the 'Open' button.
Step 5: Pick the Open and Repair option for recovering the data from the corrupted excel file.
If this method fails to repair corrupted excel file then you will need to make use of an excel repair tool for fixing both the corrupted file and the MS excel document error message.
Part 3: How to Repair MS Excel File with Excel Repair Tool
The Stellar Phoenix Excel Repair software is the best excel repair tool available in the market at the moment for repairing corrupted excel files. It has all the features present in it which are needed for fixing common issues associated with MS Excel.
Microsoft Excel Repair Tool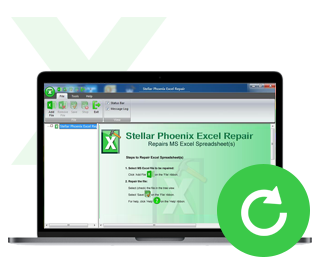 Recovers all kind of data stored in damaged excel file such as tables, charts, formulas, comments, images, etc.
It can operate both XLS and XLSX files.
Default cell formatting is preserved in recovering process.
This excel file repair tool can be used on both windows and Mac platforms in order to repair corrupt excel file.
All kind of MS office corruption errors (for XLS and XLSX files only) can be handled with this tool.
This excel file repair tool can repair damaged files of all versions from 2000 to 2016 that includes 2000, 2003, 2007, 2010, 2013, etc.
This professional Excel Repair tool feature can be used for fixing corrupted excel files with consummate ease. This step-by-step guide will teach you how to use this feature of this excel repair tool.
Step 1 Add the corrupted files in need of repair into the Stellar Phoenix Excel Repair by using the 'Add File' option. You can find it in the menu labeled as 'File'.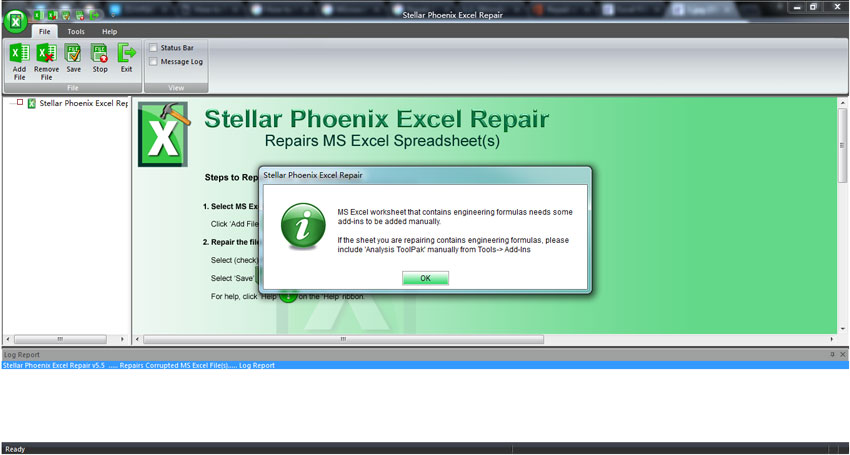 Step 2 Search for corrupted files by using any of the three options available to you, 'Select File', 'Select Folder' or 'Search File(s)'.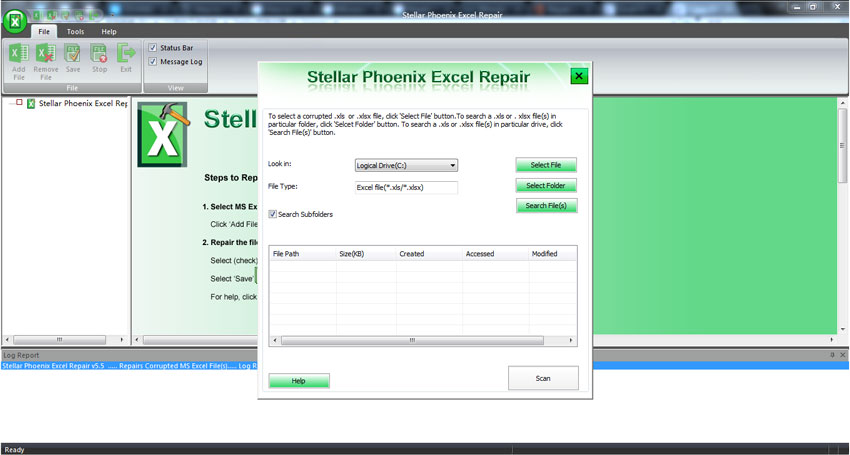 Step 3 After finding the corrupted file, select it and then click on 'Scan' to begin the repair process.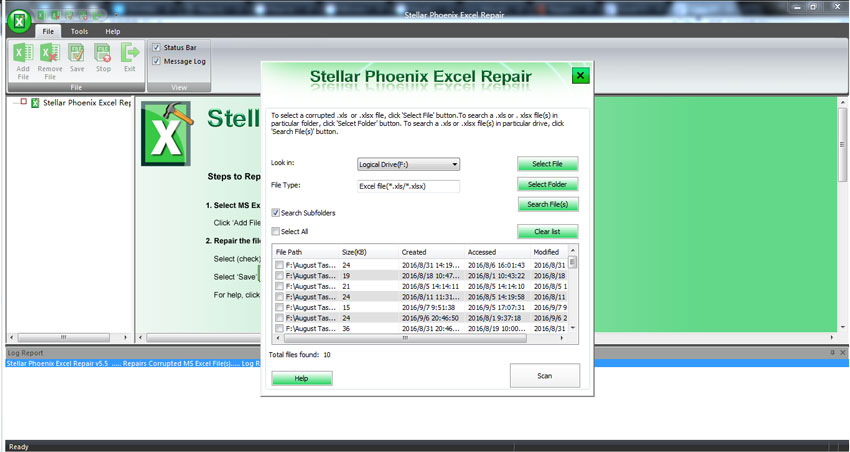 Step 4 Preview the contents of the file that you have selected to repair by clicking on the file in the family tree located on the left of the screen.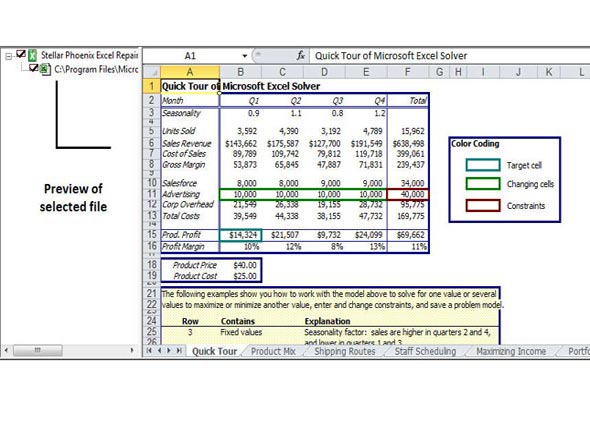 Step 5 Choose the saving location of the repaired file by choosing either 'Default Location' or 'Select New Folder' in the Advanced Options dialog box and hit 'OK'.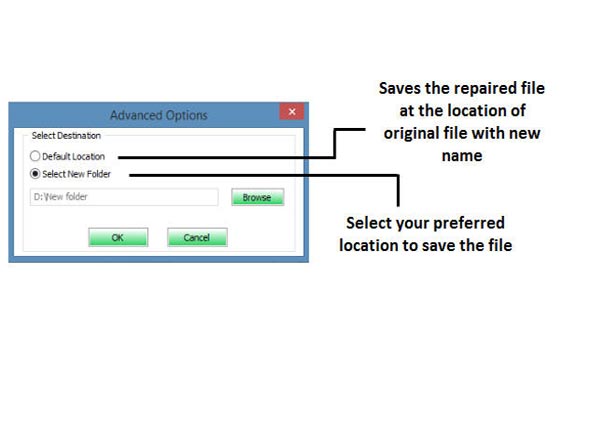 Tips:
Corruption of excel files can be avoided by making use of simple precautionary measures. These include, periodic creation of backup files and recovery copies of excel files, ensuring proper shutdown of the system and making use of a good anti-virus software program.
The following tips can come in handy for fixing the MS Excel file of data loss error if all methods of excel file repair fail.
Try storing the file in the XML/HTML format and then converting it to its original XLS format.
Using a macro for extracting data is an option if a chart is being used by the file which is linked to damaged file.
Recover & Repair Files
Recover Document Files

Repair Document Files

Recover & Repair More

Clear & Delete File