"A while back, I transferred some of my photos from my digital camera to my laptop, but now most of them have been damaged. Is there any way to recover corrupted images so that I can get them back?"
It might sound surprising, but a lot of people undergo a similar situation on a daily basis. Too many times, while transferring photos or simply accessing them, we end up corrupting our files. While there could be countless of reasons for this – we can make an effort to do corrupted photo recovery to get our precious memories back. To help you do the same, we have come up with two detailed solutions to do damaged photo repair and recovery in this guide. Let's uncover these solutions one by one.
Part 1: Why Do Photos Get Corrupt?
Before diving into details and fix old photos, it is important to cover the basics. For instance, you should know why your photos were damaged in the first place. Following are some of the common reasons for pictures getting corrupt:
If the system has been restarted or turned off while the photo was still being processed in the background.
The storage unit or hard drive sector storing your photos could be corrupted.
The source can also be infected by a malware or virus attack.
A third-party tool (like an image editor or viewer) could have mishandled your photos, making them corrupt.
If the extensions of the photos or their meta content are changed forcefully, it can cause permanent damage to the file.
The file system of your computer or a driver could be corrupt as well.
---
Part 2: Recover Corrupted Photos with a Photo Recovery Freeware
Losing all those precious photos can be a nightmare for anyone. Since the situation can happen out of the blue, it is better to be prepared beforehand. If you have also lost your photos, then consider using Recoverit Data Recovery. It is a freeware that runs on every major Windows and macOS version. The application can help you get back your lost, deleted, and inaccessible photos. Therefore, if some of your photos are unavailable or you are not able to access them the usual way, then it will restore damaged photos in no time.
With Recoverit, you can scan any partition, drive, or folder and get back all kinds of lost and inaccessible data from it.
It supports more than a 1000 different file formats, including every major photo extension like JPG, BMP, PNG, GIF, TIFF, CRW, CR2, and so on.
The interface will provide a preview of the files it is able to retrieve. This will let you select the photos you want to restore instead of saving everything in one go.
Recoverit Data Recovery is extremely easy to use and is known for its high data recovery rate (98%).
Apart from the system's internal disk, it also supports numerous other sources like SD card, USB drive, external hard disk, digital camera, drones, camcorders, and more.
There are different versions of Recoverit available for Windows and Mac. The basic version comes for free and can recover up to 100 MB of data. The Pro version supports unlimited recovery of data.
If your system is suffering from a corrupt storage or an external source has been tampered with, then simply follow this basic drill using Recoverit.
Step 1: Choose a location to scan
Firstly, launch the Recoverit Data Recovery application on your computer. You can view the available partitions, drives, and even externally connected devices from here. If you want, you can browse a specific folder to scan to save time and resources.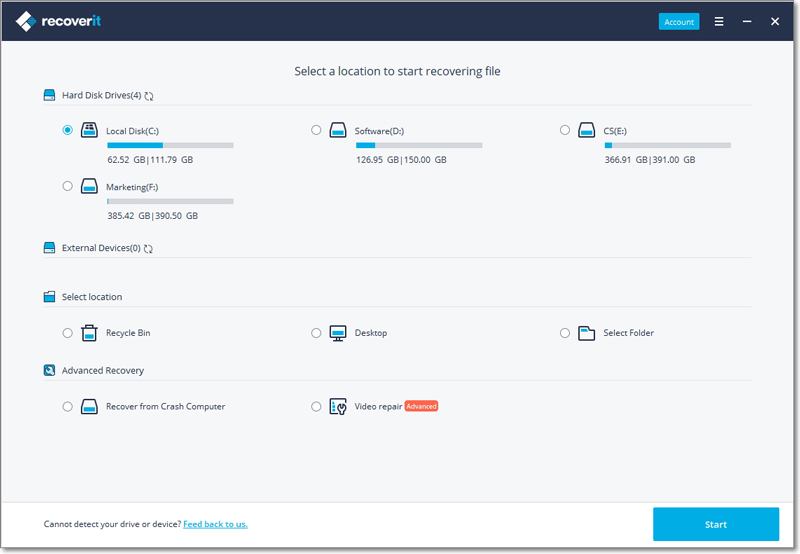 Step 2: Wait for the scan to be over
Once you select a location to scan, click on the "Start" button and let the tool extract your lost photos. Since it might take a while, it is recommended to wait for the scan to be completed. Though, if you want, you can also halt the process in between.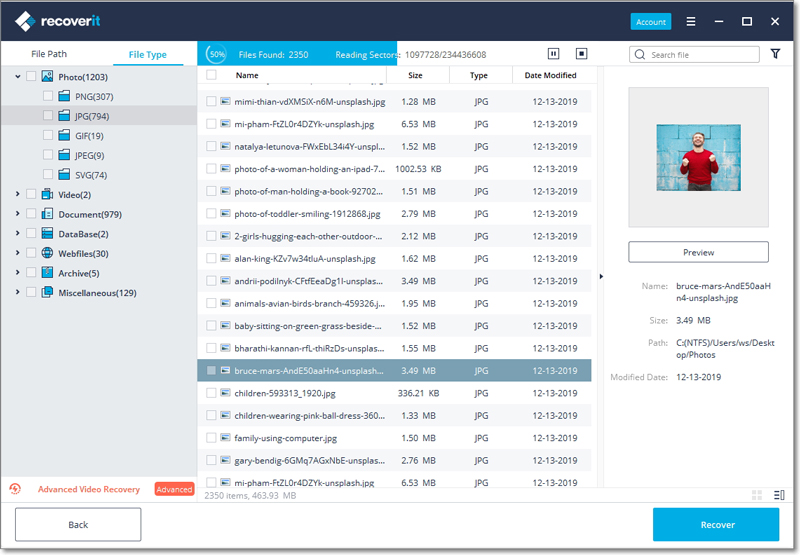 Step 3: Recover your lost photos
That's it! Once the scan is over, all the recovered pictures will be displayed under different categories. You can now preview the extracted data and select the photos you want to save. Click on the "Recover" button in the end and save your photos to any other secure location.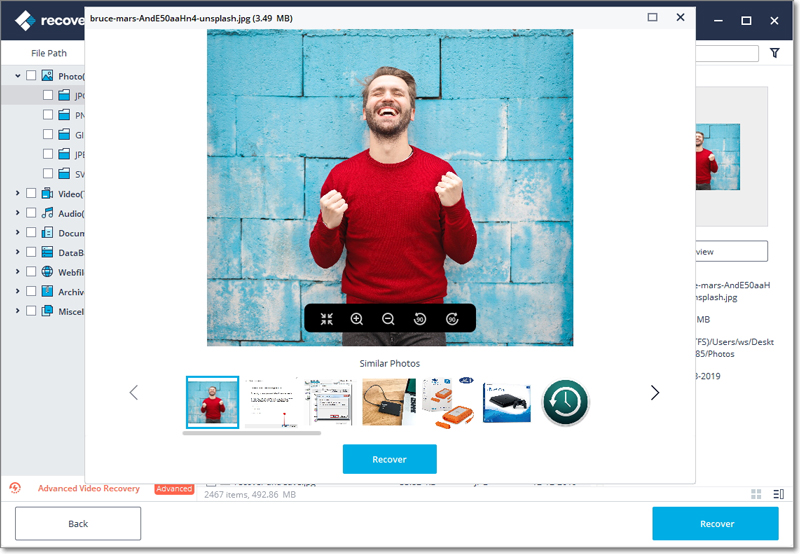 ---
Part 3: Repair Corrupted/Damaged Photos with an Image Repair Tool
If your photos are still accessible and present in a storage unit, but you still can't view them, then it means that these files have been corrupted. To do damaged photo repair, you can use a reliable tool like Stellar Phoenix JPEG Repair. As the name suggests, this corrupted photo recovery tool can fix all sorts of damaged pictures and restore them to their original quality.
It is the DIY photo repair tool that supports all kinds of image formats like JPEG, ARW, GIF, PNG, BMP, RAF, and more.
Apart from that, it also supports raw image formats like RW2, CRW, ERF, CR2, MRW, NEF, NRW, etc.
It can repair old and corrupt photos under different scenarios like pixilated, blurred, distorted, or split images.
The tool can also extract the thumbnail or fix the meta content of a damaged picture.
The corrupted photo recovery tool has a high success rate and is extremely easy to use.
To start with, you can just visit the official website of Stellar Phoenix JPEG Repair and install it on your Mac or Windows PC. Once it is done, just follow these simple steps to recover corrupted images.
Step 1: Load corrupted photos to recover
As you would launch the application, you would be asked to add the corrupted files on it. Just click on the "Add File" button to open a browser window. Now, you can browse and select multiple photos that you wish to repair.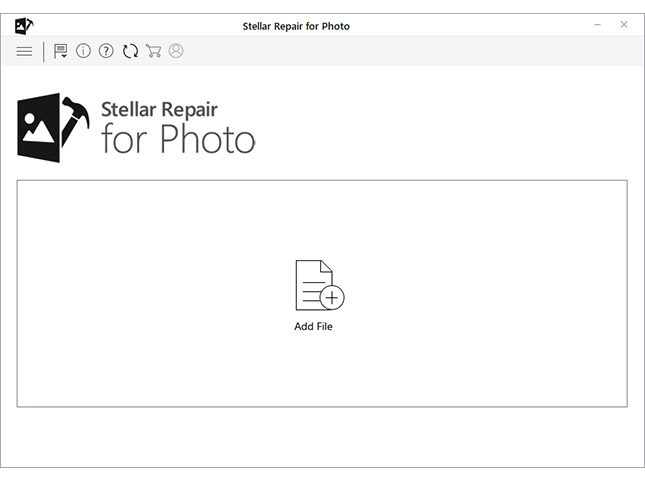 All the photos that you have selected will now be displayed on the interface with their details. You can just mark the pictures of your choice (if needed) and click on the "Repair" button to restore old damaged photos.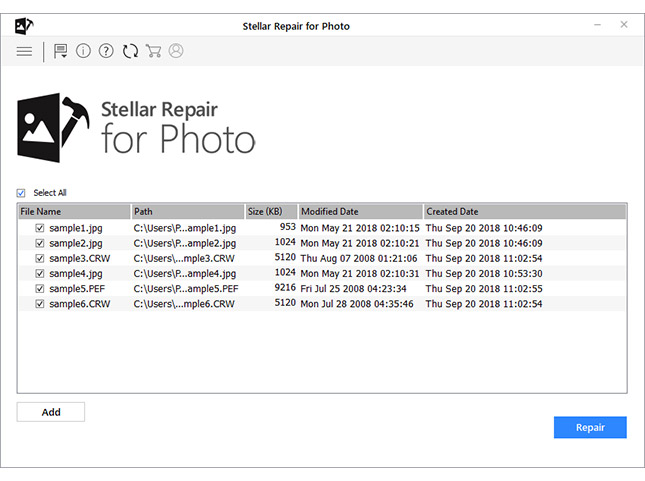 Step 2: Wait for the process to be completed
Sit back and wait for a few minutes as Stellar Phoenix would perform the damaged photo repair process. The overall time taken would depend on the number and size of the photos added. There is an on-screen indicator to let you know the progress of the entire process.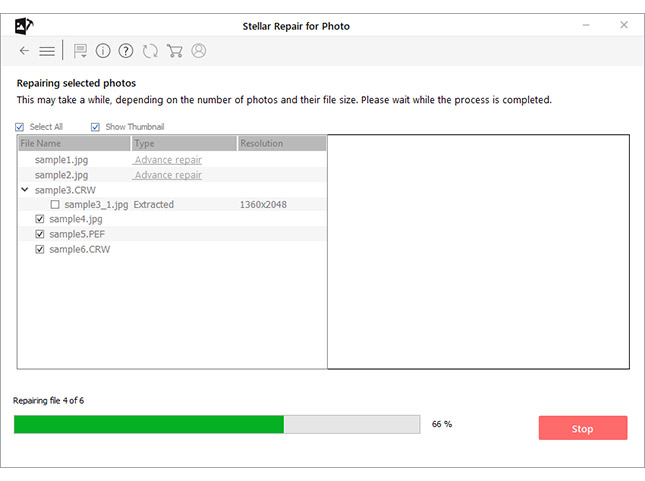 Step 3: Preview and save your pictures
When the process is completed, you can view the detailed results and even preview the repaired photos. If you are not satisfied with the results, then you can click on the "Advanced Repair" option adjacent to the file.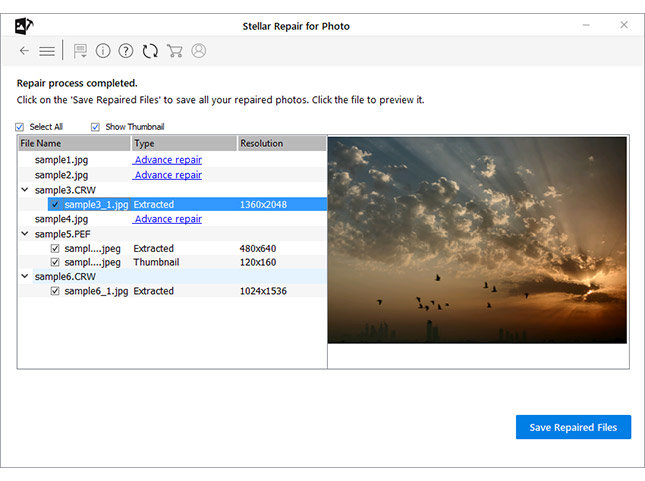 Select the photos you were able to repair and wish to save. Once you click on the "Save Repaired Files" button, a browser window will open so that you can select the location to save your repaired photos.
That's it! Who knew it would be so easy to repair old or corrupted photos under different scenarios. To make things easier for you, we have listed two different solutions to do corrupted photo recovery. If your photos are lost or inaccessible, then you can just try Recoverit Data Recovery for free. On the other hand, if you wish to restore damaged photos, then Stellar Phoenix JPEG Repair would be an ideal choice. Go ahead and try either of these reliable tools and feel free to share your experience with us as well.
Solve Media File Problems
Recover & Repair Photos

Recover & Repair Videos

Recover & Repair Audios

Recover & Repair Cameras