Videos are the best means for people to express themselves. They are usually used for the purpose of capturing and preserving our most precious moments and memories in life. The availability of high-quality video cameras has meant that now people can record HD video with consummate ease. These videos can then be stored and played on a number of different devices and platforms. Be it your PC, your Smartphone or your tablet, you can watch HD videos that you have recorded using your HD video camera quite easily. However, watching HD videos can become a problem if they get corrupted. In such circumstances, it becomes necessary to repair corrupt HD video files before they can be viewed again.
Part 1: Common Reasons for Corruption of HD Video Files
The HD videos files come in a number of different formats. These formats are interchangeable with each other and an HD video file can be easily converted from one to the other. However, if the HD video file gets corrupted then it becomes impossible for you to do that. There are a number of reasons that can cause corruption of HD video files. The following are a few of the common factors that might result in an HD video file getting corrupted.
Malware or Virus Attack

Viruses and malware can attack a PC at any time. They are the number one cause of HD video file corruption. If you do not have an antivirus program to combat them, then they can easily infect your HD video files.

Transfer Error

Corruption of HD video files can also occur when you are transferring them from your camera's memory card to your PC. Ejecting the memory card too early from the PC while the transfer is being done can result in data corruption.

Conversion Error

Another reason why HD video files can get corrupted is if an interruption like a power cut occurs while they are being converted to another video file format.

System or Application Error

The system and the applications used to play HD video files are susceptible to error and issues too. System issues and application errors can also result in corruption of HD video files.
Part 2: The Best HD Video File Repair Utility
If you are facing the issue of HD video file corruption and can't open your HD videos on any platform, then you would have to use an HD video repair utility to repair them. These utilities are capable of restoring the content of the corrupt HD video files and make them as good as new. However, you need to be careful when selecting the HD video repair tool for repairing your HD video files. Not all of these utilities are reliable and most of them can't even repair corrupt HD video properly. Therefore, it is important that you only trust Stellar Phoenix Video Repair to repair corrupt HD video files, as it is the best HD video repair utility available on the internet.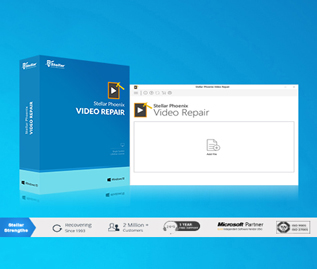 Fixes video corruption issues by rebuilding header, frame, movement, duration and sound damages.
Repairs video files on Windows like WMV, ASF, MOV, MP4, M4V, 3G2, 3GP and F4V files
Repairs video files on Mac like MP4, MOV, M4V, M4A and F4V
Repairs videos stored on hard drives, memory cards, and other storage media
Provides preview of the repaired video files of supported file formats.
Fixes various corruptions of the file on OS X and Windows OS systems.
Part 3: How to Repair Corrupt HD Video File
Free download Stellar HD Video Repair Utility on your pc computer, The following is a step-by-step guide that is going to take you through the process of how to repair corrupt HD video file using Stellar Phoenix Video Repair.
Step 1 Launch Stellar Video Repair tool, click on "Add File" to add corrupted HD video file.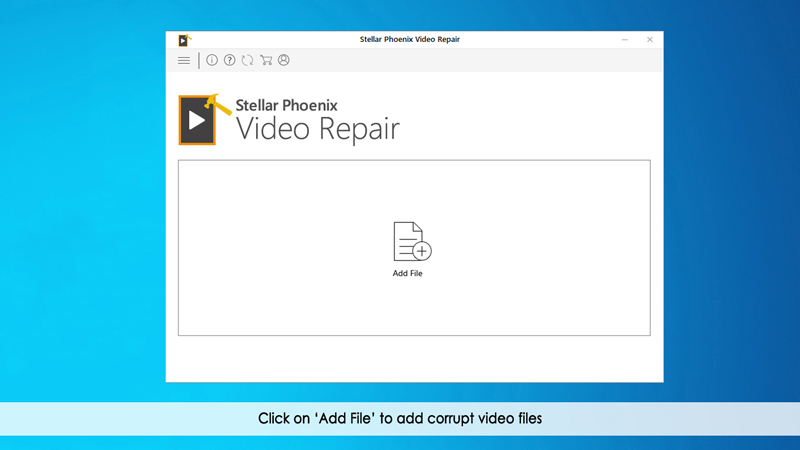 Step 2 Select your corrupted HD video files and click "Repair" button to process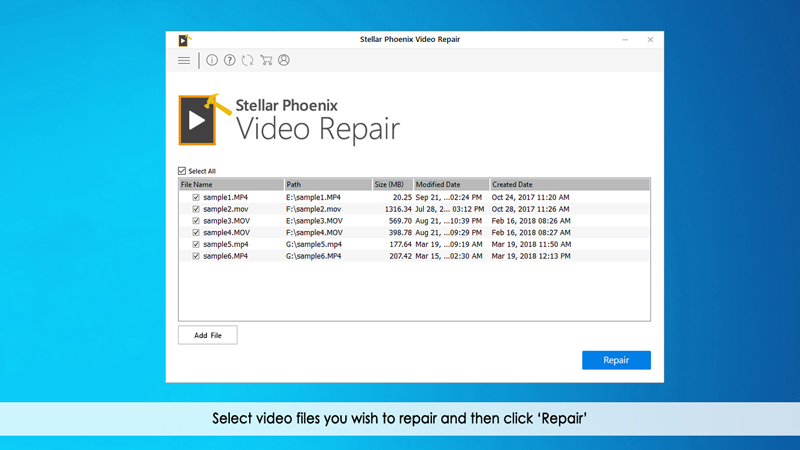 Step 3 Repairing corrupted HD video files in process.
Step 4 After repair process completed, your preview the repaired HD video files and save it to a destination.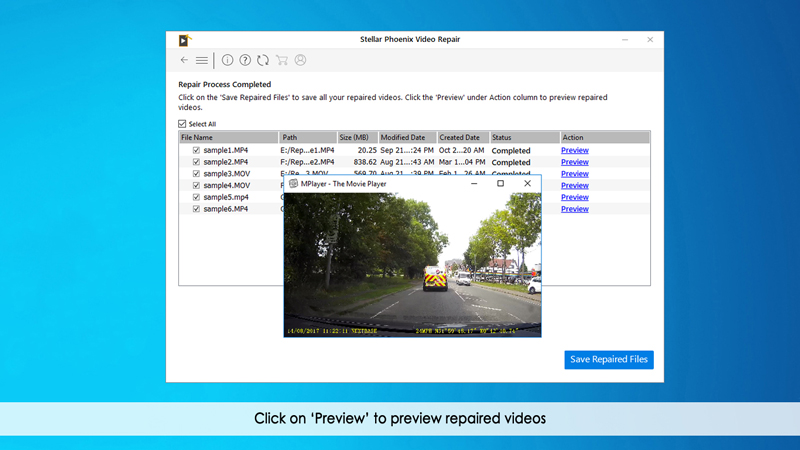 Precautions :
Take extra care when converting your video files from one format to another.
Do remember to update your antivirus program regularly.
Make sure that you don't eject the memory card from the PC while transferring video files from it into the system.
Make backup copies of your video files and store them in a separate location other than your local hard drive.