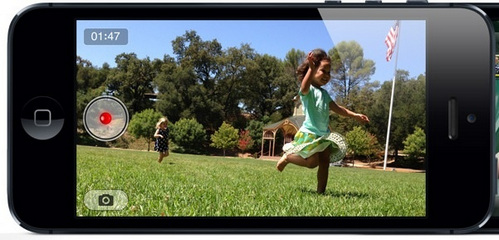 "Well, I recorded this video using ManyCam and my webcam. I tried recording some other videos with it first and it worked pretty well. The problem is when I recorded a long video of about 4 hours... Its size is about 4 GB, and when I try to play it, despite if it's ManyCap, Windows Media Player, VLC player, it won't work. In addition to that, the video on its properties does not show the actual lenght of the video. This is a really really important video to me, I wonder what I can do to play it. Is it possible?"
We record videos in our lives due to different reasons. If you are in an event or wedding, you may want to capture that moment so that you can send it to your groupies and family. For tutors, it is vital to record videos of their classes so that they can share it with other students virtually. In some other cases may be you have a blog or YouTube channel that you communicate with people and at times you need to record videos to convey messages to your audience. As you can see, people have different reasons for recording videos depending on the occasions.
After recording videos, you have to store the probably whether on your computer, external drive or memory cards. However, you may incur errors when you try to play your videos. And sometimes you would get messages: "Cannot play video. Sorry, this video cannot be played" or "Unable to play video. File has incorrect data." If you had recorded them and the process was not complete, they will fail to play. The reasons behind this are because the videos are have been corrupted. So what leads to corruption of videos?
Recording videos on low battery should be avoided as it will turn of your camera or camcorder while recording and interruption during video record will damage video and it refuse to play it on media player.
You will lose access to recorded video in case it is connected to a system which is severely infected with external threats such as spyware, malware, Trojan etc.
Recorded video of your camera or camcorder might get corrupted if you abruptly remove its memory card without following proper way.
Shutting down computer when camera is connected to it could damage entire video files which you have recorded from your camera.
Recorded videos can become corrupted in spite of all precautions. To get back corrupted recorded videos to normal state and fix can't play recorded video error, you can trust on Stellar Phoenix Video Repair software on both your Mac as well as Windows computer to eliminate errors from recorded video file which is damaged and failed to play normally.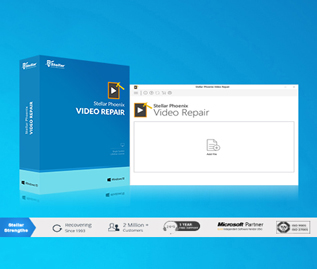 Repairs header corruptions in the recorded video files.
Repairs corruption in the sound section of damaged recorded video files.
Repairs errors in movement of the damaged recorded video.
Repairs damaged recorded video frames corruption.
Repairs errors in damaged recorded video slider movement.
Repairs corrupted data of damaged recorded video files.
Fix Can't Play Recorded Video on Windows 10 / 8.1 / 8 / 7 / Vista / XP.
Fix Can't Play Recorded Video on Mac El Capitan 10.11, 10.10, 10.9, 10.8, 10.7.
Video Repair Tutorial: How to Fix Can't Play Recorded Video
Step 1 Start the repairing of damaged HD video files by launching the software. Click "Add File" to add corrupted video files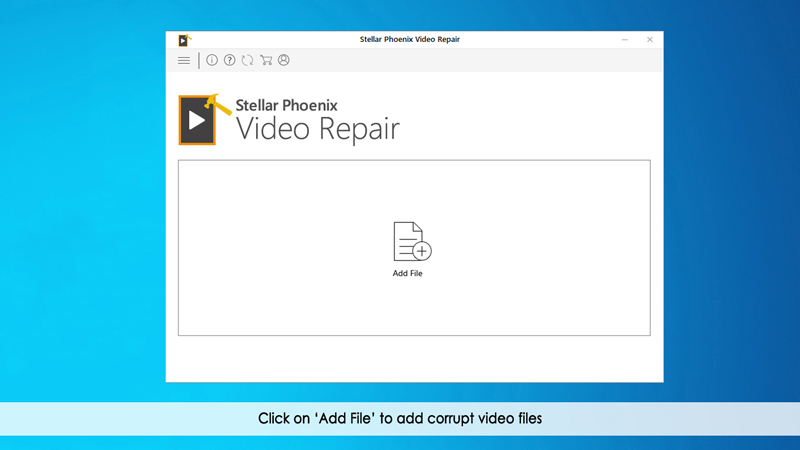 Step 2 Select the corrupted video files from the list and click "Repair" button start to repairing corrupted HD video file.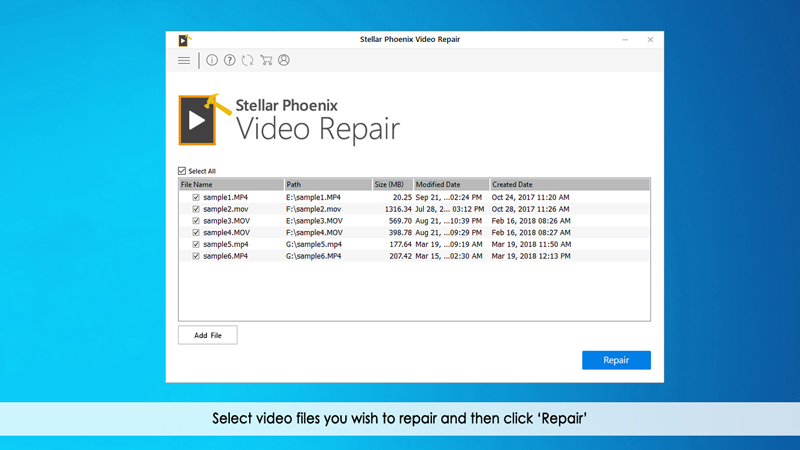 Step 3 Repairing corrupted HD video files in process.
Step 4 After repair process completed, your preview the repaired video files.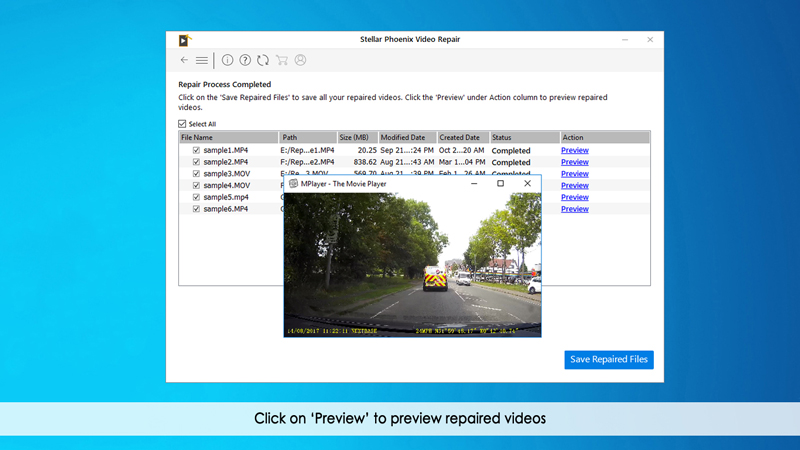 Step 5 Saving repaired Video files to a preferred destination.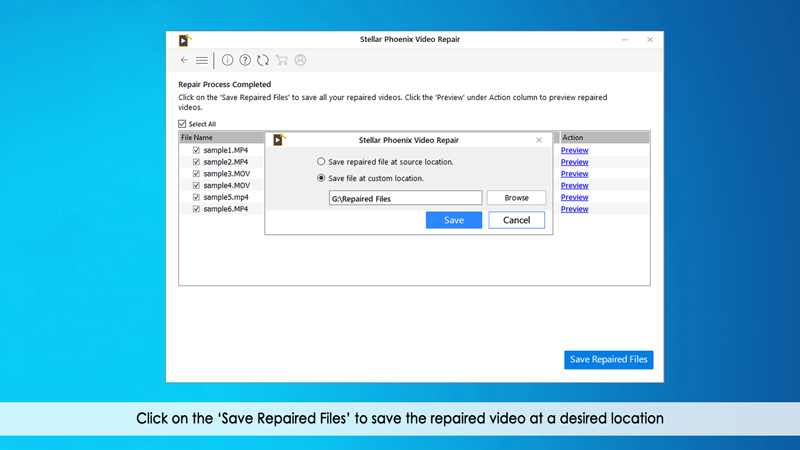 After the saving process is complete, you can find and view the fixed recorded videos on your computer. Congratulations! Now simply download and have a try the best Video Repair Tool to help you fix the can't play recorded video error.
File Repair Tips
Document Repair

Video Repair

Photo Repair