PowerPoint files or PPTX files are files that belong to the Microsoft PowerPoint. It is a part of the Microsoft Office suite and is utilized for the purpose of making presentations. The PowerPoint files usually contain slides that have text, images and graphs present on them. Other elements that are typically a part of the PowerPoint slides are hyperlinks, tables, headers, footers, forms and modules. A single PowerPoint file can have a number of slides. You can add different animation effects to the components of each slide to make your presentations more effective and detailed in nature. PowerPoint files makes use of a number of different formats which include .pptx, .pptm, .ppt, .pdf, .xps, .potx, .potm and many more.
Symptoms of the PPTX files Corrupted
PowerPoint files are usually very stable. However, they are vulnerable to corruption like the rest of the files that are stored on a computer system. If a PowerPoint file gets corrupted, it can result in the generation of error messages by PowerPoint. The following are some of the error messages that might be received if you tried to open a damaged PPTX file:
There is no PowerPoint Presentation found.
The file type expressed by the file_name.pptx cannot be opened by PowerPoint.
There is some part of the file missing.
There are several ways to help you to fix out the corrupted pptx files. You can try the following two manually methods if you have the same behavior.
Part 1: Methods to Try if You Can Open a Damaged Presentation
Make an attempt to open the corrupt PPTX file as a template.
Try to shift the slides from the corrupted PPTX file to a blank presentation.
Attempt to save the PPTX file as an RTF (Rich Text Format) file.
Part 2: Methods to Try if You Cannot Open a Presentation
Try to drag the PPTX file to the PowerPoint program file icon.
Attempt to include the slides of the corrupted PPTX file into a blank presentation.
Attempt to open the temporary file version of the PPTX file.
In PowerPoint Viewer, attempt to open the PPTX file.
Create a duplicate copy of the corrupted PPTX file.
On the local hard drive, attempt to run Scandisk.
Part 3: Solution to Repair Corrupted PPTX Files with File Repair
Stellar PowerPoint Repair Software is the best PowerPoint repair tool that has the ability to repair PowerPoint file no matter how damaged it is. It can repair the damage and restore the entire contents of the corrupted PPTX file in a matter of seconds.
Repairs almost all cases of PPT file corruption by following a reliable and risk-free approach to PowerPoint recovery
Repairs PowerPoint macro-enabled (.pptm) file and restore all PowerPoint objects with macros attachments
Repair and restores any number of PPT/PPTX/PPTM files at the same time
Perform a signature-based recovery of PPT files to recover your crucial data
Repairs your corrupt PPT file and shows preview of all slides in the presentation before saving it at a user-specified location
Simple Steps to Repair Corrupt PPTX Files
Step 1 By clicking the buttons of "Select file" to search corrupt PPXT file from local drive;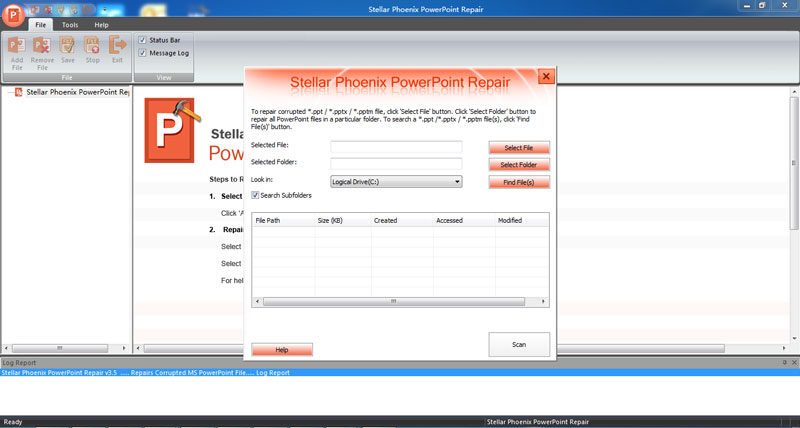 Step 2 You can select multiple corrupt PPXT files start to repairing process;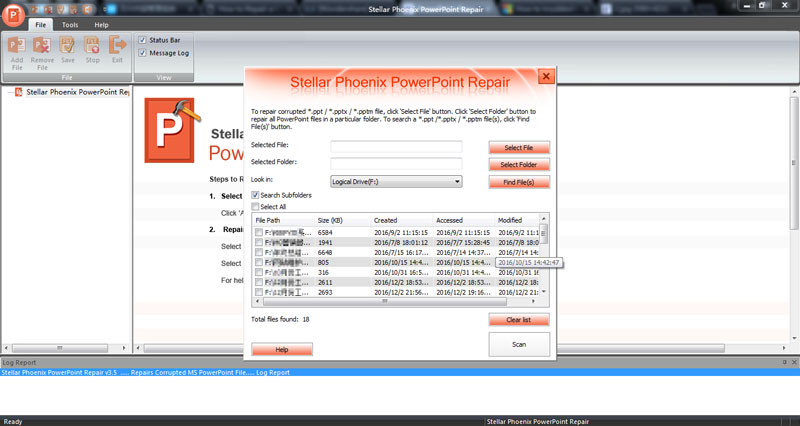 Step 3 To preview the corrupt PPTX files which selected ans repaired successfully.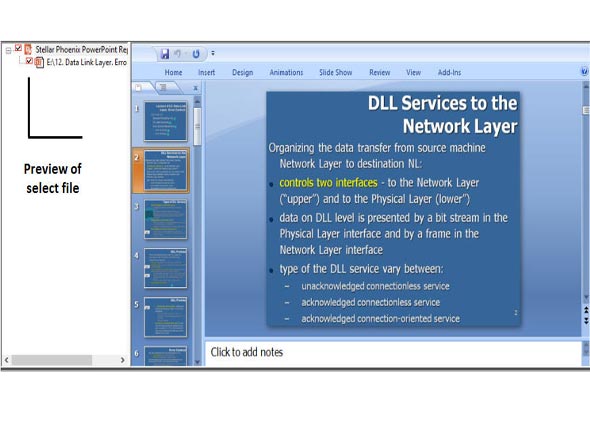 Recover & Repair Files
Recover Document Files

Repair Document Files

Recover & Repair More

Clear & Delete File