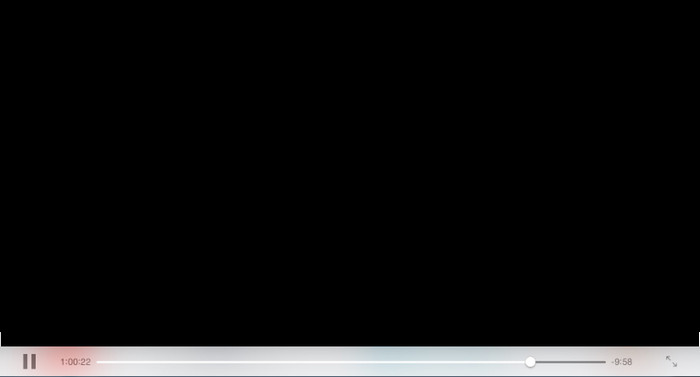 "This has been happening the last few days. Sometimes, Depending on the video... The screen is just Pure black wih audio, Not all videos is like this. Any idea what can be causing this? I am not very technically minded and wondered if there were a few simple steps I could try to resolve it. Thank you."
Videos are a common media that is utilized by both professional and personal lives. In this, videos are used to capture moments such as during a birthday party, during a graduation ceremony or even a family function. However, video files are prone to issues such as corruption, inaccessibility or even total damage leading to the black screen video error. In case you have come across this error as you try to play specific files, this article is a comprehensive guide on how to deal with the issue. Both manual and software approaches will be covered.
Part 1. Overview of Black Screen Videos
Sometimes, when you try to play a video, there is only black screen, but audio works fine. Your screen becomes completely black with audio only and as a result, your video file playing becomes corrupted. This error can take place due to different reasons depending on the video. Some common reasons are as follows:
Eidt your video file with some authorized third party editing tool.
Record videos when the storage media, as for example, memory card is completely full.
As for the recorded video corruption issue, you can follow the  
recorded video repair guide
  to fix the not playing problem.
Virus infection or bad sectors on the storage drive containing movies.
Changing the file forma to another could also result in video damage.
Header corruption.
And many more other reasons may cause the corruption of video files. What to do? Don't worry! There is Video Repair Tool could help you fix the issue: black screen while playing video.
---
Part 2. How to Repair Black Screen Video
You can solve this "Video Black Screen" issue very easy with the advanced Video Repair Tool. This video black screen repair tool is specifically designed to repair any kind of error or corruption made to the video file. It is one of the most reliable and professional repair tool used for corrupted or damaged video files of various formats.
Repair Black Screen Video on Mac: MP4, MOV, M4V, M4A and F4V.
Repair Black Screen Video on Windows: MP4, MOV, WMV, ASF, M4V, 3G2, 3GP and F4V.
The Best Software to Repair Black Screen Video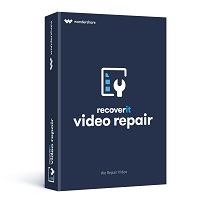 Repairs corruptions in the black screen video files header, the sound section or the movement.
Repairs s corrupted data of black screen video files and errors in slider movement or video frames.
Fix black screen issue on Windows 10/8.1/8/7/Vista/XP and Mac 10.8-10.15.
Steps on Fixing the Issue Black Screen while Playing Video
Using the steps mentioned below you will be able to fix the issue "Black Screen while Playing Video".
Add Corrupted Video
Step 1 Start the repairing of damaged video files by launching the software. Then, add the damaged videos for repairing now.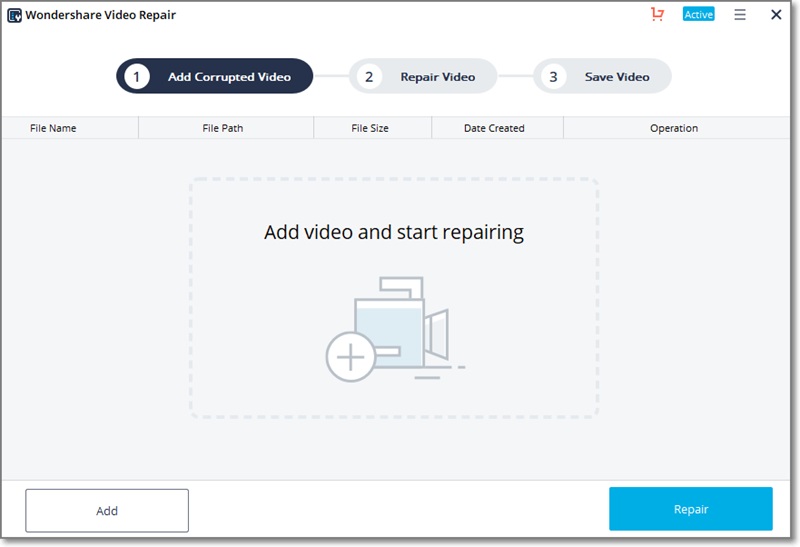 Repair Corrupted Video
Step 2 Select the damaged video files from list and click "Repair" button. The Recoverit repair process needs a few minutes.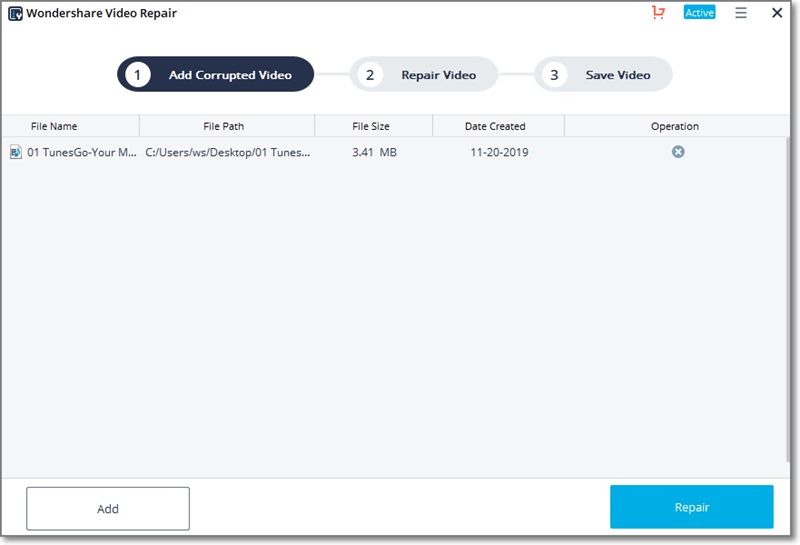 Preview and Save Repaired Video
Step 3 After repair process completes, your preview the repaired video files. The preview function can work with different formats of videos.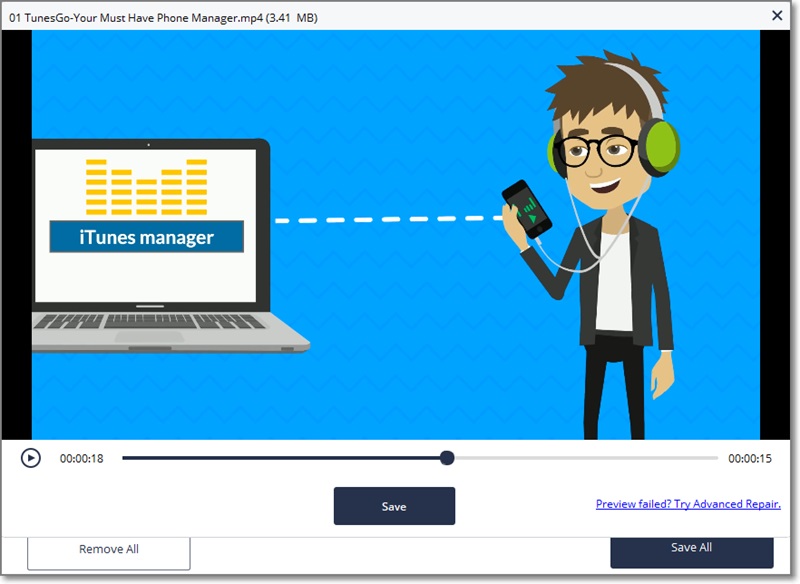 Choose Advanced Video Repair
Step 4 However, if the video repair fails, go to "Advanced Video Repair" mode, which requires a sample video from the same device and with the same format.
Save Repaired Video
Step 5 Finally, save repaired Video files to a preferred destination.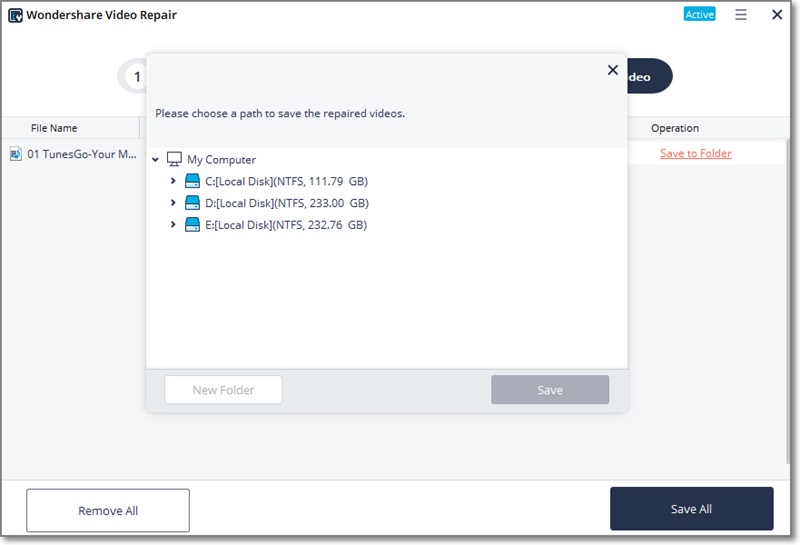 After the saving process is complete, a confirmation message showing a link to the location of saved black screen video files is displayed. In this way, you can easily fix this issue "Black Screen while Playing Video" by applying the steps mentioned above without any hassle. Simply download the best Black Screen Video Repair Tool and have a try to repair your videos with black screen.
Q: My screen goes green in a sudden when I am watching my videos on the Windows media player. How can I fix the green screen?
A: Green screen videos can be fixed easily. Come to the page to
fix green screen on videos
.
---
Part 3. How to Avoid the "Black Screen" Video Bug?
Solution 1: Video Repair Software
The video repair software is a tool that adequately repairs files that may be damaged, corrupted or even broken. The different repair tools available online are versatile and repair files that have generated from different devices or operating systems while taking care of the data. You need to download the tool and install it by following the instructions given. The black screen from a specific file could be due to compression issues, file format changes, corruption, virus attacks or read/write errors. An ideal video repair software will work perfectly and you end up viewing the video without any problem. Besides, such a tool can also cater to other related errors such as the 0xc00d36c4 error or even the cannot render file error.
Solution 2: Reduction of Video Card Hardware Acceleration
Toggling hardware acceleration can end up solving the black screen problem while you play your videos. Hardware acceleration could be in conflict with your Windows drivers hence you should follow the following steps:
Step 1 The first thing is to right-click on your desktop.
Step 2 You should then select personalize from the menu that pops up.
Step 3 After this, choose display settings and then go for the advanced settings.
Step 4 In the advanced settings tab, switch to the troubleshoot tab.
Step 5 Choose change settings and then click on the 'reduce hardware acceleration' tab. If you perform the above steps and still it does not work, strive to update your drivers or even consider rolling back to a previous version.
Solution 3: Reinstalling the Media Player
At other times, the black screen video problem will prompt you to reinstall the media player. In your Windows 10, follow the steps below:
Step 1 Press X and the windows key.
Step 2 In the menu that pops up on your screen, locate and select the 'programs and features' option.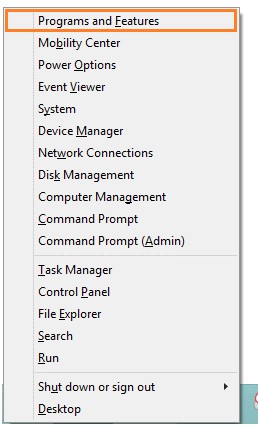 Step 3 A right-side pane will appear and it has the 'turn windows features on or off' option. Click on the option.
Step 4 The next thing is to go to 'media features' and then unmark the Windows Media Player. If you are dealing with third party players like VLC, unmark the VLC Media Player and this uninstalls it. Click ok and close the 'programs and features' tab.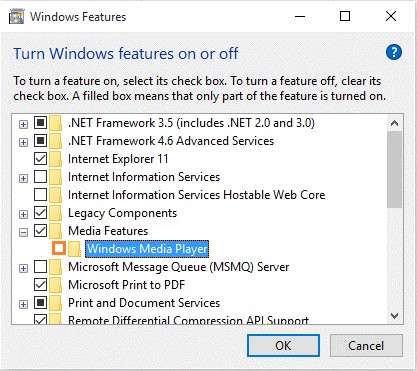 Step 5 To reinstall your preferred media player, repeat the above steps. Just remember to checkmark the Windows Media Player or VLC.
Solution 4: Uninstalling and Installing Drivers
While updating your drivers has been cited as one of the ways to try and deal with the black screen video problem, it may not always work. That vis why it is ideal to uninstall and install the specific drivers if the issue persists. The steps involved in this include:
Step 1 You should head over to the device manager and launch it successfully.
Step 2 The next step is to open the node that represents the device that you intend to uninstall.
Step 3 Right-click on the specific device entry and select uninstall in the short cut menu that pops up.
Step 4 A confirmation window will then pop up and you should click ok.
Step 5 The final step is to reinstall the drivers.
Before uninstalling and installing the drivers, it is always recommended that you download the latest version of the specific driver. Also, ensure that you have created a system restore point so that the driver is not lost altogether after uninstalling it.
Solution 5: Adjusting Media Player Settings
In players like the VLC Media Player, the MKV file error is rampant and it leads to the black screen video problem. If this happens, trying to adjust the settings such as by trying an alternative video output module can solve the issue. In the VLC player, head over to the 'tools' then 'preferences' and click on the 'video' tab. Pressing the 'All' option that pops up on the lower-left corner allows you to switch to the full preferences view. Different output modules are located under 'Video'. Switch to the video output module of your liking and then try to play your file.
This will solve the issue especially if the video files do not play after a windows version upgrade. At other times you will only hear the audio.
The black screen video problem is something you are bound to come across particularly if you are a video enthusiast. When it happens, you might get nervous since from the above it is clear that it can be caused by varying reasons. However, the afore-mentioned solutions will always come in handy for you. Try each of the solutions and you will have the issue solved easily. Go for a video repair tool, reduce the video card hardware acceleration, reinstall the media player or eve strive to play around with the specific player's settings. In the VLC Media Player, for instance, switching between the video output modules can be an easy fix to the black screen video issue.
Solve All Media File Issues
Recover & Repair Photos

Recover & Repair Videos

Recover & Repair Audios

Recover & Repair Cameras