I have .wmv video files which are listed as being compatible with PowerPoint 2016 but when I embedded video in PowerPoint and played the video, it did not work but the audio played as expected. Please tell me why my video doesn't play in PowerPoint?
Sometimes while using office product i.e. Power point on the device, it makes you confront some errors. And out of them one is power point cannot play media mp4. This error may cause the media content i.e. videos or audios that are embedded in power presentation to not work properly or not play at all. For appropriate working of the media files, it is necessary to choose the correct media format that is suitable with the office version in use. PowerPoint 2016 cannot play media is a common error while using power point slides and it may also occur due to some faulty functioning of power point itself.
Here in this article, you will get to know about the potential reasons causing the error i.e. PowerPoint 2016 cannot play media as well as suggest appropriate solutions to fix the error at first hand.
Part 1. Why can't I play video/audio media in Power point?
As an answer to this question, it is always suggested that if your device's screen pops up with an error message i.e. PowerPoint cannot play media, then you need to follow is a check list mentioned below:
Try it one other computer. Sometimes, due to any background application or software, the operating system is unable to play the media files. Try to play them in another device to check if they work at all.
If the media file is working appropriately on other device, then issue exist in your device. Reboot the device.
Always check the system volume and adjust it to the audible level and then play the media files in power point.
The media files i.e. audio/video will not play unless the slideshow option of power point is on.
Always check the slide volume, sometimes it is muted that may confront you with PowerPoint cannot play media mp4.
Sometimes upgradation issues of Windows media player cause the error i.e. PowerPoint cannot play media mp4. Update, repair or replace as per the requirements.
Once you get to know about the reason causing error on your device, next step is to opt a suitable solution. Here is the list of potential solution for fixing the error i.e. PowerPoint cannot play media mp4.
Solution 1 – Set the Media Compatibility
Media compatibility with power point is key to all essentials. Your embedded media will not play in power point unless it is not in a format supported by the office. So if you are getting error of PowerPoint cannot play media mp4, then set the media compatibility with following steps.
Step 1: Launch power point and the presentation. In the File menu, select the option of Info.
Step 2: Incase if the media embedded in slide is incompatible, the Optimize Media Compatibility dialogue box will appear on screen.

Step 3: by clicking the option, the media file will be processed by scanning. If the problem is at its initials, the compatibility optimizing wizard will fix it, but in case, the problem is not solved, the actual reason will appear in the dialogue wizard.
Solution 2 – Check the codecs
If optimizing media compatibility in power point is not the solution for your problem, then next efficient solution is to check the codecs for fixing PowerPoint cannot play media mp4.
Step 1: Install the multimedia codecs on your device. Installing them will allow the smooth functioning of media files on device.
Step 2: in case of already installed codecs, update them. If still not working appropriately, give them a reinstallation.
Solution 3 – Make sure the audio/video format is supported
One of the important factor that may impose the error i.e. power point cannot play media mp4 is media compatibility with device pr power point. Using the supported media versions and formats helps to rule out the error.
For the audio media files, power point 2010 supports WAV files. It means if using MP3 file format, you will get the error message i.e. power point cannot play media. In addition to WAV, power point 2016 supports M4a encoded with AAC audio.
For the video formats, the .wmv for power point 2010 and .wmv along with mp4 econded with H.264 video are supported.
Solution 4 – Convert your audio or video file
In case if the media file format is not supported by the power point, one can always use the option of converting the media format by using any third party or online software.
Solution 5 – Set the link value
Setting the link value can solve the issue of PowerPoint cannot play media. Power point usually serve for small or limited link values, so it is practical to set an appropriate link value. By increasing the link value in power point will allow you to embed larger files to the slides. Here are the steps to increase the link value.
Step 1: Open power point and in the option of Tools select Options.
Step 2: Select the option of General, here you are going to see the option for setting link value i.e. Links Sounds With File Size Greater Than to 500000 KB (mentioned just as an example)
Step 3: Select the desired range you want to set for the files and click Ok to save the changes made.
Solution 6 – Clear the TEMP folder
A reason behind PowerPoint cannot play media is also the temporary folders that may affect the overall performance of power point. In case you know, you are using the compatible media format, the codec is installed, the link value is doing well and everything else is in place then try deleting some temporary folders to see if it make difference. Here are the steps.
Step 1: Start with pressing Window+R
Step 2: A dialogue box for run window will appear, type the path i.e. %temp%
Step 3: Select all the files with TMP path extension and delete them.
Step 4: Once the temp files are deleted, restart the computer
---
Part 2. Repairing corrupt videos with Recoverit video repair
In case you accidently deleted the corrupted video while transferring, then only potential solution that can work for you is Recoverit video repair. It makes us able to fix the files that have been corrupted, difficult to reach, broken or damaged in MOV, MP4, M4V, M2TS, MKV, MTS, 3GP, AVI, FLV and more file formats. It works on all kind of cameras, it has nothing to do with the brand of camera weather it belongs to Nikon, Fuji, Samsung, Panasonic, DJI, Parrot, Skydio and Olympus, this software will work on all. This tool is only designed for the videos that are creating problems while playing them on computer or anywhere else, audio-video sync issues, video playback disrupted, stuck videos, videos with blurry images, etc. this toll will help them to run smoothly anywhere you want them to.
Step 1: Add your corrupted videos
The very first thing which has to be done is launching the application on your computer. To add the corrupted file all you need to do is pressing Add button or it can also be done by clicking the "Add video and start repairing" area.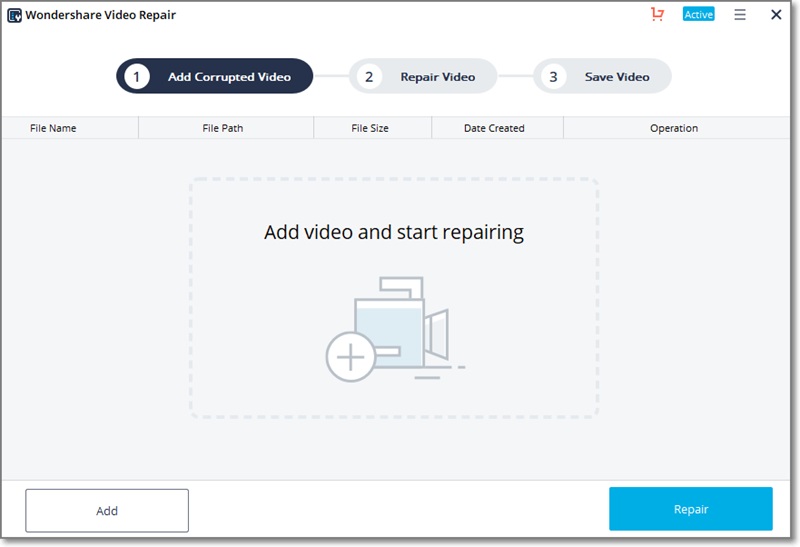 Step 2: Repair your videos
In the second step, you have to click the "Repair" option; to initiate the process of repairing corrupted video file.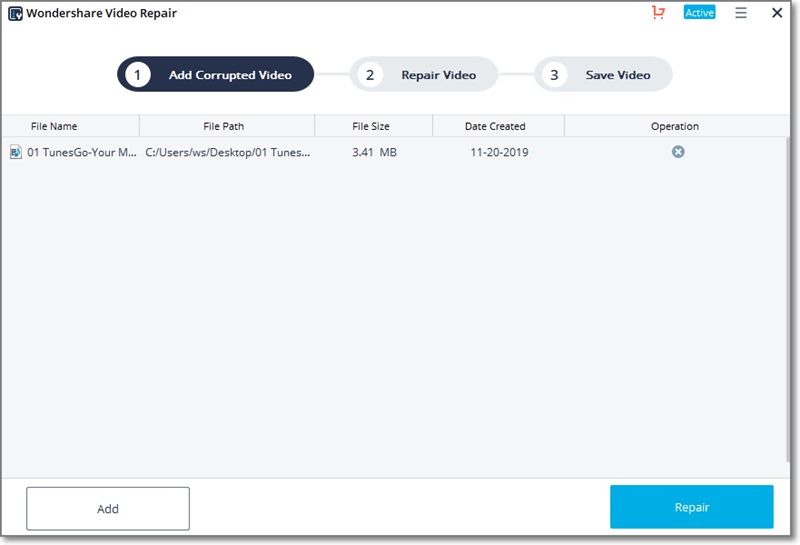 Step 3: Preview the videos
After taking some time to repair the corrupted file, a message will pop up on the computer screen showing that your video has been successfully done. After this you can press the preview button to have a look on the video file which has been fixed.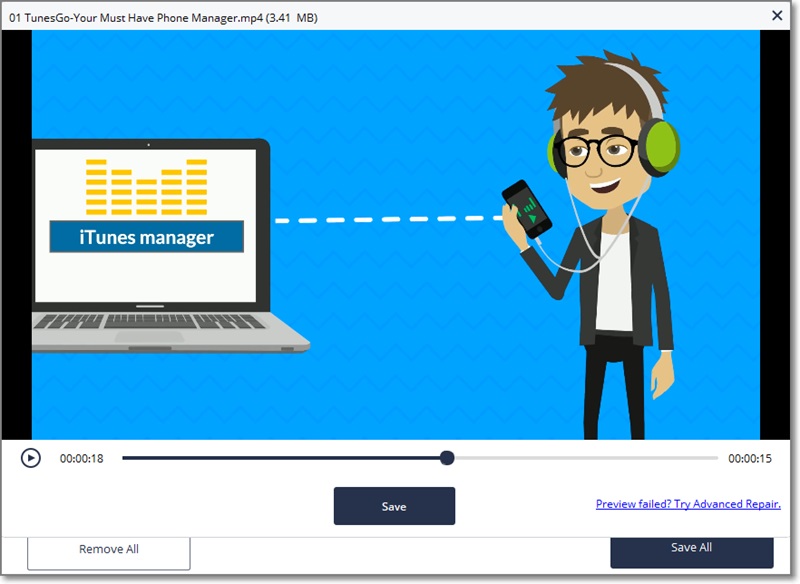 Step 4: Advance mode for highly corrupted video (optional)
For videos that are a bit difficult and can't be easily attain by the help of instant repairing, you need to press "Advanced Repair" button.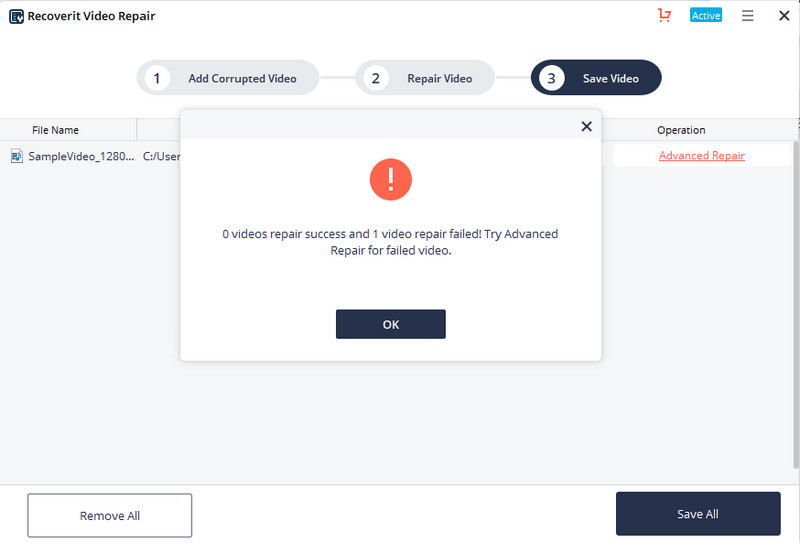 Add a corrupted video file that you want to fix.
Step 5: Save repaired video
Saving the fixed file is the last step which is importantly required, in this step you will have to click on the "Save" button, to save it.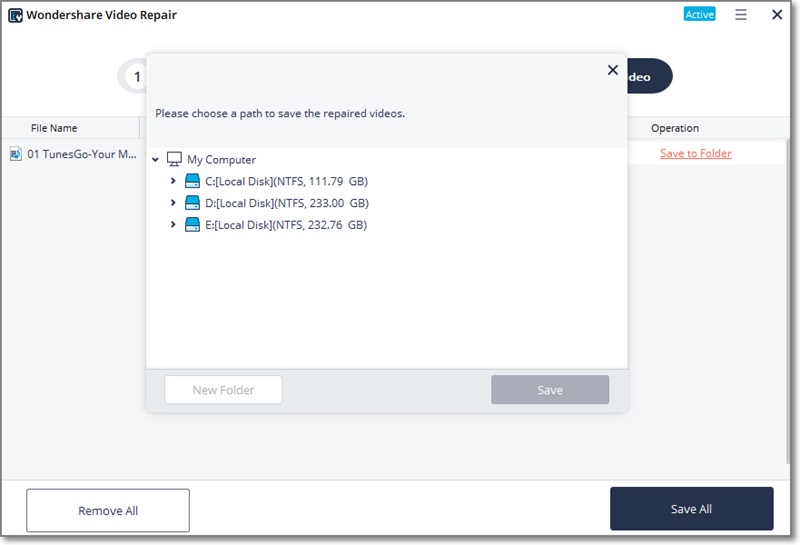 Solve Media File Problems
Recover & Repair Photos

Recover & Repair Videos

Recover & Repair Audios

Recover & Repair Cameras