Videos are a great way of preserving memories. They offer you the chance to capture moments that have special significance in your life and then enjoy them afterward whenever you want. Ever since the mobile phones have been fitted with high definition cameras. It has become quite easy for people to shoot videos. The videos can be captured in a number of different digital file formats. For instance, the most commonly used video formats are MP4, MOV, M4V, M4A, F4V, WMV, ASF, AVI and 3GP. If a video file gets corrupted then you can't play them. In such a situation you would need a video repair software program to repair the video files.
These days, videos aren't just created mostly for entertainment anymore. Their importance permeates nearly every part of our lives, from personal relationships, to surveillance, memorabilia, and education. As such, it's important to have a handy tool for restoring damaged videos.
Part 1. What Causes Video to Get Corrupted and Damaged
Part 2. The Best Video Repair Software
Part 3. Free Video Repair Software of 2020
Part 1: What Causes Video to Get Corrupted and Damaged
Videos can be damaged due to a host of reason ranging from human errors to technical and even mechanical issues. But with the best video repair software reviewed in this article, you always stand a good chance of repairing your damaged videos at no cost, no matter what caused the damages. Read on to find out more about the best video repair software.
As explained above, digital videos come in various file formats. All of these file formats are inter-convertible. This means that they can be converted from one to the other with consummate ease using video converter software. However, if video files are not handled properly then they can get corrupted as well. The following are some of the instances when corruption of a video is most likely to happen.
Virus and Bugs:
Bugs and viruses are a nightmare for a PC. They can attack the files and videos that are stored on the hard drive. If there is no protective software like an anti-virus program to stop them, they can damage the video files quite easily.
Faulty Video Converter:
Video converters that don't belong to an authentic software house can sometimes damage or corrupt videos as well. Since they are not reliable enough, they can't fully convert the video file and leave out some of its components, making it unplayable.
Issues with the Operating System:
Operating system issues can contribute to video file corruption as well. Both windows and Mac operating systems are vulnerable to malfunctions and when that happens, videos that are on the same system as them can get corrupted.
Unexpected Interruption in Power Supply:
Videos can also get damaged if there is an unexpected interruption in power supply while the videos are being played on the PC.
---
Part 2: The Best Video Repair Software
Videos that have gone corrupt need to be repaired as soon as possible or restoring them can become a problem. The most effective way of getting damaged videos fixed is to get your hands onto a video repair software program. You can find a wide range of such software on the internet. However, they are not capable of repairing the video files in the right manner. Some of them even make the videos worse than they were before. So, it is best to avoid using such MP4 repair software. You should only use Recoverit Video Repair for repairing corrupt video files, as it is the finest video repair software out there right now.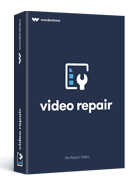 Repairs corruptions in the video files header, sound section or frames.
Repairs corrupted data of video files or errors in video slider movement.
Fix Error Code 0xc00d36c4 on Windows 10 /8.1 /8 /7 /Vista /XP.
Repair Corrupted video on macOS Catalina 10.15-10.9.
The following is a step-by-step guide that will provide you all the details on how the Recoverit Video Repair can be used for repairing corrupt MP4 video file.
Add Corrupt Video
Step 1 Launch the video repair tool, click Add button to add corrupted MP4 video files.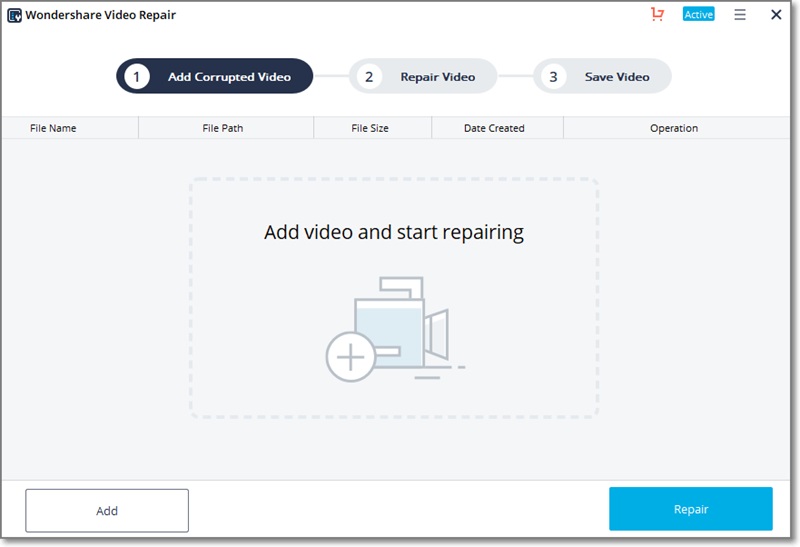 Repair Corrupt Video
Step 2 Select all corrupt MP4 video files and clicking the "Repair" button to complete this step.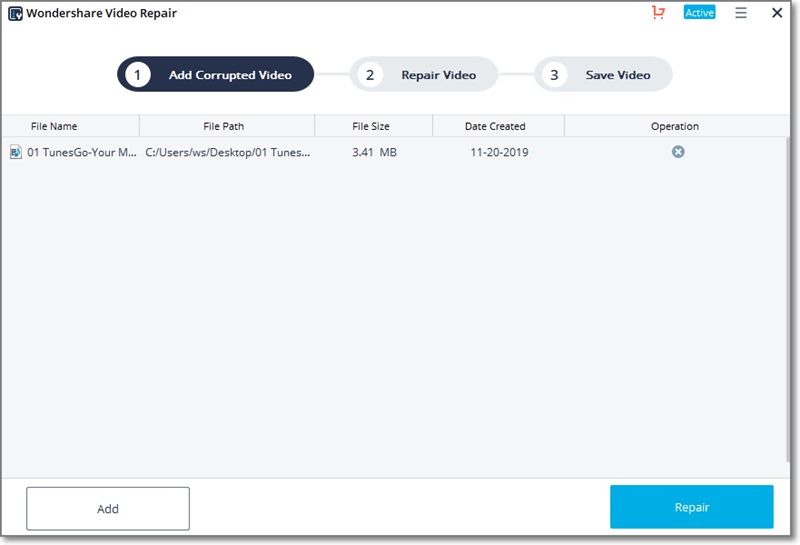 Preview and Save Repaired Video
Step 3 The video repair tool will start to repairing corrupted MP4 video files. The preview of the repaired videos will be followed by the saving of the repaired videos. Clicking the "Save" button is going to complete this step.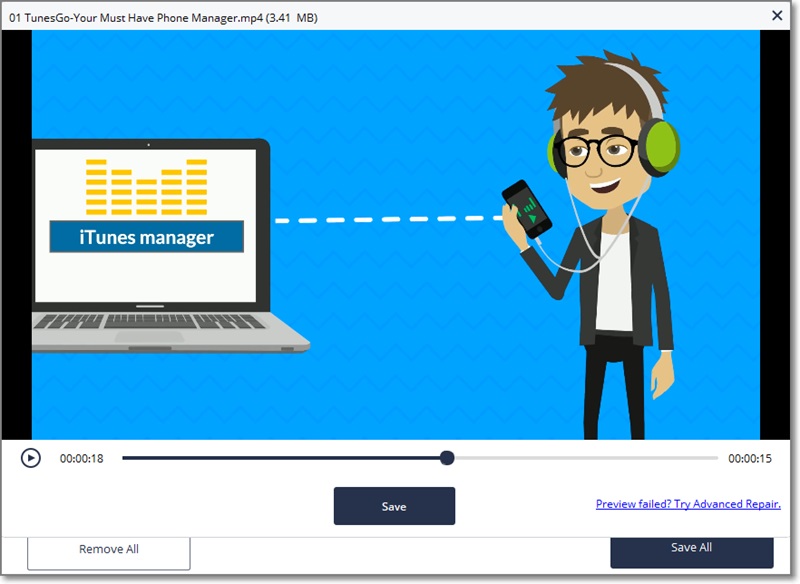 Add Sample Video
Note: If the video is severely corrupted and doesn't meet repair expectations, try "advanced repair" mode by adding sample video to repair. A sample file is a valid file created with the same device and the same format as the corrupted video. By this way, Recoverit will perform a deeper repair procees. After that, it will take a few seconds to save the repaired video. Congratulations, the procees is completed and your video files are repaired.
Fix your corrupted videos with 0xc00d5212 error.
Simple Tips to Prevent Video Corruption
The following are some tips that you should keep in mind if you want to ensure that your videos remain safe from corruption and damage in future.
Invest in a powerful antivirus software program that can keep out the viruses and bugs from infecting your video files.
Always try to keep the PC running when the videos are being played on it. Avoid a sudden power failure by investing in backup power like a UPS.
Make sure that you always use a credible and reliable video converting software tool for converting videos from one format to another.
The Best Way to Recover Deleted or Lost Video Files
Trying to recover your damaged or corrupted video files from origin files, if the video file deleted from your computer and emptied the recycle bin, you can get a powerful data recovery software to retrieve it back. Recoverit Video Recovery program is the most effective file recovery software
Recover deleted or lost video from computer and laptop, USB flash drive, SD memory card, mobile phone.
Recover lost videos due to accidental deletion, formatted card, virus attacked and devices system crashed.
Supported Video formats: AVI, MOV, MKV, MP4, M4V, 3GP, 3G2, WMV, ASF, FLV, MPG, RM/RMVB, etc.
---
Part 3: Free Video Repair Software of 2020
Digital Video Repair
This free tool helps you enjoy a seamless viewing experience thanks to its noob-friendly video repair operations. From jumpy frame progressions to blackouts, visual artefacts and lockups, Digital Video Repair provides instantaneous access to functionalities that fix various problems in videos. It facilitates uninterrupted playback by re-encoding damaged segments of video file to restore the original structures of the file, from MP4 to MOV and AVI files. It can identify missing segments, augment incompleteness, and fix broken pieces of video and audio in the file, syncing the audio and video playback perfectly. And if your video's original index is damaged or infested with corrupt data, DVR creates a new index by patching up cues from the original index.
With such computing prowess, it's capable of fixing partially downloaded videos resulting from internet connection interruption, videos with fast navigation problems, and videos that freeze intermittently.
To repair your video using Digital Video Repair:
Step 1 Download and install the free app, and then run it.
Step 2 Run the app, load the damaged video, set the destination folder for the output file, and then hit the "Check Errors" button.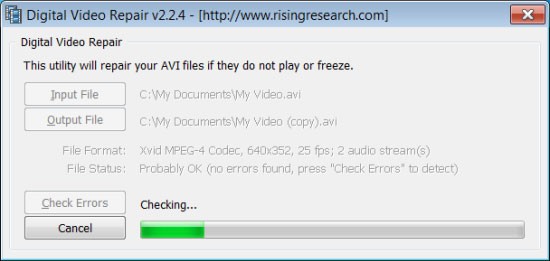 And that's it, using DVR is a short, sweet, and simple process.
VLC Player
VLC's video repair functionality is as easy to use and reliable as its video playback tools that have made it the go-to media player for millions of users through the year. The app comes with a transcoding capability that allows it transform corrupt MOV and MP4 players into files that can play uninterruptedly.
VLC swings into video repair mode the instance you try to play a damaged video. It responds with a prompt stating the video file is corrupt and asking if you would like the app to repair the video. Users can also easily go straight to repairing a video they already know is damaged without having to play it first. Here are the steps to do that:
Step 1 First, you'll need to convert the MP4 file to AVI to utilize the app's automated AVI repair process. To do that, launch the VLC media player and then click on "Media", add the corrupted video, and then click on "Convert/Save".
Step 2 Next, select a Codec and a location for your video file, and then click on the "Start" button.
Step 3 After the conversion, go back to the app's home page and then go to "Tabs > Preferences". Now, scroll over to the "Input / Codecs" tab and then activate the "Always fix" option in the "damaged or incomplete AVI file" field.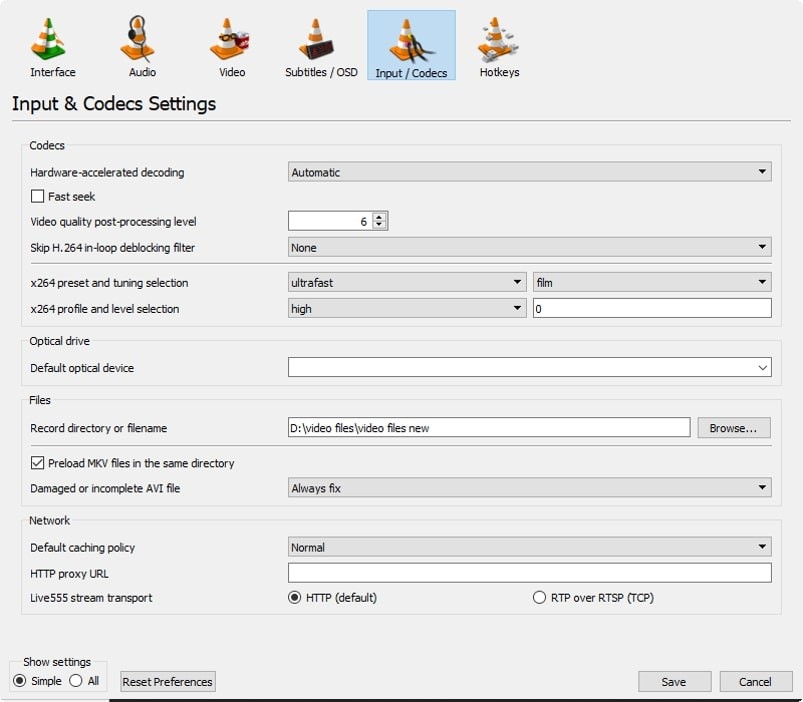 Step 4 Finally, save the settings by clicking on "Save". This will set the app to automatically fix any corrupted AVI file loaded on it.
DivFix++
This is yet another free, highly reliable tool that makes a good case for a spot on our list of the best video repair software. From damaged frames to incomplete indexes, missing headers and footers, etc, DivFix++ is capable of dealing with a wide array of video problems. The app also works on multiple operating systems, including Windows, Mac, and iOS.
What's more, the app is designed to help save you from downloading video that will require repairs. It comes with a preview functionality for video downloads so you can know beforehand what damage a video file might have. And if you proceed with the download of a damaged video file, you can easily deploy the app's video repair tool to fix the damages.
To fix your broken video using DivFix++:
Step 1 Download, install and run the app.
Step 2 Load the corrupt file on the app (you can even choose to load and fix multiple corrupt files in one go) by clicking the "Add Files" button.
Step 3 Check or uncheck the "Relative Output Folder and File" option in the top left to either allow or disallow the app to present the fixed video in a separate file, and then choose the destination folder for the output file by clicking on the folder icon.
Step 4 Now, click on the "Fix" button to kickstart the repair process.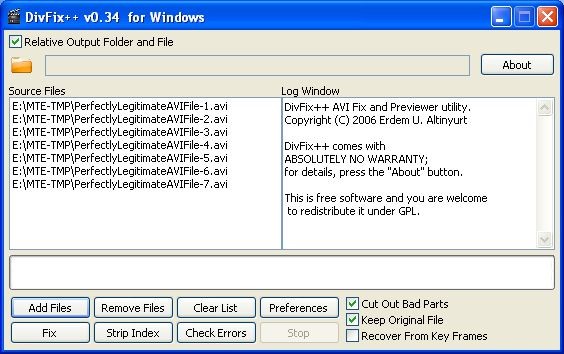 You should then have your broken file fixed and ready for viewing in its designated folder.
Repair Video Master
With repair functions that support a wide array of video files from AVI to MPEG-4, MP4, RM, ASF, WMA, etc, this software is a highly versatile video repair tool. It also boasts swift repair operations that effectively fix a wide array of video file issues, from fast navigation problems to freezing issues, missing indexes, etc.
With its highly intuitive user interface, you can initiate the repair process with just a few clicks. To fix a video file with your app, you simply need to run the app, load the corrupt video file, and then click on the repair button. You can even choose to repair numerous files in one go using the batch repair function.
Yodot AVI Repair
Yet another highly reliable tool that allows you to repair your damaged file effortlessly, Yodot AVI repair allows you to repair your video files from a wide range of devices from iPads to iPhones, Windows PC, and Macs. It also supports a variety of video file formats ranging from MOV to MP4, AVI, XviD, and DivX.
To fix your broken file using Yodot, download, install and run the app on your computer, load the broken video file by clicking on the "BROWSE" button, and then hit the "repair" button. In no time, the video will be fixed and ready for preview. Click the "Preview" button to see it, and then click on "Save" to save it.
DivXRepair
You can rely on DivXRepair to recover videos damaged from a variety of causes, from transfer errors to download errors, editing errors, etc. The tool works on a variety of file formats including XVID, DVIX, AVI, MOV, and MP4. It can detect and fill out missing segments of audio and video data streams seamlessly. You can also deploy it for free across many Windows and Mac devices. You can even use it to repair video files on external hard drives, USB drives, and iPods.
To use the tool, simply download, install and launch the file, load the corrupt video file, and then click on the "Repair" button.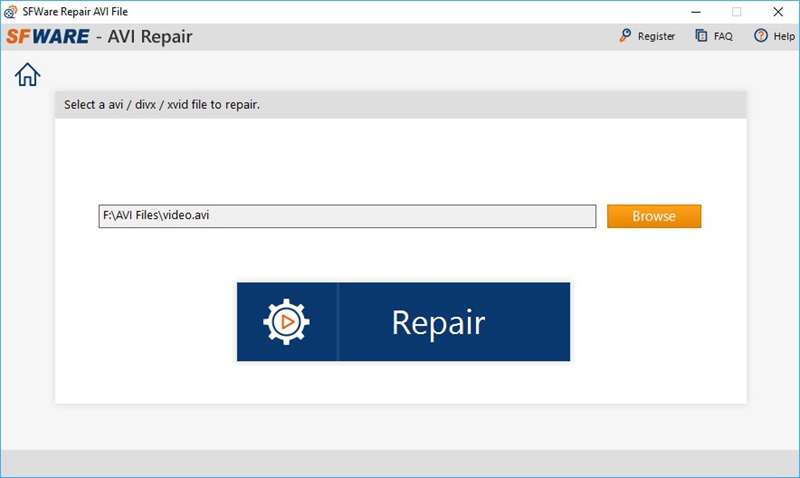 After the repairs, you can preview the fixed video by clicking on the "Preview" button, and then save it if you're satisfied with the repairs.
---
Conclusion
And that it, folks. The best video repair tools you can rely on this year. They don't cost a thing nor require high technical skills to deliver. And many of them are compatible with a wide range of devices, so you can always take them wherever you go to have video repair tool handy at all times.
Solve All Media File Issues
Recover & Repair Photos

Recover & Repair Videos

Recover & Repair Audios

Recover & Repair Cameras