It is always fun to teach using videos at any level. Videos are the visual images that have been recorded electronically to convey messages. The marketers are also embracing the use of videos to market their products. Videos are a great way of expressing and communicating with people, clients or any target group. When studying, you will save several video tutorials.
Depending on the device that you are viewing these videos probably your computer you will have to create a folder in a drive that you can save them. At one point that your videos are not playing or those that you downloaded are not playing or they fail to fast forward because they are corrupt. Although it may be annoying, you don't have to worry since you can always repair them using Video Repair software. In this guide, focuses on the best video repair tool, but before that, we need to highlight reasons that may lead to corruption of videos.
A file usually gets when it is partially downloaded. It can also get corrupt when there is an abrupt shutdown of the device or when there is a sudden system crash. When saving files they can be saved on bad sectors that also lead to corruption of data. Another leading cause of video corruption is a virus attack on your device.
The Best Video Repair Tool
Now that you have corrupt video or videos and you want to restore them then you need to download the Best Video Repair software. This software is well built and can fix videos that are corrupt due to different reasons like virus attack, bad sectors, system crash, and other reasons. With the best video repair tool, you can repair F4V, M4A, M4V, MOV and MP4 on Mac whereas on Windows it can fix video formats like F4V, WMV, MP4, M4V, 3G2, 3GP ASF and MOV. Other features of this software are:
It supports other devices like digital storage media, memory cards, and external drives.
It lets you preview repaired videos.
It can repair corrupt videos in a batch.
It has a great user interface.
It allows you to define a new location of the repaired files.
It supports Windows Vista, XP, 7, 8 and 10.
It supports Mac OS X 10.12, 10.11, 10.10, 10.9, 10.8 and 10.7.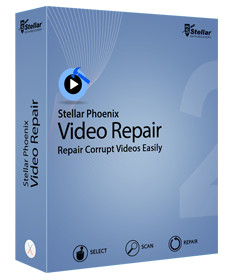 Repairs corrupted data of video files.
Capable of repairing multiple file formats at the same time
Easily restores data of corrupt or damaged video files
Restores the sound section of corrupt video files
Repairs header corruptions in the video files.
Repairs corruption in the sound section of video files.
Repairs errors in movement of the video.
Repairs video frames corruption.
Repairs errors in video slider movement.
Repair Corrupt Video Files with the Best Video Repair Tool
Now let us see how to repair corrupt MP4, WMV, MOV, M4V video files with the best video repair tool.
Step 1 Add Corrupt Video Files to the Best Video Repair Tool.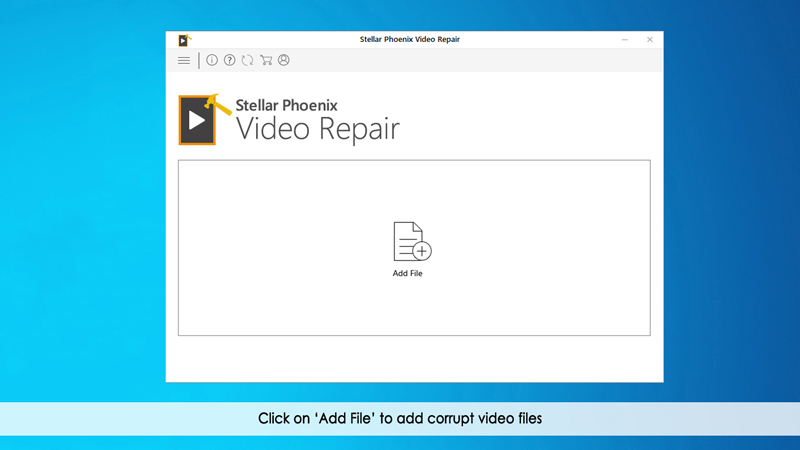 Step 2 Select the damaged video files from the list and click "Repair" button.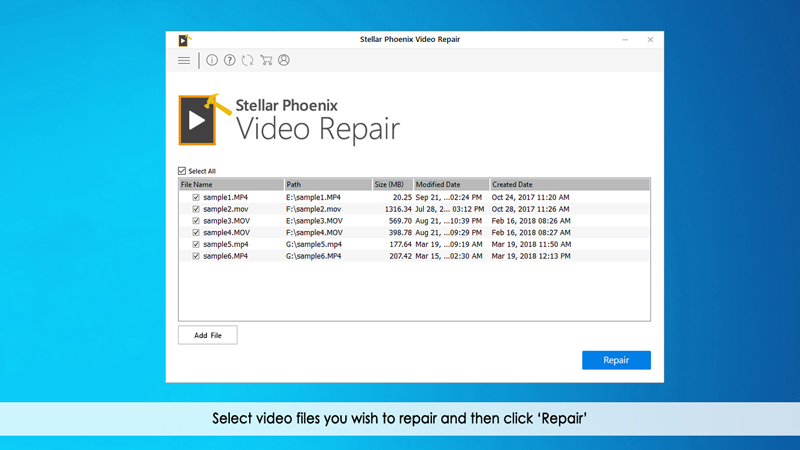 Step 3 Repairing damaged video files in process.
Step 4 After repair process completed, your preview the repaired video files.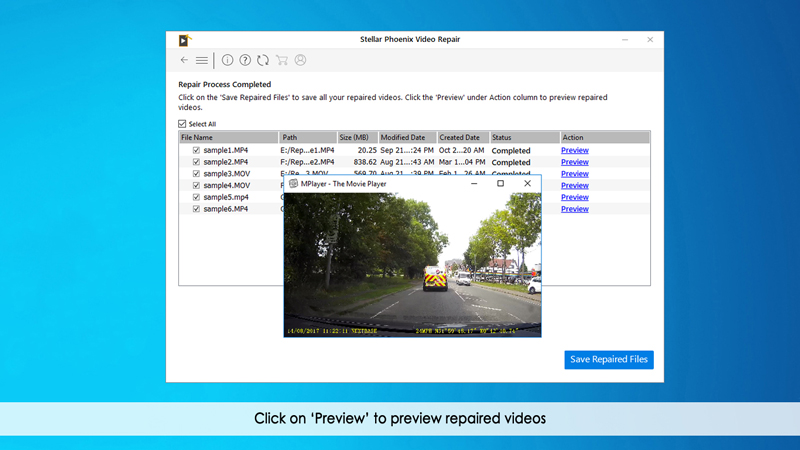 Step 5 Saving repaired Video files to a preferred destination.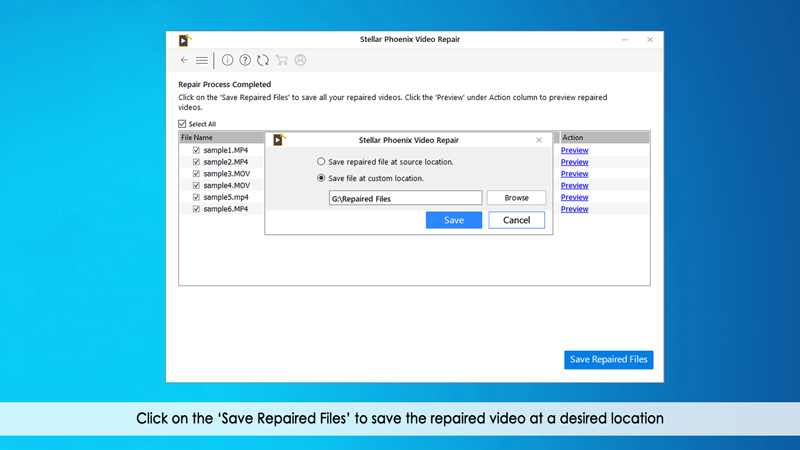 After the saving process is complete, a confirmation message showing a link to the location of saved video files is displayed. In this way, you can easily repair corrupt videos with the video repair tool by applying the steps mentioned above without any hassle.
So, it is a straightforward, quick and easy way to repair a corrupt or broken video file while playing. Simply download and have a try the Video Repair Tool and see if it works for you.