How to Repair Corrupt Video File due to Memory Card Error
With the evolution of technology, the physical size of different kinds of storage devices is getting reduced. On the other hand, their capacities are now larger than ever before. For example, SD cards. While they are getting smaller in physical size, they allow us to store several gigabytes of data in them.
Stored the video file on the memory card and now it's not playing due to video file corruption? For sure this is a problem you are facing due to memory card errors. In this regard, you should know about the possible errors shown by the video memory card, what causes these errors, and how to avoid these errors. The following are some of the topics that are going to be discussed in this article to give a clearer insight.
Part 1. How to Check If a Video File Is Corrupted
Data loss is a major issue. You save your precious memories, confidential information and a lot many things in storage drives. But when it becomes inaccessible, it is the most frustrating situation. You often think that it was working fine sometimes before, then what happened all of a sudden. So how to check whether your data is corrupted. Let us learn it here!
What Does It Mean When a Video Is Corrupted?
A corrupted file is one which becomes unusable because of various reasons. A bug or defect in the software can create an error in the files. A video may see a temporary error in some cases while it may stay like this for longer sometimes.
Data can even become unusable when your PC crashes or loses power supply suddenly. In modern PCs, this issue happens less, but still, it can happen anytime. In most cases, errors occur during data transfer from a memory device to a PC or phone.
---
How to Know If a Video File Is Corrupted?
In most cases, you will automatically know that data is corrupt if it does not play when you open it. However, partially corrupt files can be played. You will see that such a video may stop suddenly or close itself. The quality is terrible, and certain parts of the media may be affected. Some of the possible sign can be:
A black error screen appears saying the information is unreadable
You may be unable to format the memory card
Some photos and videos might be missing
You may receive a Write/Read error
---
Can You Uncorrupt a Video File from a Memory Card?
When an SD stick does not work and shows an error message, you need to handle it carefully. Else, you may lose everything stored in it. Making a recovery is entirely possible, and there are many ways using which you can uncorrupt video files and other stuff.
You can either use data recovery software to help you in restoring corrupt data or do it yourself on your PC. If there are minor errors, it is fine to carry out the recovery yourself. But, it is advisable to seek professional help or reliable software, in case of significant issues.
---
Part 2. How to Repair Corrupted Videos Due to Memory Card Errors
If you come across errors while trying to play a video from the storage device, it is corrupt. There are various ways to recover them, and we will read about some of them below.
Ultimate Way: Fix Corrupted Video Files on Windows and Mac
While you may get the desired results by using any of these video repair tools, it is highly recommended to use Wondershare Video Repair to achieve the best possible results. This software is basically a high-end data recovery tool that works on an algorithm that is specially designed to do whatever it takes to revive and restore the original contents of any damaged or corrupted video files. Regardless of the reason why the files got corrupted in the first place, the software is good enough to restore all the original contents of the file.
In case you are interested in repairing corrupt video files, you need to get a copy of the Recoverit Video Repair and install it on your computer. Once you have done that, you need to run the application and follow the below-mentioned series of steps to fix the corrupt video files on the computer. Mac users can of course repair damaged files too. This guide is for you: How to repair corrupt video files.
Step 1 Click "Add video and start repairing" or click the "Add" button to add your corrupt video files from the local drive.
Step 2 Select videos from the list and click the "Repair" button for repairing.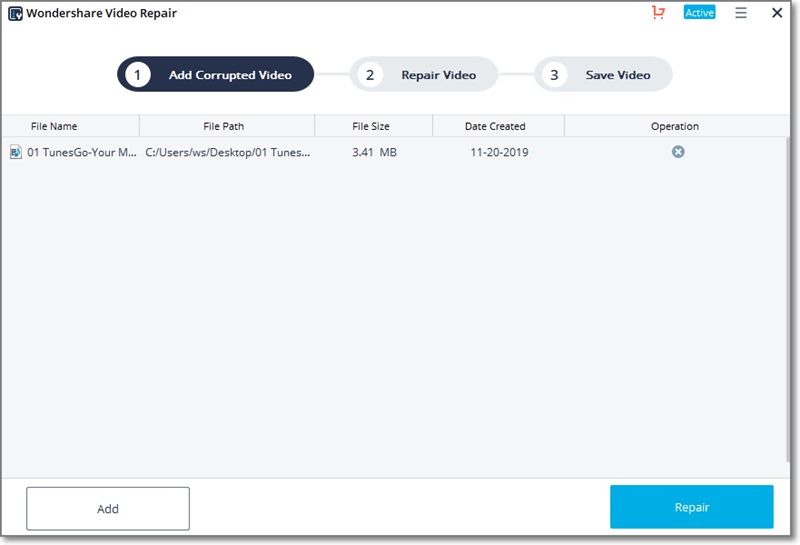 Step 3 Selected corrupt videos repaired successfully, you can preview the repaired video before saving.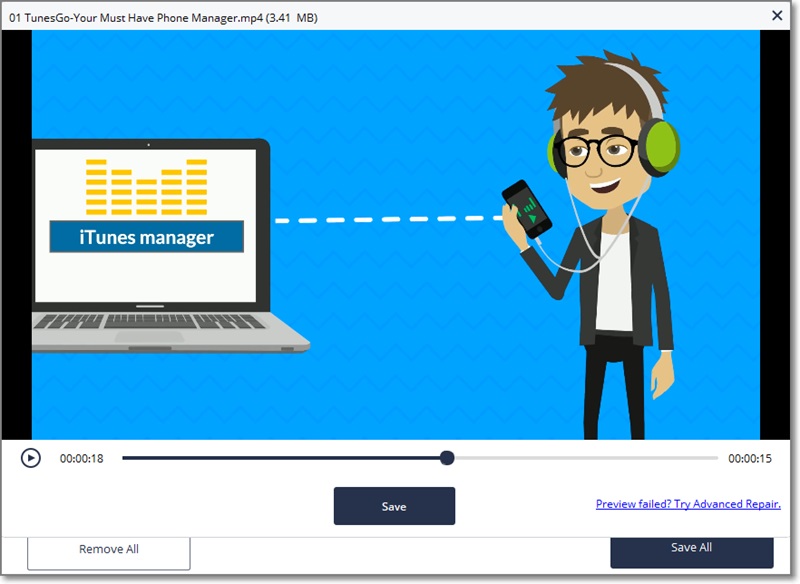 Step 4 If the video you need to repair is severely corrupted and not able to be repaired via this way, try Advanced Repair. Click the folder icon, add a sample video to repair. A sample file is a valid file created with the same device and the same format as the corrupted video. Advanced Repair uses the information from the sample file and repairs the corrupt video.
Step 5 Click the "Repair" button, the severely corrupted video will be repaired.
---
Solution 2: Unhide Hidden Video Files from the Corrupt SD Card
A virus on an infected computer may hide most of the data stored in a memory device. The total size does not change, but you won't see your files because the attributes become read-only and hidden. Carry out these steps to overcome this issue and recover your video files.
Step 1: Connect the memory card with your computer
Step 2: Run Windows Explorer, then click on Tools, then folder options, and then View
Step 3: Open the show Hidden folders, drives, and folders
Step 4: Turn off the hide protected OS here and click Ok.
After following the above steps, most of the time, you will be able to see hidden files on your memory stick again. It is an easy way to restore corrupt data on your PC.
---
Solution 3: Restore Corrupt Video Files from Windows Backup
When a file gets unusable or accidentally deleted, it is not lost forever until new data overwrite it. Another way to restore data is by using Windows Backup. Follow the below method to use this technique.
Step 1: Open Start menu and run the Backup and Restore
Step 2: Click on Restore my files here
Step 3: Locate the files you want to recover and click "next"
Step 4: Select a location to save the restored data
Step 5: Check the folder for your files and click on Finish after that.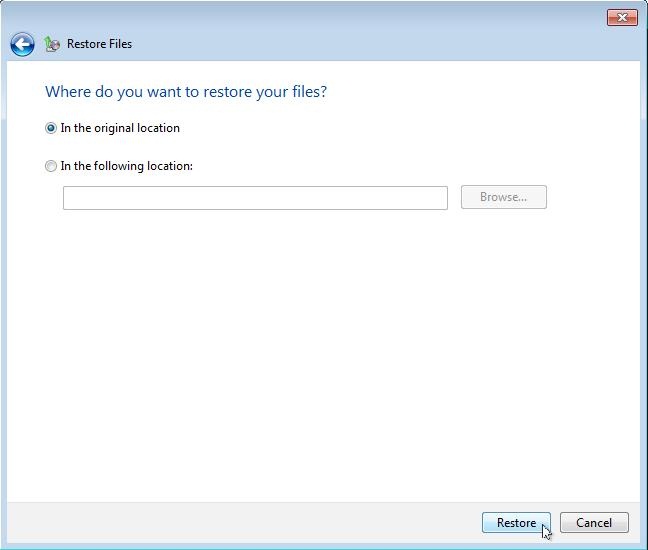 This is an effective way to restore video files from a corrupt memory card.
---
Part 3. What are Common Error Messages on Memory Card?
The whole memory card data storage experience seems to be very convenient until something happens that corrupts the memory cards. That's right! We often come across the frustration of dealing with broken or damaged memory cards. This kind of issue arises as a result of different reasons including bad sectors, physical damage, computer viruses, file allocation table issues, etc. Some of the most common error messages that are generated when a memory card gets damaged or corrupted are listed below: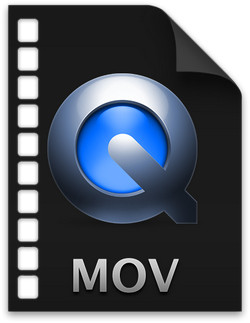 1. Uninitialized card
'Card not initialized' is one of the common video memory card error messages that pop up the screen due to various reasons. Following is the list of reasons behind this error message.
Inappropriate electrical connections
Fragmentation of the files after data being instantly written or erased
When the memory card is new and directly used in the device, then due to format differences, it can show up 'Card not initialized' error message
This error message when appears on the screen makes it difficult to access the data stored on the video memory card and in worst-case scenarios cause the file corruption.
2. The card cannot be used
'The card cannot be used' is an error associated with the video memory card and may result in video file corruption on the device. This error message appears on the screen due to the following reasons:
Inappropriate removal/ejection of the memory card from the device can cause the error and leads to data corruption. To avoid any consequence, you should always go for the proper ejection method for a memory card to protect the integrity of data.
Improperly switching off the device when it is connected to the memory card. It can be due to power failure or irregular power connection. This can cause data corruption stored in the memory card.
The low battery of the device connected to the video memory card can also cause this error. Transferring the data or downloading it directly to the memory card when your device is warning you about the low battery causes file corruption and also harms the data already stored on the memory card.
Virus and malware threats can impose a high risk of 'The card cannot be used' error message. It leashes to the memory card and makes the data corrupted and then inaccessible. A strong anti-virus can eliminate the chances of an error message.
The error can also appear when the video memory card is used for multiple devices. It is ejected and injected several times in various devices and this causes data and memory card corruption.
3. The card is not formatted
Due to the improper ejection method used for the video memory card, the error message appears on the screen that says i.e. 'The card is not formatted'. This makes data inaccessible on the memory card and the only solution left is to format the memory that in turn means losing all the data.
4. Write error
As a common practice, some video memory cards come with a switch which is when turned on, you can write the data on the memory card. I an attempt to write the data, you can see an error message on the screen that shows the card is write-protected. If the card fails to unlock the write data on the card option, the only way left is to format the card that would result in the loss of precious data.
5. Read error
Using a card reader on the device to read data on the memory card is the common practice. But sometimes, an error message appears as 'card cannot be read by your PC'. This is the read error. In short, data is inaccessible in this case. Mostly it occurs due to a faulty device or by using the outdated drivers.
As a result of these errors, you no longer can access any files present on the memory card. While this appears to be a dead-end, there actually are a few things that we may do in order to restore the contents of the broken or corrupted memory card. There are several different techniques that may be deployed in this regard but the best possible solution is to make use of some data recovery software application to get all your lost data back.
In case some video files are present on your memory card, there is a good chance that they might get corrupted. So in order to repair corrupt video files, the best course of action is to make use of a video repair tool or video recovery software to restore the original contents of your video files.
After knowing about the common video memory card error that may lead to corrupt video files, the next step is the check the potential reasons that cause these errors. Following is the list of all causes that lead to video memory card error messages.
Turning off a device before the data is completely written to the memory card.
Removing the memory card from the device while the data is being written to the card.
Ejecting the card from a memory card reader while data files are still in the process of transfer to the device.
Low battery warning of the device at a time when data files are being transferred directly from the memory card to a computer.
Ejecting the memory card from a card reader while the video files from the card are open on the device.
Deleting, renaming, or transferring files on the card while the data files are open on a computer.
Using a memory card that has not been formatted in the device.
Inserting a second video memory card into a card reader before ejecting the first when playing video files on the card from a computer.
Using a single video memory card for different devices without formatting it in the new device at first.
---
Part 4. How to Recover a Corrupted SD Card?
You can recover data from your corrupted storage media, but can you fix your inaccessible card? You will get your answer in this section.
Can a corrupted SD cad be fixed?
Yes, it is possible to fix a corrupt storage device, and there are multiple methods to do so. Read on to know about some easy and working techniques.
Method 1: Use CHKDSK Command and Check Memory Card Errors
Connect the device with your PC using a USB card reader. Proceed with the following steps:
Step 1: Open the Start menu and click Computer.
Step 2: Search for the memory device and check the letter used for it.
Step 3: Open the Start menu and type cmd. Right-click at cmd and select Run as administrator.
Step 4: In the command window, type chkdsk, the card's drive letter, followed by:/f.
Step 5: Press Enter and the command will search for errors to fix them.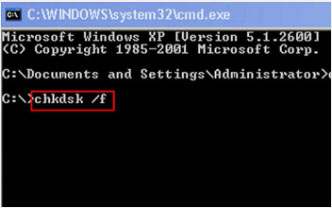 After you do this, several messages will prompt. Follow them to complete the recovery of your storage stick and use your data.
---
Method 2: Change the Drive Letter
When you connect your SD stick to the computer and a drive is not assigned to it, it means that the PC did not detect and read the device. Sometimes, you may assign a new drive, yet it shows "Please insert drive into E." This is how to resolve the issue.
Step 1: Connect the device to your computer
Step 2: Press Windows + R and open Run
Step 3: Type compmgmt.msc before pressing Enter
Step 4: Click on Disk Management in Storage options and right-click the drive you want to assign
Step 5: Tap the option "Change drive letter" and then on "Assign drive letter"
After this, close the window and restart your PC once.
---
Method 3: Repair Corrupt SD Card by Formatting It
Even though you will lose all data on your device after formatting, it is one of the best ways to quickly repair memory card.
Step 1: Connect the device to your PC
Step 2: Click on This PC to open the Windows Explorer
Step 3: You will see your memory card under Devices and drives. Right-click here and select Format
Step 4: Click on File System, and you will see three options, exFAT, NTFS, and FAT32.
Step 5: Choose whichever one you want to format and click on Start.
Even though you will lose all files and data stored on the device, it will get fixed, and you will be able to use it once more.
---
Simple Tips to Avoid Memory Card Error and Damage
The best way to protect data from corruption is to avoid those video memory card error messages and save it from any damage. Here are some of the tips with which you can easily protect the video memory card and avoid the video file (data) corruption on it.
Always use a high-quality video memory card and card reader for the device to avoid errors
Always format the card in your device before using it and then save the data
Eject the memory card while your device is turned off
Use the proper ejecting method to remove the card from the device
Always check the battery of the device while connecting and using the memory card
Always create a backup, in case you lose data due to memory card errors, you still have a copy.
Hence, memory card errors may lead to video file corruption. It makes the data inaccessible and the only solution left is to format the card that would result in data loss. In this article, all the common memory card error messages along with their reason for occurrence and solution are mentioned. Next time when any of the error shows up, you would know what is the exact reason and you can directly find an appropriate solution.
Digital storage devices can become corrupted or inaccessible at any time. So, you should know when an SD card gets corrupted and what should be done to get your data back. Wondershare Video Repair software is designed to restore data in easy and quick steps. We have also discussed various methods to fix your corrupt memory stick.
We hope you will be able to fix the data drive and recover your data now!
Fix Media File Issues
Recover & Repair Photos

Recover & Repair Videos

Recover & Repair Audio

Recover & Repair Cameras