If you have ever played a video that intermittently shows "polygon" like objects which frustratingly diminishes the quality of the video, that, my good friend, is what is pixelation looks like. Nobody likes to watch a movie with polygons competing with actors for screen time-just a little joke.
Despite being a common problem, the process of fixing pixelated videos is not well understood by many. Once you get the hang of it however, fixing pixelated videos is not necessarily rocket science.
Part 1: What causes video pixelation?
Pixelation usually happens when data in video files are significantly compressed in order to make the video files smaller and reduce memory usage.
This excessive compression however, could negatively affect video quality as some of the data encoded in the video is permanently erased thereby creating the "pixelation" effect on the video.
Some of the factors that can cause pixilation have been detailed below:
Videos that are shot in low lighting conditions.
Improper camera settings combination
Videos shot with a lower aperture setting
Videos shot in higher ISO setting
Shooting videos with a camera that has a small sensor
Converting a video file with a very small file size
While in most cases, pixelated videos can be repaired, there are extreme cases where it becomes impossible to fix the videos no matter what is done.
It seems then that the only possible solution is to reduce the size of your playback window. This inadvertently reduces the grains and improves video clarity.
Part 2: How to Fix Pixelated or Grainy Videos
Pixelated or Grainy videos are quite irritating as the make the video viewing experience less enjoyable. There are a lot of reasons why your video footage may look grainy but fortunately, there are methods that allow you to rectify such errors.
So, sit back and relax as you are giving a guided tour on how to fix grainy videos
1. Recovery from Original Video File
If your pixelated video is as a result of excessive levels of compression, you could easily create a new video file provided that you have access to the original video file.
Simply discard the pixelated video and save the original video file with a lower level of compression; that should do the trick
2. Limited Hardware Processing Capacity
Sometimes, the problem is not necessarily with the video but with the hardware processing the video. High resolution videos consume significant computing resources and would appear pixelated if the videos being played exceed the processing capacity of the hardware being utilized.
In such cases, the only solution would be to utilize a system that can handle such videos since in this instance, the videos are not the culprits.
3. Incompatible Video Player
When you are sometimes faced with a pixelated video, it might actually be a problem of incompatibility with the video player rather than a problem with the video.
In some instances, videos are encoded with unique algorithms that make certain video players unable to efficiently render them.
You could try using a different video player to confirm if it plays the video without issues.
4. Use Recoverit Video Repair Tool
Recoverit Video Repair is an advanced video repair tool that allows for the repair of Videos due to compression issues amongst others.
Recoverit can easily rectify Grainy, frozen blurry or flickering videos with a click of a button.
This highly efficient tool supports multiple video formats such as MOV, MP4, M2TS, MKV, MTS, 3GP, AVI and FLV. This wide range of formats means that it almost a certain that Recoverit would be able to handle whatever you throw at it.
In order to ensure a very high rate of success when repairing videos, Recoverit has a range of features such as:
Free scan for corrupt videos and preview repaired videos before saving them
Repair videos from different devices, like memory card, SD card, computer hard drive, external hard disk, digital cameras, camcorders, camera drones, action cameras, USB flash drive, etc.
Supports Windows 10/8.1/8/7/Vista/XP and Mac OS 10.9-10.15
Intuitive and user-friendly interface
No limitations on size of Video files for repair
Repair any number of corrupt Video files
How to Fix Grainy Video Files in Quick Repair Mode
Recoverit has two video repair modes i.e. Quick repair and advanced repair modes respectively.
This mode allows for repair of videos with simple errors. Follow the steps below to use Recoverit in simple repair mode.
Step 1. Open Recoverit and add the video you want to repair into the cuboid area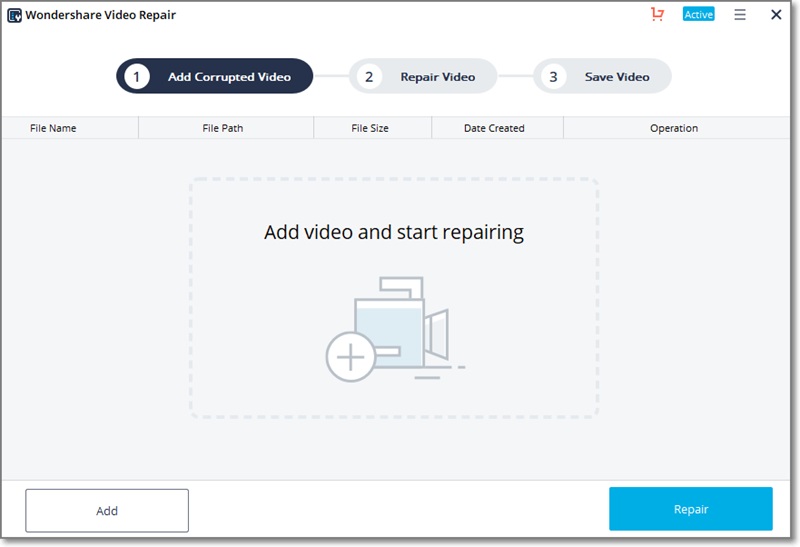 Step 2. Click on the repair tab and wait for the repair to be completed.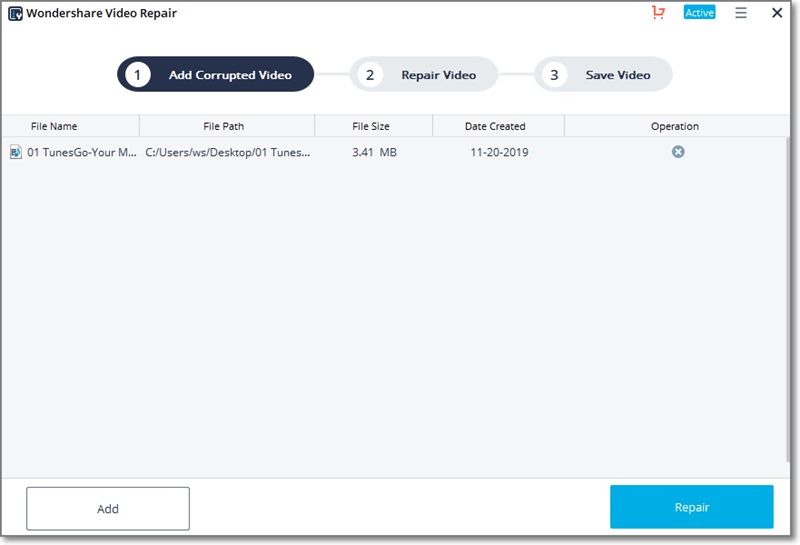 Step 3. In the new window that opens after the repair is completed, you can click ok, then take preview action, and save the repaired file.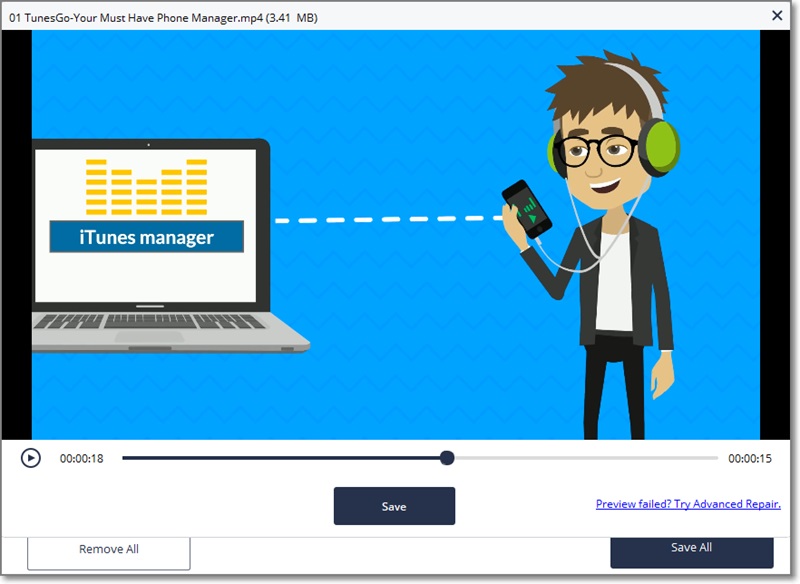 How to Fix Grainy Video Files in Advance Repair Mode
This mode is more suited to video files that are severely corrupted. Advance Repair accordingly allows you to repair it by adding a Sample File to it. A Sample File is a working file created from the same device and of the same format as the corrupted file.
Recorverit consequently uses the information from the working sample files and repairs the corrupted files. Follow the steps below to repair your video in this mode:
Step 1. Add some sample videos shot by the same device.
Step 2. After selecting the sample video, click on Repair > Save. Once the repair is completed, a new window would open indicating a succesful repair. Finally,click the ok tab to save and preview the repaired video.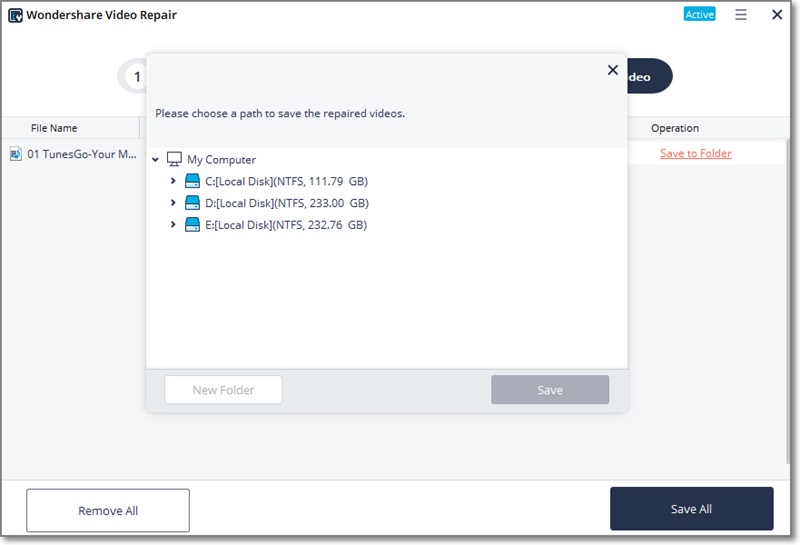 Part 3: Bonus Tips Against Pixelated or Grainy Video?
A pixel is usually referred to as the smallest unitary component of a digital image. The more pixels used to represent an image, the greater the resolution of the image and ultimate the quality of the image or video file.
The image resolution is the information an image holds and the higher the resolution, the more information the image holds.
Pixelation can thus occur if a video is captured using a camera that captures low-resolution footage, shooting in very low light or converting a movie file with a very small file size or very low video resolution.
What all these essentially mean is that not enough information is present in the video file for it to run perfectly. You can Prevent some the problems associated with Video Pixelation by doing the following:
Ideal Lighting Conditions

Well, shooting videos in the correct lighting conditions may seem a bit too obvious but having adequate lighting while shooting videos is vital if you want to avoid grainy videos. When shooting outdoors, natural daylight is epitome but when shooting indoors or at night, natural lighting needs to enhanced with adequate artificial lighting

Using the Correct Camera Settings

Prevention as it is said is always better than cure, this is especially true when shooting videos, as avoiding the situations that may create pixelated videos in the first place can save you from a lot of problems afterwards.

The use of correct and ideal camera settings is your best bet in avoiding pixelated videos.

Lower ISO

ISO in camera measures the sensitivity of the image sensor. When shooting videos, it is always advisable to use a lower ISO setting in order to avoid excessive light from distorting your videos. Although when shooting in low light conditions, it may be necessary to increase ISO in order to compensate for the lower level of lighting.

Wide Aperture

The camera aperture determines the extent of light that enters your camera. In low light conditions, it is advisable to set your camera to wide aperture settings in order to reduce any possible distortion to your video.
It is certainly not the best experience when you play a video and those evil polygons turn up and flood your video screen with their unwanted appearances but it's not all gloom as the problem of pixilation can be fixed in most cases. With the use of the right software, like Recoverit, pixelated video files can easily be repaired.
Solve All Media File Issues
Recover & Repair Photos

Recover & Repair Videos

Recover & Repair Audios

Recover & Repair Cameras