With the presence of several video file formats, it can be a little bit confusing to choose the file format to use. MOV and MP4 are among the file formats that you can use. These two lossless video formats that can be used interchangeably in Apple environment.
Are using Mac and facing some issues related to your mov, m4v or mp4 video files? For sure, the video file you are dealing with is corrupted. You need a video repair mac action in progress as soon as possible. In this article, you would be given plenty of information regarding the reasons of video file corruption, QuickTime as a video repair option on mac, using VLC media player for repairing the corrupted media files and last but not the least the tips to avoid video corruption on mac.
Part 1: Reasons behind the Inaccessibility or Corruption of Videos
MOV is container format developed by Apple to be used on QuickTime player. It stores videos, audios, texts, 3D, virtual reality, graphics and animations. MOV files usually store video files in high quality and size although they are slightly larger than MP4 files. On the other hand, MP4 is also a container format developed by International standard. In fact, it is an upgraded version of MOV file format that works with different media players and also supports mobile devices and USB drives. The MP4 container comprises of Graphics, video, subtitles and audio data. The output file size and quality of MP4 is much better compared to MOV. The beauty of these video formats is that they can be converted from one format to another format.
Whichever file format you choose to store your videos they still face a threat of being corrupt when you mishandle them. MOV, MP4 and other video filesget corrupted due to different reasons.
To begin with, they get corrupt when they are not converted properly to other file formats.
Or when you are editing or transferring videos, and there is a sudden system failure.
Videos are prone to damage when a virus infects your computer or the storage devices.
Also, when there is a power outage, and your computer shuts off immediately leads to corruption of files.
System crash has also proven to be another major reason for videos getting corruption.
Moreover, incomplete download of videos damages the videos on your computer.
Lastly, bad sectors on your drive also lead to videos getting damaged.
---
Part 2: Why We Need Wondershare Video Repair Software for Mac?
Reocverit Video Repair for Mac is designed that can scan and repair corrupt MOV, MP4, M4V, M4A and F4V video files on Mac. The Mac video repair tool repairs corrupt videos, damaged due to compression issues, changes made in the file formats, read/write errors, virus attack, and other reasons. It can deal with all types of M4V and MOV file issues and reproduce the file with its original clarity.
This Video Repair for Mac could auto fix incorrect data, repair damaged video file, solve video abnormal playback with audio-video out of sync, delay in audio, distorted images while playing videos, video freezes audio continues to play, or playback only audio no videos, correct interlaced image to de-interlaced one, etc. Repair corrupt, damaged or unplayable MOV, M4V, MP4 or M4A video file with help of Stellar Phoenix Video Repair for Mac.
Complete Video Repair Software for Mac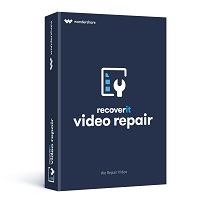 Repairs header corruptions in the video files, the sound section of video files, and movement of the video.
Repairs corrupted data of video files and errors in video slider movement or video frames.
Repairs different formats of video files on Mac 10.9-10.15 like MP4, MOV, M4V, M4A and F4V.
You can use the below mentioned steps to repair corrupt or damaged video files in MP4, MOV, M4V, M4A and F4V formats using this Video Repair for Mac software.
Add Damaged Video
Step 1 Donwload Mac video repair tool on your Macbook and launch it. To repair corrupted videos, add your damaged MOV, M4V or MP4 video files from computer folder(s), or you can drag them here easily.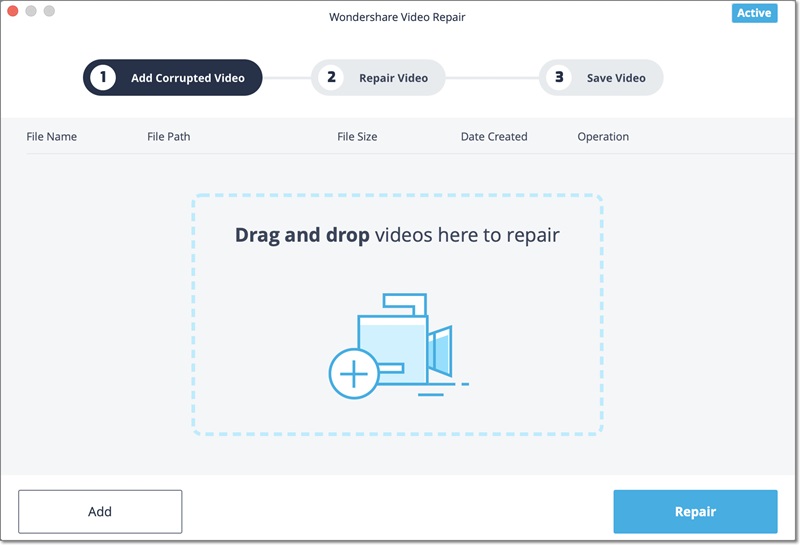 Repair Damaged Video
Step 2 Select multiple corrupted or damaged videos, and click Repair button to start the repairing process.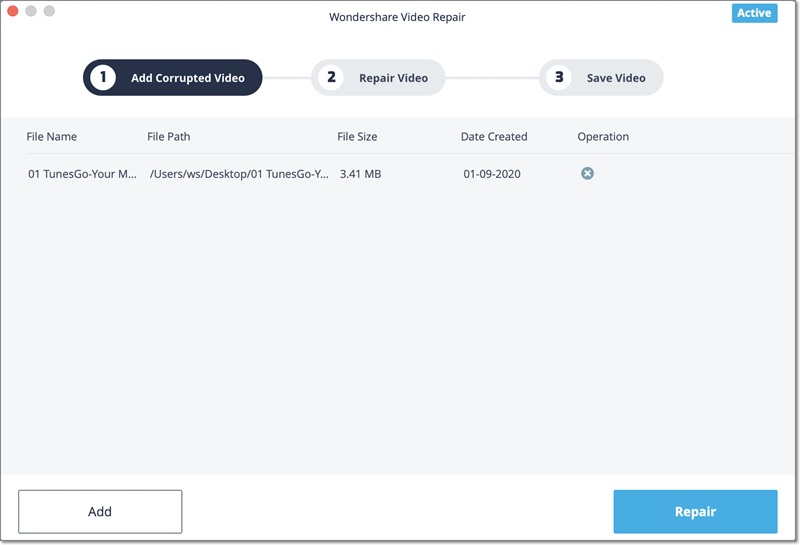 Preview Repaired Video
Step 3 Recoverit Video Repair tool can finish the repairing process within a few minutes. After it, you are allowed to preview different formats of videos to confirm the repair results.
Add Sample Video
Step 4 Don't get a desired result? Move on to the "Advance Video Repair" mode, which entails a sample video and analyze its data for video file repair. The same video should have the same format and device source as your damaged videos.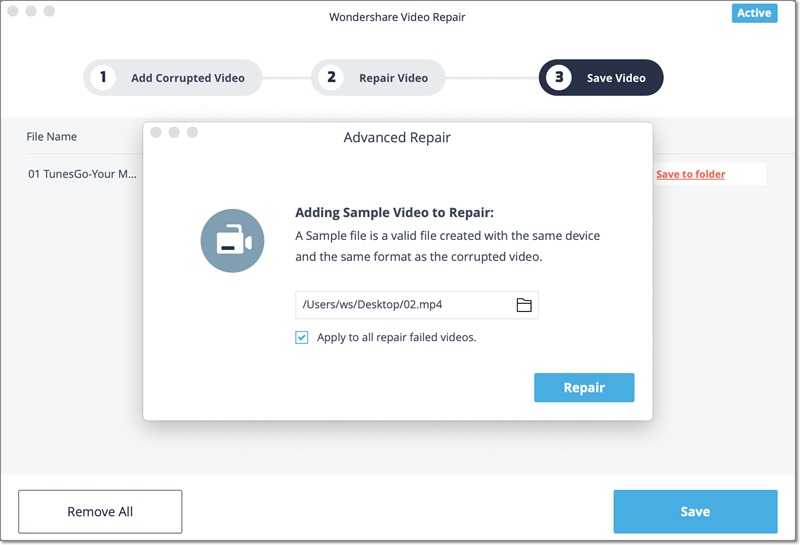 Preview and Save Repaired Video
Step 5 Finally, chooes the repaired MOV, M4V or MP4 video files and save them to a safe destination.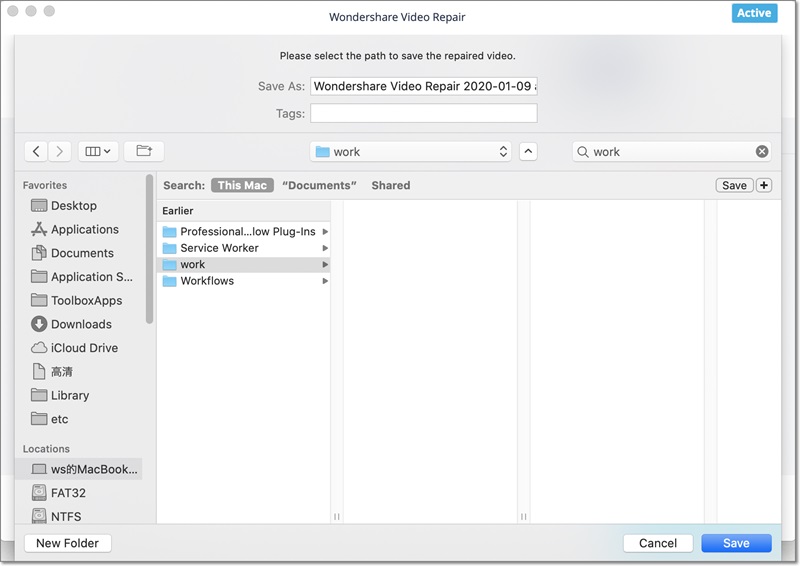 After the saving process is complete, a confirmation message showing a link to the location of saved Video files is displayed. You can click the View Saved Files button to visit the location.
Simply download and have a try the best Video Repair for Mac software. You can start analyzing the results and previewing the repaired movie file on Mac right now!
Q: My photos and videos were lost from my camera. How can I recover them?
A: This
camera data recovery guide
can be of great help to you!
---
Part 3: Can QuickTime Player Repair Corrupt MOV (MP4) Videos?
Quick time is one of the features compatible with Mac, wondering if it can help to repair the corrupt video files, then surely it's a No! Unlike other media players i.e. VLC or Windows media player, quick time is unable to repair the corrupt video files. All it can help with playing, editing, exporting, saving features but lack the ability to repair the damaged file.
When you try to play a damaged or corrupted video file in quick time media player, all you can see is a black screen. This black screen is indicating that video file is corrupted and quick time cannot play the video file.
---
Part 4: How to Repair Video Files on Mac with VLC Media Player?
VLC media player is an all-time solution for fixing the video files that are either damages or corrupted due to any error. It performs this repair mechanism by two techniques that are mentioned as follows:
1. Repair video on Mac by converting it
2. Repair video files by changing the file extension
Using these two methods, one can fix repair the corrupted video files. Let's dicuss each method in detail.
1. Repair video on Mac by converting it
Initiate your video repair mac action by converting the format or codec of the corrupted video file to fix it. Here is a step wise procedure to complete the action.
Step 1 Start with downloading and then installing the VLC media player on the mac device.
Step 2 Once downloaded, launch the media player and from the menu ribbon, select the option of Media.
Step 3 In Media drop down menu, further select Covert and Save.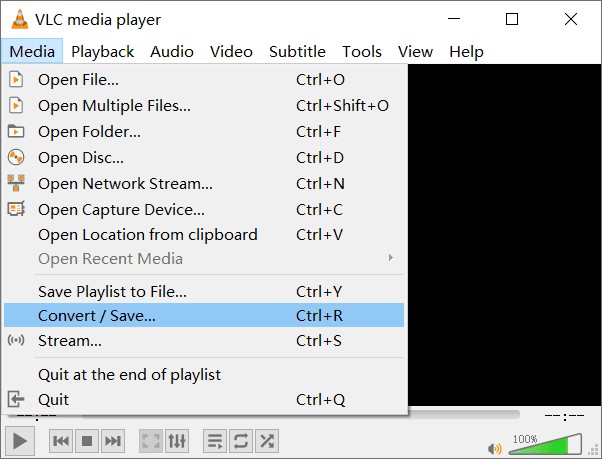 Step 4 In the dialogue prompt, now select the damaged/corrupted video file and again click Convert and Save.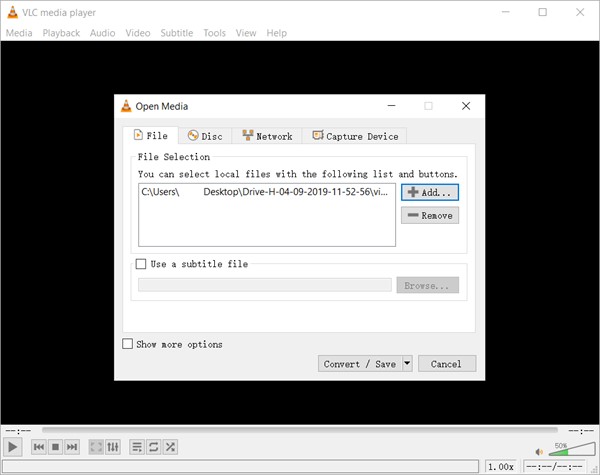 Step 5 In next window, provide the new name for the video file.
Step 6 Now from the profile list, select Input codec and click on Edit Selected Profile. file.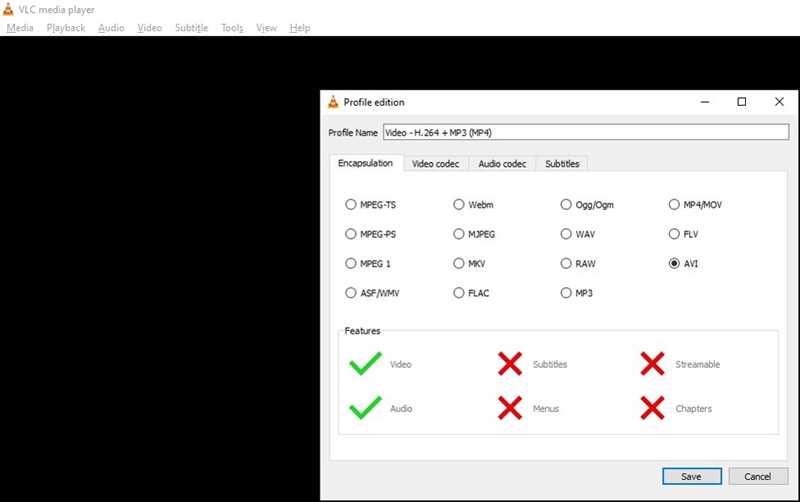 Step 7 When all the settings are changes and saved, the repair process will continue and provides you with a repaired video file ready to play.
2. Repair video files by changing the file extension
Another potential method to fix corrupted video file on mac by using VLC is by changing the file extension. It helps to fix the damaged, corrupted or inaccessible video (mov, m4v or mp4) files. It transcodes the file to another file with customized settings. Here is the step wise process to fix the corrupted video file.
Step 1 Start with downloading and then installing the VLC media player on your device.
Step 2 Now make a copy of the corrupted or damaged video file on your device.
Step 3 Change the file extension e.g. from .mov to .avi. Avoid any error message that appear.
Step 4 Now launch the VLC player and in menu ribbon Select Tools.
Step 5 In Tools drop down menu, click the option of Preferences.
Step 6 In preferences menu, next you have to select Input and Codecs, make the changes accordingly and then save it.
Step 7 Lastly select the option pf Always fix for continuing the video repair mac action. Repaired video file would be ready to play in mere seconds.
---
Part 5: How to Avoid Video Corruption on Mac?
Now you know about the solutions to fix the corrupted/damaged video files in mac. What if you follow some protocols that would help to avoid video corruption on mac? Making sense! Isn't it! So, here are some of the tips to avoid video corruption on mac.
Make sure that your mac device is in a stable power supply mode. Do make a copy of file as a backup.
Check the battery of your device, it should be full while transferring the data.
Use a power anti-virus to debug your device as this can lead to file corruption.
Run a regular scan on your mac device to protect it and the data from malware attack.
Fix all the logical issue with storage devices to avoid those bad sectors.
Hence, fixing the corrupted/damaged video file (mov, m4v or mp4) on your mac device is easy now. All you have to do is to check for the reason causing file corruption in your case and running the video repair mac mechanism with both of the process facilitated by VLC media player. See which one works for you.
Solve Media File Problems
Recover & Repair Photos

Recover & Repair Videos

Recover & Repair Audios

Recover & Repair Cameras