Capturing and shooting videos is now a fairly common activity. As people now have access to high- resolution cameras, they can shoot videos whenever they want. However, when transferring these videos from their PC to mobile, people sometimes get an error message. The error message, simply reads that the application used for the purpose of opening video files on mobile phones is incapable of opening the video file for some reason. Commonly referred to as the video file transfer error, this error message can be quite annoying for people. This message indicates that the video file that was transferred from the PC to the mobile has encountered an issue during its transfer and has corrupted.
Part 1: The Best Video File Repair Tool
The video file transfer error causes videos to become corrupt on Mac too. There are a number of video repair tools that you can find online which can claim to repair corrupt video file with ease on Mac too. However, most of them don't work or are either incapable of repairing corrupt video files. The best tool for video repair for the Mac is the Recoverit Video Repair. This tool can get the job of fixing the video file transfer error on the Mac with utmost ease and comfort. You would have to press a few buttons and your corrupted video files will be restored to your Mac within no time.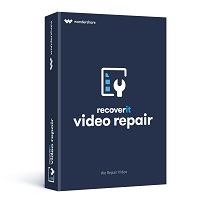 Fixes video corruption issues by rebuilding header, frame, movement, duration and sound damages.
Repairs video files on Windows like WMV, ASF, MOV, MP4, M4V, 3G2, 3GP and F4V files
Repairs video files on Mac like MP4, MOV, M4V, M4A and F4V
Repairs videos stored on hard drives, memory cards, and other storage media
Provides preview of the repaired video files of supported file formats.
Fixes various corruptions of the file on OS X and Windows OS systems.
Part 2: How to Repair Corrupt Video File Transfer Error
Recoverit Video Repair is the best video repair tool and has earned its reputation for being able to repair corrupt MP4 video file,follow the simple steps for repairing damaged video files:
Step 1 Download and launch Video repair tool on your computer, click "Add" button on the homescreen.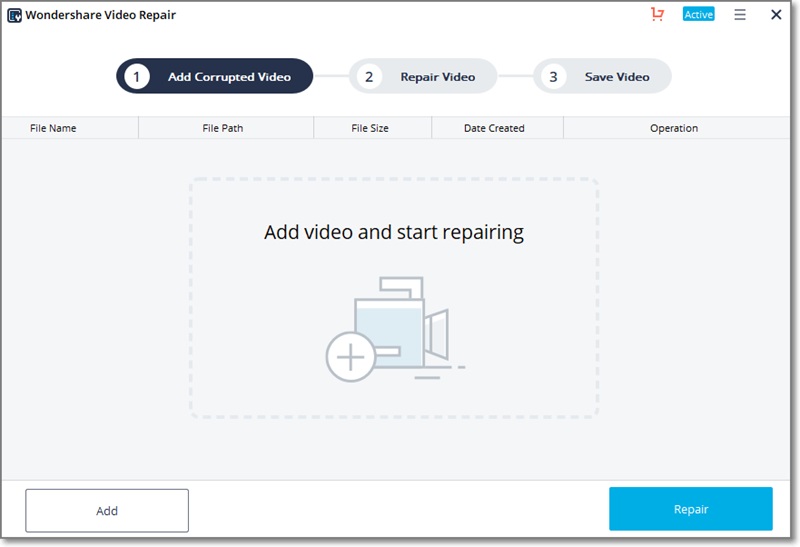 Step 2 Select the damaged HD video files from list and click "Repair" button start to repairing corrupted HD video file.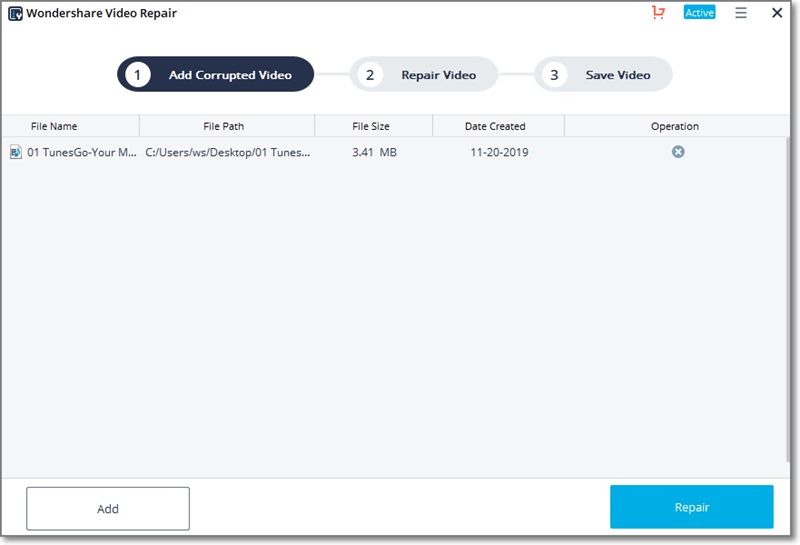 Step 3 Selected Video repaired successfully, preview the video file that has been repaired and then chooes a preferred path to save repaired video file.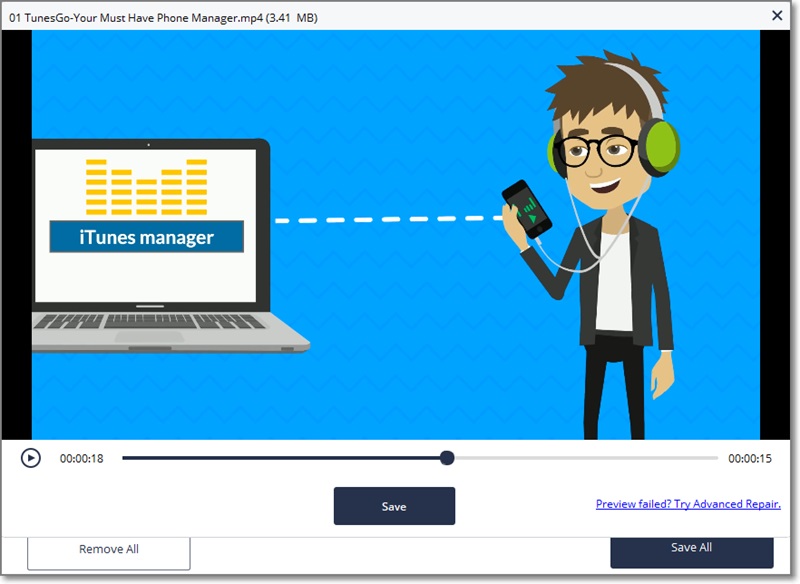 Step 4 If your video files are severaly corrupted, you can try the "Advance Video Repair" mode which will do a deep repair.
If you want to avoid the risk of getting your video files corrupted or damaged, then you will have to make sure that you don't do the following things.
Leave your system unprotected against malware and viruses. Invest in a good antivirus suite and keep on updating it on a regular basis.
Eject a storage device like a USB or a Memory Card from the system during the transfer of video files into them. Only eject them after the video files have properly been transferred.
Let the system shutdown when a video file was being played. Make sure that all of your video files have properly closed down before shutting down the system.
Convert video files into other formats using a third-party converter. It is better to convert video files into other formats using an authentic and safe converter that is not known to corrupt video files.
File Repair Tips
Document Repair

Video Repair

Photo Repair