How to Recover Corrupted Video Files | Full Video Repair Guide
What is the best multimedia you prefer to use in daily life?
Videos are widely used for almost all purposes. Capturing once in a lifetime moment, recording online lectures, recording instructions for some task; you can imagine any sphere of life and you will find videography to be an important part of it!
Now, what if any of your important videos get corrupted? It might sound like nothing less than a nightmare! Right?
Well, if you are hopeless about your corrupted video and are looking for means to recover it, this article is for you!
Part 1: How Videos Files Get Corrupted
You are well aware of the importance of videos in your life. You might also encounter some technical issues while handling your videos. For, instance, you sit down to go through some special moments that you captured back in time and hit a dead end while trying to play them! Are you ever faced with two real-life scenarios?
Situation 1: After transferring videos from my digital camera to the PC, I discovered that the videos were not playing properly at all. Some videos had audio-video sync problems while others had jerky video playback. Is it possible to recover these corrupted videos?
Situation 2: I was excited to recover my wedding videos back after my camcorder shutdown improperly. However, to my surprise, the recovered MP4 video files are not accessible. Is there a way to recover my broken videos?
Well, gone are the times when you could do nothing about these situations. Today, you can find solutions to any technical issue on the vast horizons of technology. Before discovering the solution to recover corrupt videos, it is important to first know the reasons that are responsible for corrupting your data.
These are the possible reasons that can make your videos corrupt:
A sudden shutdown of the device on which the video is playing can corrupt the video.
Loss of internet connection when downloading videos.
Errors while converting video files into another format can corrupt videos.
Using a damaged storage device such as an SD Card can corrupt a video.
Malware or virus intrusion into the device is known to corrupt videos beyond repair.
Using an unauthentic converter to convert a video file from one format to another corrupts the videos.
Using unreliable software may also risk your file.
A faulty video player can corrupt a video file.
In this section, you will find ways of getting your corrupt data back. Also, benefit yourself from the reasons that cause this issue so that you do not face this problem in the first place.
Now, here you go with some solutions with explained causes that persist commonly to every user of video media.
---
Part 2: Ultimate Way to Recover Corrupt Video Files Instantly
You are spoiled for choice when it comes to selecting the video repair tools. Nevertheless, many of these tools promise that they can repair video files when in reality some of them don't. Most of them can bring other problems, such as non-synced audio and video.
Wondershare Repairit Video Repair is the best tool you can find on the market. It's a powerful software that guides you on how to recover a corrupt video file instantly. This corrupt video file fixer repairs videos from different devices, like memory cards, SD cards, computer hard drives, digital cameras, action cameras, etc.
It's always essential to have a video repair tool that can recover different video formats. The good part about Wondershare Repairit is that it supports a wide range of video formats, like MOV, M2TS, MP4, MKV, 3GP, MTS, FLV, and AVI. Besides this, you can use this video repair tool to recover damaged MP4 due to memory card error, file transfer error, interrupted system shutdown, virus attack, and many other causes.
Want to know the best part about how to recover damaged video files using Wondershare Repairit? It supports various corruption scenarios, such as video file header corruption, video file system corruption, corruption on the video slider, corruption on the sound section of the video files, etc.
How to Recover Corrupt Videos Files
To recover broken mp4 video files, you have to use Wondershare Repairit. This is the only way you can continue enjoying watching your videos. Even better, making use of Wondershare Repairit is easy. All you have to do is to take the following steps.
Step 1: Download and Install the Wondershare Repairit Video Repair
Next, launch the software to enter the home page. Then you can click the "Add" button or "Add video and start repairing" area to add corrupt videos.
Step 2: Repair Video in Quick Repair Mode
After adding corrupt video, just click the "Repair" button to start repairing video quickly. In this mode, it can repair different video error messages.
Step 3: Preview the Corrupted Video Files
When the Quick Repair mode completes the repairing process, you can preview the repaired video file. Click OK to save the video file to any location of your choice. But, if the recovery process wasn't satisfactory, consider proceeding to step 4.
Step 4: Add the Sample Video to Repair Severely Corrupted HD Video Files
Wondershare Repairit has the Advanced Repair mode which uses the Sample Video. You can use it if the Quick Repair option failed to repair the video files. Select the Sample Video which will be used as a reference when repairing the severely corrupted video files.
The Advanced Repair option will start repairing the corrupt video file after it completes scanning the Sample Video. You can now preview the recovered video. Finally, save the repaired corrupt video to any location.
Tips for Smooth Corrupt Videos Recovery
The repairing process must be absolute. Otherwise, even after the recovery process, you won't have a perfect video. Therefore, to ensure that you have a smooth corrupt video recovery, you have to understand the capabilities of the Wondershare Repairit Video Repair tool and what you need to do while using it.
You can repair multiple video files simultaneously. This will save you time rather than repairing one video file after another.
If after utilizing the Quick Repair option your video file is not repaired, then use the Advanced Repair option to recover severely corrupt video files.
An Advance Repair Mode uses the Sample File to repair the severely corrupt video. But, make sure a Sample File was created from the same device and has the same format as the corrupted video file.
Don't interrupt the video repairing process until the Wondershare Repairit alerts you that it's complete. You will see the Preview and Save now when the video repairing is finalized. This is the only way it can complete the video recovery process.
Video files are not corrupted but just lost or deleted. Another guide will be a better option for you:
Recover deleted videos
.
- 3 minutes to read it.
Video Tutorial on How to Repair Corrupted Videos?
---
Part 3. Specific Ways to Recover Corrupt Videos
Corrupted videos are every person's nightmare. While you can recover such videos, you need to know their causes, signs, and solutions. Here you can get the main causes and corresponding video file repair solutions.
Cause 1: Error During Recording, Playback, or Transfer
Corruption in videos usually happens while the files are reading or writing. In a camera, this process occurs when you are shooting, playback, or transferring the video files from your device to backup storage. Therefore, if you find out that there is an error message such as error code 0xc00d36c4 while playing your videos, there is a high potential that your video file is corrupt.
Fortunately, a large number of ways are available to get this issue solved.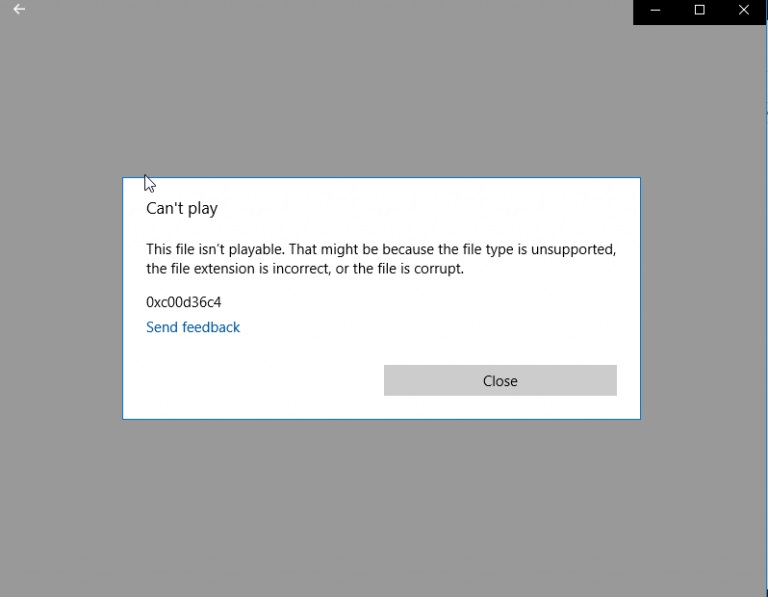 How to Fix Video Handling Errors?
You might come across an error code 0xc00d36c4 while playing a video. Well, this code is nothing but an indication that your file is corrupt.
Step1: Make a copy of your MP4 file that is corrupt. Rename it in ".AVI".
Step 2: Go to the VLC media player and choose the tools menu. Click on preferences.
Step 3: Choose input/ codecs.
Step 4: Now, click on the Always fix option in the 'Damaged or AVI file' drop-down menu and click on the Save button.
How to Record Videos Without Corruption?
Prevention is always better than cure! In the technical world, this phrase is even more applicable. There are various ways to get your corrupted data back but it is wise to prevent any such scenario beforehand and retain the authenticity of your data.
The wisest thing you can do to protect your video files is to take proper care while recording. Make sure to follow these points while you are recording a video.
Make sure to avoid excess playback. Avoid it as much as you can.
Do not instantly change between recording and non-recording.
Make sure there is no complex manipulation of the clips on the source media.
Put the camera off as much as you can between the takes.
Make sure to verify the integrity of the source before its transfer.
---
Cause 2: Improper Formatting
If you don't properly format your SD card or memory card, it can cause corruption in your videos. Here's why it can corrupt your videos. All cameras and other recording devices use a specific video file and media features to properly identify and store video files. Therefore, if the SD card is not formatted correctly, there is a chance of getting corrupt videos. You can know that formatting was the cause of corruption when you lose your video files. Your screen might appear blank without showing any video playing.
You might come across an error message 'The card is not formatted'. Well, a possible reason behind this is improperly ejecting the memory card. Due to this, your data gets inaccessible for the card and you are left with only one option and that is formatting. You may encounter a blank screen.
Also, using a memory card that is not formatted can end up in this situation. So, you need to format your storage device before using it. Now, some hard drives are pre-formatted for this purpose.
First of all, you need to know whether or not your hard drive is formatted. If not, then you need to follow a simple procedure to format your device. This will avoid any unwanted scenario while or after transferring your data to that device.
Step 1. Plug the hard drive into the device. Wait for the system to recognize the hard drive.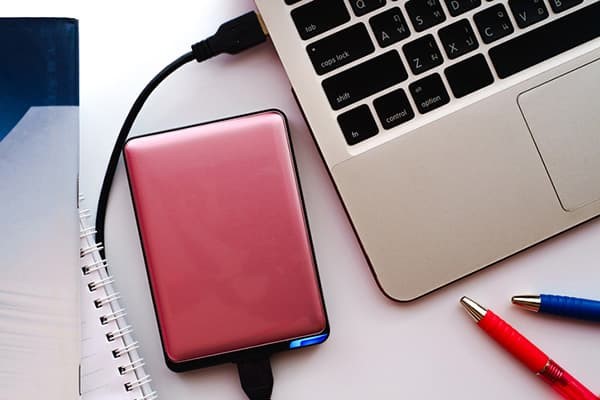 Step 2. Go to my computer and right-click on the icon of your hard drive. Choose the format option from the drop-down menu. Select a quick format.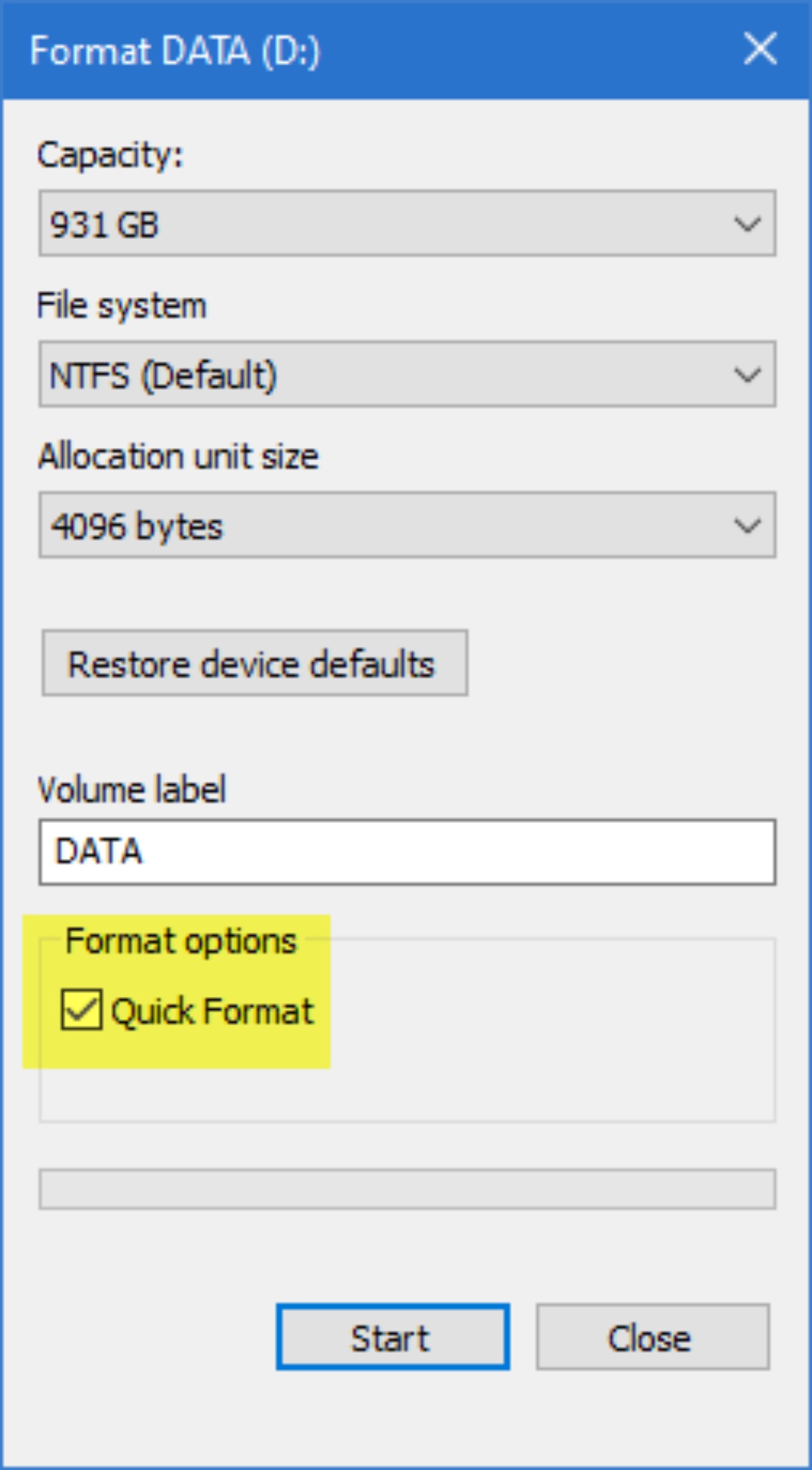 Step 3. Click on Start option to start the process.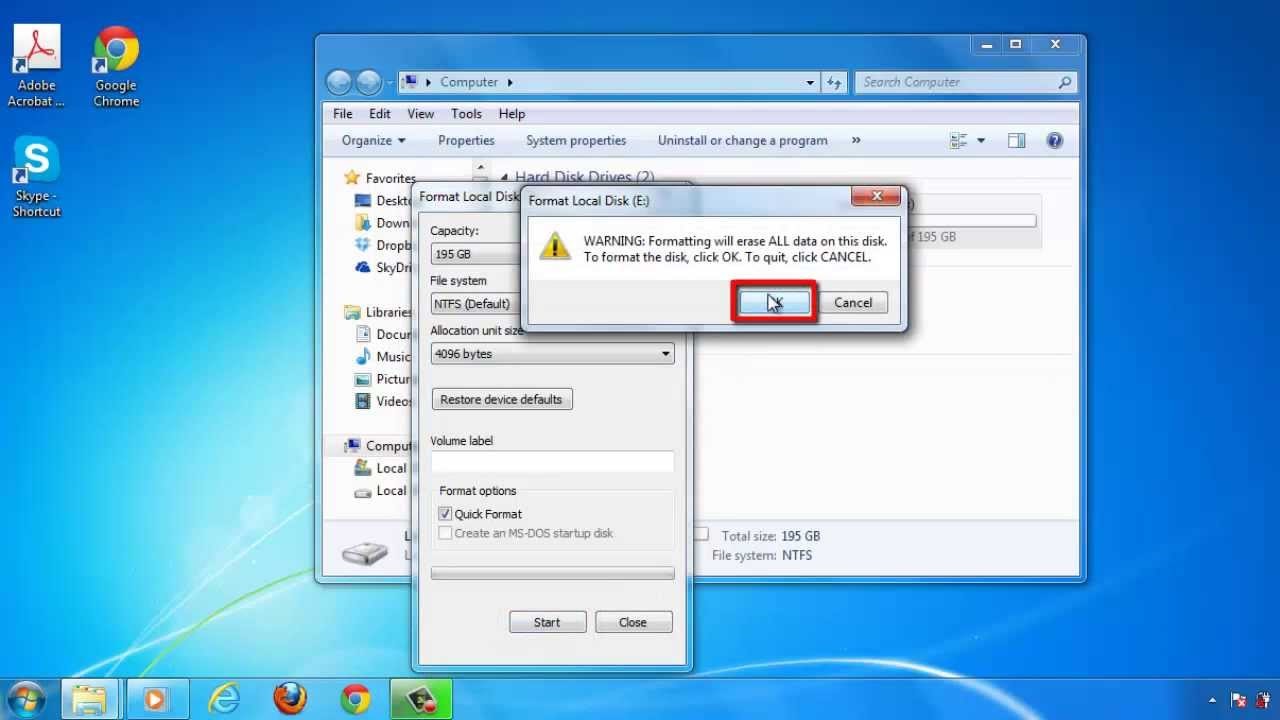 The formatting process will begin. A notification will pop up when the process gets completed. Once the formatting is done, your storage device is ready to store video files without any risk of corruption.
---
Cause 3: Errors During Video Transfer
This error is commonly called 'video transfer error'. Even if you have properly transferred your memory card from your camera, likely, your video is not safe yet. In the video transfer process, there are a lot of opportunities for getting data compromised. For instance, you can have an error message that simply says the application for opening video files on your device can't open the video file.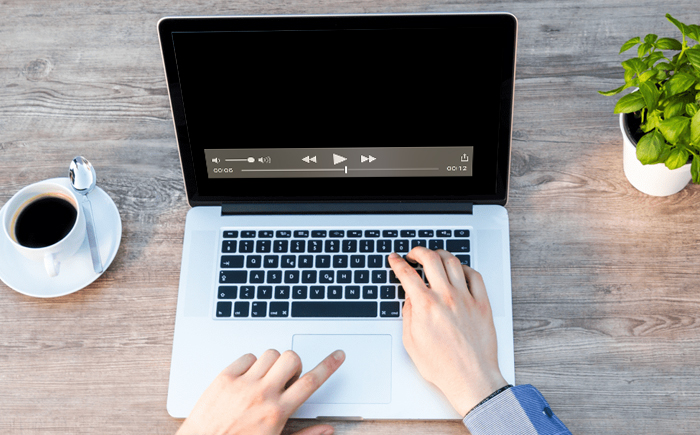 How to Transfer Videos without Corruption?
It is always wise to take necessary preventive measures so that your video does not go corrupt while transferring. Here are a few measures that you should take to transfer videos without corruption.
Using an uncorrupted SD card.
Do not transfer large data simultaneously.
Do not transfer to a faulty device.
We recommend you to use a very promising tool, Wondershare Repairit, to get back your corrupted video. This tool helps you recover your data from almost all platforms, it can be Memory Cards, SD cards, hard drives or cameras, etc.
This tool can support a wide range of formats. The best part is that it repairs videos that get corrupt due to any possible reason!
---
Cause 4: Interrupted System Shutdown
Corruption to video files can occur when the power cuts off while shooting, saving, or playback with almost depleted batteries. Because each video has headers and footers, there is a chance that some of the data will not be written. Perhaps, the data on the memory card or SD card will be corrupted. Worse still, the video will simply not play as the entire data might not be readable. If there is no sound in your videos, just know that you have corrupted videos. Wondershare Repairit Video Repair can repair unplayable video files.
A possible reason behind this is, there are headers and footers in each video. So, there are favorable chances that the whole data is not written due to the power cut. Some parts of it may not get written which eventually corrupts the video.
So, ensure that there is no power cut and your device does not run on a dying battery.
Step 1: Right-click on Command Prompt App and select Run as administrator. A command window will appear.
Step 2: Type "powercfg -h off" and press Enter.
Step 3: Once again press enter and exit from the window. Your desktop will appear and the problem is fixed.
---
Cause 5: Physical Damage
Physical damage can cause corruption in video files. A dropped camera can result in immediate damage to the video file. You might be asking yourself how to recover broken video files from those video files. Well, if you drop your camera, there are bound to be some loose wiring or bad connections. This can cause some sort of video degradation or corruption.
Heat is also unavoidable when you are out shooting a video on a sunny day. But, the heat causes several problems, such as an unexpected camera shutdown. As with other factors that cause improper system shutdown, this opens your video file up to video corruption.
Errors in the movement of the video, flickering in videos, video playback interruption, and many more are signs of corruption in your video file.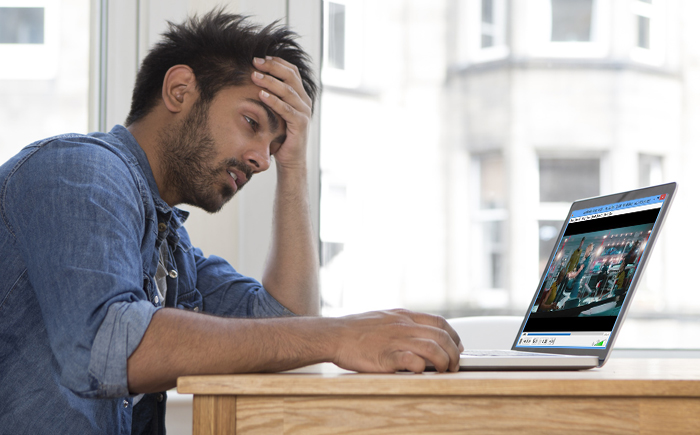 ---
Part 4: Regular Tricks Against Video Corruption
It's always great to be aware of the usual tricks you can use to prevent video corruption. Now, the significant thing is to ensure that you avoid doing the following things while recording or playing the videos:
Don't leave your computer or any other device unprotected against virus attacks or malware. You can get an antivirus program and keep on updating your system regularly.
Avoid removing your memory card or SD card forcibly from your camera during the transferring of videos into the video media player. The only time you can remove them is when the transfer is complete.
Don't let the video player shutdown while the video file was still playing. You can shut down the system only after closing all the video files.
It's not a good idea to convert a video file into another format by using a video converter from the third-party. The safest way is to convert video files using a reliable and safe video converter that doesn't corrupt video files.
Use cameras not known to have data integrity issues. Regardless of any human errors in handling cameras or video files, if the camera's software is not trustworthy, you will have corrupted videos. Purchase only cameras that don't have reported problems to cause video corruption.
Hopefully, this article was of great help. With the advancement in technology, there remains no issue that cannot be dealt with. You can find different solutions to any of your technical issues. Repairing your corrupt videos is no big deal! But we recommend to avoid any such scenario beforehand and retain the authenticity of your data. Make sure to take necessary precautions so that you do not end up in such situations.
Once it happens, you can use Wondershare Repairit to recover your corrupted video file. This will also prevent you from using unreliable video repair tools which can only escalate the video problems.
Solve Media File Problems
Recover & Repair Photos

Recover & Repair Videos

Recover & Repair Audio

Recover & Repair Cameras