Q: How to backup QNAP NAS to external hard drive?
"I am one of those individuals who are very protective about their data. Many people don't understand the significance of backing up QNAP NAS to external hard drive. I have some confidential data on my external hard drive, the first thing that I want to do is to back up NAS to external hard drive, this will ensure me an extra layer of protection to my valuable data. I'm sure making a backup of QNAP NAS to external hard drive will reduce the chances of losing the data. However, I'm looking for some simple ways to perform this task, I'm not a technical person, but I surely want to do this.
Yes, it is quite understandable that you want to make your confidential data more secure. Well, you have gone for the finest option to backup QNAP NAS to external hard drive. Luckily, in this guide you have easiest ways to backup QNAP NAS to external hard drive. Not only this, but we have a section which informs the people about why majority number of individuals strive to backup QNAP NAS. Once we are done with these questions, we will use AOMEI Backupper to backup QNAP NAS to the external hard drive, stick to the guide.
Part 1: Why to backup QNAP NAS to external hard drive?
It is obligatory for you to know the reasons why people backup QNAP NAS to external hard drive. Being aware of the reasons before proceeding to any task makes you realize the worth of that method. Thousands of people in the world backup QNAP NAS to external hard drive for a particular reason. However, Quality network alliance provider has different types of NAS devices for multiple purposes. You just need to know them in detail, these are some of the most common reasons why people backup Quality Network alliance provider NAS to external hard drive;
The utmost important reason why people go for this backup is it provides them with an extra layer of protection for the data secured on NAS. Vast number of users only make backup of Quality Network alliance provider to make sure their data is well secured. No one could afford losing their data in this era.
We all want our data to be safe in any condition, there are multiple cases where silly mistakes caused bulks of data to disappear. Many conditions like virus attacks, hacker attacks, physical damage, hardware failure or any other causality results in data loss. To avoid this, people make backup of quality network alliance provider NAS to external hard drive. This reduces thee risk of losing confidential or crucial data.
Another primary reason why people create this backup is that it gives you the utility to transfer or share files to others in no time. people strive to attain efficient data sharing features in these days. Making the backup of quality network alliance provider NAS makes sure that data transfer is done effectively.
---
Part 2: Two paths to realize QNAP NAS backup
Before jumping to the actual method to backup QNAP NAS to external hard drive, you need to go through two paths to realize quality network alliance provider NAS backup. You can cherish these two paths to successfully perform the desired task;
The first one is that you can add NAS location directly during the file backup process, this path is admired by majority number of people around the globe.
The most effective path is mapping quality network alliance to your computer. In this path, you need to type map network drive in start search box to set. Furthermore, you need to assign a drive letter to the NAS drive. Once you have assigned the drive letter, navigate to the NAS location and the name of the folder. If you have followed this path efficiently, the router will show up as a letter drive on your screen, below the network location.
---
Part 3: How to backup QNAP NAS to external hard drive using AOMEI Backupper?
The finest and the perfect way to backup QNAP NAS to external hard drive is to use AOMEI backupper. It is a reliable software which allows you to have real backup image instead of the cloning, you can create full backup of QNAP using this astonishing software.
AOMEI backupper
You must rely on this remarkable AOMEI backupper software to efficiently create a full backup of QNAP NAS to an external hard drive. AOMEI Backupper is an advanced backup and restore software which contains all features of the Standard edition, provides complete and reliable PC backup and restore strategies for any of the windows version. System Clone, Backup Scheme, Dynamic Disk Backup, Dissimilar Hardware Restore, Merge Images etc. and many others diverse and useful features are available. Not only the backup, but the software allows you to enjoy the automatic backup feature in various devices. Now that you are aware of the capabilities this software has, learn the method to use this software to backup quality network alliance provider NAS to an external hard drive successfully, these are the steps to do so;
Step 1: First of all, connect your external hard drive to the computer properly and make sure it is detected by the operating system. After that, download and install the AOMEI backupper software on your computer. Once downloaded and installed, launch it properly. In the main window, click on file backup under the option of backup.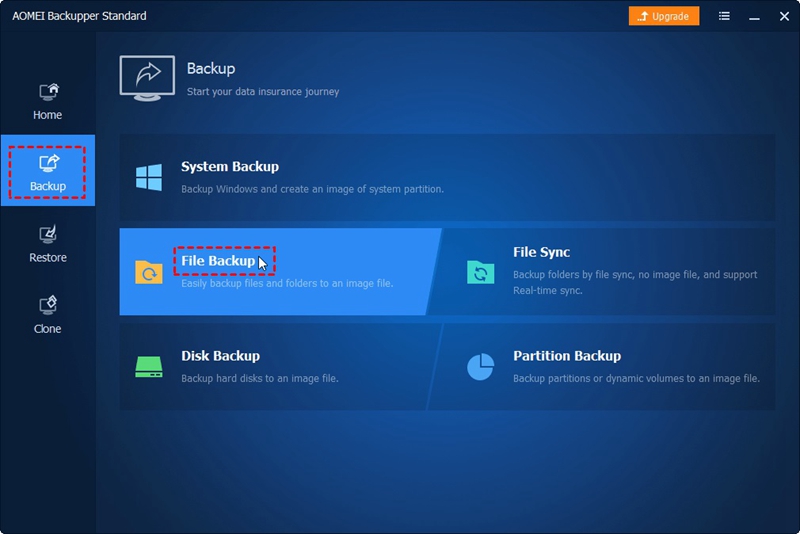 Step 2: Furthermore, click on add file or add folder, as per your requirement. Once added, then open up "This Pc" and O drive, open>ok. Or you can do as go share/NAS> add network location and edit display name and network path, choose OK.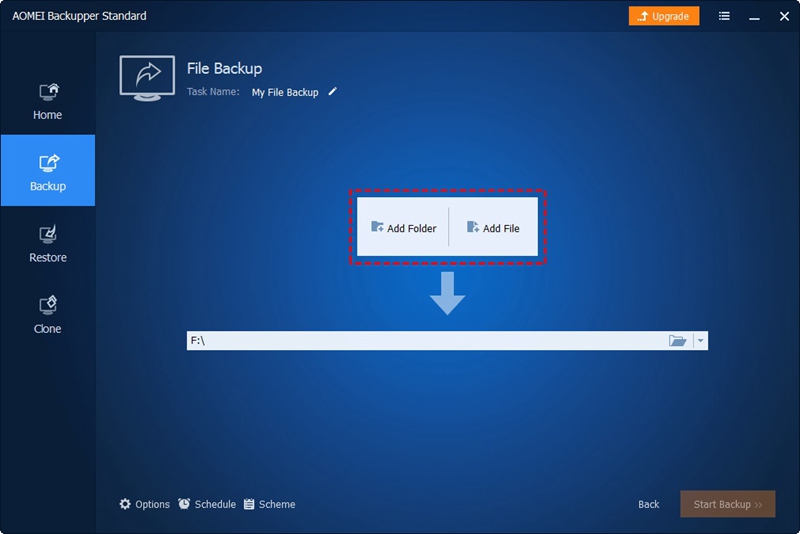 Step 3: In this step, you need to choose the destination path as your external hard drive, choose it properly. Once you have chosen thee destination path, you will be given the option of "Start backup" you can only press this when you are confirmed of your destination location. You can either alter the schedule to regularly backup NAS to external hard drive. For this, you need to check the "Schedule" option on your screen. If you wish to have password encrypted backup image, you can go to the options and change the settings as per your desired requirements.
---
Conclusion
Making the backup of Quality Network Alliance Provider NAS is essential for the people who attain classified or valuable data with them. However, the first thing to do is get the finest software from the market for the job, like AOMEI backupper. This software gives the users chance to perform every task with simplicity. This makes the stiff method much easier than you can imagine. Although, this software is fine alternative to windows 7 backup and restore. This software is widely known for its cloning features, you can clone system, clone disk or you can either clone hard drive which has bad sectors to any other destination. This software has more features than you can ever imagine, it can aid you in multiple dilemmas. The only thing that you are required to do is to follow the method carefully, you should never skip a step, it can worsen your condition.
Data Backup Services
Computer Backup

Hard Drive Backup

Mac Backup

Cloud Backup