What Can Be Recovered? Check File Formats Supported!
Recover any file or folder or reconstruct 200+ file types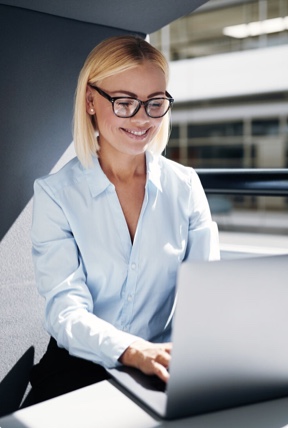 Office Files
DOC, DOCX, RTF, XLS, XLSX, XLSB, PPT, PPTX, PPS, PDF, DOT, DOTX, XLSB, XLT, XLTX, POT, PPSX, etc.

Graphics
CRW, JPEG, JPG, PNG, PSD, RAW, RGB, 3DM, 3DMF, 3FR, ABM, AFX, ANI, ART, ARW, BIZ, BLD, etc.

Videos
AVI, FLA, FLV, M4V, MOV, MP4, WMV, 3G2, 3GP, 3GP2, 3GPP, AMV, ANM, ASF, ASX, etc.

Audio
AAC, AIFF, ALAC, FLAC, MP3, OGG, PCM, WAV, WMA, A52, AA, AA3, AAC, AC3, ACC,AFC, AIF, etc.

Outlook & Archive
Email: MSG, PST, OST, EML, EMLX, MBOX, etc. Archive: 7Z, WAR, ZIP, exe, 7zip, etc.
Documents Files
EPUB, JIS, KEY, LOG, MPS, NUMBERS, ODS, ONE, PAGES, PPS, PS, 12M, 1ST, 3DA, 3DS, 3TF, 3WS, ABD, etc.
Where To Recover From? Check Storage Media Supported!

USB Flash Drive
Bring data back from USB flash drive, pen drive, thumbdrive and flash memory stick, regardless of the file systems (FAT16, FAT32, exFAT, NTFS, HFS, APFS, etc).

Memory Card
Support data recovery from all kinds of memory cards, like CF card, SD card, MMC, SmartMedia, xD-Picture card, MiniSD card, MicroSD card, etc.

Camera
Lost photos and videos can be recovered from various brands of digital cameras, DJI/GoPro Drone cameras, action cameras, camcorder, etc.

SD card
Recover photos, videos & files from SD/SDHC/SDXC card or the device with SD card, like Android phone, audio recorder, music/video player, etc.

Internal Hard Disk
Retrieve data from hard disk drive (HDD), solid state drive (SSD), floppy disk, Zip drive and many more, even though it's uninitiated, unallocated or crashed.

External Hard Drive
Get data back deleted from all brands of external disk or lost on an external drive that is corrupted, damaged, formatted, or undetected.

Computer/Laptop
Fully compatible with macOS 10.9- 10.15 (macOS Catalina)

Other Storage Media
Recover over 1000 types and formats of data from a wide range of data storage devices, including the mentioned ones, iPod (Nano, Classic & Shuffle), cell phone, and many more.
What's New in Recoverit for Mac 8.5?

Meet the New Video Repair Function
Repairs video files on Mac like MP4, MOV, M4V and M4A files
Repairs video files on Windows like WMV, MOV, MP4, M4V, 3G2 and 3GP files
Video Repair for all popular cameras, including GoPro, DJI Drones, Dashcam and so on
Display preview of repaired Video files before saving
Optimize the File Recovery and Preview to No.1
A remarkable improvement came upon photo and video recovery rate.
The algorithm of Recoverit is specialized for complex data loss scenarios like improperly formatting. It will not be tough anymore to recover lost things from a formatted or raw device.
Recoverit for Mac is fully compatible with macOS 10.9- 10.15 (macOS Catalina).
Improved! Recover files more quickly and better.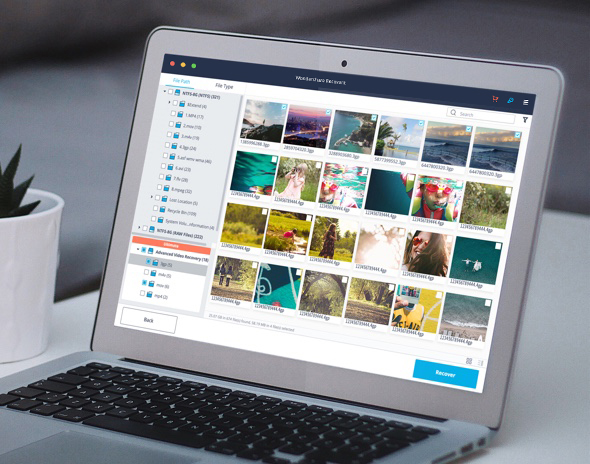 Exclusive Advanced Video Recovery Technology
Recoverit makes every video recoverable from any device that can be detected by your PC.
Recoverit engineering team made a dramatic breakthrough and a patent was approved.
Advanced Video Recovery Technoly is exclusive to Wondershare Recoverit.
Recoverit is holding a leading position on the video recovery software market.
Simple, Quick, Easy-3 Steps to Get back Your Lost Mac Files
Recoverit is dedicated to simpler, easier, securer and more intuitive technology of data recovery
1. Select
Launch the Recoverit for Mac and select a specific drive where you lost data.

2. Scan
Scan the selected location to search for your lost files on Mac.
3. Recover
Preview the files from result menu and click on "Recover" to get deleted files back on Mac.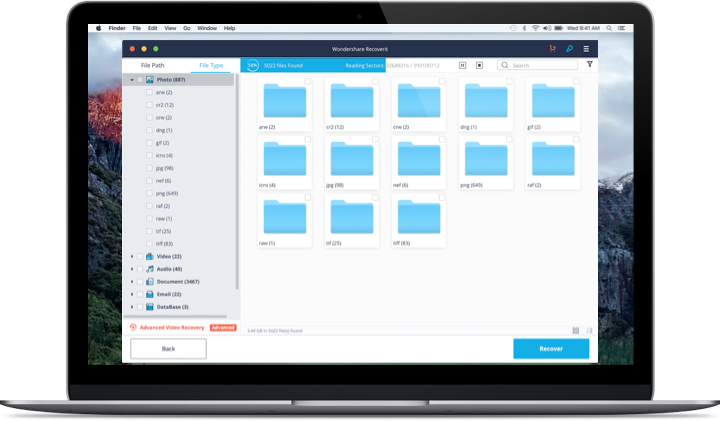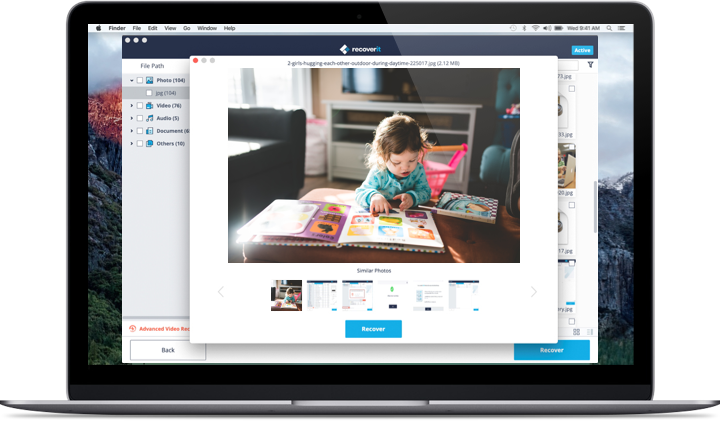 See What Else We Support
Your system is compatible
The Tech Specifications We Are Proud of
Computer Operating Systems

• macOS X 10.9: Mavericks (Cabernet)
• macOS X 10.10: Yosemite (Syrah)
• macOS X 10.11: El Capitan (Gala)
• macOS 10.12: Sierra (Fuji)
• macOS 10.13: High Sierra (Lobo)
• macOS 10.14: Mojave (Liberty)
• macOS 10.15: Catalina

Computer File Systems

APFS (Encrypted), ExFAT, FAT16, FAT32, HFS+, Encrypted HFS, HFSX, NTFS,
ReFS, Raid, RAW, JFS under the Linux OS, ext2, ext3, ext4 under the Linux OS.

Data Loss Scenarios

• Accidental or permanent deletion
• Disk or card formatting
• The corruptio of Hard drive, card or other devices
• Human operation errors
• Any other data loss scenarios
Discover More Details
Value is More Expensive Than price
We have been helping over 5,000,000 persons and companies retrieve their deleted, lost, formatted or corrupted data
back. Choose the right plan for you at the right place.

16 years to develop data
recovery technology

5 million of users we have
been helping
7 days for Money-back
Guarantee
24x7 professional technical support
See What Our Users Ask Frequently
Can I cancel my monthly or annualy subscription?

Yes, of course you can. 1 year subscription allows you to use this product for 1 year and renew if you're satisfied. You will receive an email notification 7 days prior to the end of the subscription, which will include instructions to either renew for another year or cancel the subscription. 1 month subscription allows you to use this product for 1 month and renew if you're satisfied. You will receive an email notification 7 days prior to the end of the subscription, which will include instructions to either continue the monthly subscription or cancel the subscription.

Is Wondershare Recoverit safe?

Recoverit utilizes the read-only mode. It means that the data recovery wizard will only scan and recover your lost, deleted and formatted data. However, it is not allowed and also has no the ability to write and edit your files. Also, it has the inbuilt anti-virus module, which will let your device and files be free from malware and virus infection.

Can I recover files deleted a long time ago?

Yes, of course you can. Many of our customers recovered their data lost many years ago. The data recovery tool for PC can scan your Windows computer or connected device thoroughly, up to your location selection. Thus, all lost or inaccessible data can be digged out and retrieved back.

How much time does data recovery take?

It depends. Usually, it only takes a few minutes to scan and recover your files with Recoverit. However, if you want to recover a large amount of data from a device with large sizes of files stored, time and patience are needed. But a few hours are the upmost.

How does Recoverit file recovery program work?

Select > Scan > Preview & Recover. The 3 simple steps tells us the working principle of Recoverit for Windows. Once you select the specific location, Recoverit will scan it for all your data present it. It is able to analyze the file system and file directory for target data locating and organizing. Then, it shows you the results of scanning work. You just need to preview the files and select the wanted ones for file recovery.

Can I recover a specific kind of data?

You can get the sure answer from Recoverit. The data restoration program support the recovery of over 1000+ types and formats of data. And you can use the filtering function built in the software to target at specific files, like photos, videos, Word, Excel, audios and many more.
Reliable Data Recovery Software With Hign
Data Recovery Rate