I have two problems.
1-- I have created system image backup in one of the disk drive F. when I tried to recover the system I reboot the laptop and complete the steps and finally showed the drive to select for recover i.e. dive E and not drive F which is not having system image backup. How to solve this problem?
2--- I wish to create system Image backup in USB pen drive. But my windows 10 shows that this is not the valid drive. Pl. let me guide to create system image backup in pen dive.
Recovery image backup is something related to the data retrieval which is lost when you are trying to install the new operating system or duet to any system or drive failure. A recovery mechanism is used to get back the data with the help of either built-in utilities or a third party application software. In this context windows 10 image backup software is used to create windows 10 recovery image backup. This article will explain it all.
Just as a system image is the clone for operating system, a recovery image backup is the data that was once lost and then retrieved via data recovery software or by using built-in data recovery mechanisms. While creating a system backup image, it is asked to recover all the lost data, if any, so that the system backup image could contain all the latest version of data. So if you are looking forward for answer regarding how to restore windows 10 from image backup, then this article is going to help you. Here you will get to know about the recovery image backup and its need along with three of the ways to create the system image backup for windows 10. Here are the topics that would be discussed in detail.
Part 1: Why Create a Windows 10 Recovery Image?
Till now, you have frequently listened about the system image, similar to that is another form i.e. a recovery image. All the reasons that counts for the creation of a system image implies for creating the recovery image. According to a statistical estimate, about 10% of devices face system failure every month due to virus and malware attacks and every nine out of ten devices confronts the drive failures. All this ends up in data loss. So in order to wipe off the fear of data loss from system or hard drive crashes and failures, a recovery image backup is created. It helps to restore the system to the last working condition or restore the data of drive to another drive. The image backup can copy everything including operating system, files, installed programs and settings into a compressed image file. So two of the obvious reasons for creating the windows 10 recovery image are as follows:
To avoid data loss from system or hard drive failures.
To copy everything present on the device i.e. data (file/folder/file systems/media) and operating system ( applications/system drivers/system files/system updates)
---
Part 2: How to Create Windows 10 System Image with Freeware?
As a practical answer for the question i.e. how to restore windows 10 from image backup, you can use a third party utility i.e. windows 10 image backup software. AOMEI backupper professional is one of the most viable option while considering the third party software solution. It is a software that helps to create system images in no time along with additional features i.e. system backup, disk backup, file backup, selective file restore, differential backup, backup when USB plug in, etc. It is easy to operate, works with fastest possible speed, supports various destination options (USB, hard drive, external hard drive, your cloud drive and also a network share), and comes up with a feature of backup compression.
Here are the steps to follow for using the software to create a windows 10 system image.
Step 1: Initiate the process with downloading and then installing the software on your device.
Step 2: Once installed, launch the software and in the main interface select the option of backup. In the backup menu, select for thye option of system backup.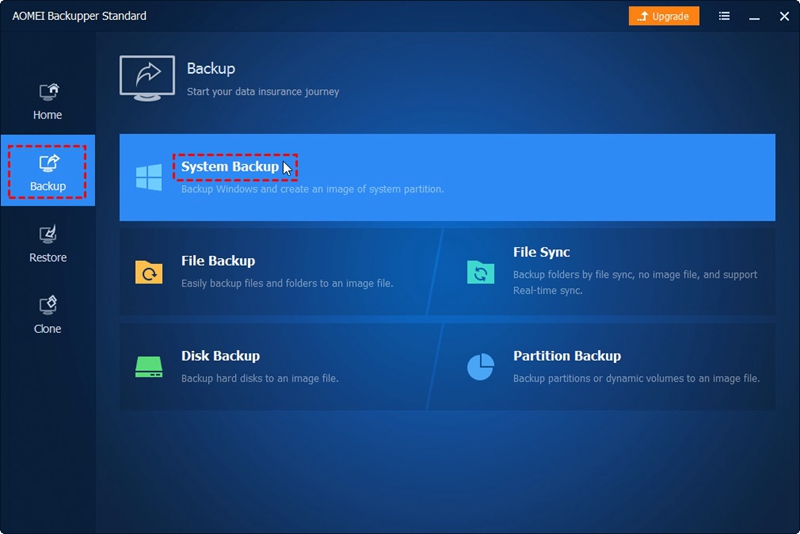 Step 3: The software by default will select the source drive and next you have to select the destination drive. You can also select the network location, NAS, USB drive as the destination. Click start backup to continue.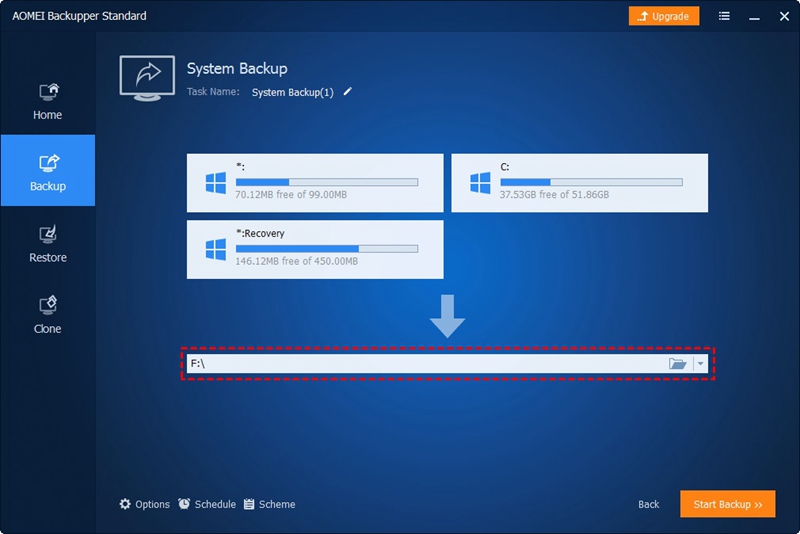 ---
Part 3: How to Create Windows 10 System Image with Built-In Tool?
Apart from the third party software solution, Microsoft has created some built-in utilities to deal with issues like system or drive failures/crashes. One of them is the backup and restore working in windows 7 and 10. So below mentioned are the steps that could be followed to caret a system image on windows 10 by using backup and restore utility. Here let consider a scenario for creating the system image on USB, acting as a destination drive.
Step 1: In the windows main menu, select the option of control panel and further select system and security.
Step 2: In the system and security menu, click the option of file history followed by selecting the option of system image backup. Else you can directly write backup and restore in the search box to reach to the utility.
Step 3: Now connect the USB drive acting as the destination drive to your device. Click next to continue.
Step 4: Check the backup settings and click start backup to continue.
Once the process is complete, a pop up window will appear with a permission message to create s system repair disc, if required. Click yes if necessary. This feature helps to create a recovery image and helps you in time when your device fails to boot properly.
---
Part 4: How to Restore Your Backup Through Windows' Startup Options?
Another built-in utility mechanism used to create a system image for windows 10 is through window's startup option. It can be done by using a special boot recovery process. This option is viable in Windows 10 or 8.1. Following are the steps to carry out the process.
Step 1: Press the shift key and in the main menu, click restart to restart your device. If the boot mechanism fails to run properly, a window will appear on the screen with recovery boot menu.
Step 2: In this menu, click the option of trouble shoot and further select the option of advanced options.
Step 3: in the new menu, click the option of system image recovery.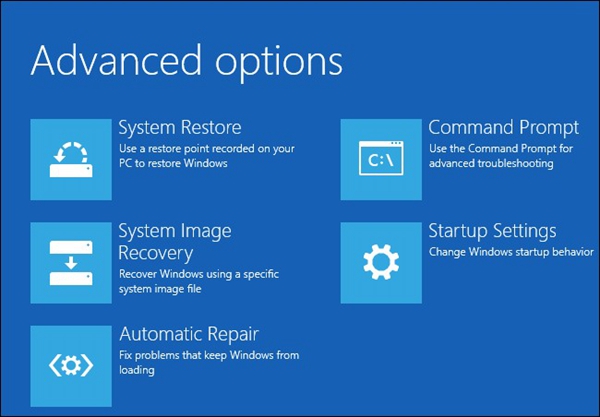 Step 4: If you are using windows 7, you can click press F8 while your device is booting. It will lead you to the recovery boot menu. Here you can select the option of repair your computer. Click enter to continue.
Step 5: In system recovery options window, check the option of 'Restore your computer using a system image that you created earlier'.
Step 6: Select the particular system image from source drive to continue the process.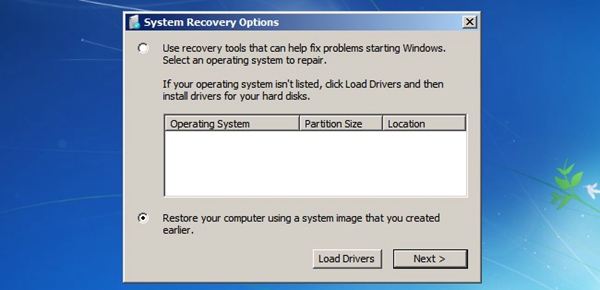 This is how a system image can be created by using the startup option of windows.
Hence, in this article, you got to know about the recovery backup image and why you actually need. Possible reason included are to avoid data loss and to copy all the data present on the device. Furthermore, the article explained three possible ways to create the windows 10 system backup image. The first way suggested the use of a third party software. AOMEI backupper professional was the recommended software solution that could be employed. The second way to create system image is via a windows built-in utility i.e. Backup and restore. The third way suggested is by using the windows startup options. All three recommended procedures can be employed to create windows 10 system image efficiently. If built-in mechanism fails to work, the software solution is always there to give guaranteed results.
Data Backup Services
Computer Backup

Hard Drive Backup

Mac Backup

Cloud Backup