With the evolution of technology, we come across a number of developments with every passing day. SSD or Solid State Drive is known to be the latest kind of storage device available in the market. It is much faster, safer and securer in comparison to the existing HDD. That's the reason why people have been replacing their conventional hard drives with SSDs. This article discusses a few important details on the requirements and a step by step guide to help you migrate Windows 8 to SSD.
Part 1: What You Need to Do Before Migrate Windows 8 to SSD
Before you migrate your Windows 8 operating system to a new SSD, you need to take care of a few things. Some useful details in this regard are discussed below for your convenience and understanding.
The first thing that you need to do before carrying out the migration process is to take a backup of all your existing data and put it on a safe location in order to avoid any inconvenience. This is due to the fact that only the operating system part of your existing drive may be cloned to your SSD and the rest of your data would be lost in the process. So take a secure backup of all your important data before you start.
Once you have taken a backup of your data, it is time to get a good software to facilitate your migration process. There are a number of software applications available in the market for this purpose. You might want to give Ease US To do Backup software as it is a well-known application. AOMEI Partition Assistant is another fine tool in this regard.
SSDs are normally smaller in size as compared to ordinary HDDs. So you need to compute the sizes of your existing drive and your SSD in order to make sure that you have got everything right.
Part 2: How to Migrate Windows 8 from HDD to SSD with AOMEI Partition Assistant
AOMEI Partition Assistant is a high end software application that is designed to take care of all partition related tasks you may ever come across. If you are looking forward to migrating Windows 8 to a new SSD device, using this application might be a good call. Some of the most prominent features offered by AOMEI Partition Assistant are listed below.
Allows you to resize, extend or move your partition without any data loss
Allows you to merge or split partitions
Allows you to delete existing partitions and create new ones
Allows you to migrate your existing OS to an SSD
Allows you to clone your partition to any other drive
Offers inter conversion of one disk mode to another without data loss
Offers creation of bootable media
If you are looking to migrate Windows 8 to SSD, you need to go through the following tutorial that contains a step by step guide to this process.
Migrate Windows 8 from HDD to SSD
Step 1 Download and install the AOMEI Partition Assistant to your computer. Once you are done, launch the application and go through the information it offers regarding your existing partitions. If everything looks fine, hit the 'Migrate OS to HDD or SSD' button that is located at the left side of the screen. Now hit the "Next" button to move forward.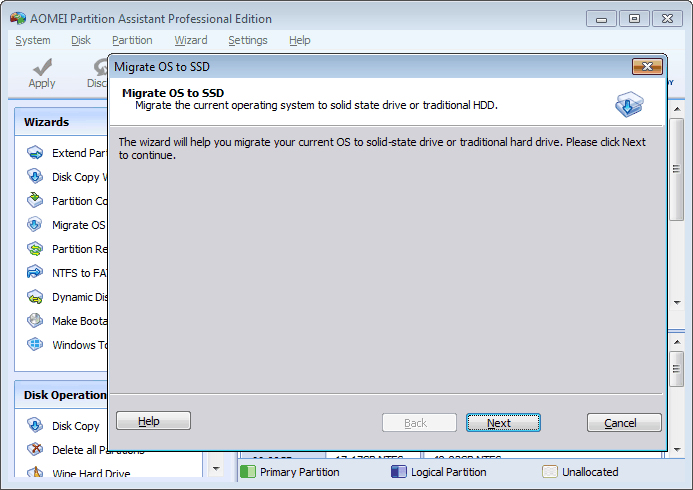 Step 2 When you come across the subsequent window, choose the partition or any unallocated space available on your new SSD drive. Now hit the "Next" button to get to the next screen.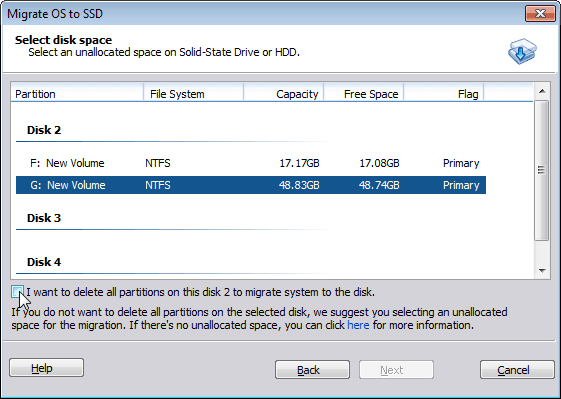 Step 3 This step allows you to amend any information regarding the letter, location or size of the drive that you want to use in the partitioning process. You may go with the default settings if you do not want to make any changes.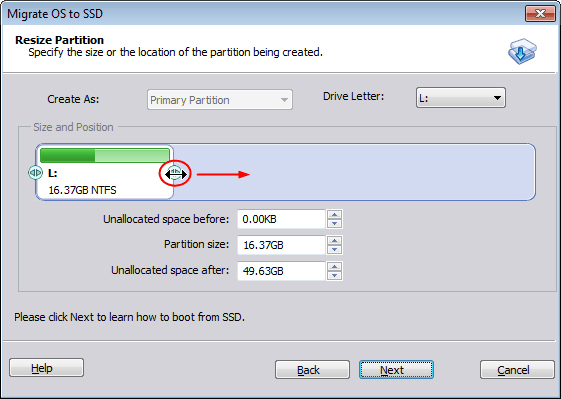 Step 4 Once you have set up all your drive information, hit the "Next" button and it would take you to the next screen that contains a note on "Boot Operating System".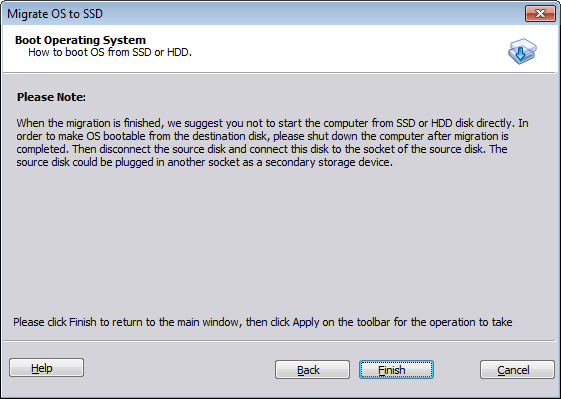 Step 5 Now hit the "Finish" button and it would take you to the main screen where you may go through the preview of the new changes. In order to save them, hit the "Apply" button.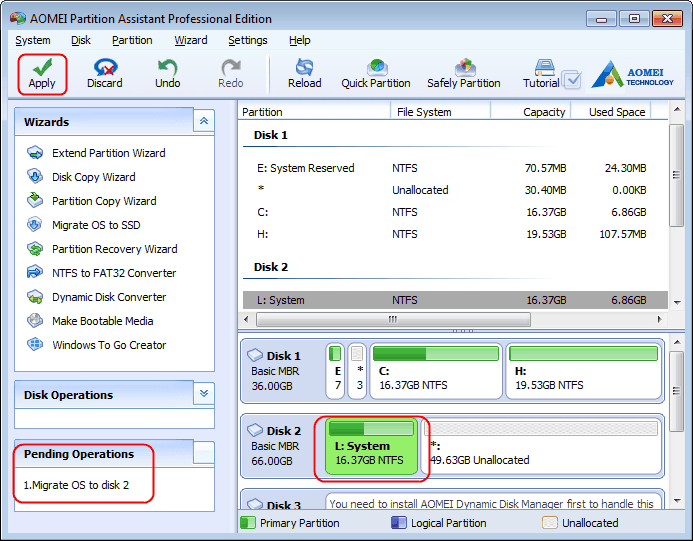 Note: The process carried out in the above tutorial incorporates system partition. Therefore, the process would be finished according to the Pre OS Mode. In case you are migrating your operating system between GPT and MBR disks, you need to enter the BIOS settings and amend the basic boot settings as well.
In order to sum it all up, it may be stated that migrating your Windows 8 to an SSD drive always comes in very handy as an SSD is much faster, safer and securer in comparison to an HDD. All the steps involved in the migration process need to be followed exactly as they are listed in the tutorial above. If something goes wrong, your data has a tendency to get lost. In order to cater such an unwanted experience, it is always nice to have a good data recovery software application at your disposal. There are numerous applications available in the market. All of them have their own pros and cons but if you are interested in the best one out there, you need to check out Recoverit data recovery software. Some of the most notable features offered by this product are listed below for your convenience and understanding.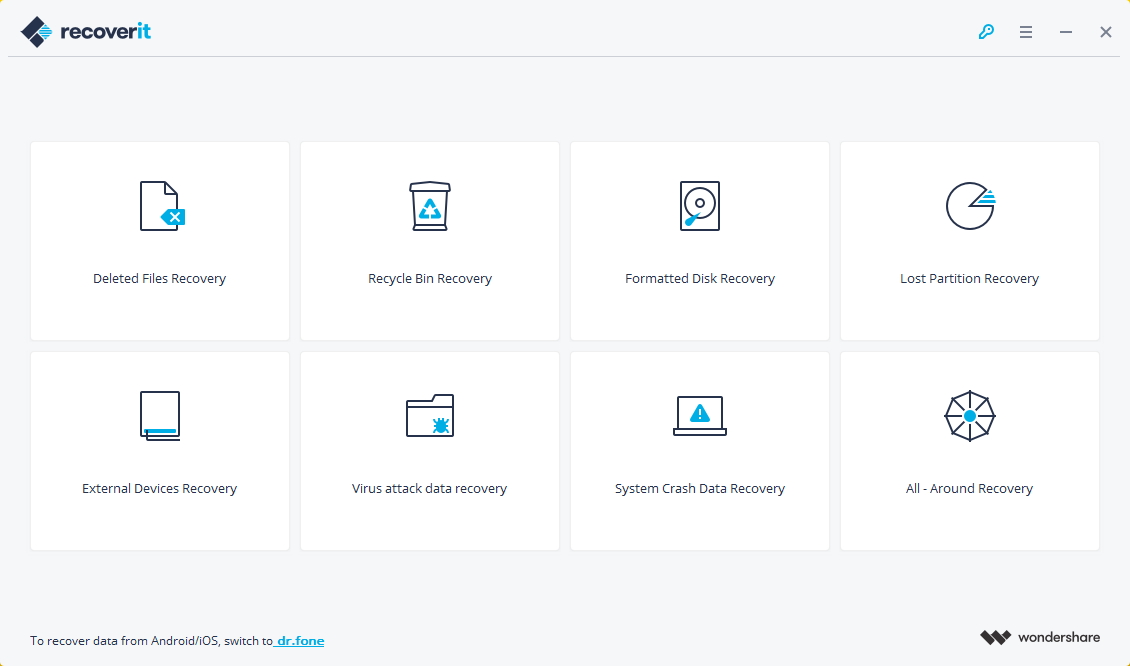 Recover lost or deleted files, photos, audio, music, emails from any storage device effectively, safely and completely.
Supports data recovery from recycle bin, hard drive, memory card, flash drive, digital camera and camcorders.
Supports to recover data for sudden deletion, formatting, hard drive corruption, virus attack, system crash under different situations.
Security Verified, people have downloaded it