If your PC isn't functioning ideally, then you certainly can't access your files as well. A Windows system can seem to malfunction due to plenty of reasons. Though, in order to recover data when PC won't boot, you need to implement some added measures. If your Windows PC is not able to start, then you need to change its BIOS settings and boot it from some other source. Also, by taking the assistance of Windows PE, you can perform the recovery operation. Don't worry – it is pretty easy. In this post, we will teach you how to recover data when PC won't boot.
Part 1: Free Download Recoverit with Bootable Media
Recoverit can help you to recover data when PC won't boot, but you should create a bootable media with it to boot up the computer. It is compatible with every major version of Windows and supports the Windows Preinstallation Environment. In this way, users can create a bootable media and use it to perform an operating system crash recovery whenever their PC malfunctions.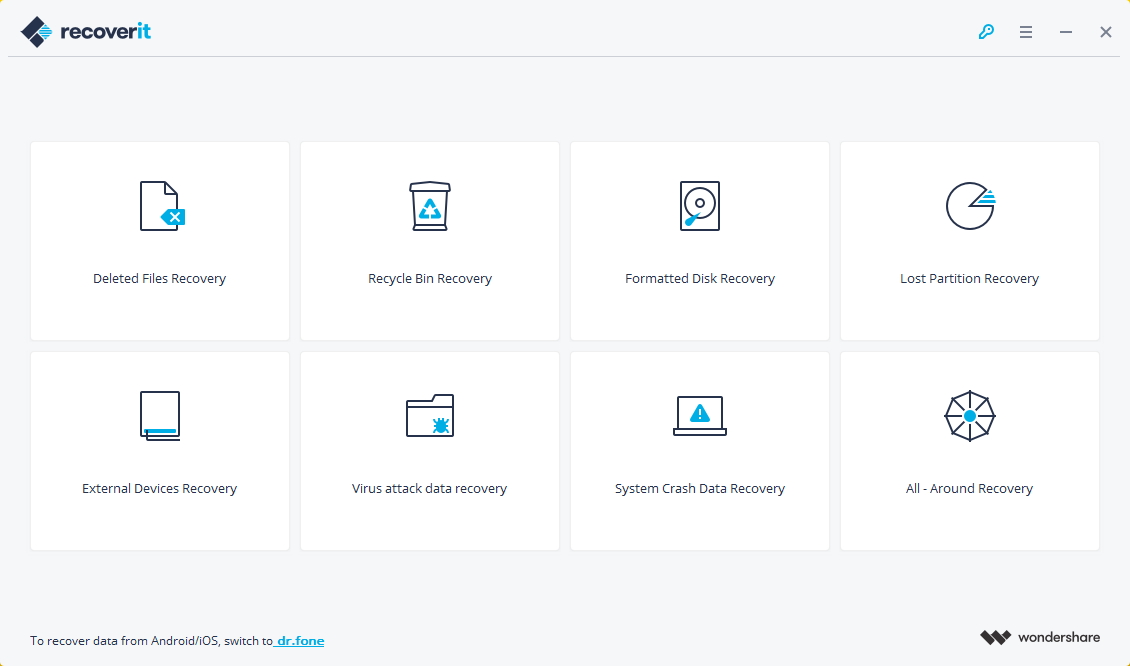 Recover lost or deleted files, photos, audio, music, emails from any storage device effectively, safely and completely.
Supports data recovery from recycle bin, hard drive, memory card, flash drive, digital camera and camcorders.
Supports to recover data for sudden deletion, formatting, hard drive corruption, virus attack, system crash under different situations.
Security Verified, people have downloaded it
Part 2: How to Recover Data When PC Won't Boot
Free download Recoverit on a workable computer, and connect a blank USB or CD/DVD to the computer. Launch Recoverit to create bootable media.
1. How to create bootable media
With Recoverit, select the mode of "System Crash Data Recovery" mode to create a bootable drive for data recovery.

Select the bootable option (USB drive or CD/DVD) and click on "Create" button to process. Please confirm the backup of important data has been done before formatting.

It will take a while to finish the creating of bootable media, and you can follow the next steps to retrieve you data back.
After creating bootable media, you will need to set the computer to BIOS. Restart your crashed computer and enter BIOS with the BIOS function keys. The most common keys are F2, F10, F12 or Delete. You can check out this page to learn how to set computer to boot from USB drive.
2. How to recover data when a PC won't boot.
To recover data from crashed computer with the created bootable media, select the mode of "Deleted Files Recovery" to start.

You will be shown a list of hard drives that the computer can read. Select the hard drive where you want to restore lost data, and click "Start" to go on.

Recoverit will immediately make a quick scan for the lost data. After it, if you find nothing wanted, fall back on "All-Around Recovery" mode for more inaccessible files. And accordingly, longer time is required.

Once the scan finishes, you can preview the recovered data and click "Recover" button to get them back.
Part 3: What to Do When Computer Won't Boot?
Besides taking the assistance of Recoverit to recover data when PC won't boot, you can take these added measures whenever your system won't boot.
Check the power source: There are times when an unstable power source can cause a PC not to boot. Make sure that the socket is connected properly and the power is not fluctuating.
Is the display working: Instead of not being able to boot, chances are that there could be a problem with your system's display as well. Connect another monitor to it and restart it to check if the display is functioning or not.
Operating system is malfunctioning: There could be a problem with Windows as well. Check if the registry file has been altered or whether system files have been deleted or not.
Change BIOS Settings: The Basic Input and Output System, which is responsible to load the operating system, could have been corrupted as well. Enter the BIOS settings and make sure there is no overwritten data.
Malware attack: A malware attack can also cause your PC to malfunction. Therefore, you should update the firewall settings on your system and use an anti-malware tool to avoid such an unwanted situation.
3981454 people have downloaded it
Computer Troubleshooting
Win System Crash

Windows Tips

Computer Problems

Blue Screen Errors