Incremental backup is a type of backup in which additional backups of only those files are added to an existing backup file that have received any changes since the last backup was made. It can be considered as an ongoing backup which continues to create copies of files that have been changed but doesn't perform the entire backup process all over again for those files that register no change. An incremental backup can thus save you a great deal of time as well as space on the backup drive. Assuming the last full backup you did at the beginning of a week had a size of 10GB that took 2-3 hours to complete, the incremental backups for each day of the week after the full backup would only occupy 100-200MBs and would be completed within few minutes.
Part 1: Why you need incremental backup?
Incremental backups are a good way of ensuring that you have the latest versions of all of your files in your backup. They don't take up much space and you won't have to spend a great deal of time for them to be completed as well. This is why an incremental backup is so crucial for you. If you don't create this type of backup and if your hard drive fails a few days before the next complete backup was due then you would be left with old versions of all the files that you had changed since the last backup. With incremental backups, however, you get the most recent copy of your files which had been changed just the other day by you.
Part 2: How to do Windows 10 Incremental Backup
There are different software packages available that can be used for making Windows 10 incremental backup. The following are some of the backup software tools that can help you in creating incremental backups in Windows 10.
1. Windows 10 Incremental Backup with AOMEI Backupper
AOMEI Backupper is a good backup application that can help you in creating incremental backups of your data and restore the most recent versions of your lost files. It has various features which make it one of the best software programs for creating backups of data. Providing three different types of backup modes including full, incremental and differential, AOMEI Backupper can help you in keeping the most up-to-date versions of your files in backup.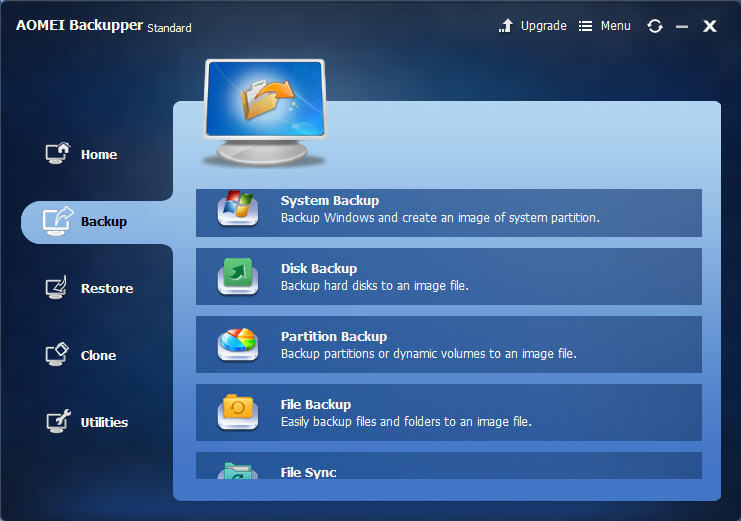 2. Windows 10 Incremental Backup with Easeus Todo Backup
Easeus Todo Backup is another software tool that can be used for creating Window 10 incremental backup. It offers multiple backup options to you and can help in capturing images of the latest versions of the files that you have changed. The incremental backups created by this backup tool are very small in size and don't take up much backup storage space. Moreover, the incremental backups are completed within a short time period too.
3. Windows 10 Incremental Backup Using Handy Backup
Handy Backup is another tool available to you for creating Windows 10 incremental backup. It is a reliable too when it comes to making incremental backups and supports multiple versions of Windows too. The process for creating an incremental backup in Handy Backup is very simple and doesn't require much expertise. Anyone can complete this task within minutes and make sure that he has the most recent versions of all his files in his backup image.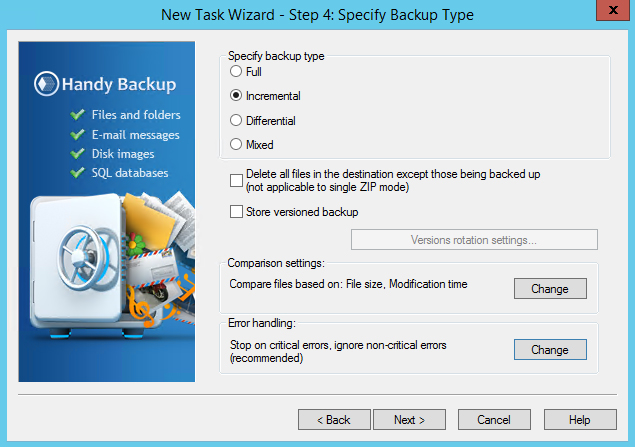 It is safe to say that Windows 10 incremental backup can save you from losing the latest versions of your files. There are various software tools that can be used for creating incremental backups of Windows 10. Failure to create incremental backups can result in loss of data and you won't be able to get back your precious data if your hard disk fails. So, it is important that you make incremental backups on a daily basis. It won't take much time and ensure that you have the most updated versions of your files stored away in your backup storage.
However, there are numerous incremental backup programs in the market, some of which might instead further damage your data and make them unrecoverable permanently. Thus, it is vital to pick a reliable and powerful application to create incremental data backups and recover your lost data back. Here, 3 highly recommended Windows 10 backup tools have been mentioned above, among which AOMEI Backupper stands out. It offers different sorts of backups for you to simplify your backup task. And some of its features are listed below.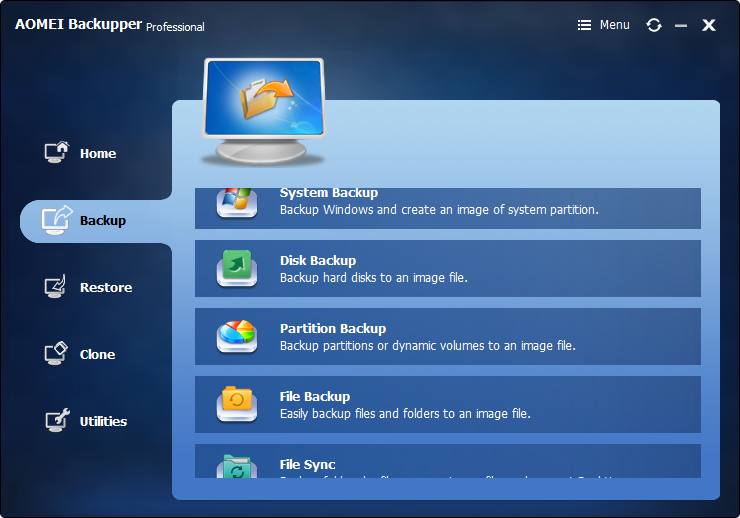 Allows you to take automatic, full, incremental and differential backups of system, disk, partition and files.
Supports system restore, disk restore, dissimilar hardware restore, partition restore and selective file restore.
Supports disk clone, partition/volume clone, flexible clone, system clone and command line clone.
Supports Windows 10, Windows 8.1/8, Windows 7, Vista, and XP (all editions, 32/64-bit)