If you are using a Windows PC, then you should take a few added measures to keep your data and drivers safe. Ideally, one should take the assistance of Windows driver backup software to safeguard their essential driver files and installers. There are lots of popular cloud-based applications that can be used to backup your drivers. If you are confused about the availability of various backup tools, then don't worry. In this post, we will make you familiar with top 5 Windows driver backup software.
Part 1: Why taking a Backup of Driver is important?
You might already know that Windows systems are quite vulnerable to a security threat. With so many cyber attacks taking place almost every day, it is of utmost importance to make a second copy of your drivers. Losing data files is one thing, but without having an installation for your drivers, your computer would not function ideally.
Therefore, you should walk an extra mile to make sure that your installed drivers would stay protected at any cost. It doesn't matter if your system has been attacked by a malware or if you have accidentally overwritten anything – your driver backup can certainly save the data at the worst-case scenario.
To make things easier for you, there is already a wide availability of Windows driver backup. By taking the assistance of these dedicated tools, you can backup all the installed drivers without much trouble. We have listed five of these applications in the next section.
Part 2: Top 5 Windows Driver Backup Software
Here's our handpicked list of five best Windows driver backup tools that every tech-savvy users should know.
1. DriverGuide Toolkit
DriveGuide Toolkit, as one of the top 5 Windows driver backup software, is a comprehensive tool to provide all the latest updates for your Windows drivers. Not only it provides a backup for your drivers, it automatically identifies the drivers installed on your computer too. Additionally, it has an extensive database from where you can search the updated drivers for your system. You can either use its free version or try the Plus membership for $14.95
Automatically identifies the drivers installed on your PC to take their backup.
It has a wide list of more than 1 million drivers that users can search online.
It automatically suggests the recent updates for your drivers.
It has additional tools to improve the processing speed of your system and keep it safe from a security threat.
Almost 500 new drivers are added every day to the database.
The tool comes with an advanced technical support.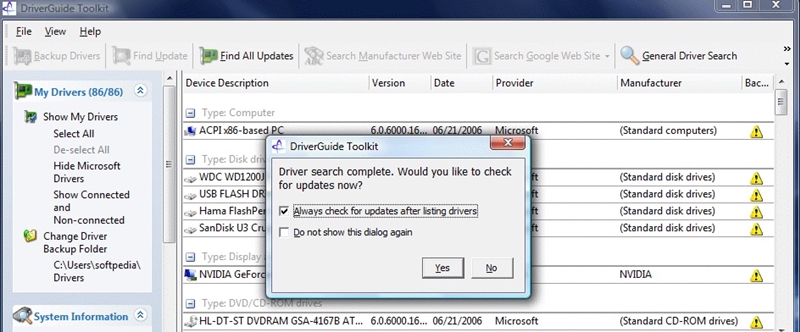 2. DriverMax
Another top 5 Windows driver backup software, DriverMax, would be an optimum solution for performing Windows driver backup and downloading the updated versions at the same time. It has a collection of over 2 million drivers of Nvidia, Microsoft, Intel, Realtek, and more. Compatible with almost every leading Windows version, it can also perform an automatic update for your drivers. You can either try its free version or get the Pro membership for around $10 a year.
An extensive range of drivers compatible with every major Windows version (both 32 and 64 bit).
Unlimited download features for pro users.
It provides an added security to keep your Windows driver backup safe.
The tool can perform an automatic update of drivers for your device.
It can also boost the productivity of your system with timely updates.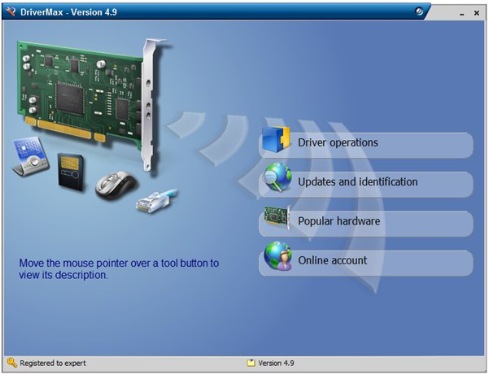 3. Driver Backup 2!
If you are looking for a user-friendly and fast Windows driver backup tool, then you should definitely give Driver Backup 2 a try. Not just Windows drivers, it can also take a backup of third-party drivers as well. Later, you can simply restore them to your PC without much trouble. It provides three default ways to backup your drivers: backup all drivers, backup only OEM drivers, backup third-party drivers. Since it is an open source tool, it is freely available and can be redistributed as well.
No installation required to use this easy to operate tool.
It has an integrated command line interface.
Compatible with both 32 and 64 bit operating systems.
It provides an easy way to restore the driver backup.
Lightweight and user-friendly.
Open source software (freely available)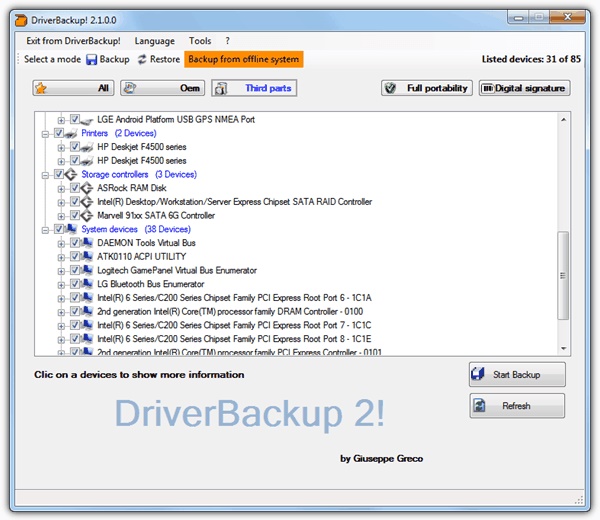 4. Double Driver
Double Driver is undoubtedly one of the top five Windows driver backup software, which is sure to meet your basic needs. Since it is a freely available desktop application, one can use it to backup their drivers without spending a dime. Though, the tool hasn't been updated in a while and is compatible with only limited operating systems. Nevertheless, it can be used to meet your immediate requirements.
Save driver details easily
Can backup drivers from the current Windows
Can backup drivers from non-live (or non-booting) Windows as well
It comes in both, GUI and command line interface
It can restore drivers from an existing backup
Freely available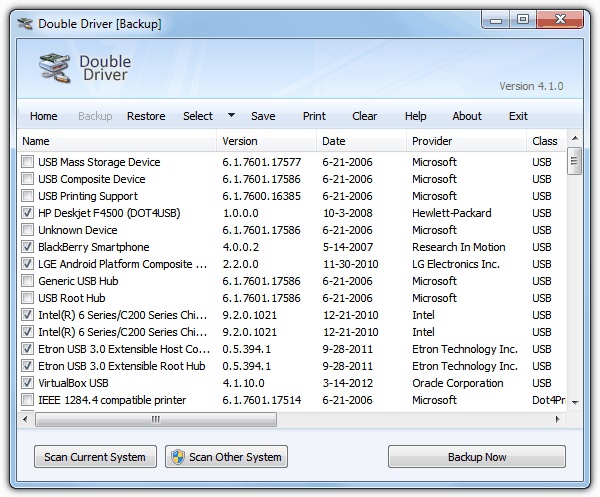 5. Driver Magician Lite
Driver Magician Lite is an all-in-one Windows driver backup tool that is sure to make your life a whole lot easier. It is compatible with almost every leading Windows version and performs an automatic update as well. Besides detecting unknown drivers and cloning the installers, it can also backup your essential documents as well. While the lite version is freely available, you would have to pay $29.99 to experience the premium benefits.
Compatible with every leading version (Windows XP/2003/Vista/7/8/8.1/10) of 32 and 64 bit
Can backup drivers and installers
It can also backup essential documents.
The tool also provides automatic driver updates.
It can let you restore drivers easily.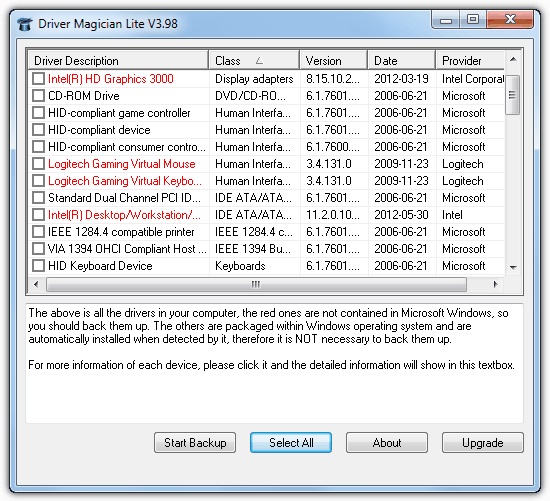 Part 3: Tips to perform Windows Driver Backup
While performing Windows driver backup using either of the above-stated tools, follow these steps to gain productive results.
One should always keep their drivers updated. Either turn on the automatic updates or perform a timely update to keep your drivers up to date.
If you are going with a premium subscription, then look for added features. For instance, the application should also have a wide availability of drivers online.
While taking a backup, make sure that you also take a copy of third-party drivers besides Windows drivers.
Not just to make a copy, you should also be familiar with a secure way to restore your drivers as well.
While downloading, don't get confused between 32 and 64 bit updates.
Keep checking your backup to ensure that all the necessary drivers are safe and protected.
Now when you know about some of the best solutions to take a backup of your Windows drivers, you can certainly keep your system safe. Besides taking a backup of your data, also perform Windows driver backup and never face an unforeseen situation. Weigh the pros and cons of these tools and go with your preferred option.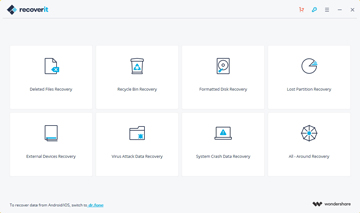 Recover lost or deleted files, photos, audio, music, emails from any storage device effectively, safely and completely.
Supports data recovery from recycle bin, hard drive, memory card, flash drive, digital camera and camcorders.
Supports to recover data for sudden deletion, formatting, lost partition, virus attack, system crash under different situations.