Loss of data can be very devastating, especially where there are no backups available. With the existence of modern technologies, the recovery of your deleted files can be solved using some of the best file recovery software.
Best File Recovery Software for 2023
1. Wondershare Recoverit
It can restore any image, video, and music files from mobile phones, hard drives, iPods, and digital cameras. Recoverit is a reliable file recovery tool for all storage devices such as hard drives, external hard drives, USB flash drives, SD cards, memory sticks, digital cameras, mobile phones (internal storage and SD cards), camcorders, etc.
Your Safe & Reliable File Recovery Softw
are for Mac and Windows PC
Recover lost or deleted files, photos, audio, music, and emails from any storage device effectively, safely, and completely.
Supports data recovery from recycle bin, hard drive, memory card, flash drive, digital camera, and camcorders.
Supports recovery data for sudden deletion, formatting, hard drive corruption, virus attack, and system crash under different situations.
Operating Systems: Windows 11/10/7/XP/Vista; Windows Server 2003/2008/2012/2016; Mac OS X 10.10 - macOS 13 (Ventura).
Pros
• Gives excellent service compared to other data recovery software.
• Easy and straightforward to use.
• Reliable to use.
Cons
• It is profoundly affected by changes in technology, and if an organization cannot be able to be up-to-date with the changes, this can make the software obsolete.
2. Advanced Disk Recovery
Provides an instant data recovery solution from Hard Drives, CDs, DVDs, partitions, and external gadgets. Advanced Disk Recovery is one of the simplest means of file recovery that simplifies the task of lost data recovery.
• It retrieves all the deleted files by scanning the whole system for the data that you need.
• It then gives you a preview of the folders, thus allowing you to save them in the location of your choice.
• It is one of the reliable software programs due to its features such as its ability to scan and recover any type of data
• It is also capable of restoring more than one folder to any selected location
• It can restore files from any other connected external device.
• Operating Systems: Windows 11/10/7/XP/Vista
Pros
• Recover lost data with higher backdated time
• Recover all formats of data
Cons
• Free version is limited to exquisite recovery
Get Advanced Disk Recovery
3. MiniTool Power Data Recovery
It contains five modules of data recovery, which work together in restoring lost files from memory card, flash drive, DVDs, memory sticks, and many more. Power Data Recovery is not a bad alternative either, and its preference by many is attributed to it.
• It can effectively restore any type of erased files from any source, including those from formatted and damaged disks, CDs, DVDs, and any other similar storage device. Deleted file recovery is therefore not impossible with this software
• Supports various types of Windows Operating Systems.
• It can be used for both personal and commercial
• Operating Systems: Windows7/8/10/11/Vista/XP; Windows Server 2000/2008/2003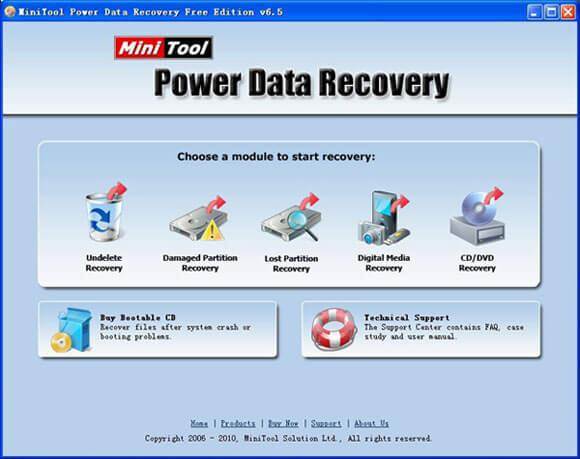 Pros
• Resume your recovery process when interrupted by either power surge.
• Easy configuration and usage
Cons
• Some versions don't allow unbootable drives recovery.
Read on our MiniTool Power Data Recovery Review
4. R – Studio Windows
A cost-effective means of data recovery that uses raw file recovery. It also contains the RAID reconstruction module. R-Studio Windows is a free file recovery software that restores data based on its different features.
• It can recognize all RAID parameters
• Supports Raw Data Recovery from extremely damaged and unsupported data storage sources
• The recovered can be stored in any preferred location
• Operating Systems: Windows Vista/7/8/10; Windows Server 2003/2008/2012
Pros
• Support wide range of drives
• Recover encrypted data.
Cons
• Can't recover some data formats
5. Handy Recovery
It can restore files destroyed or corrupted by a virus, or computer crash. It can restore images as well. Handy Recovery is also another viable data recovery option that has multiple benefits. Whether the data loss is caused by a virus attack, power surge, or outages as well as any form of mechanical failure, you can count on this file recovery software.
• Allows for a preview of the deleted files before the actual restoration
• Performs thorough and detailed filtering of the lost files by name, date, and size
• It indicates the probability of complete or partial recovery of the deleted files
• It can recover files deleted but not dumped in the recycle bin
• Operating Systems: Windows 2000/XP/Vista/Windows 7/8/10
Pros
• Preview deleted files when recovering.
• Recover systematically.
Cons
• Can recover files on recycle bin
6. GetDataBack
This is a do-it-yourself software that requires no particular skills. It also has an advanced feature. Money should not be a valid reason for anyone not to have data recovery software. GetDataBack is the type of free file recovery software that
• Can restore even the folders with long names without any damage.
• Being a read-only program, you can be sure that nothing irrelevant will be written to the files to be recovered.
• Updating is done throughout the lifetime of this software.
• Operating Systems: Windows 7/8/10/Vista, Windows Server 2008/2012/2016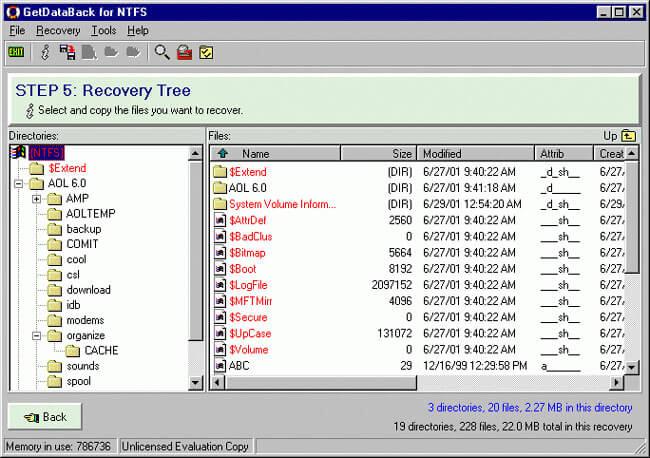 Pros
• Easy to configure
• Fast and easy to use.
Cons
• It is expensive.
Get GetDataBack
7. Recover My Files
It is end-user software that exists in different versions depending on the demand of the user. It allows for previewing of the data lost, including those from other storage media. Skills and technology know-how matter in how well a person can install and use data recovery software. The case is different with Recover My Files software, which is
• Easy to use, making it one of the best user-friendly alternatives available in the market.
• Its PC inspector file recovery ability gives you the chance to view the actual files for you to select the ones you are interested in.
• FAT 12, FAT 16, FAT 32, NTFS, NTFS5, HFS, and HFS+ (MAC) are some of the file systems that this software is compatible with.
• Operating Systems: Windows 11/10/8/7/XP/Vista/2003; Windows Server 2008/2012/2016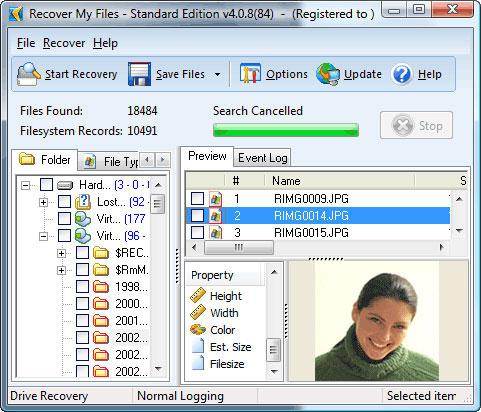 Pros
• Restore all types of data
• Recover on external drives.
• Conduct a deep search
Cons
• Allows a limited option of search.
Get Recover My Files
8. Data Rescue PC 6
This is a new data recovery software that works both as an application and an Emergency boot CD that does not require restoration. Data Rescue PC is ranked among the best file recovery software due to its salient qualities.
• It can be used as an application for the purposes of data recovery from an external drive or any other type of external drive.
• It can also be used as an emergency boot CD in cases where files have been deleted as a result of the crashing of the hard drive.
• Operating Systems: Windows 7/8/10/11
Pros
• Restore data from different formats
• Network restore is supported
Cons
• Allows a limited option of search.
Get Data Rescue PC 6
More Related Articles:
https://ssl-download.cnet.com/GetDataBack/3000-2094_4-10061631.html
Rescue & Fix Files
Recover Document Files

Repair Document Files

Recover & Repair More

Clear & Delete File