The PDF is one of the most reliable medium used by hundreds of millions of people to manage and access information or data. The security and portability of this file format have given it a tremendous boost to its popular use. However, as a kind of file pattern, a PDF file can also be lost like other files. Fortunately, this post will discuss on simple steps to recover lost or deleted PDF files with only a few mouse clicks.
Part 1: Why PDF Files Can Be Lost?
There are many reasons why PDF files can be lost, damaged or corrupted. Most of the times, PDF documents can easily be lost by unintentionally deleting the files permanently (via "Shift + Delete" key) or mistakenly emptying your recycle bin. The PDF documents can also become damaged or corrupted with excessive usage or misuse, leading to loss of data. Other possible reasons why a PDF file can be lost include the following.
When the operating system of your PC gets corrupted. This can result in PDF file loss.
When the shutting down process of your PC is not handled properly while the PDF files are still open.
When you have your hard drive formatted intentionally or unintentionally. The PDF files saved on the hard drive can be lost.
When you have an incomplete or bad hard disk's partition, your PDF file might be lost.
Other reasons include downloading a PDF file from the internet and it does not get completed. This may lead to a damaged or corrupt PDF file.
Part 2: Can We Recover Lost PDF Files?
Here comes the question: can we recover lost PDF files? The answer is certainly yes. If you just move them into the recycle bin, you can easily restore them from the recycle bin manually: Open recycle bin, then find the PDF files and click to restore. However, if you empty the recycle bin, you need to rely on some PDF recovery tools.
A PDF recovery tool will recover the lost or deleted PDF file in the exact way they originally were. This is because the deleted PDF files is not lost permanently on the computer even if we empty the recycle bin or "Shift+Delete" the PDF files, as the PC just hides the data by removing its file directory and mark the space as free for use. At this moment, you can easily recover PDF files by rebuilding the file directory. But if you continue using the device for some time, your device might overwrite some of the contents of the old deleted PDF files with a new data. Therefore, it needs a data recovery software to help recover them as you can't recover PDF files manually by yourself in this case. With the use of an effective recovery toolbox of PDF, you can extract a PDF file from a deleted folder, memory card, USB, hard drive or others. Recoverit PDF recovery is one of the best options.
Part 3: How to Recover Deleted PDF Files with Best PDF Recovery Software?
As mentioned earlier, Recoverit PDF recovery is a powerful and technologically advanced tool that recover any kind of inaccessible data – lost or deleted, from your hard drive and other external storage devices. You can use this PDF recovery software to locate and select the lost or deleted PDF document you want to recover, as long as the files had not yet been overwritten with the new data.
The recovery toolbox for PDF employs an advanced PDF file deep scan and recovery algorithm that will help you find and recover your lost or deleted PDF files. Since this PDF recovery tool seamlessly integrates with both MacOS and Windows, you can use the context menu of Mac Finder or that of Windows Explorer to quickly access, manage and recover the deleted or lost PDF files.
Simple steps to recover deleted PDF files with Recoverit PDF recovery software
First, let's download and install Recoverit PDF recovery software in seconds (Mac users should turn to Recoverit for Mac). Then you can follow the simple steps below to learn how to recover PDF files with the best recovery toolbox for PDF.
Step 1. Select "Deleted Files Recovery" mode.
Launch the PDF recovery tool, select the "Deleted Files Recovery" mode as to help you recover the PDF files that you have lost accidentally without backup.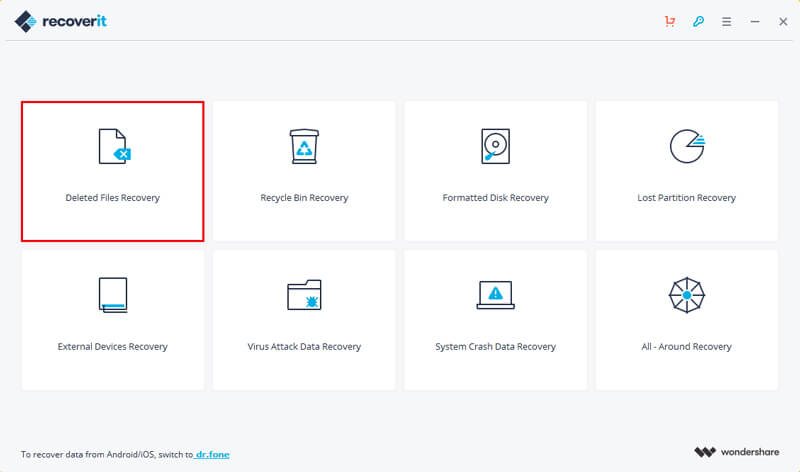 Step 2. Select a location to find your lost or deleted PDF files
Select a location on your computer/hard disk drive (Disk C, D, E) or external storage devices (F, G, H, J) where you previously saved the lost data or deleted PDF files and click on "Start" button to begin the scanning.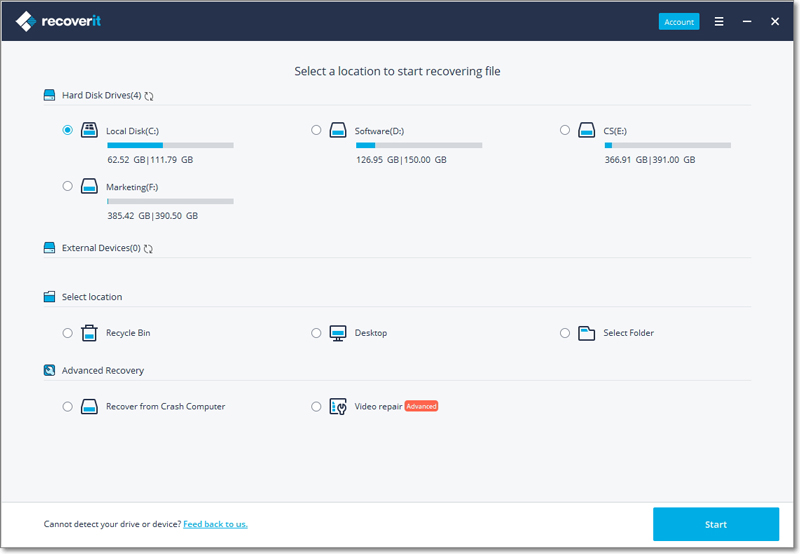 Note: There is also an "All-Around Recovery" option. It will search for more files deeply from your storage devices. You can try "All-Around Recovery" option to start a deep scan if you can't find your deleted PDF files after the quick scan. But it usually takes a longer time to finish.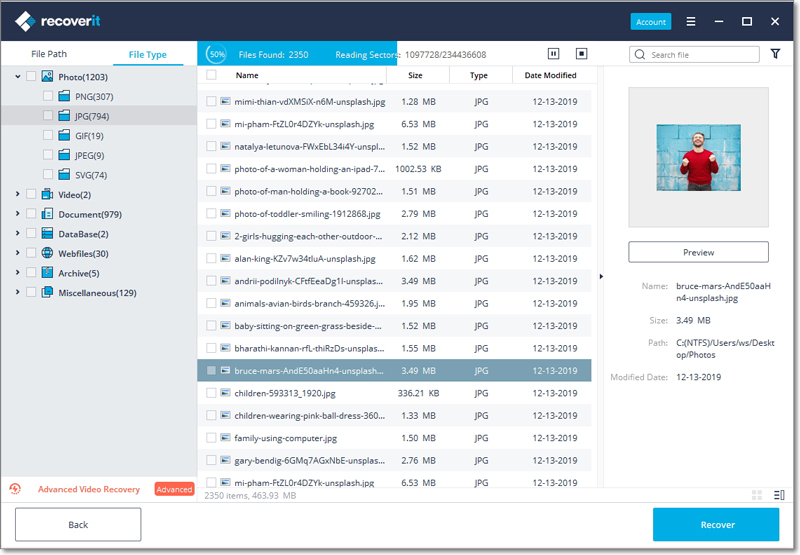 Step 3. Preview the scanned results and select to recover.
The Recoverit data recovery tool allows you to preview the recoverable files before they can be recovered. Select the targeted lost or deleted PDF files from the preview of scanned results and click on "recover" button so as to retrieve the PDF files back.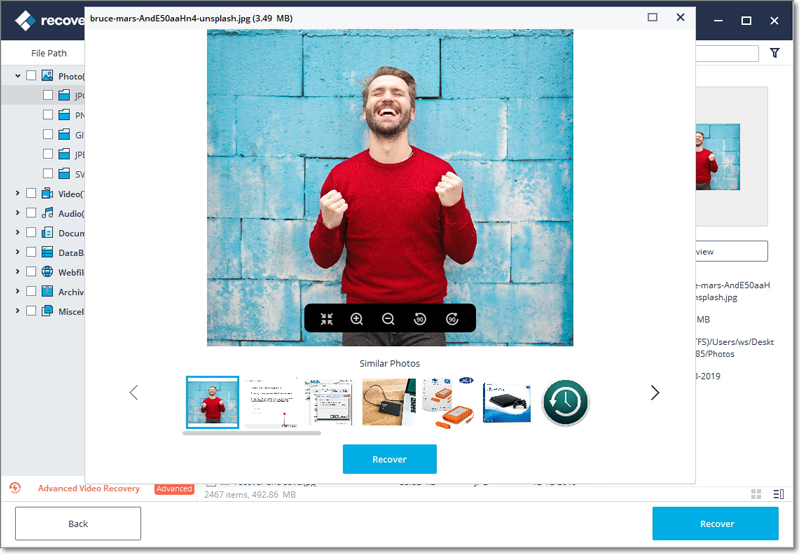 Ensure you do not save the recovered PDF files into the hard drives or the storage device where you lost or deleted the data.
Video Tutorial on How to Recover Lost PDF Files with Best Recoverit PDF Recovery
Part 4: How to Recover Corrupted PDF Files?
When PDF files get corrupted, you can start by solving the problem manually and then recover corrupted files with professional recovery software. At times, the reasons why a PDF file cannot open is because of a minor issue that can be solved manually. The manual solutions are shown below.
1. Check and repair Adobe Reader
First, check Adobe reader:
Open your Adobe Reader and go to Help, choose Check for Updates

Second, repair Adobe reader:

Repair your Adobe reader if it indeed has corrupted.




Open Adobe Reader > go to Help > select Repair Adobe Reader Installation option.
2. Try an Alternative Reader for corrupted PDF files
You can search online for more alternative PDF reader tools such as Foxit, Evince, etc. Give the alternative readers a try to open your PDF files.
3. Repair PDF files
Restore the corrupted PDF file to a previous version and get it repaired if you have a backup.
Open your Window Explore
Find your PDF files and right-click it to choose Properties
Choose Previous Versions to find the version you need
Click to open the version you need and click Restore
4. Try free PDF repair tools online
If these solutions above are not able to recover your damaged or corrupted PDF files, the last solution is to try free PDF repair tools online. The following PDF repair tools mentioned here are recommended.
Office Recovery: Office recovery is a free data recovery software for recovering corrupted and damaged email, media, databases and dozens of office productivity applications.
PDF Resizer: PDF resizer is a free online tool normally meant for resizing, compressing or rescaling PDF documents so as to save disk space, but it is also very useful in repairing corrupted PDF files.
PDF2GO: PDF2Go is a free tool meant for editing your PDF files online. It also comes with other features such as converting, merging, compressing, splitting, rotating, encrypting as well as for repairing your PDF documents.
Part 5: Extension: How Much do You Know about PDF?
Developed by Adobe systems, PDF (Portable Document Format) is a proprietary file format widely used for sharing and transferring bulky information conveniently. Developed from a system called "Camelot" in 1991 by John Warnock (Adobe Systems' co-founder), this technologically advanced application lets users read electronic documents in the exact way they are – page by page, with readers being unable to alter them in any unauthorized manner.
The PDF format encapsulates a description of a fixed layout of 2D documents based on a variant of PostScript that may include any of these: fonts, text, images, 2D vector graphics, hyperlinks, etc., into a single file. This file format can also be used to protect and secure the information or content of a document with a password.
It is a universal format that can be uploaded to the Internet, shared via emails and viewed on a PC with any kind of configuration. As a result, PDF files are commonly being used for sharing information with many businesses offering their white papers, feedback forms and standard reports as downloadable PDF files. Accordingly, PDF files are being used for eBook ready-to-print publishing, document peer review, pre-press documents, and by many institutions for archiving their document. All in all, PDF is a one of the most commonly used document file formats in the world. And we should also be careful when we use PDF in daily. Remember to back up your PDF files whenever you use it.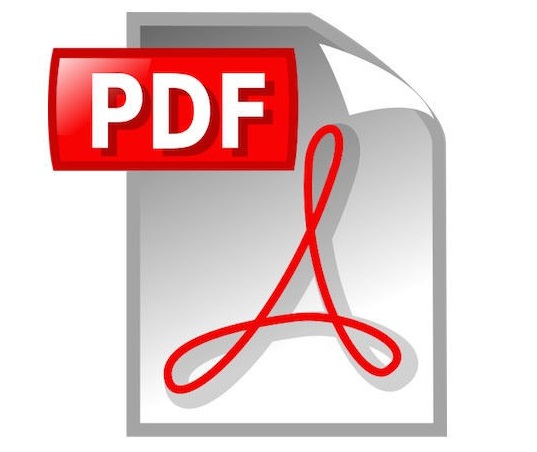 When important PDF files get corrupted or damaged, we normally get distressed. Certainly, no one likes to afford this kind of issues, but whenever this happens, there is no choice than look for ways in resolving it. When you have an effective PDF recovery tool like Recoverit data recovery software that can help you recover lost or deleted files as well as damaged or corrupted files, you will forget how distressing it is when passing through the stage of recovering your lost or damaged PDF files.