We often save our important data on Sticky Notes that is accessed by us on a frequent basis. Though, just like any other content, we can end up losing our notes as well. Luckily, there are plenty of ways to recover deleted Sticky Notes in Windows. In this guide, we will provide different techniques to recover Sticky Notes. Read on and learn how to recover deleted sticky notes in Windows.
Sticky Notes in Windows
Sticky Notes is a dedicated Windows desktop application that is used by more than 8 million monthly active users. Since it is a native Windows app, users don't need to install it from anywhere. It can be used to make different notes like post-its. You can simply write anything on it and access it whenever you want. From creating a to-do list to saving any information, Sticky Notes is used to make everyday work a whole lot easier.
Part 1: How to Recover Deleted Notes?
Have you accidentally deleted a few notes from your system? Don't worry! You can recover deleted sticky notes in Windows without much trouble. Even though it is a time-consuming process, it yields productive results in the end. By following these simple steps, you would be able to retrieve your lost notes.
Step 1: To start with, open the Run prompt on your system by pressing the Windows and R key at the same time.
Step 2: Open the Sticky Notes folder by running the command "%AppData%\Microsoft\Sticky Notes\". You can also view the Hidden folders and go to the specific location to view these files.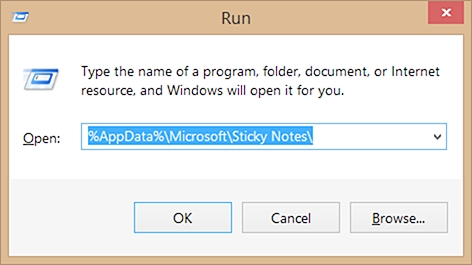 Step 3: From here, you need to find the Sticky Notes (.SNT) file. It will have information regarding your deleted notes.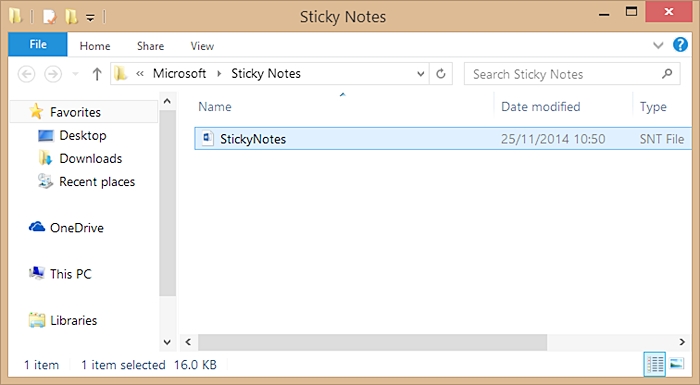 Step 4: You can't open the file the usual way. Therefore, you need to right-click the file and open it with a text editor like MS Word, WordPad, Notepad, etc.
Step 5: The editor (like MS Word) will ask you to decode the file. Simply choose the default actions and proceed.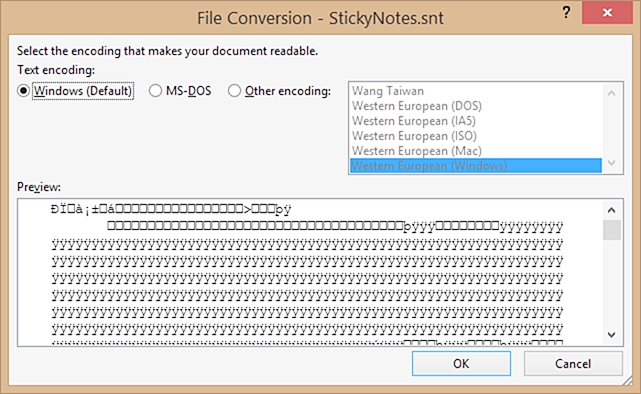 Step 6: From here, you need to manually filter your data as it would be a cipher text.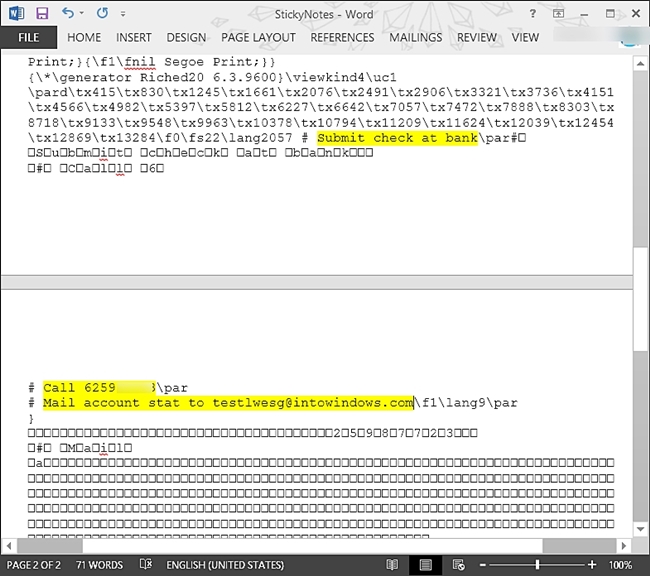 Needless to say, it would be a pretty time-consuming process. Furthermore, you should open the Sticky Notes file with MS Word to get best results.
Part 2: How to Enable Delete Confirmation for Sticky Notes
There are times when we accidentally delete a note having some crucial information. To prevent this from happening, you can enable delete confirmation for Sticky Notes. After enabling this feature, whenever you delete a note, you will get a pop-up warning like this.
This will prevent you from accidentally deleting a note. To enable the delete confirmation message for Sticky Notes, follow these steps:
Step 1: Open the Registry Editor on your system. You can find it listed as "Regedit" under the Start menu.
Step 2: You can also open the Run prompt and type the command "Regedit" to launch the Registry Editor as well.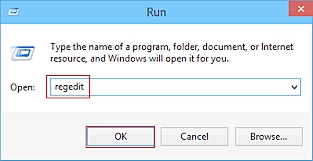 Step 3: Now, you need to navigate all the way to Current user > Software > Microsoft > Windows > Current Version > Applets > Sticky Notes.
Step 4: As you will click on the Sticky Notes folder, it will display various system files on the right side. You can check that by default, the value for PROMPT_ON_Delete would be listed as 0.
Step 5: Simply double-click the PROMPT_ON_Delete and change its value from 0 to 1.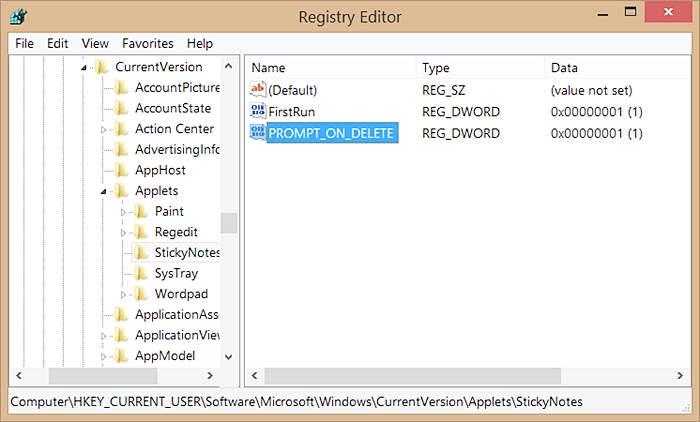 Once it is done, you can save your changes and exit the explorer. Henceforth, every time you delete a sticky note, you need to confirm your choice.
Part 3: How to Recover Deleted Sticky Notes with Software
The above-stated method is pretty time-consuming and might not yield desirable results to recover deleted sticky notes. Instead, you can simply take the assistance of Recoverit tool to retrieve your lost files. Not just sticky notes, you can also recover various other files such as photos, videos, word docs, PDFs, and more. Compatible with every leading version of Windows, it can be used to recover hard disks, external storage, flash drives, and more.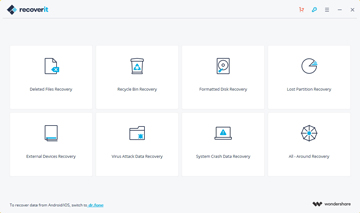 Recover lost or deleted files, photos, audio, music, emails from any storage device effectively, safely and completely.
Supports data recovery from recycle bin, hard drive, memory card, flash drive, digital camera and camcorders.
Supports to recover data for sudden deletion, formatting, lost partition, virus attack, system crash under different situations.
To recover deleted Sticky notes using Recoverit, follow these steps:
Step 1: Free download Recoverit on your computer. Select the recovery mode to recover deleted sticky notes, you can seletec the option "Deleted Files Recovery" to start.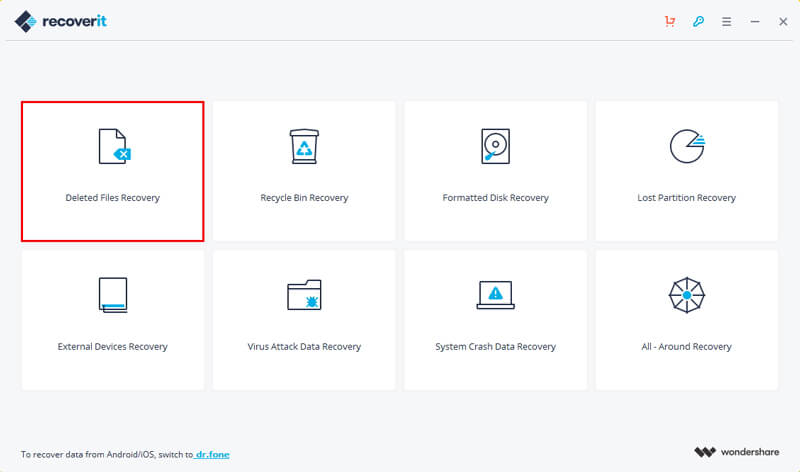 Step 2: Select the location where your files deleted, and click "Start" to scanning the deleted files.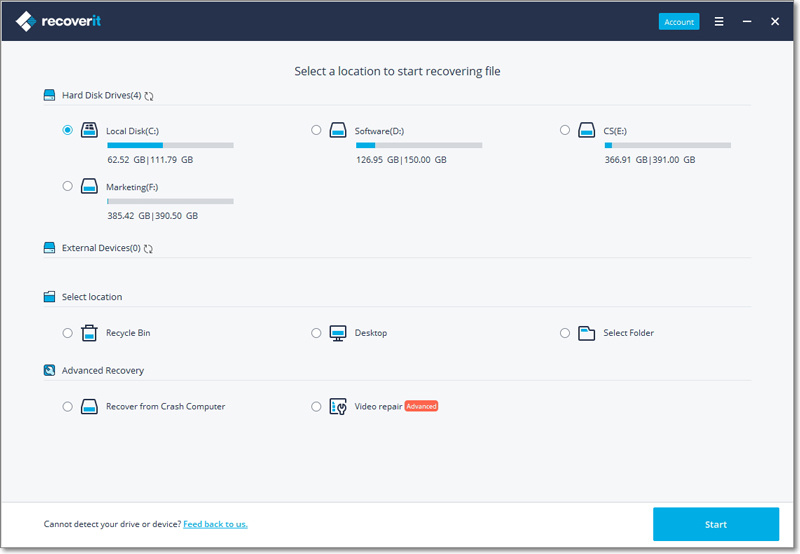 Step 3: It will start a quick scan first, if it can't find your deleted sticky notes you can go to "All-Around Recovery" which will deeply search your deleted files.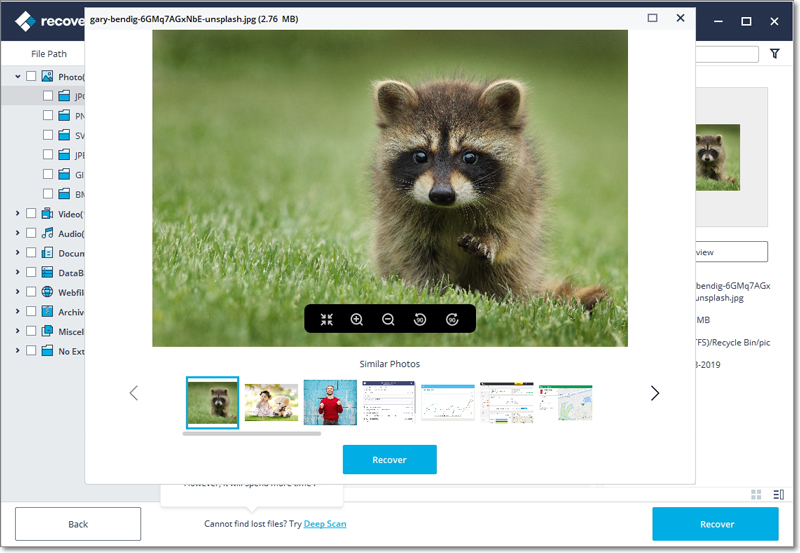 Step 4: After "All-Around Recovery", you can preview all recovered files, and click "Recover" to saving your deleted sticky notes to a safe storage.
Even though you can recover deleted Sticky Notes in different ways, you should follow these suggestions to get best results:
The success rate of a recovery process would depend on how soon you can perform it. The sooner you use a retrieval method, the better results you would get.
If you have accidentally deleted notes, refrain yourself from using your system. It can overwrite the storage and tamper with the retrieval process.
Only use authentic and genuine software to recover your lost files. For instance, Recoverit tool is used by millions of people worldwide and has more than 10 years of presence. This makes it an ideal choice.
Always take a timely backup of your sticky notes, so that you won't lose your information forever.
Ideally, Sticky Notes should be used as post-its to store temporary information and make to-do lists. You should not store important content on a sticky note.
Enable the delete confirmation option so that you won't accidentally delete a note.
Now when you know how to recover deleted sticky notes in different ways, you can easily get your data back. Since the manual process is quite tedious, you can simply take the assistance of Recoverit to retrieve your lost files. It is a fast, secure, and reliable tool that is sure to provide excellent results. If you face any trouble using the application, let us know about it in the comments below.