Most people think that emptying the Recycle Bin means that their deleted files are completed erased from the system. However, the data of the deleted files remains exactly where it was until it gets overwritten. So, if you have some sensitive data that you won't to permanently delete from the hard drive then simply removing it from the Recycle Bin won't be enough. You would have to make use of a permanent file eraser. In order to permanently delete files, overwriting the free space on the hard drive is of paramount importance. It is a software program capable of overwriting the data of the deleted file, making it irretrievable.
Use built-in command cipher to permanently delete files from Windows
Windows is a robust operating system, and you can do many things using command prompt. When we delete any file from the computer, it only removes the file from the table where the original file is saved. The deleted files can be recovered later using a reliable recovery tool. Therefore, you have to secure delete files using built-in commands of the computer. It is an effective way of deleting files permanently.  Cipher command is mainly for encryption and decryption of the data stored in the NTFS drive. It secure deletes files by overwriting it. This tool creates a folder named EFSTMPWP on the system partition. Learn how to permanently delete files by carrying out the following steps.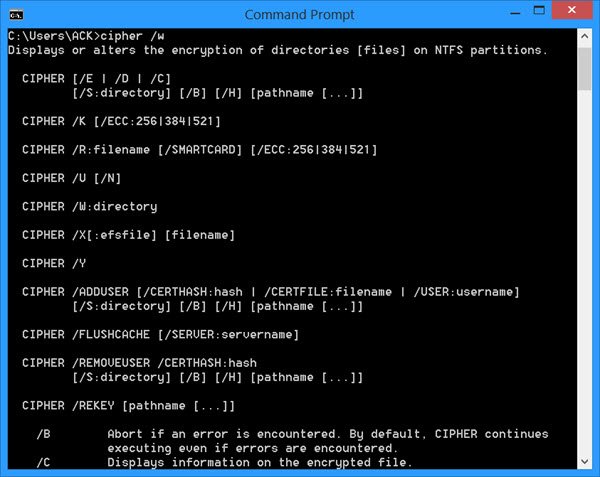 Step 1: Open CMD
Hold the "Win" key and press the "R" key simultaneously to open the Run dialog box. When the dialog box opens, type "cmd" in the space given.
Click on "OK" or press the Enter key to run the command prompt.
As you want to run it as an administrator, go to the search box on the taskbar and type "Command Prompt." After that, when it appears, right-click on it and then on "Run as administrator".
Step 2: Type the Command
Type the command "cipher /w" and then mention a path of the file or folder you want to delete. Hit "Enter" and observe the file being deleted from the system. Check after this process finishes.
In the command, "cipher" instructs the computer that you want to use this tool. The "/w" tell the system to eliminate the files from a list of deleted files. After this, you type the location of the file that you are interested in deleting. This is so far the most reliable way to remove files permanently from any hard drive partition.
Permanently delete file from Windows with a proffesional tool
In order to delete files permanently from Windows, you will have to make use of a data erasure tool. The internet is rife with software programs that claim to permanently delete files from Windows. However, most of these programs don't work and aren't able to deliver the desired results. There is one permanent file eraser available on the internet that can completely erase files from a computer, leaving no trace of it behind. Stellar BitRaser for File is a powerful and reliable data erasure tool. It is equipped with all the necessary features which are required for permanently deleting files from Windows.
Multiple Data Erase Standards This permanent file eraser provides you 17 different data erase algorithms. All of them are capable of erasing data completely. You can choose any of them for permanently erasing your files.
Erases Data of Email Clients Stellar BitRaser for Files can erase data of email clients that is stored on your hard drive. For instance, the login credentials are usually saved by the user for quick access to their inbox. This data erasure tool can erase this information from the computer, ensuring that no one else can get their hands onto this sensitive piece of data.
Wipes Out Residual Data of Peer to Peer Tools While Peer to Peer tools are great for downloading content from the internet, it can leave behind large amounts of residual data. Using Stellar BitRaser for File, you can erase this residual data within a few clicks.
Password Protection Stellar BitRaser for File offers password protection feature as well. This feature is added to ensure that no one other than you is able to use this permanent file eraser for erasing anything from your computer. You have the option of changing the password anytime you want.
Download Stellar BitRaser for File and launch it.
You can select any location and data options to permanently delete files.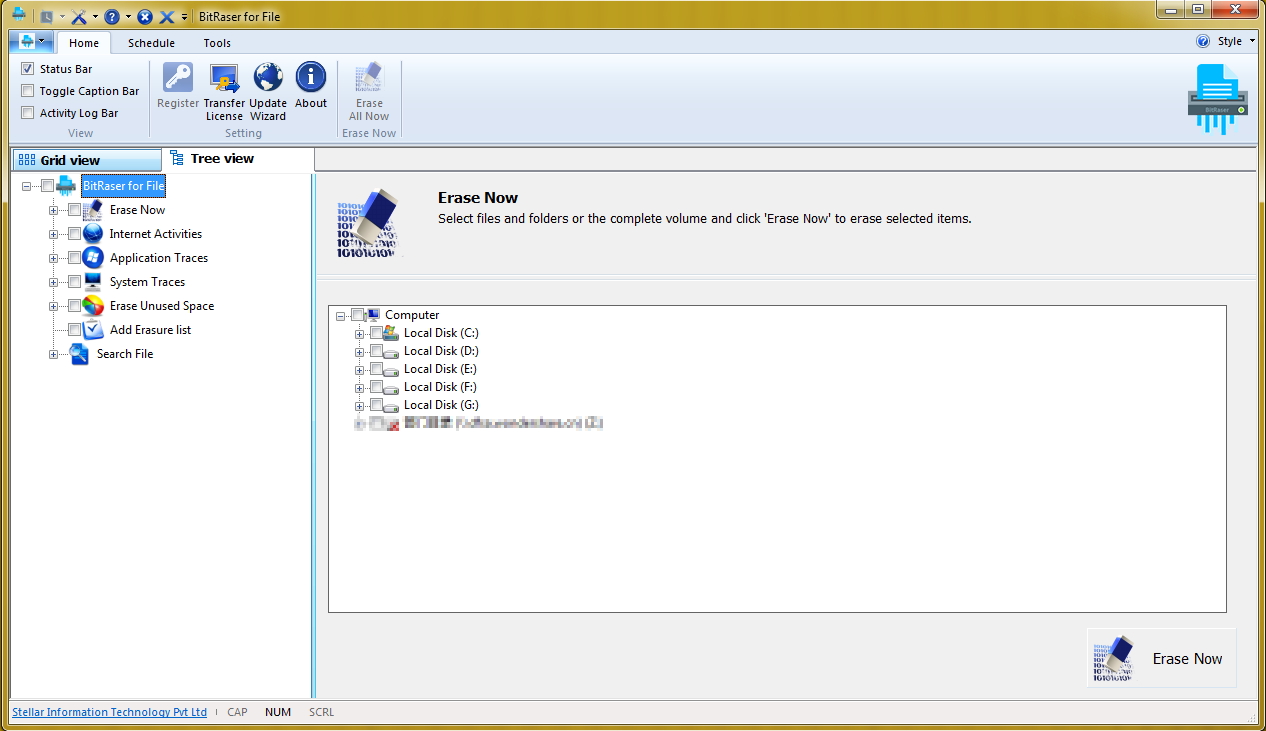 Selecting the target files and click "Erase Now" buttuon to process.
It will take for a while to completely erase.
Usually a single pass is required by Stellar BitRaser for File to permanently delete files from the system. However, if you aren't convinced that the files have been permanently deleted then you can take up to three passes to ensure that no trace of the deleted files remains.
Alternative way to delete file permanently in Windows
You can make use of the following method for permanent deletion of files in Windows 10. It might be available in versions of Windows that were released prior to Windows 10.
Navigate to the Windows 10's desktop.
Select the folder labeled Recycle Bin and right-click on it.
In the menu that appears, choose Properties.
Choose the drive which contains the files that you need to permanently delete from your system in the Properties window.
Check the button in front of the option labeled 'Don't move files to the Recycle Bin. Remove files immediately when deleted' which is located underneath 'Settings for selected location'.
Confirm the settings by clicking the Apply button and then save and exit the properties window of Recycle Bin by clicking the OK button.
Simply put, it isn't that easy to permanently delete files from Windows. The data doesn't get erased after deletion or emptying of the Recycle Bin. Only by overwriting it, can you make it completely irrecoverable. While there are methods available in Windows 10 for deleting files permanently from the system but they aren't reliable. There is always a chance that the data can be recovered using a powerful data recovery tool. However, if you use a permanent file eraser like Stellar BitRaser for File for erasing files, the chances of them being recovered are absolutely zero.
The Bottom Line
The built-in Cipher.exe command-line tool is exceptionally great at removing files permanently from the computer. In the future, if you want to hand over your computer to someone else, then you can restore the deleted files when they haven't been eliminated permanently by you. The file deletion process using cipher.exe command-line tool takes a few minutes only. If this content has helped you in learning how to permanently delete files then share this with your friends.
People Also Ask
How do I permanently delete files from Windows 10?

You can delete a file temporarily and restore it later through recycle bin. To delete, you need to change the settings so that the deleted files do not save to the recycle bin.

Where do permanently Deleted Files Go in Computer?

The permanently deleted files are saved into the hard drive, but only the info related to it and file location is not shown to you.

How do I permanently delete files from my computer without recovery?

Despite deleting files with Shift + Del, it stays in the hard drive. If you want to delete a file enduringly from the computer without recovery, use a reliable third party application. It removes the file permanently from the computer.

Can Permanently Deleted Files be Recovered?

Of course, it is possible to recover permanently deleted files. There are many methods to do so. You can restore the file from the previous version. Besides, download third party software to gain access to permanently deleted files. Sometimes, we commit blunder by deleting files with Shift + Del but thanks to the recovery software that recovers files quickly.
Rescue & Fix Files
Recover Document Files

Repair Document Files

Recover & Repair More

Clear & Delete File