The computer holds a great deal of sensitive and private data. If you want to sell it, then you will have to erase this data or anyone would be able to access it. There are a number of ways through which you can permanently delete files from computer. For instance, you can simply select the files and then click the shift and delete buttons together. This would erase them from the computer permanently. However, this process of deleting files is cumbersome and can take a great deal of time. Moreover, there is no guarantee that the files deleted this way can't be recovered by a powerful data recovery tool.
How to Permanently Delete Files from Computer
Permanent deletion of files from the computer isn't much of an issue. However, to guarantee that the deleted files are beyond recovery is a little difficult. Only a data erasure tool can provide you the assurance that the files have been deleted permanently from the computer and there is no chance of recovery. You can find these tools quite easily on the Internet. However, not all of them are capable of deleting the files permanently from the system. There are only a few data eraser tools which can help you to permanently delete files from computer. Stellar BitRaser for File is among the best in the business when it comes to data erasure tools.
Simple User Interface Stellar BitRaser for File has a simple user interface which is easy to understand and makes the software easily navigable. The buttons and options of the software are intuitively placed so that even novices can operate them without encountering any trouble.
Permanent Erasure of Data Data that is erased using other methods can be recovered using a data recovery tool. However, Stellar BitRaser for File is capable of erasing the data permanently. This means that there is no trace of the data left behind once it is deleted by this data erasing tool and it can't be recovered.
Deletes Residual Data from Peer to Peer Tools Whenever you make use of peer to peer tools, a great deal of residual data is stored on the computer. This data can occupy a lot of space and might slow down the PC too. With Stellar BitRaser for File, you can delete this residual data once and for all and get some of this space back.
Erases Chat Histories Skype and Yahoo are messaging services which allow you to chat with people using an Internet connection. These messengers store the messages you send in a chat history. Stellar BitRaser for File can delete the chat histories from the system and ensure that they remain private and no one can view them.
Removal of Traces of Apps Even after permanent erasure of data, some traces of apps can still linger on inside the system. Stellar BitRaser for File can remove these app traces and make sure that there isn't any trace of an app left behind on the system's hard drive.
Step 1: Launch Stellar BitRaser for File on your Computer.
Step 2: Click on Search File option from the left window pane and then click the option Search File by Name. Enter the name of the file in the Search File box and select the drives you want to search it in. Click the search icon to begin the search.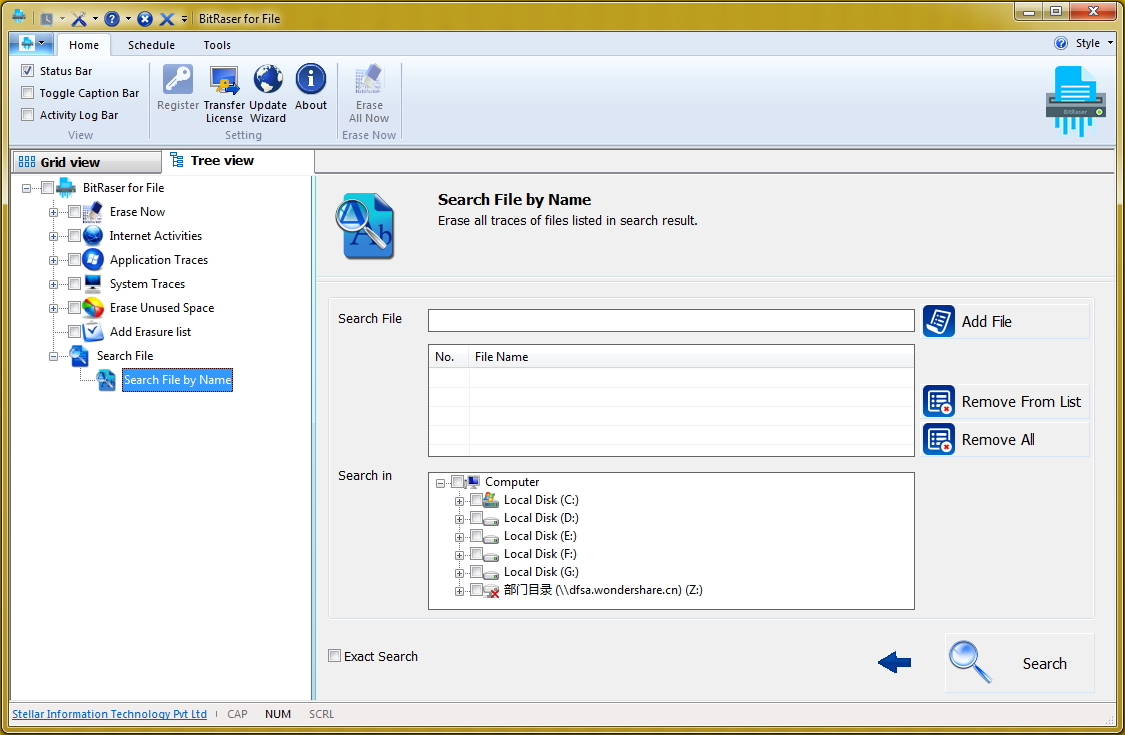 Step 3: When you select the specific file you want to erase, click "Remove from list" button to process.
A single pass is usually more than enough for Stellar BitRaser for File to permanently delete files from computer. However, if you aren't convinced regarding the complete deletion of the files, then you can take a couple of extra passes to ensure that that files you are trying to delete are removed forever.
Any file you delete from your computer by clicking the delete key from the keyboard is kept secure in the Recycle Bin. Unless you empty the Recycle Bin, the file will remain on the hard disk and can be recovered quite easily. Someone has to simply right-click on the file after selecting it and then choose the Restore option to recover it back. So, it is essential that you empty your Recycle Bin before being sure that the file has been deleted from the system.
Deleted Files Recovery
Office Files Recovery

Restore Files on Windows

Fix&Repair Files

File Manage Tips