Wondershare has always been at the forefront of designing feature-rich applications that help users tackle various technical issues in their daily life. This time the team has stepped-up the game by releasing the new update of its video repair tool, officially known as Wondershare Repairit 2.0. It's a fully-functional video repair tool that's designed to repair corrupt/damaged videos so that you can play them without any interruption.
With a more intuitive user interface and a complete set of brand-new features, Wondershare Repairit 2.0 is a sure step-up from its predecessor. Let us walk you through all the new features/updates in Wondershare Repairit 2.0 that make it a reliable video repair tool for Windows/macOS.
Update #1 - Brand New UI and Brand Identity
1Remarkable Name and Logo
The previous version was known as Wondershare Video Repair. But, this time, the company has changed the overall identity of the software, by naming it Wondershare Repairit 2.0.
Unlike the earlier version, Wondershare ReapirIt 2.0 has a unique name that makes the software stand out and easily recognizable.
2Re-designed Friendly Interface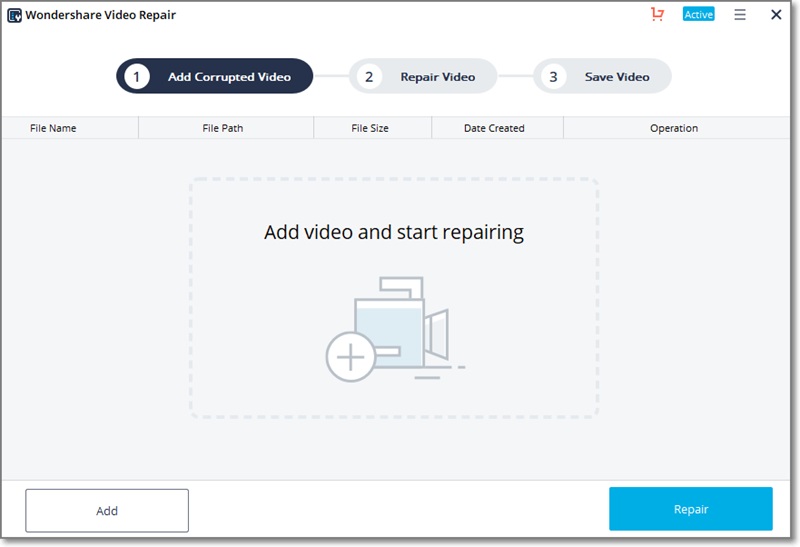 Along with a new name, Wondershare has also changed the overall user interface in Repairit 2.0. With consistent use of appealing logos and colors, Wondershare has introduced a new VIS (Visual Input System) in Repairit 2.0. Thanks to this new VIS, all the elements in Repairit 2.0 fit the screen precisely, making things less of a clutter.
Update #2 - Intuitive Video Information Display
1Displays Video Thumbnail
Wondershare Repairit 2.0 also displays dedicated thumbnails for each video. This means you'll be able to identify each video just by looking at its thumbnail. This is a reliable feature, especially when someone wants to repair multiple videos at the same time. Since each video will have its own thumbnail, it'll become quite easier to identify and manage all the videos in the list.
2Helpful Technical Information
If you've already used Wondershare Video Repair (the older version) in the past, you'll notice significant differences between the two applications. After adding a corrupt video in the newer version, you'll be prompted to a better and detailed "video list".
The list will display videos along with their technical information, a feature that was missing in the older version of the software. Now, you can see video duration, frame rate, file size, video resolution, and the device used to capture the video.
As compared to the previous version (that only displayed file size), Wondershare Repairit 2.0 displays detailed information of videos that you'll add. And, after the videos are successfully repaired, the software will automatically update the technical information accordingly.
3Stylish Progress Bar
After the videos are successfully added and you've tapped the "Repair" button, you'll notice a new progress bar. Like different elements of the software, even the "Progress Bar" has been refined to match the overall intuitive interface.
The new progress bar will be displayed below the technical information of the videos. This will make it easier to keep a check on the overall repairing progress of added videos.
Update #3 - Refined Advanced Repair Mode
Users who have used Wondershare Video Repair earlier must be familiar with the "Advanced Repair " mode of the software. While the "Advanced Repair" mode works the same in the newer version, there is one major change that'll increase the overall success rate of Repairit 2.0. In the latest version, the application will verify the sample video before going into the advanced repair.
So, once you've set parameters for the sample video, Repairit 2.0, it'll match them with the source video. If these key parameters for both the source video and sample video match with each other, there'll be a higher success rate for repairing the damaged video.
However, like earlier, there are a few things you should remember while choosing a sample video. For instance, the video should have the same frame rate and must be captured from the same device as the source video that you want to repair. 
Also, Wondershare Repairit 2.0 will list all the technical parameters of the source and sample video. This will make it much easier to pick the right sample video for the job. Here are the six technical parameters that Repairit 2.0 will match before initiating the advance repair.
Format
Device manufacturers
Frame rate
Resolution
Encoding Format
Device Model
In case these parameters don't match, you'll be asked to add a new sample video.
Update #4 - Enhanced Preview Feature
1Full Preview of the Repaired Video
Wondershare Repairit 2.0 provides a better "Preview" feature than Wondershare Video Repair. This time, you'll be able to watch a preview of the entire video. In the previous version, the software only displayed a 30 seconds preview.
Due to this, users were unable to identify if the entire length of the video has been repaired or not. To tackle this situation, Wondershare has decided to provide a complete preview of the entire video. This will help you check videos before saving them to your PC. At present, this feature is only provided for AVI, FLV, MTS, M2TS and MKV formats. With regard to other formats, you can only preview 30s length before you have purchased the product.
2Video Screenshots During Preview
In the "Preview" window, the application will also display snippets from different durations of the video. With these screenshots, you'll be able to identify the overall quality of the video and decide if the video needs advance repair or not. To be honest, the entire Preview feature has been updated to make the software more user-friendly.
Update #5 Optimized Small Features
In Wondershare Repairit 2.0, there are significant as well as small changes that make the entire application more user-oriented. So, let's take a look at some of the additional (small) features that have been added to the newer version.
1When you add videos, Wondershare Repairit 2.0 will automatically hide files that aren't supported by the software. It has a dedicated filter that'll only list videos that can be repaired.
2Now, you can remove all the videos from the list with one-click. As opposed to the previous version, you won't have to remove videos one-by-one in Wondershare Repairit 2.0. Despite being a minor change, this new feature will make the tool more convenient.
3If you're running low on storage space on your PC, Repairit 2.0 will display a friendly reminder to optimize the storage. This reminder will be displayed after you've repaired the video and want to save it on your hard disk
4If you want to repair multiple videos using "Advance Repair", Wondershare Repairit will give you the liberty to apply the same sample video to all the videos in the list with one click. After you'll add a new sample video, a pop-up window will appear on your screen. Simply tap the "Yes" button if you want to repair all the videos using this particular sample video. However, this will only work if the key parameters of each video match your sample video.
Update #6 - Supports More Video Formats and Camera Devices
Wondershare Repairit 2.0 now supports comparatively more video formats and camera devices.
1INSV Video Format Supported
INSV video format is used to store panoramic videos captured using Insta 360. For people who don't know, Insta 360 is a dedicated camera that captures 360-degree videos. Considering the growing popularity of the camera, it makes complete sense for Wondershare to make the INSV format compatible with Repairit 2.0.
2Supports Sport Camera Such as Samsung Gear 360
Like Insta 360, Wondershare Repairit 2.0 also supports multiple 360-degree sports cameras such as Samsung Gear 360 and GoPro Hero Max. So, if any of your videos from a 360-degree camera has been damaged, Wondershare Repairit 2.0 will help you repair it easily.
Conclusion
In a nutshell, Wondershare has focused on enhancing the overall usability of Wondershare Repairit 2.0. The company has optimized the underlying code to improve its functionality and increase the repairing success rate as well. If we compare Repairit 2.0 with its predecessor, it would be safe to say that the newer version is comparatively more stable with advanced functionalities.
FAQs of Wondershare Repairit
Q1

Which Video Formats Does Wondershare Repairit 2.0 Support?

Being an advanced video repair software, Wondershare Repairit 2.0 supports a wide variety of video formats. These formats include MOV, MP4, M4V, M2TS, MKV, MTS, 3GP, AVI, and FLV files. In addition to these general formats, however, Repairit also supports the all-new INSV and other 360-degree video formats.
Q2

What Types Of Corrupt Videos Can I Repair Using Video Repair Software?

You can use the software to repair almost every video, whether it's captured from your smartphone or a DSLR camera. In fact, Wondershare Repairit 2.0 can be used to repair even movies, which have comparatively longer-video length.
Q3

What is Unique About Advance Repair Feature?

The "Advance Repair" feature in Wondershare Repairit 2.0 is designed to repair severely damaged videos. In many cases, videos are damaged to such an extent that it's difficult to repair them using the traditional repair. In this case, "Advance Repair" will be quite handy as it'll increase the overall repairing success rate.

The "Advance Repair" uses a sample video as a reference and uses it to repair the damaged video. The sample video must be captured from the same device as the corrupt video because both the videos will have the same technical information. Repairit 2.0 will utilize this technical information to repair the damaged video.
Q4

How to Prevent Video Corruption?

If you want to avoid such circumstances in the future, there are a few tips that'll help you avoid video corruption. First and foremost, do not shut down your PC while transferring/downloading a video file on your PC. A sudden interruption in video transfer is the most common reason that can result in a corrupt video.

Also, scan your system using a powerful Antivirus from time to time, especially if your PC is connected to the Internet all the time. Why? Because in many cases, people end up downloading Viruses along with other files, that usually damage existing files on the PC. These are the two most helpful tips that'll help you prevent video corruption in the future.