While the reasons for data loss in hard drives are mostly physical, sometimes they are also due to a mere human error. For example, formatting a hard drive without having a backup can result in the loss of precious data collected over the course of years. With the increase in digitization of data, literally all of our memories, our important emails and all the personal information is stored in our hard drives, therefore, such a format can be unaffordable especially when you don't know how to recover files from formatted hard drive.
Things to do before recovering a Formatted Hard drive
There are some things that should be kept in mind if you are planning to recover files from formatted hard drive. This article stresses on all the dos and don'ts as the success of the data retrieval depends on these simple precautions. Therefore, to recover files from formatted hard drive, you will need to do the following things:
Take care as to not anything on the hard drive that you want to recover the files from. This is to make sure that the operating system does not delete the deleted files permanently.
Get a hold on a hard drive recovery software. There are many good options available out in the market but we recommend using Recoverit owing to its wide range of compatibility and supported file types.
How to Recover Files from Formatted Hard Drive
With Recoverit Formatted hard drive data recovery can help you to retrieve your files back. It is an effective and 100% safety hard drive recovery program, it can also recover data from hard drive due to deletion, partition loss or other reasons. Download and install Recoverit on your computer, and follow the next simple steps guide to recover files from formatted hard drive.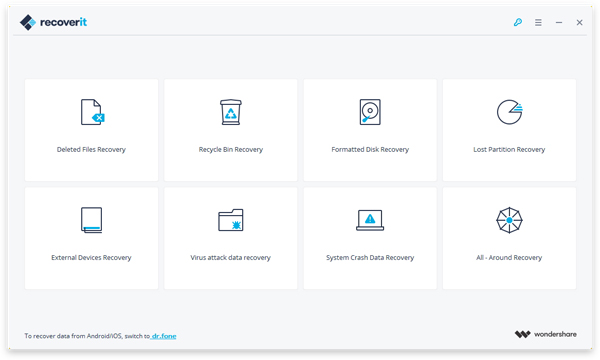 Recover lost or deleted files, photos, audio, music, emails from any storage device effectively, safely and completely.
Supports data recovery from recycle bin, hard drive, memory card, flash drive, digital camera and camcorders.
Supports to recover data for sudden deletion, formatting, hard drive corruption, virus attack, system crash under different situations.
Select the recovery scenario that you met according to your need. If, however, you need all kinds of data recovered, simply select "All-Around Recovery" mode and hit "Next".

Recoverit will now ask you for the location where the data might have been before you deleted/lost it. Choose suitable option from the list of provided ones. Click "Start" to proceed.

Next, Recoverit will start a quick scan. If you can't find any file after it completed, go to "All-Around Recovery" as it recovers files lost due to format more efficiently. This scan may take some time, so don't panic.

When recoverit is done scanning your hard drive for lost files, it will preview some results for you. You can then choose the desired files that you want to recover eliminating the need for retrieving a huge amount of unwanted data. Simply select the files that you want to recover and hit "Recover".
The right way to format a hard drive
There is only right way to format a hard drive; all you have to do to make sure that the formatting is done right, and that you do not lose any data, always use a backup tool to back up all of your data to an external hard drive before formatting hard drive. This way all of data will remain safe and you will not have to go through the trouble of recovering it afterwards.