Part 1: What is Hotmail? What should you do when you mistakenly delete your email?
Nowadays, with the rapid development of the whole society, the need of communication as well as sharing information quickly and conveniently has become so urgent that many tools have been provided to live up to customers' demands. Among several forms of transfer, email is definitely regarded as one of the most comfortable, trust-worthy and popular choices.
Currently, on the marketplace there are a lot of companies introducing their products including email services. Gmail or Yahoo!Mail are examples for well-known email tools. But there is one more brand of email that is competitively common and is used by consumers all over the world: Hotmail.
Hotmail is an original software of Microsoft company, which was announced in 2005. Since then, it has proved to be effective and convenient for sending, receiving as well as storing emails. Along with other email tools, Hotmail guarantees to perform perfectly the task of transferring information all over the world.
At present, almost every user has their own email accounts. Using email properly is without doubt an advantage as it provides you with wonderful features. Nevertheless, there comes a time when you mistakenly delete a confidential or vital email, permanently. You must be panic for fear of losing the data forever. Here are a few tips you should follow after deleting your email:
· Keep calm. Just don't freak out. You should know that every deleted files are hidden somewhere inside your computer until they are overwritten, so being nervous won't help you.
· Check the Trash folder to make sure if it is still there. There are cases that the deleted files are stored in the Trash folder.
· Find a software on the Internet that is designed to help you get back your deleted emails.
Part 2: How to recover your hotmail email from your Trash folder
· Step 1: Log into your Hotmail account. On the left side of the screen, find the bar which states: Deleted.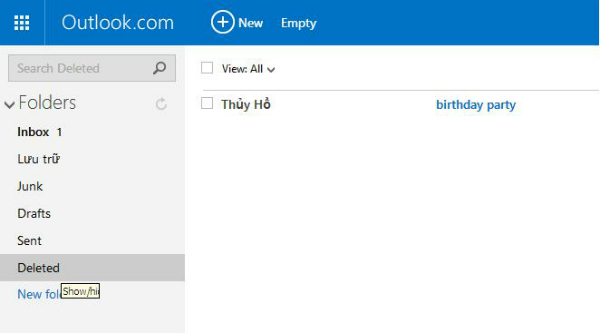 · Step 2: Check for the mail you have deleted. Click on it to move to the new screen.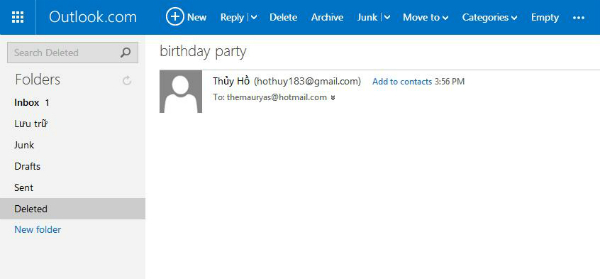 · Step 3: Click on the "Move to" option in the header of the screen. On the drop down menu you see, choose the first option "Inbox". Then your email will be quickly recovered and sent back to your Inbox.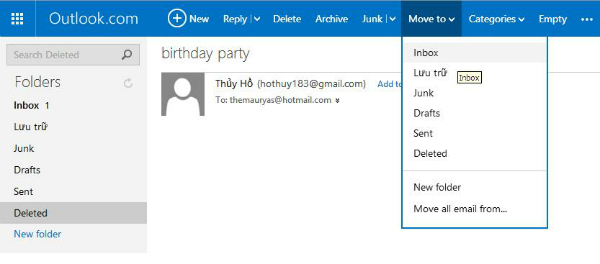 Part 3: How to retrieve your deleted email permanently
In part 2, we have instructed you how to recover your email if it is still in your Trash folder and you haven't emptied it. But what are you supposed to do when you already empty your Trash?
Here are the steps you should follow to get them back.
· Step 1: Log into your Hotmail account. Just for the sake of yourself, please check out the Deleted option one last time before restoring your email. You are likely to see that your email is gone.
· Step 2: Scroll to the end of the page. You will see a line text with the phrase: "recovered deleted messages" in blue highlight. Click on it.

· Step 3: After choosing it, the software will quickly recover your deleted email back. It will be moved back to the Deleted bar. Now you don't have to be worried of losing your email.
Part 4: How to get your lost email back
The two previous parts give you a very detailed instruction on how to get back your Hotmail. But what if both of them don't work out? Well, in that case, we recommend you using a very popular software to solve the problem: Recoverit data recovery software.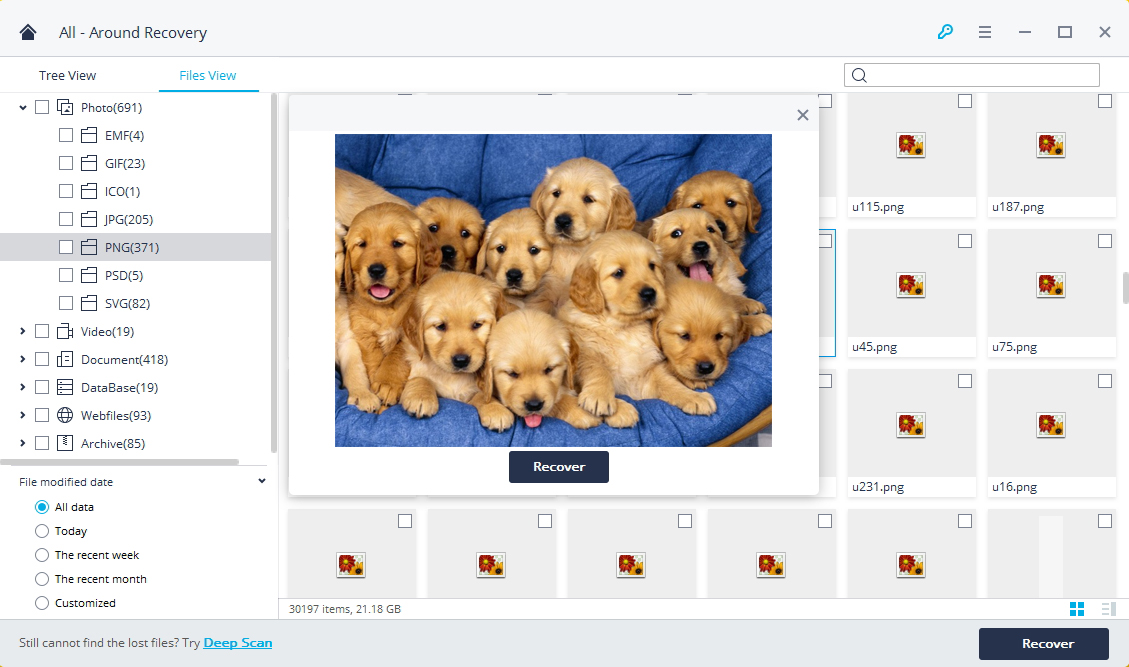 Recover lost or deleted files, photos, audio, music, emails from any storage device effectively, safely and completely.
Supports data recovery from recycle bin, hard drive, memory card, flash drive, digital camera and camcorders.
Supports to recover data for sudden deletion, formatting, hard drive corruption, virus attack, system crash under different situations.
Free download Recoverit data recovery software and launch it. Follow the next simple steps to perfrom email recovery. Mac users can download Recoverit for Mac to have a try. The steps is similar to the Win's.
Step 1: Select the type of file you want to recover. To recover deleted email, select th option of "Emial" to start.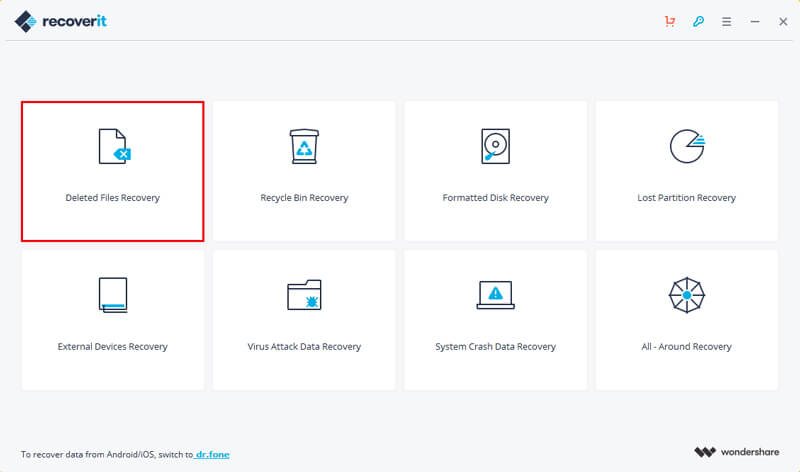 Step 2: Choose the original location where you last saved your lost email, and then click "Start" to launch a quick scan.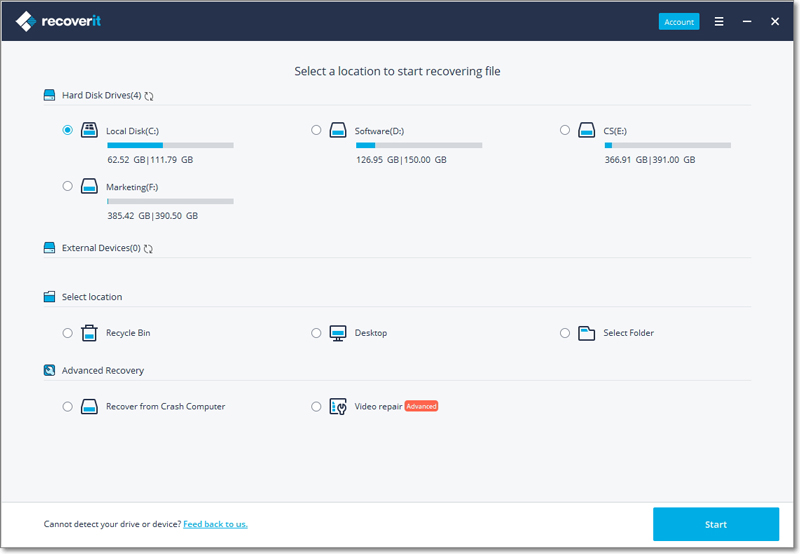 Step 3: If the quick scan can't find your lost email, go to "All-Around Recovery" to start a deep scan. Although it will be longer to give you the final result, it will definitely have a better opportunity find your emails.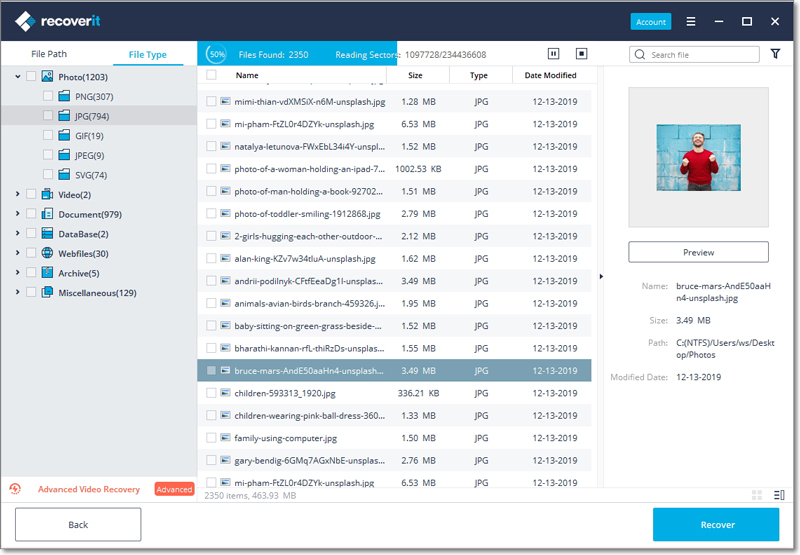 Step 4: After the scanning process, all your lost emails will be displayed on the screen. Now just simply choose the one you want to recover and get them back as easily as never before.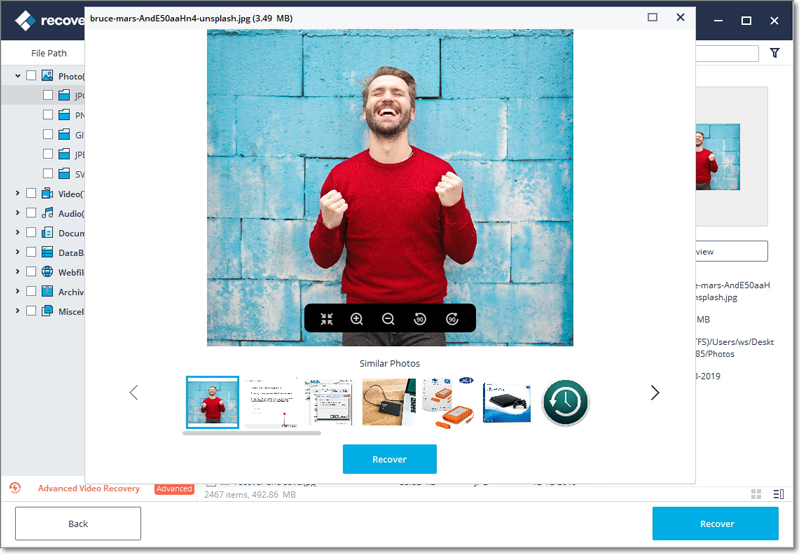 What's Wrong with Email
Delete & Recover Emails

Forgot Email Password

Repair Your Emails