Q: How to choose alternative to Time machine for Windows 10/8/7?
"I am a person who has both MacOS and windows computer. I conduct my work on both the operating systems. However, my experience with MacOS has been quite beneficial because of time machine. This software enables me to cherish multiple extraordinary features. It gives you the utility of hourly, daily, weekly or monthly backups and it is quite easy to use. Unfortunately, these features aren't available for windows. This is the reason why I am in a hunt of alternatives to time machine for windows 10,8 or 7. I want to know the finest time machine equivalents available for windows."
Yes, it is absolutely true that time machine is quite a beneficial feature for the Mac operating system. A majority number of people strive to attain these utilities in windows too, same as in your case. Well, no worries, in this guide you will have the excellent alternatives to time machine for windows 10,8 or 7. There are few alternatives that serve quite a purpose, but the usage of third-party software is quite compulsory over here. In this guide, you have the brilliant third-party software to solve your problem. You will also have few reasons why people look for the alternatives of time machines for windows 10,8 or 7. Just make sure you read the guide carefully.
Part 1: Why need Alternative to Time machine for Windows?
It is quite important for you to know the reasons why people hunt for the alternatives to time machine for windows. People have multiple reasons because of which they use alternatives. In order to know the significance of these alternatives, you need to know the back story of it. These are the few reasons to find alternative to time machine for window, read them carefully;
The first primary reason behind the hunt of alternatives to time machine for windows is that the utility of time machine is only available for the users of Appl Mac operating systems. Only the people using MacOS enjoy these features of weekly, monthly backup on the external hard drive. It always keeps the copy of everything on Mac, like documents, videos or pictures. People with windows 10,8 or 7 also look for remarkable utilities like these.
As mentioned before, the time machine is only available for Mac operating systems. So, in order to keep windows operating system also safe, people strive to attain alternatives of this great software. Like mac operating systems, this software is also beneficial to keep your computer safe.
---
Part 2: Time machine alternatives for windows
Now, coming to the core part of our guide. There are number of alternatives to time machine for windows. However, you have to know the finest ones. We will be starting for the most brilliant software to use as alternative to time machine in windows. The third-party software like AOMEI Backupper is remarkable equivalent for time machine. It has number of advanced features which resemble the time machine.
1. AOMEI Backupper
The finest software in market as the alternative of time machine is AOMEI Backupper, which you can use to effortlessly backup photos, videos and documents automatically from your windows operating system. AOMEI Backupper is an advanced backup and restore software which contains all features of the Standard edition, provides complete and reliable PC backup and restore strategies for any of the windows version. System Clone, Backup Scheme, Dynamic Disk Backup, Dissimilar Hardware Restore, Merge Images etc. It has many others diverse and useful features that are available. The software gives you the utility of automatic backup, which is much needed. Get to know the functions of the software to use it as the alternative to time machine for windows 10,8 or 7;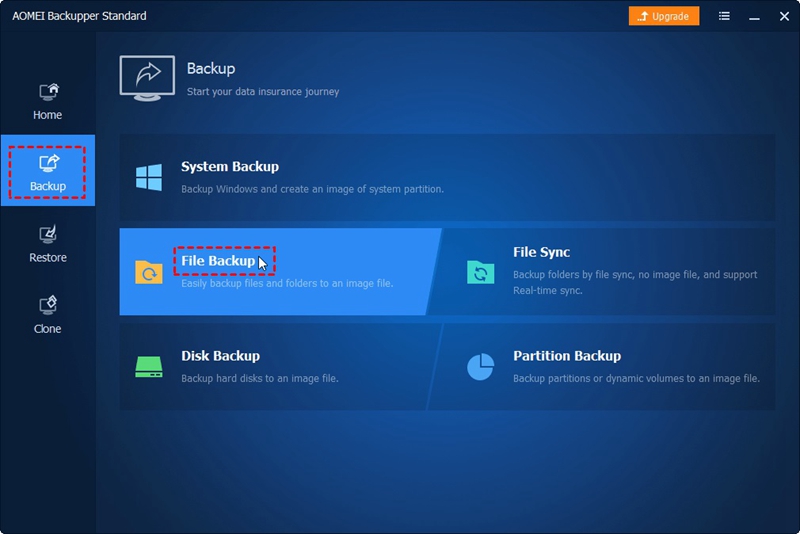 Schedule backup

Same as time machine, which gives you hourly, weekly, and monthly backup. AOMEI Backupper also gives you the option of setting the schedule of backup as per your requirement. It offers you automatic backup so that you don't have to waste your time again and again. It is quite easy to conduct the one-time backup. However, if someone wants to schedule the backup, this is the path which is to be followed; Home > Advanced > Schedule task.

Incremental and differential backup

The software of time machine in MacOS creates incremental backups of files which are easily restored later. It also utilizes less time and space to create the backup. On the other hand, AOMEI Backupper allows you to create full incremental and differential backup, this fully protects the entire computer of the user, it minimizes the storage space at the same time.

Delete old backups automatically

This procedure is quite understandable that due to too much hourly, weekly and monthly backups, large bulk of space is used. This is the reason that external hard drive runs short of storage capacity. However, AOMEI Backupper gives you the function of deleting old backups automatically to keep enough space on the external hard drive.

Password protection for backups

This is quite understandable that people create backup of valuable data. In order to keep that data safe, the software gives you the function of password to access your backup. You can set the password using the backup option in the AOMEI Backupper, before you initiate the backup.

Selective files restore

Many users want to backup few selective files using the time machine. As creating the backup of whole data takes too much time and is quite unnecessary. This is why AOMEI Backupper gives the feature of selective files restore. You can use the exploring image option to first preview the backup files.
2. Windows backup & Restore
Apart from the third-party software, you can use the built-in windows utility as the alternative to time machine for windows. This utility is capable of backing up windows operating system and the files on the disk automatically and also restore them. It also has the feature of deleting the old backups to free up the disk space. to automatically backup files to an external hard drive, use these steps;
Step 1: Turn on your computer and navigate to settings> update & security > backup > go to backup and restore, this is for windows 7.
Step 2: Now, you need to click on the option of "Set up backup" at the right side of your screen.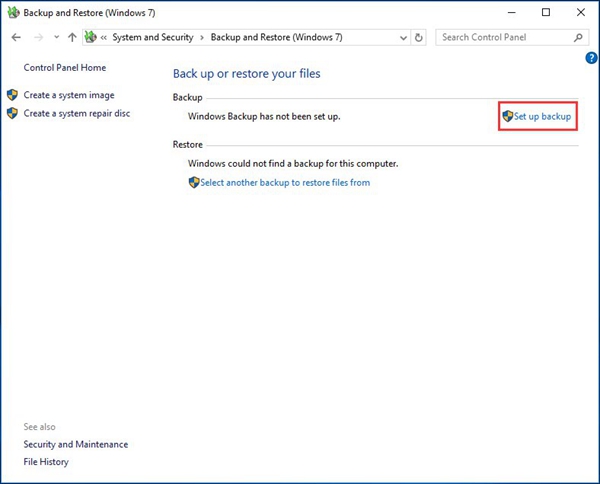 Step 3: After that, you need to select the destination for the saved backup. The built-in utility of windows allows you to store backup on USB and external hard drive.
Step 4: Now, you need to select the backup option; let windows choose or let me choose. You shall choose "Let me choose".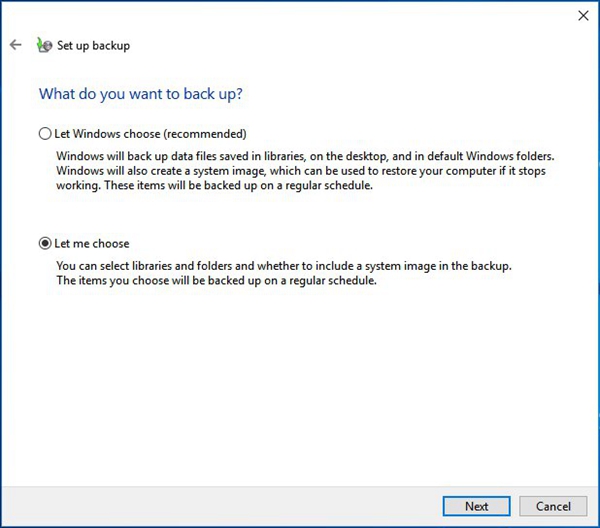 Step 5: furthermore, you need to check the box of files that you want to backup. Once you have done that, you can alter the schedule to automatically backup according to your requirements.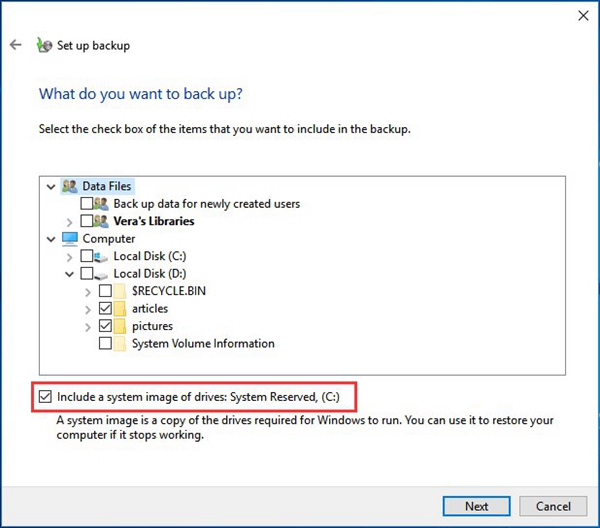 Step 6: In the last step, save setting and run the backup.
3. File history
If you have already used windows backup & restore plus the AOMEI Backupper. You can also utilize another built in windows utility known as file history. This is also an efficient alternative to time machine for windows. However, it only attains few of the functions of time machine. It is unable to handle too much backup drives, you can only have one backup drive at a particular time.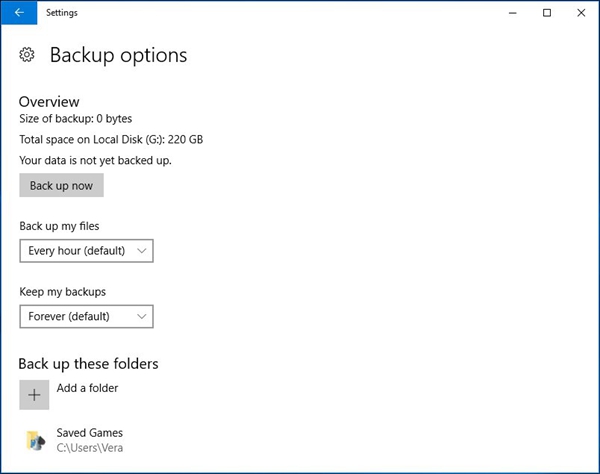 You can only utilize this tool to backup data in user account folder (C:\User\accountname), which includes pictures, desktop, Downloads, documents, music and video folders. There are few folders on the particular location which are not available for backup.
---
Conclusion
Time machine is very useful feature in the MacOS. Many users of windows want this feature too. However, the perfect alternative to time machine for windows is AOMEI Backupper, which has all the features of time machine. To conduct efficient and trouble-free backup, AOMEI Backupper is the fines option in the market. All you need to do is follow the guidelines carefully to use the software.
Data Backup Services
Computer Backup

Hard Drive Backup

Mac Backup

Cloud Backup