I started up my computer one afternoon and a black screen appeared with the message "BOOTMGR image is corrupt. The system cannot boot." I don't have Windows Vista installation disc.
My Windows computer information is below:
Toshiba Satellite A305-S6857
Windows Vista 64-bit
Intel Dual Core Processor
Is there anything I can do besides finding a repair shop? Thank you - Lucas May from Chicago
Computers are extremely private and filled with personal documents. So it is better to solve problems by ourselves rather than send them to a shop to avoid privacy exposure. BootMGR is a bootloader that allows multiple operating systems to be booted from the same computer. So, missing BootMGR or corrupt BootMGR file can affect startup of the computer. If you receive the error message and Windows fails to start, these issues are mostly caused by the corrupt bootMGR image. To fix the "BootMGR image is corrupt" error, you need to find your Windows installation disc and follow the instructions below. In this article, we will discuss what to do when your bootMGR image corrupt. There are two essential solutions you can consider: fix the corrupt bootMGR image with Windows installation disc or with bootable CD/USB.

Part 1: Fix the BootMGR Image corrupt Problem with Your Windows installation disc
Insert the Windows Vista (or Windows 7, if you are using that version) installation disc and restart your computer.
Choose your language settings, and then click "Next".
Click "Repair your computer".
Note: If you meet some failure issues while you insert system disk, check our article to find how to fix disk boot failure. If you do not have this disc, contact your system administrator or computer manufacturer for assistance.
Part 2: Fix BootMGR Image corrupt Problem with a bootable CD/USB
If you don't have a Windows disk and don't want to spend money to buy one, or if it didn't fix the problem, you can use a third-party program to help boot your system and repair it, such as Wondershare LiveBoot. This program solves BootMGR problems and other problems that make your computer fail to boot up into Windows. It can start systems from CD, DVD and USB drive (This is very important. When the computer cannot boot up, the program installed on the computer can do nothing to help).
Insert the CD, DVD or usb drive, and start your computer.
Start your computer by choosing "Boot from LiveBoot" on the Boot Menu.
When the file loading is completed, Windows starts, and then the LiveBoot menu is displayed.
Click "Windows Recovery" on the top and hit "Boot Files Recovery" on the left.

According to the instruction on "Boot Files Recovery", choose the target Windows and begin the scanning work. If there is only one Windows on your computer, you can ignore this step.
If the scan reports the file is missing or corrupt, start the recovery. If there is no file is missing or corrupt, press "Cancel" to close the program.
Then, you only need to remove the disk from your computer and restart it, and the computer should return to normal.
Besides Windows Recovery, this program also provides Data Recovery, Disk Management, Password Recovery, and Network Connection for users to search for information online. The point has to be kept in mind is that all the data you recovered or created under this WinPE environment are not suggested to store on the X drive (Boot drive). You can store data on other hard drives in the computer or external hard drives connected to the computer.
Know more about Wondershare LiveBoot Boot CD
Part 3: Recover Data Lost by the BootMGR Image corrupt Issue
The BootMGR Image corrupt problem might come along with data loss on your hard drive. It also help some files or data recovery on your pc like deleted folders recovery or formatted partition recovery during the process of fixing this issue. When you find your data on longer exists or is damaged, you`ll probably need a powerful computer data recovery tool to make sure no important photos, videos, emails or documents are lost because of the corrupt BootMGR image.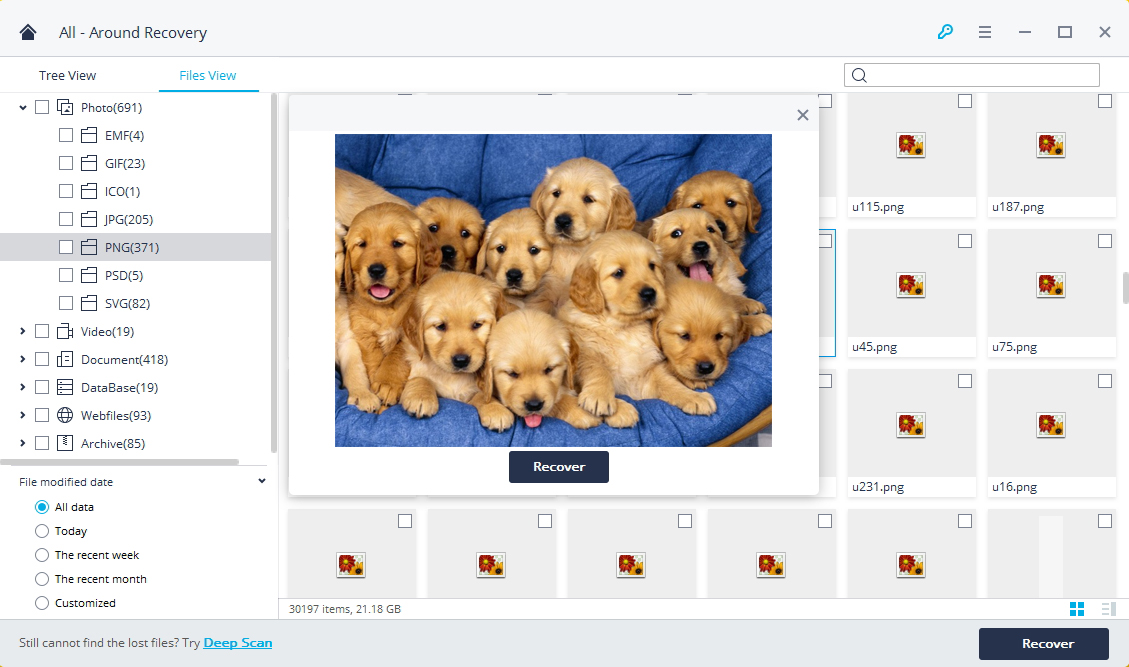 Recover lost or deleted files, photos, audio, music, emails from any storage device effectively, safely and completely.
Supports data recovery from recycle bin, hard drive, memory card, flash drive, digital camera and camcorders.
Supports to recover data for sudden deletion, formatting, hard drive corruption, virus attack, system crash under different situations.
Recoverit Data Recovery is capable of restoring deleted/lost files or word documents recovery from hard drive (HDD and SSD), external hard drive, USB flash drive, memory card, digital camera, camcorder, iPod, Music Player and many kinds of mobile devices (Nokia, Blackberry phones and Phones with older Android OS than ICS). While offering the advanced recovery modes like "All-Around Recovery" Mode, it`s pretty easy to use.
Computer Data Recovery
Data&File recovery

Windows PE

System problems

PC Errors