When we use computer so extensively, we usually store a good deal of our important data on them. This includes photos, videos, audio files, documents and every other kind of data. While it is very easy to store and access all of our data on computers, protecting it might not be as easy as we usually anticipate. Taking backups of all your important data is an important consideration in this regard. There are different ways to backup the data present on your hard drive. A few details that you might find useful in this regard are mentioned below.
Part 1: What Kind of Backup Device You Choose?
When it comes to taking backup of your data, you have got a number of different options. Some people prefer cloud storage services while others go for computers located at other places. CDs, DVDs, USB sticks and other similar devices are also used in this regard but if you are looking for the best possible choice when it comes to taking a backup of your data, it is highly recommended to go for an external hard drive. External hard drive is undoubtedly the best and safest computer backup device as it offers extensive storage space and incorporates a number of safety features as well. In addition to this, it is physically strong and well guarded which keeps it from sustaining any physical damages unlike CDs and DVDs.
Part 2: Top 5 Best Computer Backup Drives
There are numerous different kinds of external hard disk drives available in the market. But if you are interested in buying the best one among others, you might want to check out the ones discussed in the sections below.
1. Seagate Backup Plus Desktop
The Seagate Backup Plus Desktop is one of the best external storage devices out there in the market. As a matter of fact, it is the pioneer drive that offers as much as 5TBs of space for data storage. 5 TB is the maximum amount of storage that you could ever find in the current market. If you are looking for a drive for backup purposes, this might be the best choice so far.
The Seagate backup plus desktop offers a fast data transference and incorporates a very user friendly software application known as the Seagate Dashboard. It is a high end computer backup software that is known to offer a high level of functionalities. The device may also be found in smaller sizes including 2 TB, 3 TB and 4 TB variants.
The Seagate Backup Plus Slim may be thought of as the portable variant of the above discussed Backup Plus Desktop model. It is a bus powered drive which means that it requires only a USB cable to work properly. If you are one of those people who travel a lot and want to take all your data along, this 2 TB portable hard drive might do the trick for you.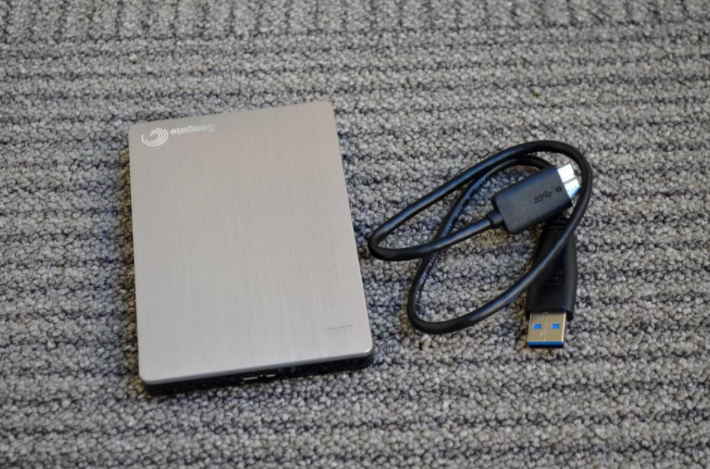 The Seagate Backup Plus Fast is almost double in comparison to the drive discussed above on accounts of performance, physical thickness and capacity as well. If you are interested in buying an external drive with a 4 TB capacity that incorporates USB 3.0, this might be the only option you have got out there. In addition to USB 3.0, it also offers a high speed of 200 MBps which makes it among the fastest external hard drives currently available in the market.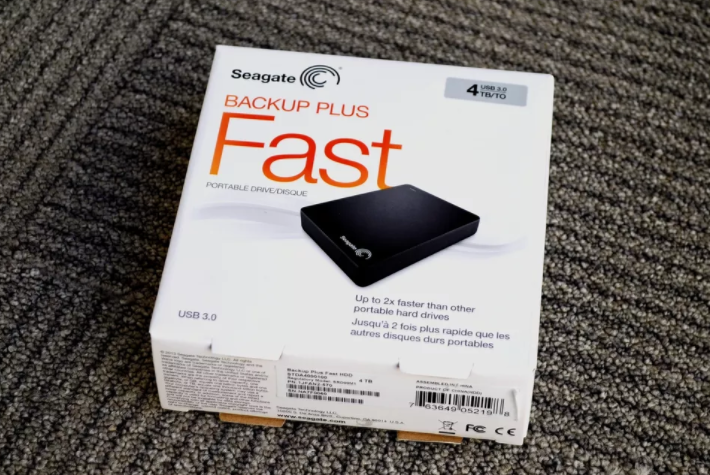 The WD My Passport Slim is yet another high end external hard drive that might help you fulfill all your external storage requirements. This device offers a storage space of 2 TB with USB 3.0 and a speed that exceeds 100 MBps. Just like majority of the WD devices out there, this one also comes with the WD Smart Ware Backup Software that helps you backup all your data very easily and conveniently. In addition to this, it also protects your data from accidental editing and other similar issues associated with data storage. So if you are looking to buy an external hard drive that is comparatively cheaper yet offers some of the best possible features, the WD My Passport Slim is the device you want to consider.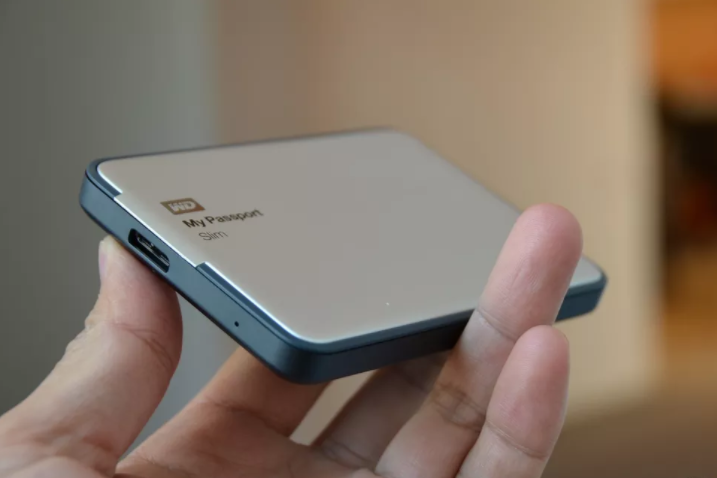 The WD My Passport Ultra offers a storage of 2 TB and incorporates USB 3.0 connectivity. The handy software called WD Smart Ware Backup is also included with the WD My Passport Ultra drive. The data transference speed offered by this drive is faster by 10 MBps.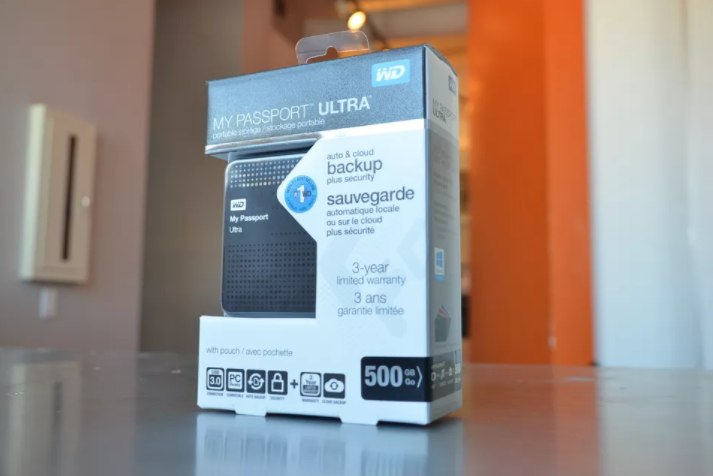 | | | | | | |
| --- | --- | --- | --- | --- | --- |
| Backup Devices | Capacities | Weight | Dimensions | Bus-powered | Top speed |
| Seagate Backup Plus Desktop | 2TB, 3TB, 4TB, 5TB | 2.38 lbs. (1.1kg) | 6.2 x 4.9 x 1.7 inches (15.7 x 12.4 x 4.3cm) | No | 180MBps |
| Seagate Backup Plus Slim | 500GB, 1TB, 2TB | 5.6 oz (159g) | 4.5 x 3 x 0.4 inches (11.4 x 7.6 x 1cm) | Yes | 120MBps |
| Seagate Backup Fast | 4TB | 68 lb (308g) | 4.6 x 3.2 x 0.8 inches (11.7 x 8.1 x 2cm) | Yes | 230MBps |
| WD My Passport Slim | 1TB, 2TB | 5.6 oz (159g) | 4.3 x 3.1 x 0.5 inches (10.9 x 7.9 x 1.3cm) | Yes | 108MBps |
| WD My Passport Ultra | 500GB, 1TB, 2TB | 9 oz (255g) | 4.3 x 3.2 x 0.5 inches (10.9 x 8.1 x 1.3cm) | Yes | 119MBps |
Tips:
Always buy a drive that is double in capacity to your primary hard drive.
Prefer buying a drive that offers USB 3.0
Part 3: The Best Backup Software for Windows
When it comes to the best computer backup software for Windows, AOMEI Backupper Professional is a force to be reckoned with. It incorprates with versatile utilities including backup, restoration and clone to cate for varied computer backup needs. Its versatile functions and intuitive interface makes data backup a piece of cake. Here, let's have a look at some of its features and pick it to embark on our pleasant backup journey.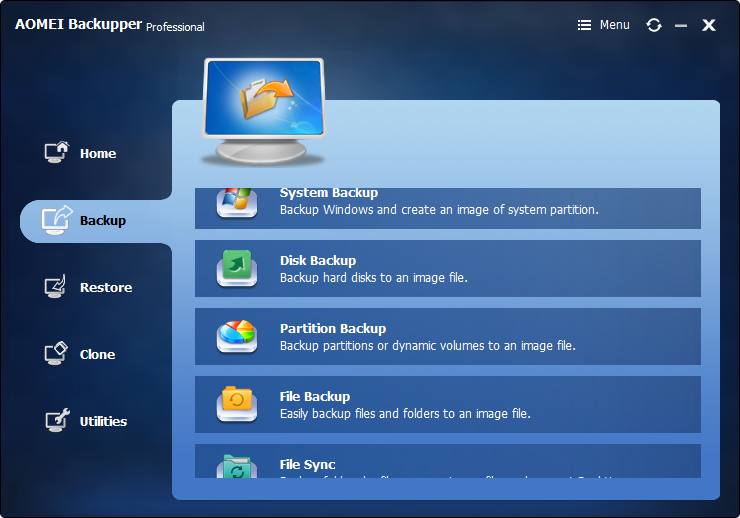 Allows you to take automatic, full, incremental and differential backups of system, disk, partition and files.
Supports system restore, disk restore, dissimilar hardware restore, partition restore and selective file restore.
Supports disk clone, partition/volume clone, flexible clone, system clone and command line clone.
Supports Windows 10, Windows 8.1/8, Windows 7, Vista, and XP (all editions, 32/64-bit)