It's really a pain to upgrade your OS installed hard drive, because you don't want to reinstall your well running operating system and it needs your Windows ID and key, let alone the long time spent on it. So the best way to move your existing OS to your new and larger hard drive is to clone. Cloning can help to move all your contents on the hard drive completely to your new drive, including the operating system, files, programs and all personal settings.
1

How to clone OS to a larger Hard Drive

To clone your OS, you need a system backup tool. Here you can try Wondershare LiveBoot Boot CD, which can help to clone your entire disk or partitions that you need to backup with only 1 click.
Step1. Boot your computer from LiveBoot
Wondershare LiveBoot provides a bootable CD/USB, which gives you a totally pure environment to backup a clean operating system or all drive contents. Insert the CD or plug in the USB to your PC, start your computer and choose to boot from LiveBoot.
Step2. Begin to clone OS
After getting into the Windows, the LiveBoot will be launched automatically. Then go to "Disk Management". Here you can see the "Clone Entire Disk" and "Clone One Partition" on the left side. If you want to clone the whole hard drive content, you can choose "Clone Entire Disk", or you can choose "Clone One Partition" to backup the only partition where your OS installed.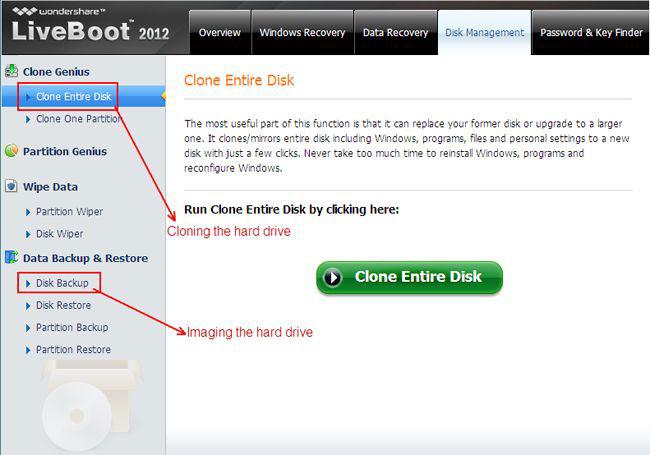 You can directly clone your old drive to your new hard drive if you can connect it to your computer with related connecting devices, or you can clone it to an external disk first, and then clone it back to your hard drive when you've replaced the old one with it. Just take the way convenient for you.
Also, you can choose to image your hard drive with "Disk Backup". It can backup your hard drive content as an image file. Then you can restore it to your new hard drive. By the way, you can also learn how to copy Windows 7 to another drive.
2

Recover Lost Data Caused by Clone OS

During cloning hard drive often comes along with data lost from your hard drive,and you do not have a recently data backup.Under these circumstances you will need a hard drive data recovery software to retrieve you lost data back.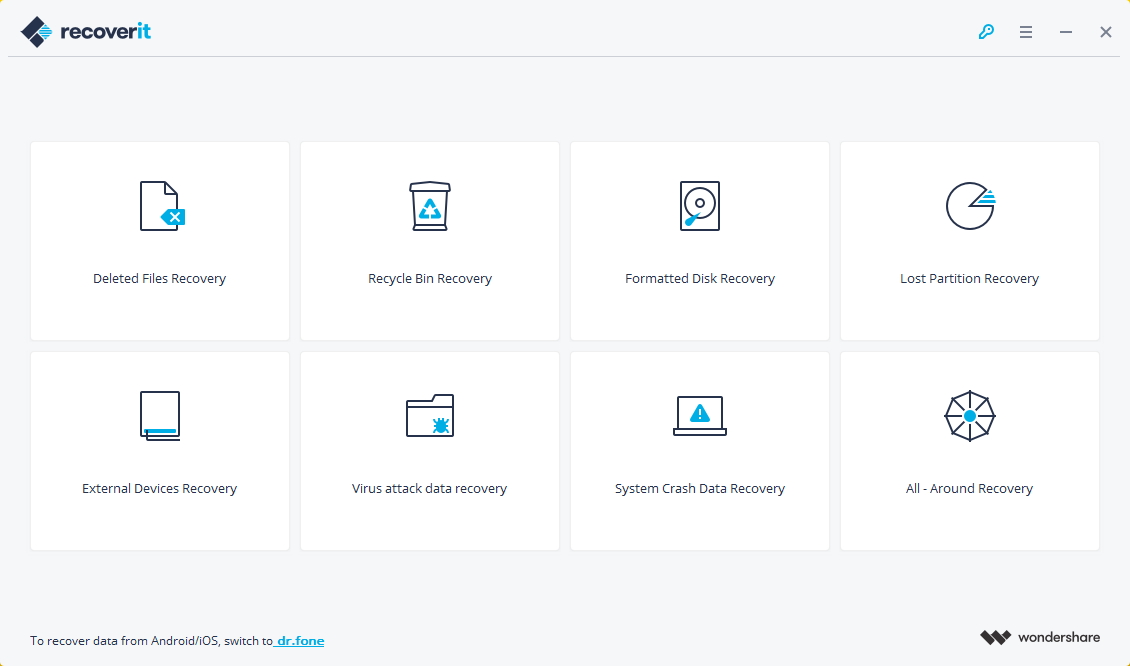 Recover lost or deleted files, photos, audio, music, emails from any storage device effectively, safely and completely.
Supports data recovery from recycle bin, hard drive, memory card, flash drive, digital camera and camcorders.
Supports to recover data for sudden deletion, formatting, hard drive corruption, virus attack, system crash under different situations.
Recoverit data recovery software is capable of restoring deleted/lost files or formatted partition from hard drive (HDD and SSD), external hard drive, usb flash drive, memory card, digital camera, camcorder, iPod, Music Player and many kinds of mobile devices (Nokia, Blackberry phones and Phones with older Android OS than ICS). While offering the advanced recovery modes like 'All-Around Recovery' mode, it`s pretty easy to use:
>> Guide for Hard Drive Data Recovery with Recoverit
Computer Troubleshooting
Win System Crash

Windows Tips

Computer Problems

Blue Screen Errors