Flash disks are best drives that you can store your files. Flash drives are portable and small in size, thus, you can carry them along with you and you can use them anywhere. Flash drives have different capacities that allow you save your data files. However, you can lose the data files when you format the disk or if it gets corrupted. To retrieve important files from a corrupted drive you need to stop using the flash drives because you may overwrite the data. Furthermore look for a data recovery tool that will revive your data safely.
Factors that Might Result in Corrupted Flash Drives
Cases of corrupt flash drives are rampant. Flash drives get damaged and here are some of the most common reasons.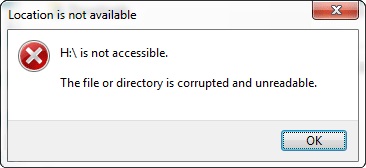 1. Virus and Malware Attacks
There are various types of viruses that often attack flash drives and hard drives. They often get on our devices via Internet or corrupted files. When they get into the flash drive they will not physically damage your data, but will damage the content on your flash drive.
2. Unsafe Removal
When using your hard drive ensure that you eject it properly. When you mount it on your computer and you are transferring data make sure that you eject it safely from your computer. On a Mac, click on command +E keys. When you eject the flash drive while transferring data, you will eventually damage the files hence the flash drive gets corrupted.
3. Extreme Temperatures.
Avoid exposing your flash drive to environmental conditions such as heat and cold. It is not only temperatures, but also other factors such as water that can affect the drives. When these environmental factors get in to flash drive, they damage the cell and can lead to data loss.
4. Heavy Usage
This is one thing that you probably never knew about flash drives. When you use them for a long period of time, they are subjected to wear and tear. This long term usage will make your drive loses its retention capacities. This means that it will under perform and you will lose data on it. Using a flash drive often, over a long period of time, can also contribute to this.
5. Physical Damage
How to Recover Files from Corrupted Flash Drives
The way you handle drives can cause data corruption. Some people carry flash drives in their pockets. You can also drop your flash disk and cause it to physically break. If it does not break, its part may loosen and, hence, cause damage to your flash drive. If you are carrying your flash drive around with you, ensure it has the cap on tight.
Always be careful on how you handle your flash drives. Treat it as a delicate object because it contains your valuable information. If you're lucky enough that your damaged flash drive is still recognized by your computer, you want to recover files in it. If this is the case, you are in luck with Recoverit data recovery that can be used on all operating systems. Recoveirt Data Recovery Software for Windows and Mac data recovery versions are ready for you to download. It allows you recover files such as videos, audio files, photos, and images from your flash drive, computers, and even memory cards. The beauty of this software is the way it is designed with eight recovery modes which ensure that all lost data is retrieved.
Deleted Files Recovery.
Recycle Bin Recovery.
Lost Partition Recovery Mode.
Formatted Disk Recovery.
External Devices Recovery
Virus Attack Data Recovery
System Crash Data Recovery
All-Around Recovery
With that said, let's see how to recover corrupted files with Recoverit flash drive recovery software. First, download and launch it on your computer. Then mount your damaged flash drive to the computer.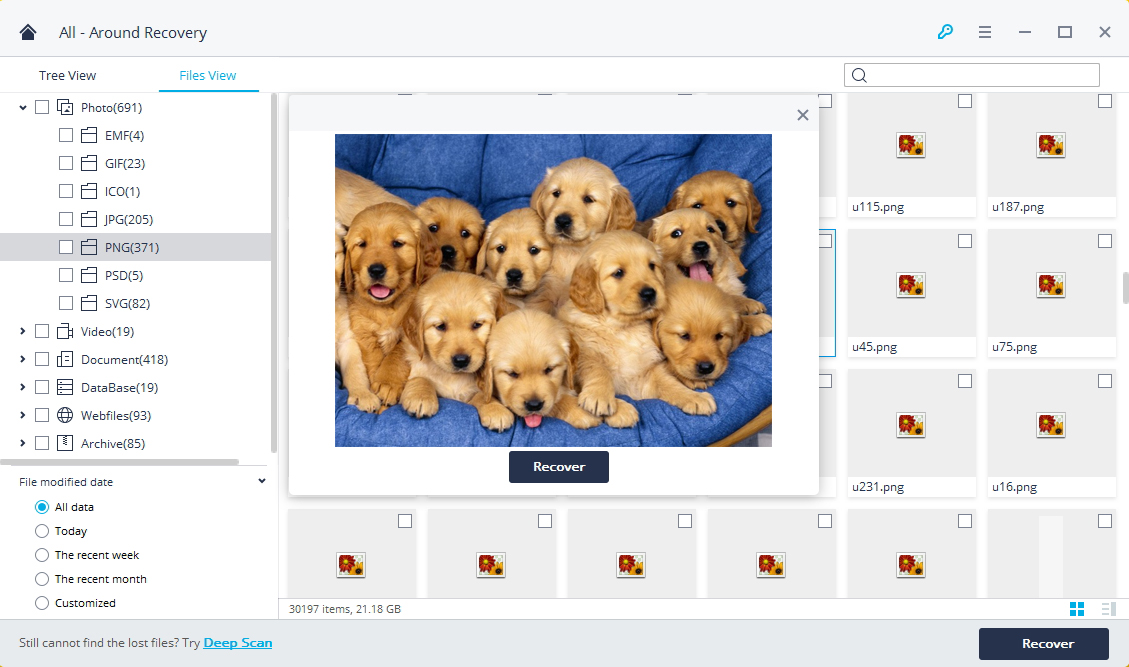 Recover lost or deleted files, photos, audio, music, emails from any storage device effectively, safely and completely.
Supports data recovery from recycle bin, hard drive, memory card, flash drive, digital camera and camcorders.
Supports to recover data for sudden deletion, formatting, hard drive corruption, virus attack, system crash under different situations.
Step 1

Identify the Recovery Mode

Launch Recoverit Flash Drive Data Recovery, select the "External Devices Recovery" to start lost file recovery.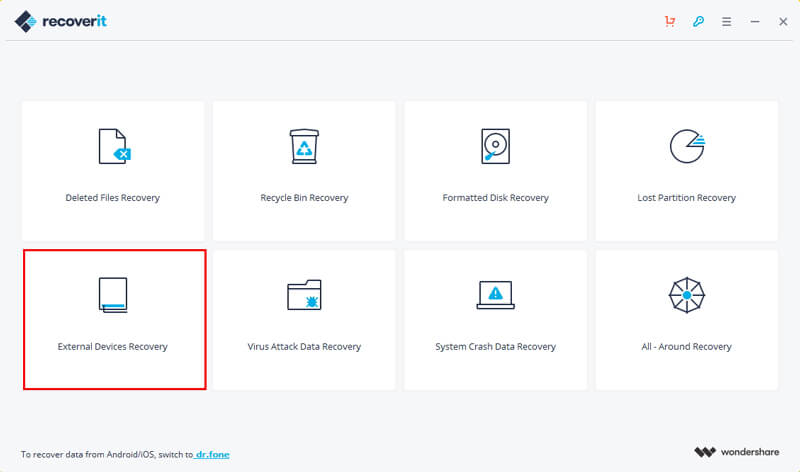 Step 2

Start Scanning

Before you start scanning you should identify your drive where you lost you files. Then you need to click "Start" mode. To get a thorough scanning of files, go to the option of "All-Around Recovery" mode after a quick scan.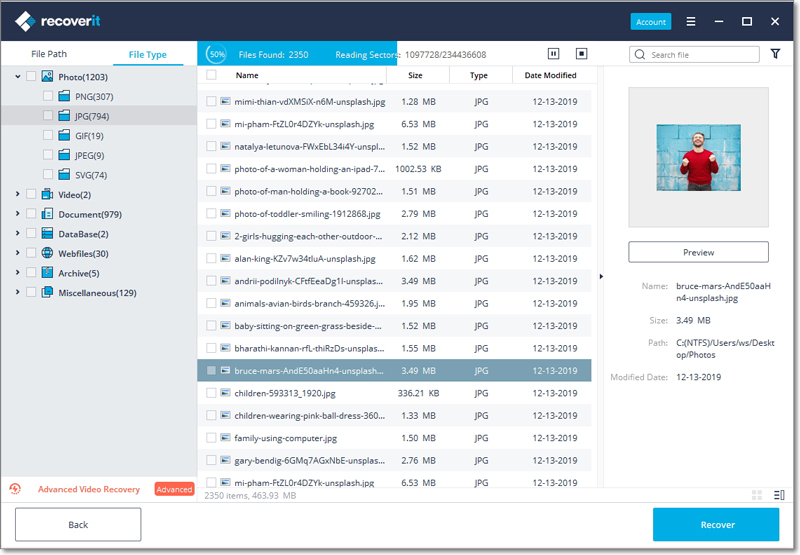 Step 3

Recover and Save Recovered Files

After the scanning process is complete, you can preview what has been recovered. This works for files and photos. The quality of files recovered is also displayed. Then select all the files that you want and click on "Recover". Choose an external storage device to save your files.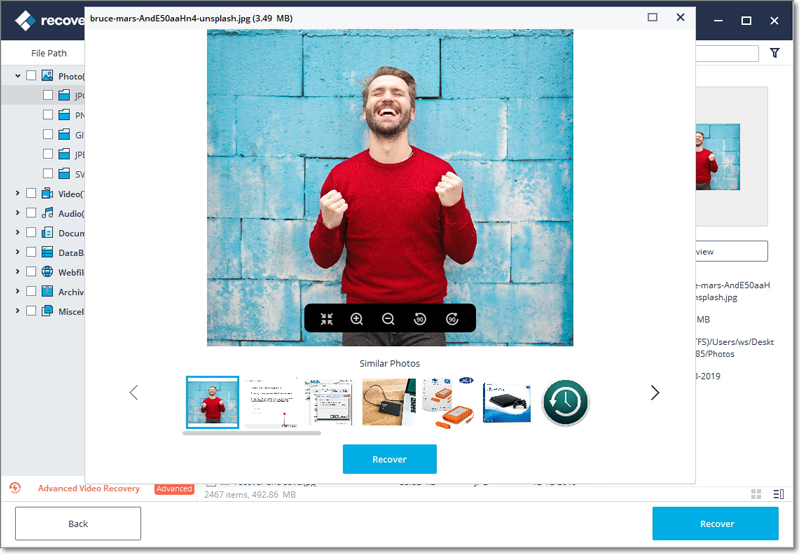 How to Fix an Unrecognized Flash Drive
In some cases, a flash drive may fail to appear on your computer. You will need to recover damaged flash drive. On A Mac, go to Finder>Applications> Utilities. From there, click on Disk Utilities. Go to First Aid and Repair disk.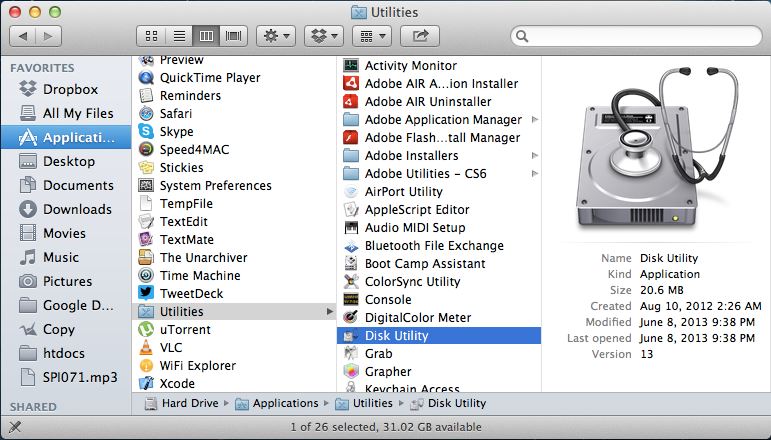 If you are using windows, use Disk management to format the disk. Go to Start>Computer and right click on it. You will see Disk Management under Storage.
Identify your flash drive and allocate the paths by clicking on Change Drive Letter and Paths. Go ahead and accept the changes and assign a letter to your flash drive. The letters should be between E and Z. Finally click on Ok to make changes. This will make the drive readable by windows.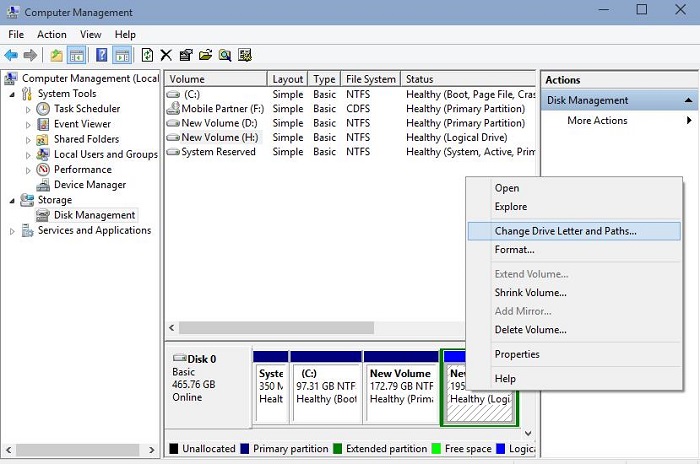 After this, use the Reoverit data recovery software steps discussed above to recover files from USB drive.
You have seen how annoying it can be when your flash drive fails you. It is, therefore, important to protect your file from getting corrupt. Here are some basic tips.
Avoid exposing your flash drive to heat, cold or water.
Always ensure that your flash drive is closed well and prevent it from any physical damage.
Always eject your flash derive safely when you mount it on your computer.
Do not use one flash drive continuously over a long period. Try and use different ones.
Install an antivirus program on your device.