When using a USB of any kind, losing data is always going to be a potential concern. It couldn't be easier to recover lost files from Kingston USB drives, using the best free Kingston USB recovery software - Recoverit data recovery.
A Kingston USB Drive provides the user with many advantages. First and foremost, it offers faster transfer speeds than other similar drives. This means that you get better performance for your money - and more storage for the price you pay too. Kingston is a recognized brand, and it is established in the sector for a reason - you get a reliable storage device for your data. So, there are still many users are the owners of Kingston USB drive. However, with the practicability of Kingston USB drive, Data loss from Kingston USB drive also becomes a common issue. What will you do if you lost your data from Kingston USB drive? This post will provide you with best best solution.
Part 1. Top Reasons of Data Loss from Kingston USB Drive
It is rare that you will be faced with Kingston data recovery issues. Your Kingston USB Drive is known for its reliability and solidity of performance. However, there are many reasons that necessitate the use of a Kingston recovery tool. Here are some of the potential ways of losing data from your Kingston USD Drive:
Accidental deletion without backup

One of the most popular reasons for needing a Kingston recovery tool is accidental deletion. This is where you are busily cleaning up your files and inadvertently send something valuable to the trash. We all like to think we regularly back up our USB drive, but we may trust that it will always be there for us - and that no one else will use the drive and get click happy.

Formatted USB drive

You move your USB from a PC to a Mac, let's say. This move prompts a dialogue box that asks you to format your device for this new product. You click OK and the process of formatting wipes all the data from the drive. Yet again you will need a Kingston USB recovery tool to seek out the lost data from the drive.

Abruptly pulling out Kingston USB Drive

We all do this at some point in our working life. We get busy, we need to move quickly, and we pull out the device before it has finished processing data. This can cause a corruption or loss of files.

Virus infection

Another common issue is infection of a drive by a virus. This is especially true with USB drives that get moved from one device to another and the user may not virus check regularly. It is possible to restore Kingston drives even after a serious virus issue.

Some other causes include:

Device corruption

System failure

Physically Damaged

Drive unrecognized/inaccessible
Part 2. Most Recommended Kingston USB Recovery – Recoverit Data Recovery Software
One of the best pieces of Kingston USB free recovery software is Recoverit USB flash drive data recovery. This data recovery can help you recover data that has been deleted, formatted or lost from your PC, laptop or removable device, such as Kingston USB recovery. It is available for Windows and Mac and can recover all major file types, whether they are documents, graphics, video, audio, email and others. Recoverit data recovery software can help with all data-loss scenarios, providing all you need to restore files from USB drive like Kingston USB drive.
This Kingston USB Recovery tool that processes fast and has a clear interface. You merely need to select the relevant device, click on scan and after the scan preview recovered files to find the ones that you would like to restore. You can check it out from the detailed steps below on how to recover lost files from Kingston USB Drive.
Part 3. How to Recover Lost Files from Kingston USB Drive
You might be wondering how easy it is to use such a tool. If you have experienced file loss from your Kingston USB Drive, then the steps needed for recovery could not be simpler. You will simply download and install the best Kingston USB recovery - Recoverit from its official site or the download buttons (Win or Mac version) above, and then follow the detailed steps below carefully.
Step 1 Enter "External Device Recovery" mode after launching this Kingston USB Recovery tool
This is a lot simpler than it sounds. The interface opens with 8 icons, one of which is external device recovery. Click on the option "External Device Recovery" to enter this mode.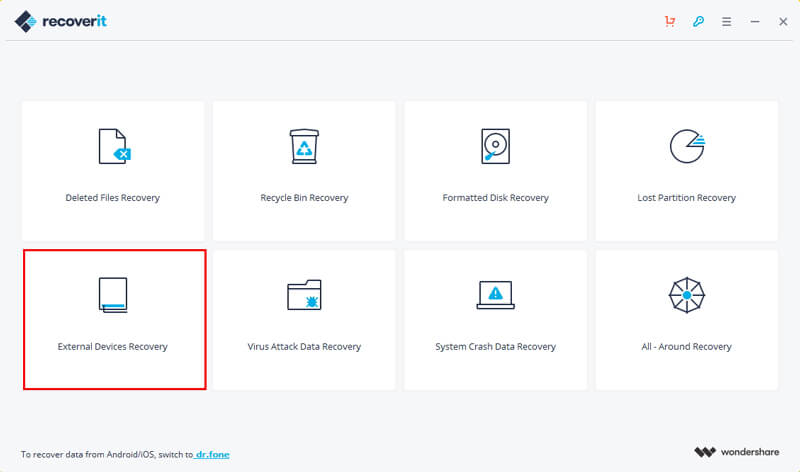 Step 2 Connect your Kingston USB Drive and select it to start the scan
Insert your Kingston USB into your device, as per normal use. It should show up ready for selection. Click on USB flash drive and it will show all connected drives. Select your Kingston USB drive connected to your device and click "Start" to begin scanning.
Step 3 Scan the lost files from Kingston USB Drive
After you click the "Scan" icon, Recoverit USB Recovery software will start scanning your Kingston USB Drive. After a while, you can preview some restorable files.
Note: there is an "All-Around Recovery" option for you to start a deep scan if you can't find your lost files from the Kingston USB Drive after the quick scan. Just turn to the "All-Around Recovery" mode to look for more files.
Step 4 Preview the recoverable files and recover them
You will then get a summary screen with all the recovered files from the device. You can review these files one by one from this screen. To restore Kingston files, you need to tick the box in the corner of the files you want to restore. You then click "Recover" and this free Kingston USB recovery tool will offer you the opportunity to save the files to a different place. This is an excellent opportunity to back up the files and ensure they are safe in the future.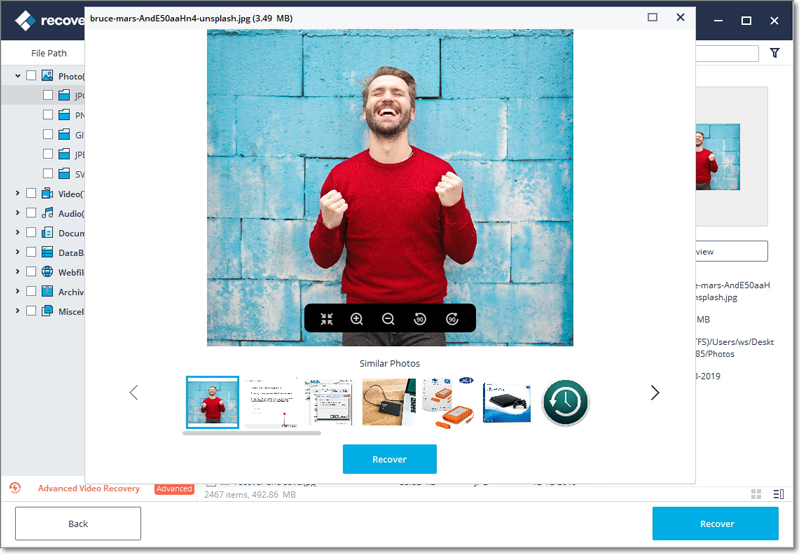 Video Tutorial on How to Recover Lost Files from Kingston USB Drive
Part 4. Kingston USB Drive Not Recognized - How to Fix

When you receive the popup of your USB device not recognized, don't panic, you can check what the flash drive's problem is by scanning it first and then follow the useful ways to fix the problem of Kingston USB drive not recognized.
Way 1: Scanning for USB Issues
Insert the USB drive into the USB port of your system
Go to My Computer > Removable Disk icon
Right click the Removable Disk icon and open Properties
Open Tools tab, and click Check button
Let the scan process get completed, Close the scan window once it's completed
Way 2: Reformatting the USB
If the problem is related to the USB device itself, you should start by trying the device in a different port just in case. Then, follow these steps to reformat the Kingston USB Drive.
Go to My Computer
Right Click on the USB icon and click on Format
On the pop-up window, toggle it between NTFS and FAT32 under the File system, then click Start
Be aware, this will cause the device to lose all data. However, if you use your Kingston USB recovery tool, you can find the files after reformatting.
Way 3: Updating the drivers
If the problem is related to the USB device itself, you should start by trying the device in a different port just in case. Then, follow these steps to reformat the Kingston USB Drive.
Open the Run command and type in devmgmt.msc in the field to open Device Manager
Find Universal Serial Bus controllers and click it to expand the menu. Right-click on the Generic USB Hub and choose Update Driver Software
Way 4: Updating the Operating System
Connect the USB flash drive to a port
Go to Control Panel, click on System and security
Find the Windows Update section, and click on Check for Updates
Part 5. Tips to Prevent Data Loss on Kingston USB Drive
Although it is simple to retrieve lost files, it is always best to avoid such issues in the first place. There are many steps you can take to protect your data.
Back up your data:

Making sure your data is available on another device is always a sure way of making sure you have access to data. This could mean backing up data to a cloud or backing up to another USB device. If the data becomes corrupted or inaccessible on one device, this way is always available on another.

Keep your computer up to date:

Some of the most common problems with USB devices come from incompatibility with older operating systems - especially those that do not facilitate plug and play. Therefore, the easiest way to prevent problems is to update the OS on your computer regularly.

Remove your flash drive correctly:

It is easy to be rushed and just pull out your USB. This is an easy way to corrupt files and require the use of a Kingston recovery tool. Therefore, click on the icon in the tool access menu in the bottom right hand corner of your screen and click on Remove USB. This will disconnect the device before you pull it from the computer. This will help you avoid pulling out the USB whilst it is still reading or writing to the device.

Avoid connecting your Kingston USB device to a virus or malware infected system:

You might think this is easier said than done - how do you know? Well, the easy answer is to run an antivirus software on the computer before plugging in your USB. This way you know that the computer is infection free before risking your USB drive.
What's the bottom line? The great news in all this is that any loss or damage to your Kingston USB can easily be rectified using the Recoverit data recovery software. Although it is always best to avoid problems, this is sometimes not possible. When the worst happens, all your best precautions in the world could not prevent a problem. Hence, download the powerful USB data recovery software and you can always recover files from your Kingston USB drives.