Why Never Use Cracked Version of Data Recovery Software
"Is it safe to use a free cracked version of any recovery application? Will it cause any harm to my data? If yes, then which application is the safest to recover data without any charge?"
If you are looking for a safe and reliable way to recover data for free, then you should look for the cost-free versions of the professional recovery app instead of picking a cracked version of the full software. It is because these cracked applications do more harm than good to your computer system and data alike.
However, it is quite obvious risking your system security, and personal data isn't worth it. Hence, to know more, follow this complete guide. We will show you the risk of downloading a cracked software and using the best alternative recovery application to retrieve every file, Recoverit!
---
Part 1: Data Recovery Software with Crack Free Download, Never Trust It!
Everything comes with a cost as nothing is ever really in the online world. We only find out about the price after the damage has already reaped chaos on our computer system and data, followed by a chain reaction of the additional cost. It is the purpose why you should not trust a cracked version of any software, nevertheless, a recovery application.
Here are a few of the reasons why you should not trust a cracked version of data recovery software with the well-being of your computer system and the data you wish to retrieve from it:
These cracked applications are riddled with ransomware, malware, Trojan horses, and worms.
If you are illegally using a recovery application, then there is no way you will consult customer service to tend to any software-related issue that may occur. The cracked version does not offer any tech support.
The quality of these apps is usually pretty sparse, and they do not often bring the best results that one would expect, such as recovering the files in their proper format.
Using a cracked recovery application can only harm your computer device further and may result in the deletion or corruption of files.
It is highly unethical to use a cracked version of any software as the data engineers have consumed countless hours to design the perfect software, only for people to use a knock-off cracked version of the app for free.
However, it is morally not right to use a Cracked Version of Data Recovery Software. It is better to avoid using cracked version software if you do not risk your device or data. Moreover, people have to keep in mind that software and online services are just the same essential physical thing. Instead, you can take the help of professional open-source tool that might be able to fix your problems.
---
Part 2: Reliable Alternative to Data Recovery Software with Crack - Recommended:
If you wish to use a recovery program for free and without any involved risks, then the only way around using a cracked version is opting for the free service of a recovery app, much like the Recoverit Data Recovery program. It allows you to restore files up to a maximum of 100MB, free of any charge, with complete proficiency.
Other than that, you will be able to use the program risk-free, without any fear of a virus ruining your PC or Macbook. However, 100MB is enough to recover several valuable documents and photos. Recoverit offers affordable pricing plans to compare with your budget and purchase as per the circumstances if you still wish to retrieve unlimited data.
Here are some of Recoverit's essential features that are available on the free version:
Recoverit recovers files in 1000+ different file formats, including the rarest ones that no one has even heard of before performing the scan.
The app has the full potency to retrieve files form disk drives that have turned RAW, or from the ones that have been corrupted by a virus.
It can read and scan every known external storage disk and devices, including a camera, MP4 player, drone, a memory card, and a USB.
You can download Recoverit on your Mac or Windows-based computer.
You only need to learn its 3-step instructions in the section below to recover the data that you need for free.
Step-by-step Guide on How to Recover Lost Data
Download and install the free Wondershare Recoverit data recovery software on your PC. Follow the next 3-step data recovery guide to restore your lost files immediately.
Step 1. Select a location:
Pick the preferred folder/disk volume/recycling bin where the last stored the files after launching the system.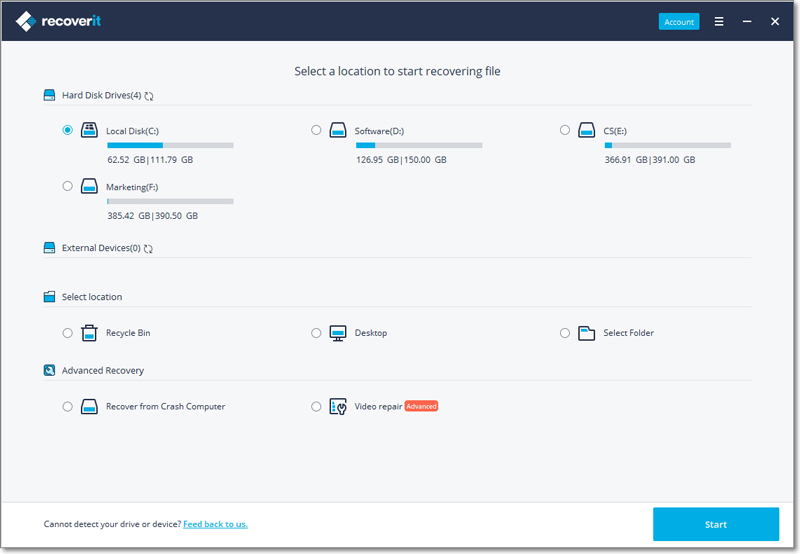 Step 2. Scan the location:
Hit the start button and wait for the app to scan the whole site till the very last bit. It will notify you with a pop-up dialogue box by stating the number of files it has recovered.
Step 3. Preview and recover files:
You will view the items categorized under the "File Path" & "File Type" sections. It will offer you to open the files within the interface and verify the nature of their state. Select close to 100MB of data to recover them for free after hitting the "Recover" push button.
---
Conclusion:
Who doesn't like free candy without realizing the consequences behind opting to consume such a choice? As much as candy is harmful to you regarding your health, using a cracked version of any software or tool can lead to an extreme disaster waiting to happen.
In this editorial, we have discussed the damaging implications of using a cracked recovery tool, resulting in deleting additional data, infecting the PC with an incurable virus, and much worse, such as a Ransomware attack. We have further discussed that it is a fact why using the Recoverit data recovery program should be your first option to recover data from any storage source for free.
FAQs:
Why Evade using a Cracked Data Recovery Tool?
You can use various licensed and updated data recovery software to retrieve your deleted or lost data. But if you are using Cracked Data Recovery Software, it means you are putting your already deleted or lost data at risk of permanently losing them. Here are some of the reasons why one should evade using a cracked Data Recovery Software:
Malware Risks
No Updates
Financial Risks
Illegal to use
Software Instability
What is the difference between Professional and cracked data recovery software?
Professional data recovery software
Cracked data recovery software
Software stability
Legal to use
Customer support Available
Guaranteed data recovery quality
Refund policy, privacy protection
Software Instability
Illegal to use
No customer supports
Poor data recovery quality
Data loss and no privacy protection

Hence, it is better not to trust any unknown cracked software.
How can I recover my lost data for free?
Data recovery freeware Software can help you restore your lost files for free:
Step 1: Launch Wondershare Recoverit Data Recovery Free edition on your PC. choose a recovery option.
Step 2: Select the location where the files were last stored and scan it completely.
Step 3: Preview the files and recover the wanted files to a secure location.
Free Recover Data
Top Recovery Freeware

Top Recovery Solutions
Other popular Articles From Wondershare