What is Recuva used for? Is Recuva free to use? Can Recuva recover my files back? You may have many questions like that when you get Recuva free data recovery software. On the following we will review Recuva data recovery for you: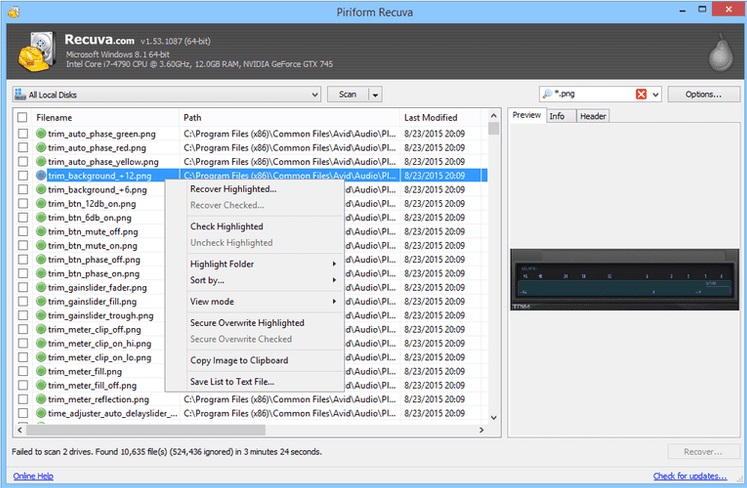 You know many people pride themselves on being tech-savvy, but let them deal with some damaged or corrupted files, and they would be shaking in their boots. This is the reality—data recovery is a big issue in technology, and it happens to the best of us.
Indeed, data deletion, corruption, or loss is a common occurrence when dealing with a computer. It can be deliberate, or it could be maliciously done by a virus attack. There is no telling when and how it will happen. The unpredictability makes it harder to deal with.
Thankfully, many applications specifically target data recovery. These programs can scan for and recognize several file types from damaged partitions or disk drives. Files such as photos, videos, audio, documents, emails, and more. Some even can fix and repair damaged systems.
Recuva Free Data Recovery Software 2020
Recuva is one of the best free file recovery software, it can restore deleted files from recycle bin even emptied the recycle bin folder. It is easy to use and it is effective file recovery software.
Key Features of Recuva Free File Recovery:
Recuva Wizard is a useful tool within the software that helps users diagnose the recovery task needed to be done.
This software can scan not only a PC or Mac but also external storage devices, USB drives and hard drives, CD/MP3 Players, and other devices that have been damaged, corrupted, or reformatted.
Unlike other software, Recuva boasts a portable version that does not require any installation.
Recuva supports big hard drives of up to 3 TB.
It has both the quick scan and deep scan option cover all the technology based on searching recoverable files.
It can scan inside files and restore the documents that contain a particular text string.
There is an option for your setting to restore the folder structure with the file.
Recuva Pros and Cons:
Like many of the free file recovery software out there, Recuva is not a one-stop solution that users sometimes mistakenly treat it to be. There are pros and cons to consider, and here we list some of them.
Pro:
Firstly, Recuva is a freeware, and as such is already a step ahead of the competition. For free software, Recuva delivers recovery tasks in a timely and efficient manner. It has two modes for data retrieval: Wizard mode and Advanced mode. It caters to different users; the former a viable option for novice users because it takes you through a thoroughly guided recovery process. Advanced mode is designed for users who have the more technical knowledge and want to accelerate the task.
Aside from its pretty simplistic UI, it is renowned for its multiplatform support. It is universally supported by most Windows and some Mac devices. The recovery speed is also praise-worthy.
The option to deep scan is another great feature that enables the user to examine files from the deepest crevices of the system, even those that are from the corrupted or damaged parts of the disks. Most of all, the supported file types are many, which is very important in choosing the best recovery software. If you are going to recover files, you might as well use the tool that can read and scan even file types that you never knew existed.
Cons:
There are some cons, of course, and one is related to the fact that it is free. Some recovery may not be possible if you are using the free version of this software. Recuva has a great offering for its free version, but if you want to make the most out of it, then it is better to purchase the paid Recuva Professional.
If you are a beginner, take note that using Recuva entails some risk because of its ability to overwrite files in the system. It might remove even the important files you want to keep, so be sure to read before trying the recovery or have a technically capable person check for you.
There are also instances when the files may turnout unrecoverable. This is only because the files are a copy of another file from a different folder or location. The deep scan may help with this problem.
Steps on How to Recover Data Free with Recuva Free Files Recovery:
To get started with Recuva free file recovery program, you can visit the website Recuva and download the version of Recuva you want. Install it on your computer and follow the next steps to learn how to use Recuva Wizard free file recovery software to get your lost data back on the Windows computer.
Step 1 Launch Recuva free data recovery program, select a file type you want to recover.
Step 2 Select the file location where the files stored. Click "Next" to process.
Step 3 When the scanning finished, you can get the results of the scan. Select your files and get them back.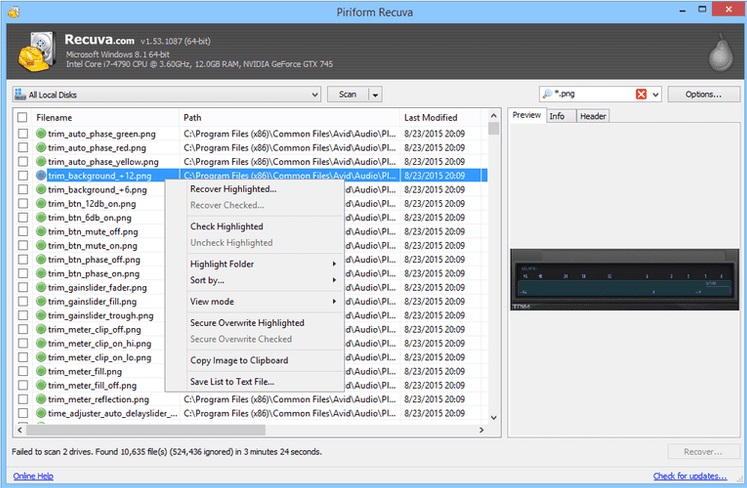 As mentioned, you can also use the Advanced mode that gives further options, such as sorting and previewing, plus additional information about a file.
Recuva Full Version:
The Recuva is very useful and efficient, but you will find a more successful recovery tool in their paid version, which also contains the full package being offered by the software. To avail of this, head over to their website and choose the Recuva Professional version, which costs $19.95 to download. This package includes premium support of the software that cannot be accessed by the basic version.
Recuva Data Recovery is one of the most efficient data recovery tools out there, but there is no guarantee that it will solve virtually all of your data loss issues. There are many alternatives to try, should you feel it does not meet your expectations. One premium recovery software you can also try is Recoverit Free Data Recovery.
Conclusion:
The alternative to Recuva free data recovery, we high recommend Recoverit Data Recovery. You can download as follow and run it on your computer to recover lost or deleted data and files. Compare these two powerful data recovery software.
Free Recover Data
Top Recovery Freeware

Top Recovery Solutions