We have introduced you to the top 5 best free SD card data recovery softwares on this page, all these 5 SD card recovery program can help you recover lost data from card devices. Our top pick given extensive recovery efficiency criteria were Recoverit Data Recovery, DiskDrill, Recuva, iCare Data Recovery and PhotoRec Data Recovery. They all include pros and cons, but to some aspects, they are capable of covering your issues and bring back your deleted/lost data. We tested them with four data loss scenario and scanning process: Deleted - Delete all files and emptied the recycle bin; Shift+Delete- Click "Shift+Delete" to delete all files and they will not go to the recycle bin; Deep Scan - deep scan C drive; Recover Large Files (quick scan) - Deleted all large files and emptied the recycle bin.
How We Tested:
We prepared SC card carry with data about: 4.15GB files including images, videos, audios, Zip files, office document files, TXT files, total 1192 files and 207 folders. After tested these five free SD card recovery software, we got the most reliable and effective free SD card recovery for you. Recoverit free SD card recovery software is not the best scanning and recovering during the test, but it has the highest success rates of any software we tested.
Part 1. The Best 5 Free SD Card Recovery Software
After you have first seen our testing criteria and how we got to pick our Best Five Free Sd Card Recovery Software it is now time to get some more info on what each can do, what it's best used for, their main features and hopefully it will in the end help you make up your mind on which one suits you the best.
1. Recoverit Free Data Recovery
Recoverit Free Data Recovery is a reliable SD card recovery tool that gives you a full chance of getting your deleted/lost data back. It supports to restore the files which were damaged by virus, power failure, accidental delectation as well as format. Whatever your initial causes are, Recoverit Data Recovery is guaranteed to recover files from SD card. You can use it to recover all types of data, If you want to recover deleted photos from SD card free or other files types including music, PDF files, video, etc, you can gain support from this free SD card recovery software as well.
Recoverit Data Recovery is a professional SD card recovery program, it can easily help you recover lost or accidentally deleted files from SD memory card devices. Also, it can restore any lost files from any storage device like UAB drive and external hard drive.
How to Recover Data from SD card with Recoverit Data Recovery
Free download and install Recoverit SD Card Recovery on your computer. Please connect your SD card to the computer and follow the next simple steps to retrieve your data back.
Step 1. With Recoverit SD Card Recovery, select the SD card device which detected on the computer.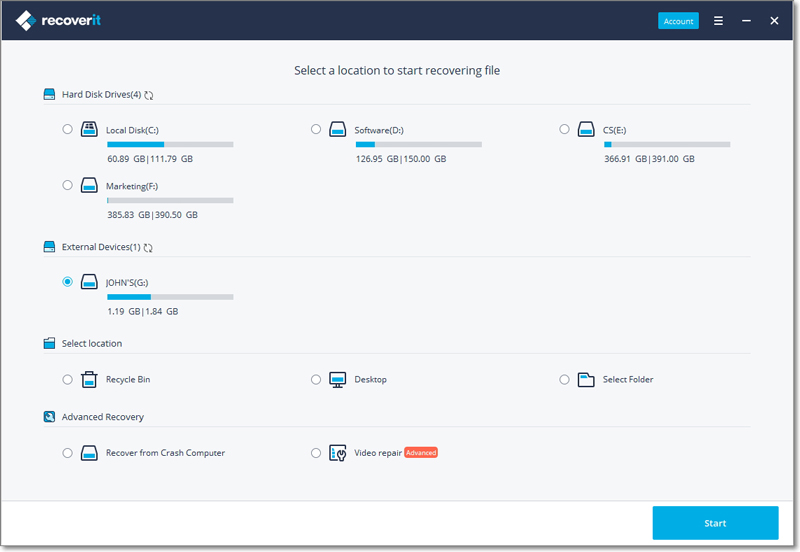 Step 2. The card recovery software will start scanning the device to restore your lost data files.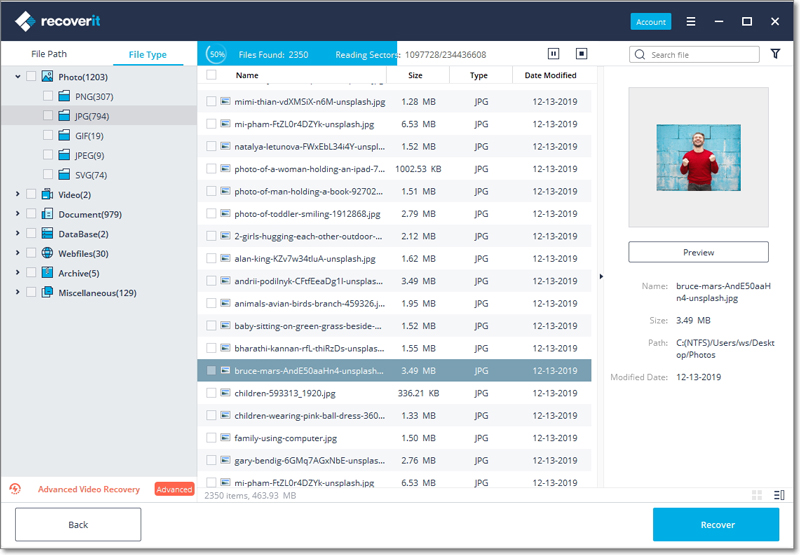 Step 3. After minutes, you can check all recovered files. Preview recover photos, videos, audios and office documents. Select your target files and click "Recover" to get them.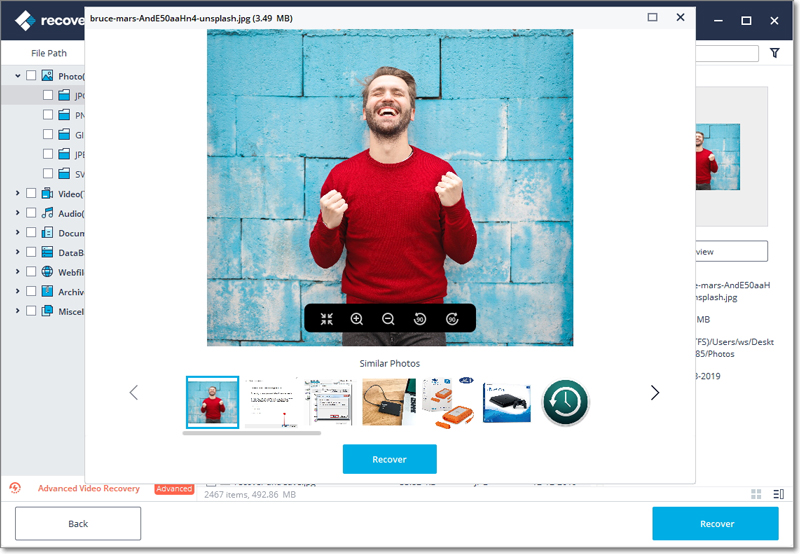 Please do not save any recovered data on your damaged or corrupted SD card, because it will overwrite data and cause data loss again.
Video Tutorial on How to Recover Data from SD Card
---
2. DiskDrill
In the testing, we simulatted the four data scenarios as mentioned before: Deleted all files and emptied the recycle bin, shift+delete, deep scan(to deep scan the C drive), quick scan(to scan the large files). The first testing, DiskDrill cannot find any data back(quick scan). Go to deep scan, DiskDrill can search much more files than the others. We check the scanning results, the files categories and names is mess, it is not good for users to find their lost data. But it take a less time to finished the process of scanning. Diskdrill for Mac version is more better than Windows version.
Pros:
It successfully recovered the most lost files after deep scan.
It takes less scanning time(deep scan).
Cons:
It cannot find any data with quick scan.
Hard to find out your recovered files after the scan.
It scan less large files with quick scan after emptied recycle bin.
---
3. Recuva
Recuva is another free SD card recovery software. We tested each scenario on SD card. Recuva recovered 100 percent of the JPG images. This SD card recovery software did well in recovering other file types in our four testing. It is more stable of the free version, but it have a limit to recover more files. Users can purchase the professional version of Recuva. It supports virtual hard drive and automatic updates.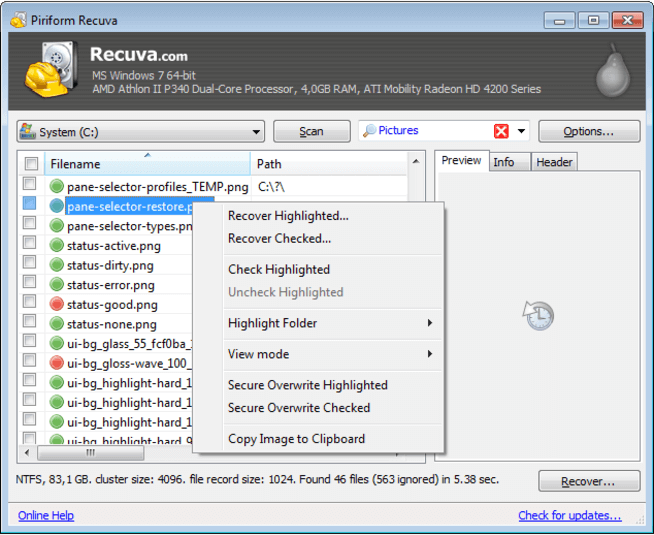 Pros:
It recovered 100 percent of the JPG images.
It is the stablest SD card recovery to use
It is free for advanced file recovery
Cons:
The interface isn't really interesting and attractive.
The free edition has fewer features than commercial ones.
Only works on Windows operating systems.
---
4. iCare Data Recovery
You can retrieve 2GB data back of free iCare data recovery. In our testing, iCare SD card recovery can retrieved almost 90% of the deleted data from these four data loss scenarios. During the test, it takes a longer time to scan the deleted files, but it does not support the recovery of JPG images. Also, iCare is compatible with Windows only, not for macOS users.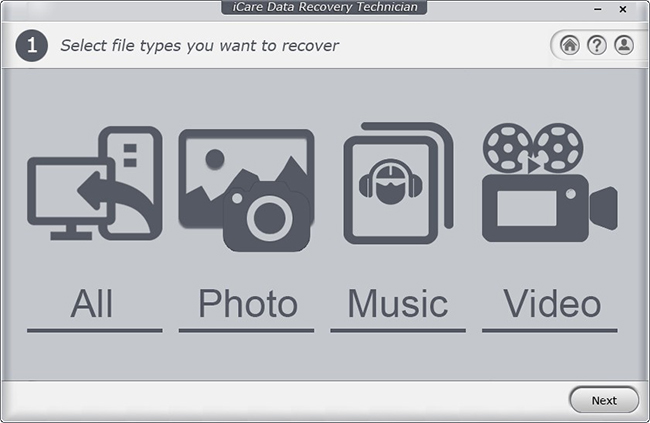 Pros:
This SD card recovery software is very easy to use.
It did well for any data loss scenarios.
Cons:
This program only work for Windows user.
It has the slowest scan speed.
---
5. PhotoRec Data Recovery
We tested PhotoRec with same data loss scenarios. It supports to recover any file types. What this tool does efficiently is simply recover deleted files and folders form HDDs, SSDs, USB Flash Drives and Memory Cards or Sticks. Also, it is safe and reliable enough for business users and can be used with all types of computers and hard drives. on the testing, it has take the longest time to scan deleted files in any data loss scenarios.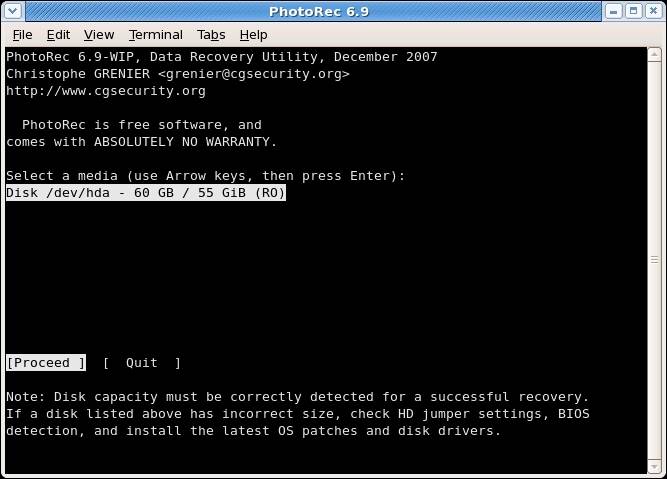 Pros:
It is totally free data recovery software.
It supports different system like Windows, MacOS and Lunix.
It can get all type files back in easily.
Cons:
It is quite difficult to understand the command line interface for beginner.
It is quite technical for users.
To sum up, the Recoverit Data Recovery has covered all the features we require at a perfect SD data recovery software. Computer users can now be pleased as the fear of data loss no longer exists thanks to the excellent ability of the Recoverit data recovery. We will recomend it as the best SD card recovery software. If you need a SD card repair solution, you can also use Recoverit SD card recovery software or choose the most suitable one from above best 5 free SD card recovery software.