We lose our important photos from our hard disk by accidentally formatting them or pressing the delete key. Sometimes, the cause for the data loss could be other than human error, virus attacks or power surges that lead to corruption of your hard drive or other storage devices. In such a case, you need to get hold of the best photo recovery free software that can retrieve photos from your hard drive or recover photos from SD card free, depending on where you lost them.
We have picked out the top 5 free photo recovery software in the market. You can choose from these depending on what suits your requirements and can perform for free any photo recovery. For each of these top 5 free photo recovery software, we will list out its advantages, uses and its beneficial features which can appeal to the users. After you select the software of your choice, you can go ahead with the photo recovery software free download full version.
Top 5 Free Photo Recovery Software
1. Recoverit
Recoverit free photo recovery software is the perfect choice for users to recover photos from mobile phones, hard disk, SD cards, USB, flash drives, whatever be the device. It has specific data recovery modes dedicated to each data loss scenario like file corruption, deletions by error, missing files, virus or malicious attacks and such other data loss disasters. It is compatible with all the versions of Windows including 10, 8, 7, Vista and XP.
How to Recover Deleted Photo with Recoverit Free Photo Recovery
Download and install Recoverit Free photo recovery software on your computer. Launch it and follow the next steps to perform photo recovery. What if your photo deleted or lost from external storage media, you should select the "External Devices Recovery" data recovery mode or you can select "Deleted Files Recovery" mode to process.
Please select a data recovery mode. To recover deleted photo, select "Deleted Files Recovery" mode first.

Please select a location where your photos deleted from and click "Start" button to start scanning

Recoverit Free photo recovery software will start a quick scan to search deleted photos. If you cannot find your data, you should go to scan again with "All-Around Recovery" data recovery mode. It will deeply search more file from your hard disk drive. While it will take more time.

After the scan completed, you can check all recovered files on the list. Go to preview the recoverable files like photo and click "Save" button to get your data back.
Video tutorial on how to recover deleted photos
2. Recuva
This free photo recovery software can recover files that have been permanently deleted and marked as free space by the operating system. It works on USB flash drives, memory cards, hard drives, and other such devices. It is one of the top choices to recover photos from SD card free for both frequent as well as casual users.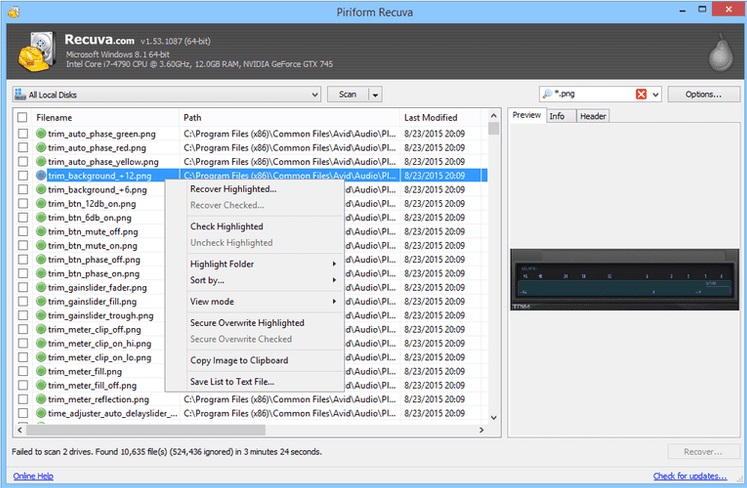 Key Features of Recuva:
Superior file recovery that includes pictures, documents, music, and much more.
Allows recovery of data from damaged disk drives or newly formatted drives.
Offers deep scan to the users so there is almost no margin for any files that cannot be recovered.
Overwrite feature that makes use of industry and military standard deletion technique so that your files stay permanently deleted.
Offers Full Windows OS Support with over 37 different languages.
Supports JPG, PNG, RAW, GIF, JPEG, BMP and more.
File system supported includes FAT/NTFS and Ex 3-4 covering all desktop operating systems.
3. PhotoRec
PhotoRec recovers far more than just photos. It works on a wide range of systems and media that includes hard drives, USB flash drives, memory cards, CD/DVD, and a lot more. There are also builds for Mac and Linux which enables the user to rescue their data from a different computer if required. Even though it may look complicated, but it has easy and convenient program steps that guide you through the entire process of deleted photo recovery via a series of menu screens.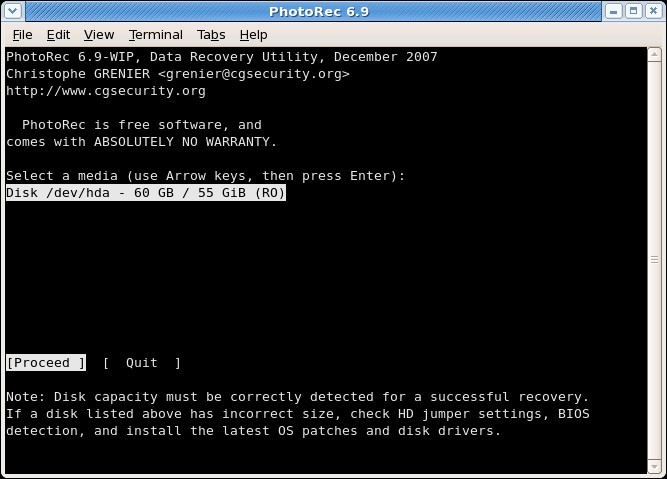 Key Features of PhotoRec:
Compatible with almost all major platforms including Microsoft Windows, Linus, Mac OS X, DOS, to name a few.
Can recover more than 440 different file formats.
Offers features like the 'unformat function' and adding your custom file types.
Can recover photos from a deleted partition. Very few other free photo recovery software have this function.
It can support the recovery of more than 20 file types.
Supports JPEG, HTML, PDF, Office, ZIP and much more.
File system supported includes FAT, NTFS, exFAT, ext2 / ext3 / ext4.
4. Stellar Phoenix Photo Recovery
This is one of the best free photo recovery software you can get. Its user-friendly interface makes it easy and convenient to use even by novice users who do not have a software background. It can be used to resurrect files that you may have accidentally deleted or have been subject to malicious attacks.
Key Features of Stellar Phoenix:
Can even rescue files that were deleted using Shift + Delete key.
Allows the user to see a preview of the recoverable files before recovering them.
Its 'Multiple Saving Option' can allow the user to save their recovered files in Zip format, which can help to reduce the size of the recovered folder.
Securely wipes data.
High-powered, fast and full-featured file recovery.
Supports NEF, CRW, CR2, ORF, SR2, SRF, K25, KDC, DCR, RAF, MRW, PEF, X3F, JPEG, JPG, and a lot more.
File system supported include FAT, NTFS, HFS, HFS+, exFAT.
5. Minitool
Minitool photo recovery software is specialised software for recovering deleted photos. It is one of the best recovery software to retrieve lost images as well as videos from different types of digital cameras as well as other media types like USB disk, and SD cards. The software includes picking the right recovery module for every different type of data-loss scenario depending on the device, and then preview and recover the recoverable data.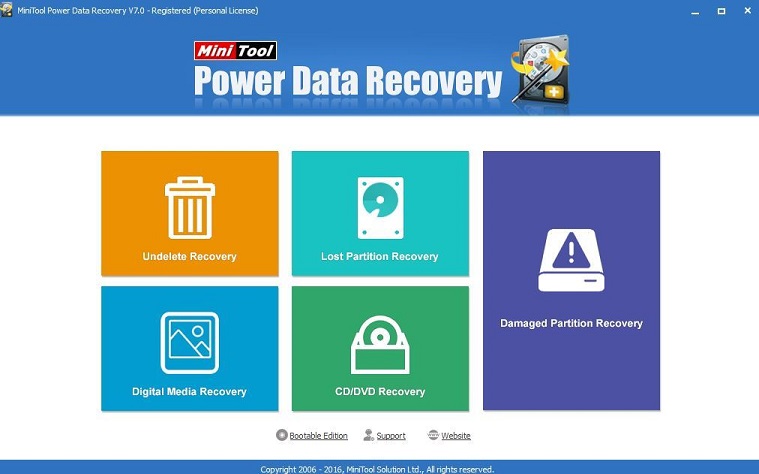 Key Features of Minitool:
Recovers up to 1GB of data for free.
The interface is clean and intuitive so can be easily used by beginners.
Offers a simple file undelete and also recovery for lost and partition drives.
Compatible with Windows 10/8/7 along with Windows Server 2003/2008/2012.
Supports JPG, PNG, BMP, GIF, NEF, ORF, RAF, TIFF/TIF, PSD, CRW, CR2, and more.
File system supported include FAT 32, NTFS, Ext2, Ext3, and Ext4.
If you want easy to use software, then you might as well use Recoverit photo recovery. However, Recuva and stellar are also optional for advanced levels. If your photos were lost from a corrupted drive, prefer using Recoverit.