Is Easy Recovery Essentials Free?
We notice that the program of Easy Recovery Essentials for Windows is a poweful system repair software, today in this post you will learn:
What is Easy Recovery Essentials?
How to Use Easy Recovery Essentials Free for Windows?
What is the Best Alternative to Easy Recovery Essentials?
Overview of Easy Recovery Essentials Free
Easy Recovery Essentials free(EasyRE) is a bootable repair and recovery software from NeoSmart Technologies, it supports to repair the unbootable PCs and laptops. It means this program can be used for fixing the computer and repairing any non-booting or crashed PC.
Features of Easy Recovery Essentials Free:
A handy application for fixing the computer system.
Repair and restore non-workable PC computer.
It supports all types PCs and laptops repair and recovery.
Restore the computer system which cannot access to.
Recover lost data due to virus infected.
Supported Operating Systems:
This free recovery software supports Windows 10/8/7, Windows XP/Vista. The technicians' edition also supports Windows 2000, and Windows server. You can download Easy Recovery Essentials free from https://neosmart.net/EasyRE/
How to Fix PC Computer with Easy Recovery Essentials
EasyRE supports to Windows and Mac, before you restore the computer, you should burned onto a CD or USB drive. It is a bootable media which help your system and data recovery. To use EasyRE, you will need a blank CD/DVD/USB, a workable PC computer. On the following steps, we will start on Windows computer, you should download EasyRE on the computer.
Steps on how to repair and restore:
Step 1. Download EasyRE on the PC, save the software to a CD or USB.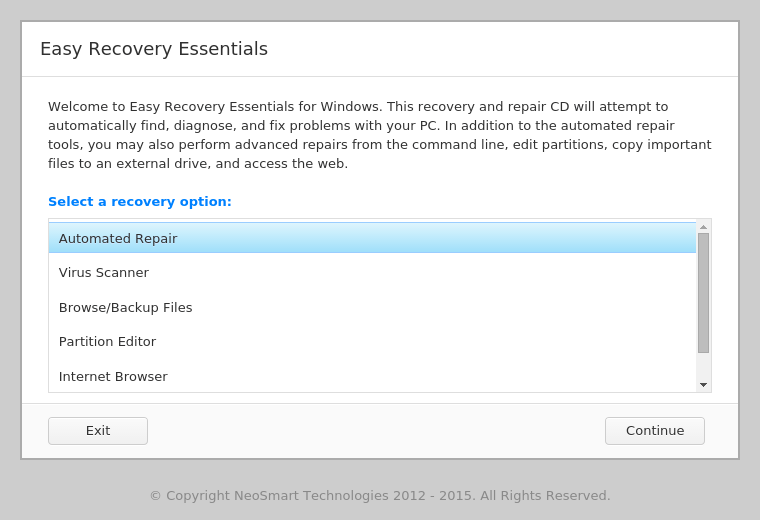 Step 2. Connect the USB/CD which carry EasyRE to the crashed computer and restart the PC.
Step 3. EasyRE will start to scan you PC and it will display a list of recovery options.
Step 4. This software will automatically search for system problems and fixes them. When it completed, you can reboot the PC.
User Reviews: (PRO and CONS)
PRO:
---"You are AWESOME. I had given to me a toshiba laptop with no external backup or DVD and only its factory installed partitions. The corruption of windows 8.1 made it try to auto repair, and it would run for hours getting nowhere. I couldn't access Safemode even using the DVD, when i eventually made one, on boot. The Toshiba just kept loading the T/WIn8 spinning dots icon & wouldn't let me access a command prompt so i tried & I tried & I TRIED .... other live disks and online forum tips then i struck GOLD with EasyRE... The BEST $50 i've spent this week. GREAT STUFF GUYS!!!!!!!"
---"Dear NeoSmart Team, Absolutely outstanding software. After my 30 years in the software business, I rarely come across a software product that does exactly what is says it will do. Your recovery utility was perfect -- easy to use, clear, and effective. You really deserve to be congratulated. Thank you very much,"
CONS:
---February 28th I purchased the windows PRO version for $39.95. I mistakenly thought I was ordering a disk I would get thought the mail. I had contacted neo tech and learned it would come electronically. They didn't mention the time to retrieve it was time sensitive. By the time I looked my order up it had already expired, therefore useless to me. I have been trying to reach them ever since, but they have been ignoring me completely. I'm out $40.00 with still a crashed computer. This is just wrong. If they do respond and this gets fixed I'll make note in a follow up.
Check more reviews from this page: https://neosmart.net/EasyRE/Reviews/
Any Alternative to Easy Recovery Essentials Free?
Easy Recovery Essentials free is work for crashed or unbootable computer, repair the system and restore your lost data back with a USB/CD bootable media. It is need more technical skill for beginner who only want to get their lost data back. The next we will introduce the best free data recovery for you, which also can create a bootable media to help you repair the system and get your data back.
Steps on How to Recover Data Free with Recoverit Data Recovery
Download and install the best free data recovery software on your PC computer. Follow the next 3-steps to perform Windows data recovery and get your data back.
Step 1. Select the location of hard drive.
Launch Recoverit free data recovery on your computer, if your files got lost from external device you should connect it to the PC and then select disk to get started.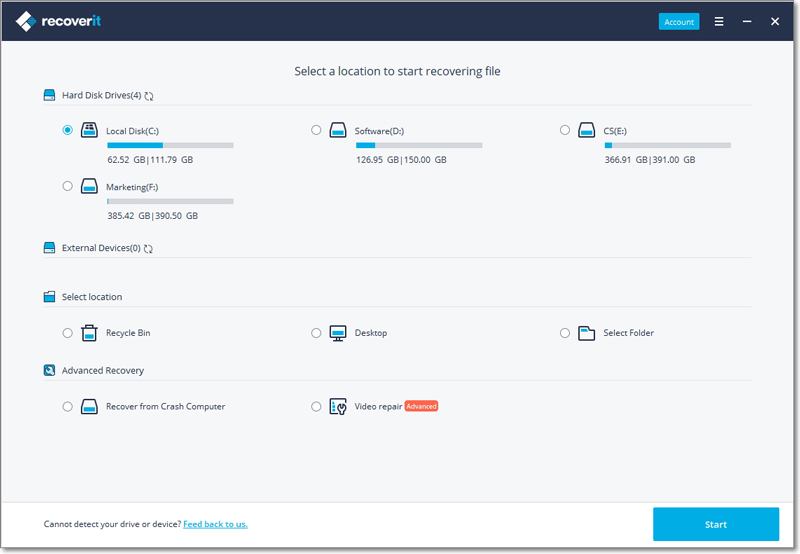 Step 2. The free recovery software will start scanning the lost files.
Once you select the disk and the software will take minutes to scanning your lost or deleted files.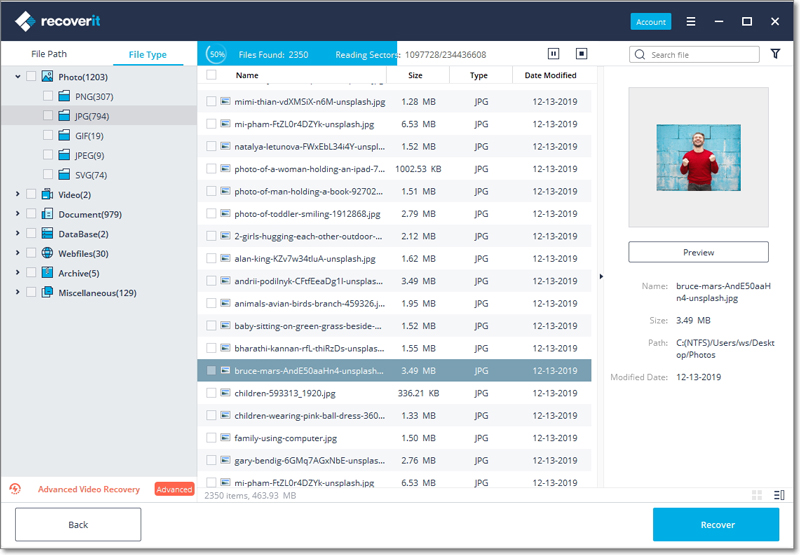 Step 3. Preview all recovered files and recover back.
After the scan, you can check all recovered files. Preview recovered Word document, Excel file, photos, video and audio, select your files and click "Recover" button to save them on a safe storage media.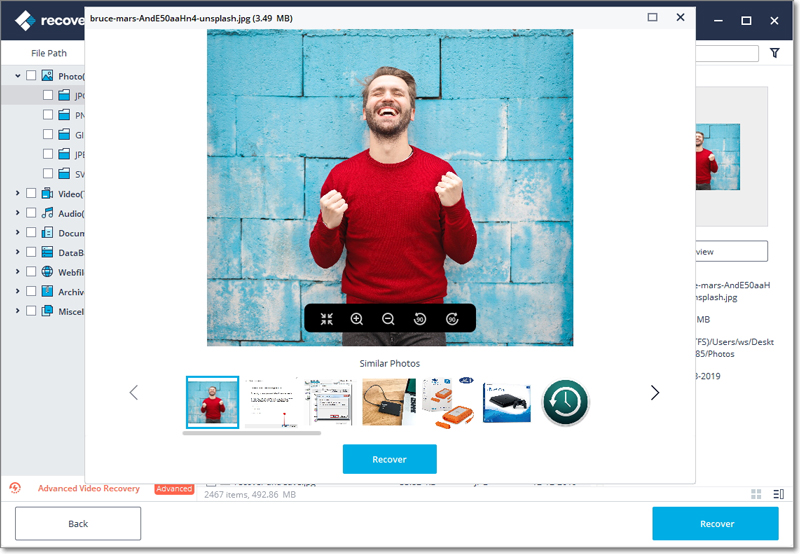 What if your computer got crash and unable to boot the system, you can upgrade it to technical edition and create a bootable USB media to restore the computer system. More specific steps you can check it from "System Crash Data Recovery".
Free Recover Data
Top Recovery Freeware

Top Recovery Solutions