"How to Recover Deleted Files from Android Recycle Bin? I erased some files from my Android phone earlier and wanted to restore them. Does Android have a recycle bin like the Windows operating system? If yes, then how can I recover deleted files from my android's recycle bin?"
Inadvertent deletion of data may occur at any time and especially when you are using a smartphone, as the chances of files getting deleted accidentally increase significantly high. In this article, we will show you the tips to avoid accidental deletion and lead you a guide with which you will be able to recover your Android phone's data instantly.
Part 1: Is There a Recycle Bin on My Android Phone?
Computer-based operating systems such as Windows and macOS offer their user a second chance at redeeming their data in the form of the Recycle Bin and Trash folder, respectively. From there, you get the opportunity to restore your files or erase them permanently.
Unfortunately, the Android operating system does not offer any such convenience for its user, and once you remove the data from storage, they remain deleted until you resort to some other means to recover the files back. In the next section of the article, we will show How to Recover Deleted Files from Android's Recycle Bin(imaginary).
---
Part 2: How Can I Recover Permanently Deleted Files from Recycle Bin Android:
As we all know that Android OS does not offer a recycle bin feature to recover data, but it doesn't mean that we can not get our files back. With the Recoverit Data Recovery app, we can not only retrieve our deleted data but have the full freedom to store them to any location we desire. Here are some unique characteristics of Recoverit data recovery tool:
The application not only recovers deleted content from Android's invisible recycle bin, but it also can restore permanently erased files from Windows' recycle bin folder as well;
It manages to read and recover 1000+ file formats, so it doesn't matter if your removed file is a picture, audio, or a document, you can get them back with Recoverit with ease;
Recoverit app recovers data from Android phones by reading their SD card as an external storage source;
Recoverit is available on both macOS and Windows.
By following the three simple steps below, you can access and edit your deleted files back with Recoverit, after you connect the Android phone with a connector/power cable:
Step 1. Select a location:
Launch Recoverit and select the Android phone from the interface, which is usually located under the "External Devices" section. The next step is to click on the "Start" option.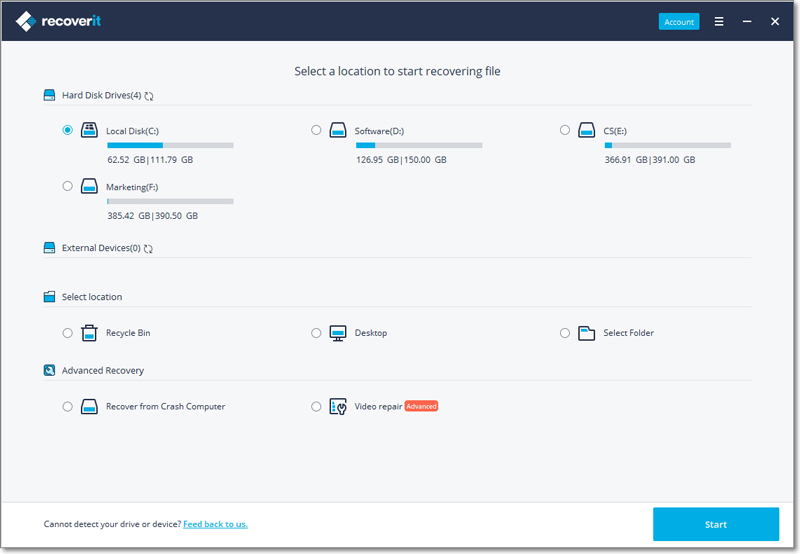 Step 2. Scan the location:
After initiating the scan with the start button, wait out a few moments until Recoverit searches every fragment of your Android phone's SD card. Upon the completion of the scan, you will be notified with a pop-up box.
Step 3. Preview and recover files:
Carefully preview the files that are professionally categorized inside the interface. The next step is to select the vital data and click on the "Recover" button to store the files to your preferred destination.
---
Tip: How to Avoid Android Data Loss:
As mentioned earlier, human error is the number one cause of data deletion, and it is simply unavoidable. But you can work your way around it and keeping the effects of the damage to a bare minimum by continually keeping a back up of the more valuable files on a cloud storage platform such as Google Drive or Dropbox.
It is also essential to keep checking the health of the SD card as it can get corrupted easily upon the installation of a damaged or virus-infected file, which eventually leads to data loss.
---
Conclusion:
While it is unfortunate that Android doesn't offer a recycle bin facility for data restoration, there are still accessible and more secure ways to get those files back immediately. Recoverit is among the top methods to recover data from an Android phone, which performs the job at high efficiency, briskly.
Other than that, it is incredibly vital to keep a backup of files that you consider to be important. Feel free to share this article with anyone who is in a rut with their Android smartphone and wishes to retrieve their data, without any further delay.
Phone Solution
Phone Recovery

Phone Tips