Mobile memory cards make sure that the user gets the best storage capacity that is not only large in storage size but also in compact size for easier handling. It is important to note that there is no limit to a data type that can be stored onto the mobile memory card as long as it makes sure that the storage is used in the best possible manner to get the best results for the users. So from pictures to audio recording, from text messages to contact details, a mobile memory card can make sure that all type of data can be stored without any issue or problem.
Causes of Loss of Files from Mobile Memory Card
There are many reasons due to which the files get lost onto the memory card and if the user is not tech savvy then the data is going to stay missing forever. To avoid such a situation, it is advised that the causes of the data loss is discovered. Following is a list and a brief description of the causes that lead to loss of information that is stored on the memory card:
1. Improper handling: It is one of the most common causes that lead to loss of data on a memory card. It is advised that the user always handles the memory card with care. The related manual that comes with it should be read carefully so that the user never faces such an issue in the future.
2. Formatting not done completely: Formatting a new memory card to make sure that they belong to the device is the first and foremost step that should be taken. If the user has not done this then it is highly recommended that they do. The formatting should be done completely and the user should make sure that the formatting bar is complete before making any further changes. If not properly done then the card will give issues in long run.
3. Exposure to heat and water: It is, once again, a human error that leads to file loss and data corruption. Users should make sure they place there memory card in a dry place. Even your device should be kept in a place with moderate temperature to avoid any mishaps.
Recoverit - The Best Mobile Memory Card Recovery Software
Recoverit Data Recovery is the best program to recover any lost data from various sources. It is a wonderfully easy program, it is made so to allow people of all kinds have no problem using it. The interactive layout is spectacularly designed so that the user can recover files without any interruptions. There have been no bugs or shortcomings with the software as it is made by the best development team available. The memory card recovery software program supports all the OS, therefore, it also make sure that cross platform recovery and then the transfer is made without any issue and problem. To get the best it is advised to go through the process below to get the results: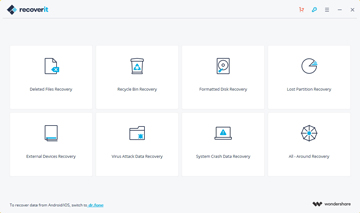 Recover lost or deleted files, photos, audio, music, emails from any storage device effectively, safely and completely.
Supports data recovery from recycle bin, hard drive, memory card, flash drive, digital camera and camcorders.
Supports to recover data for sudden deletion, formatting, lost partition, virus attack, system crash under different situations.
How Recover Deleted Files from Mobile Memory Card
Free download and install Recoverit data recovery on your computer, on this tutorial we will select "External Devices Recovery" data recovery mode to perform mobile memory card recovery. Please connect your memory card to the computer.
Step 1 Launch Recoverit, select "External Devices Recovery" to get started.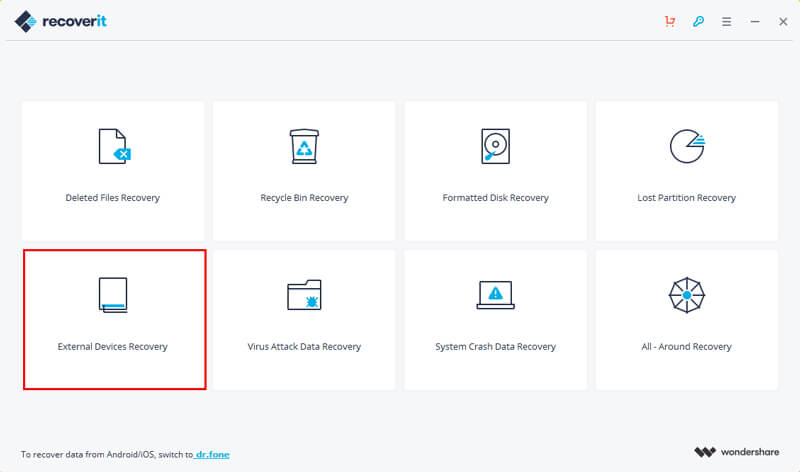 Step 2 Make sure your memory card has detected by the computer. Select it and click "Start" button to process.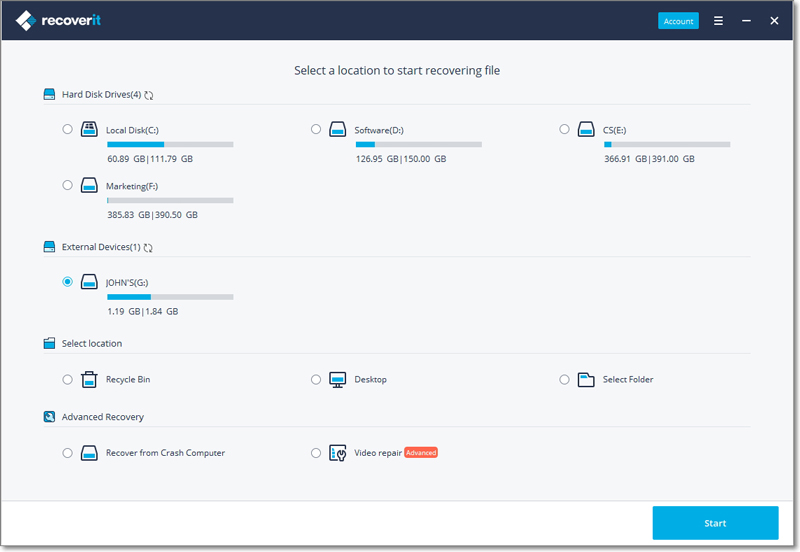 Step 3 Recoverit will start a quick scan to search your data files. You can go to scan again with "All-around Recovery" mode if the quick scan can't find your deleted files. It will search more files from memory card and take more time.
Step 4 After the scanning, all recovered files are displayed, preview and select your data to click on "Recover" to get them back.
Best Memory Cards for Mobile Devices
There are tens of thousands of local and international brands that manufacture mobile device cards to attract customers. Following are some of the best brands that should be considered while making a purchase in this regard: Kingston, SanDisk, Sony, Transcend,Samsung, Strontium. ect.