If you've experienced a blue screen when you boot your computer, you'll know that it usually means there is something seriously wrong in your System. The blue screen on boot can be caused by many reasons, such as the hardware you installed created a conflict, a virus messed up the registry, or maybe a driver file is corrupt. Here, this article is going to walk you through a few steps that you can take to troubleshoot this bluescreen on boot. Sometimes it is easy to fix the blue screen of death.
1

How to fix the Blue Screen on Boot
Boot in safe mode
The easiest way is to boot your computer in safe mode if you can't boot it usually. Press F8 when you start the computer and go to the Control Panel, clicking on System, and then Device Manager. Go through each device category and scan all of the devices for the telltale yellow accent icon that indicates there's a device conflict. If this doesn't help, run a whole scan for the System.
Boot with a bootable CD/USB drive
If the whole system scan is also a dead end, you can fix this blue screen on boot with a professional tool, such as Wondershare LiveBoot Boot CD/USB, which provides you with a purely clean system environment and allows you to troubleshoot the blue screen in minutes, not as so complicated as you think.
Purchase the program, and you'll get a registration code and a download link. Then download and install it on a good-working computer. Then follow the steps below to create your bootable CD or USB drive and fix your blue screen on boot in 3 steps.
Step 1: 1 click to create a bootable CD/USB drive
First of all, prepare a blank CD or USB drive, plug it into the computer and run the Wondershare LiveBoot 2012. In the wizard interface as follow, choose a proper bootable CD/USB creating guide and click the green burning button. You can get a bootable CD/ USB drive in a few seconds.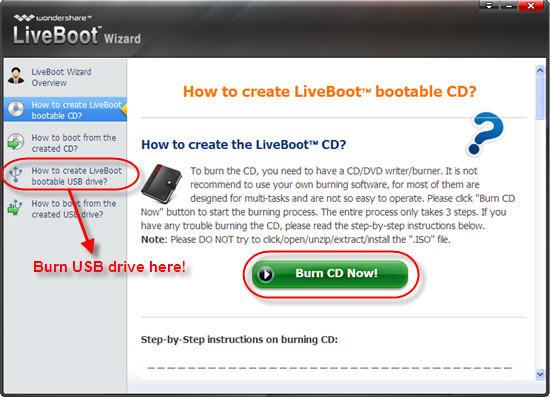 Step 2: Boot your computer with the bootable CD/USB
Now you're at the second step. Turn to the computer which presents you with a blue screen on boot. Insert the bootable CD/ USB drive into the computer and restart it. When the Windows flag turns, press F12 immediately to go to the Boot Device Menu. Then select "Onboard or USB CD-ROM Drive". After a while, you'll get an option as follow. Click "Boot from LiveBoot" to get into your computer.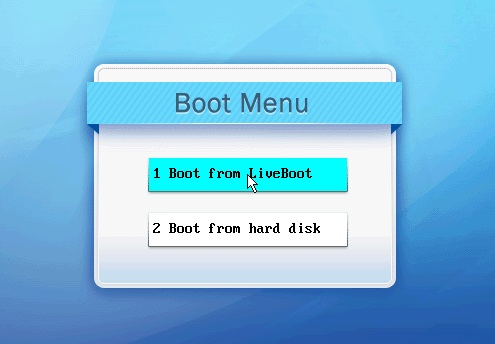 Step 3: Fix the blue screen on boot
The bootable CD/ USB drive leads you to get into a pre-installed system, under which you can work as usual. Well, the first thing is to fix the blue screen on boot. This is what we need to do now. Run the Wondershare LiveBoot 2012, and move to the "Windows Recovery", choose "Loading Crash Solution". Here is a complete solution for your blue screen error. Follow the method displayed below and take measures to fix the blue screen on boot right now.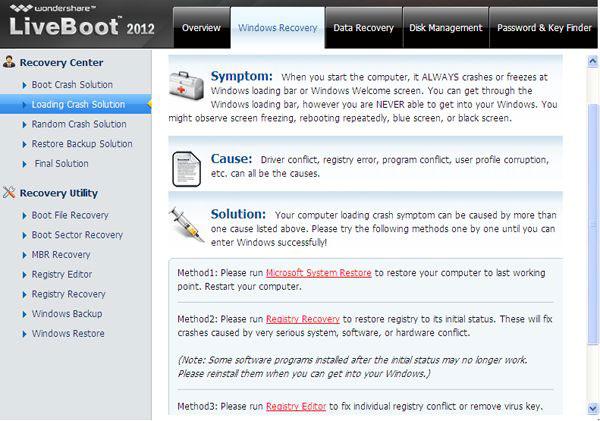 When the problem fixed, take out of the LiveBoot CD/ USB drive, and restart your computer as usual. Then you'll find that you can boot your computer successfully as usual. By the way, you can also learn to fix the blue screen BCCode 4 error.
Video Tutorial on How to Fix Blue Screen of Death Error in Windows?
2

Recover Lost Data Caused by Blue Screen on Boot

When Windows blue screen on boot issue can not be fixed, it often comes along with data lost from your hard drive. Computer hard drive data can not be inaccessible. Hence to recover your lost data back, you might need a hard drive data recovery software that can quickly recover lost data caused by Windows blue screen on boot.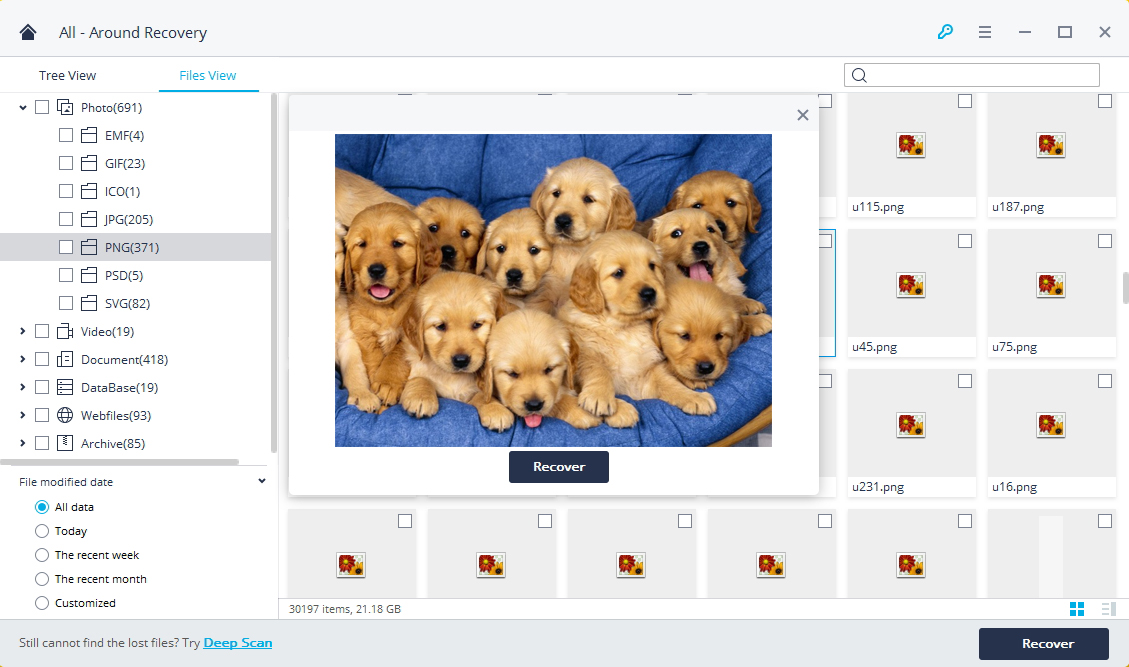 Recover lost or deleted files, photos, audio, music, emails from any storage device effectively, safely and completely.
Supports data recovery from recycle bin, hard drive, memory card, flash drive, digital camera, and camcorders.
Supports to recover data for sudden deletion, formatting, hard drive corruption, virus attack, system crash under different situations.
Recoverit data recovery software is capable of restoring deleted/lost files or formatted partition from hard drive (HDD and SSD), external hard drive, USB flash drive, memory card, digital camera, camcorder, iPod, Music Player and many kinds of mobile devices (Nokia, Blackberry phones and Phones with older Android OS than ICS). While offering the advanced recovery modes like Raw Recovery or Deep Scan Mode, it's pretty easy to use:
Computer Data Recovery
Windows PE

System problems

PC Errors