"How to Recover hidden files in Android mobile? I hid some files on my Android smartphone a way back, and now I am not able to access them. I think they may have been possibly deleted. Is there any solution or method to recover hidden files in an Android mobile phone?"
Average users hide their private or intimate content for the sake of privacy so that no one other than them would be able to access them. But for a device as elegant as an Android phone, the chances of data getting lost or possibly deleted rise significantly higher. But there are more than enough quick and straightforward ways to reaccess the files from the Android mobile's file manager. We will demonstrate to you how to perform each step, and if, in any case, you are unable to get the hidden content back, then we will show you how to make hidden data recovery with Recoverit.
Part 1: Recover Hidden File – How Do You Find Hidden Files on Android?
The method of finding hidden files on Android mobile is pretty much the same as performing the same operation on Windows. You just need to access the file manager or the gallery settings of the Android phone and check the "show hidden files" option. It is as simple as that. In the next section of the article, we will show you step by step solutions and a visual representation of how to recover hidden files in Android mobile.
---
Part 2: Recover Hidden File – How to Retrieve Hidden Files on Android?
In this section, you will learn not one but four different ways to retrieve hidden files on Android. The methods are as follows:
Method 1: Use Default File Manager;
Method 2: Use Gallery;
Method 3: Restore with Recoverit Data Recovery.
Method 1: Recover Hidden Files Android – Use Default File Manager:
The "File Manager," as the name suggests, organizes all the data stored inside your Android smartphone. It works almost similar to Windows' File Explorer feature. Here are the steps to recover hidden files on Android mobile by using the default file manager app:
Open the File Manager app by tapping on its icon;
Tap on the "Menu" option and locate the "Setting" button;
Tap on "Settings."
Find the option "Show Hidden Files" and toggle the option;
You will be able to view all of your hidden files again!
Method 2: Recover Hidden Files Android – Use Gallery:
This specific method comes in handy when you need only to recover or find your hidden photos. The requisite to perform this method efficiently is to access the built-in Gallery app of Android mobile. Here are the instructions to recover hidden files in Android mobile by using the Media Gallery:
Please tap on the Gallery icon and open it!
Tap on the vertically dotted "Menu" option.
Tap on "Settings."
Locate the "View Hidden albums" option from the list and tap on it.
That's it, and you will be instantly able to view your hidden photos again.
Method 3: Recover Hidden Files Android – Restore with Recoverit Data Recovery:
If every solution fails and you are sure that your hidden files have been deleted or wiped clean, then all hope is not lost, as Recoverit Data Recovery app has the full capability to retrieve deleted hidden files from every source of storage. Here are some other qualities of Recoverit that can become convenient in finding hidden data:
It can retrieve hidden files of all file formats, whether the items are media files or text documents;
Other than reading Android's phone SD card, Recoverit can recover hidden files from other external sources like USB, portable hard drive, and much more.
The application is available on both macOS and Windows.
You can get your hidden files back by following the following steps after plugging the Android mobile with a power cable:
Step 1. Select a location:
Open Recoverit by clicking on its icon from the Desktop. Unmount the SD card from your phone and connect it to PC. Click on your Android phone's SD card from the interface and click on "Start."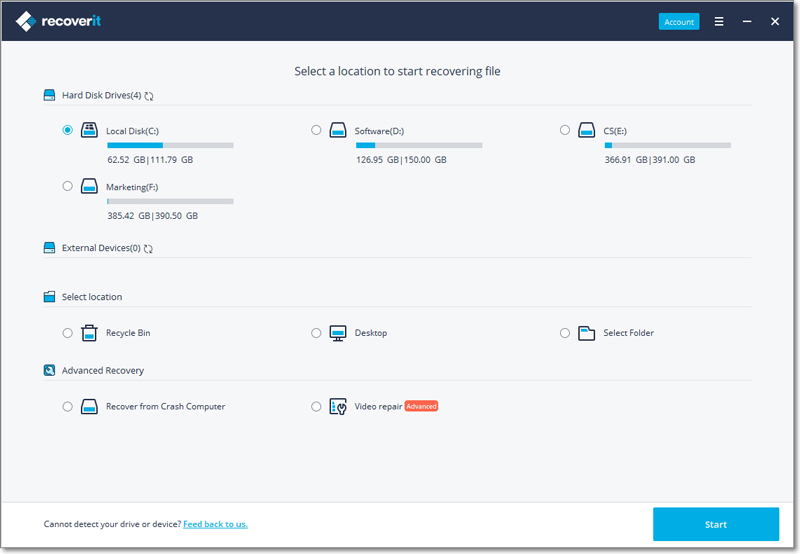 Step 2. Scan the location:
The recovery will start as soon as you hit the start button. You have the full liberty to stop or pause the data scan in the middle of it. The app will arrange the recovered files that were previously hidden under categories such as "File Type" and "File Path."
Step 3. Preview and recover files:
The next step after checking the data with the preview feature is to select the items you wish to use again and hit the "Recover" button with the mouse. It will allow you to store the data to any location of your choice!
---
Conclusion:
The hidden file feature carries a unique value of its own, especially if you wish to keep your files out of reach of anyone else. But sometimes such a utility can cause do more harm than good when you fail to reaccess those items for whatever reason. Luckily, there are more than enough solutions to learn the art of recovering hidden files in their full form. One of the most prominent methods is using Recoverit Hidden Files Recovery Tool, that performs the much-needed data recovery with 98% efficiency.
Phone Solution
Phone Recovery

Phone Tips