An old computer shows wear over time by slowing down, and one cause may be that the files saved on the hard drive gets defragmented. This problem can easily be solved by defragmenting the drive to speed it up and make it perform better.
Overview of Windows 10 Defragment
Over time, the files found on the hard drive are likely to get fragmented. When files are saved, resaved and later on deleted, little pieces of information end up getting left in random spaces on the disk. This causes the system to take a long time to check where these little pieces are left, which in turn slows down the computer considerably.
There is no solution to this problem other than defragmenting the hard drive. Take note, however, computers with SSD need no manual defragmentation because Windows can defragment at least once a month by System Restore. It is meant to extend the driver's performance and lifespan.
Why you need to Defragment your Windows 10 PC
Hard drive defragging lets you rearrange the files and cluster the fragments together. It's pretty much a decluttering process that collects the small packets of data stored in different locations and then saves them as a group.
Defragmentation makes it easier for the system to read files on the hard disk, effectively reducing the time spent in accessing the file. This results in a better performance for the PC.
12 Ways to Start the Disk Defragmenter in Windows 10
Open Defragment and Optimize Drives by looking through the Start menu under Windows Administrative Tools.
In the search bar, type defragment and click Defragment and Optimize Drives.
If you are frequently defragmenting, you can start the program by pinning it on the task bar or start screen. Find Defragment and Optimize Drives as in option 1 and then right-click on it. Choose Pin to Start or Pin to Taskbar.
Open the Disk Defragmenter from the File Explorer. Right click the drive to be fragmented and select Properties. Go to Tools tab and select Optimize.
Use Control Panel to open Disk Defragment and Optimize Drives. On the search bar of the Control Panel window, type defragment and click on the top result under Administrative Tools. It can also be accessed through System and Security.
Use Cortana, the voice assistant in Windows 10. Activate Cortana and start by saying Hey Cortana or clicking the microphone icon. Say Open defragment and wait for Cortana to execute Defragment and optimize drives.
Create a desktop shortcut by locating Defragment and Optimize Drives in Start, click and then drag towards the desktop.
Use Run by pressing Win + R and typing dfrgui on the dialogue box.
Open using Command Prompt or PowerShell by typing dfrgui in the command line.
Open Task Manager by pressing Ctrl + Shift + Esc simultaneously and choose Run new task under File Type dfrgui and select OK.
In the address bar of the File Explorer, type dfrgui and press Enter.
Locate the Windows folder in file explorer and then look for System32 Find dfrgui.exe and double click on it.
How to Defrag a Hard Drive in Windows 10 Computer
Windows 10 has an option to defrag hard drive using the built-in Disk Defragmenter.
Start the disk optimization tool by following any of the 12 ways to run the program. You can type optimize or defrag in taskbar.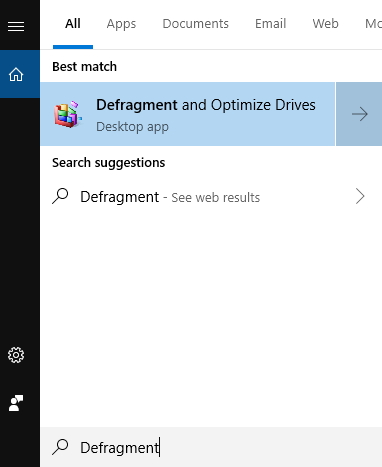 Choose the hard drive to be defragged and click Analyze. If in SSD, this option is unavailable and is grayed out.
After analysis is done, the window will show the percentage of fragmented files, if there are any. Typically, any fragmented hard drive of more than 5% will take a bit longer.
To start the defragging process, click Optimize. Refrain from using the computer while defragment is going on.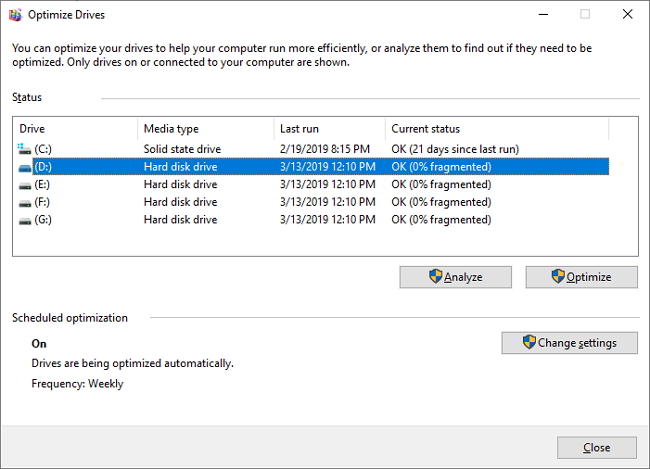 Wait for the defrag to finish and check when the drive says 0%, indicating the defragment is done properly.
Although defragging is a task done for older drives, it is useful to know how to go about the process. As SSD is the newer technology used in PC these days, defragmentation is done without prompt so you don't have to worry about it. Using the built-in Defragment and Optimize Drives option is a good way to ensure that the computer is working efficiently with faster response and performance.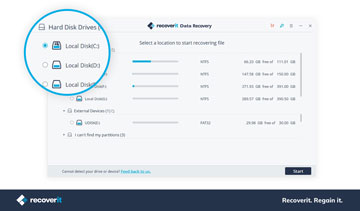 Recover lost data due to accidentally deleted or computer crashed.
Data recovery from any storage device on Windows computer and Mac.
Recover lost data files due to Windows computer crashed.
What's Wrong with Drive
Recover Your Drive

Fix Your Drive

Format/Wipe Drive

Know Your Drive