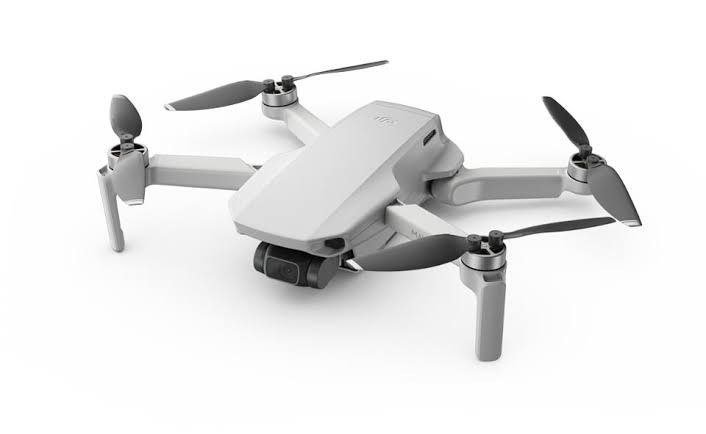 Can I Recover my DJI Drone Videos and Photos?
"Hi. I recently covered the video shoot of a wedding with my DJI Mavic Mini. When I got home to edit the videos, I could not find them. Please if there is a way I can retrieve the videos, I would appreciate the help, thanks!"
The DJI Mavic Mini drone contains a variety of features that support the amazing functions it has become known for, include amazing flight time, precise satellite positioning, portability, a stable camera and so on. Because of their versatility and production of high-quality footage, DJI Mavic drones are popular among videographers, events photographers, college students, and even organizations.
However, sometimes you can encounter some camera errors and file problems. This goes to show that it becomes a problem if you lose the videos and photos you have recorded with your DJI Mavic Mini. The solutions provided here are really not hard to follow at all. You will learn why you lose your DJI drone camera recordings and how to recover the drone videos.
Part 1. What is a DJI Mavic Mini?
The DJI Mavic Mini is the latest drone in the DJI's list of Mavic drones. This drone maintains the signature design of Mavic drones and it comes in a lightweight package. The features of the DJI Mavic Mini include:
The DJI Mavic Mini is quite light in weight as its name suggests. It weighs only 249 grams which makes it unnecessary to acquire an FAA registration before you can fly it on a recreational basis.
The drone has a 3-axis gimbal-stabilized camera
Its sensor is 1/2.3 inches; with which it uses to shoot 12MP stills. Also, it can shoot a 2.7K video at 30 fps
The drone comes with a remote controller to navigate it even from a distance.
Its flight performance has been enhanced and given more stability than previous DJI Mavic versions. This gives users the opportunity to fly the drone for a very long time. It can fly for up to 2. 4 miles on WIFI, giving it the longest flight time for a drone its size.
Why do DJI Mavic Mini Camera Recordings Get Lost?
The DJI Mavic Mini drone is prone to loss of saved videos and photos from its SD memory card just like other memory cards. You can also lose photos and videos stored in the drone's internal memory. The reasons for loss of data include:
Drone Crash: It is a natural consequence to lose the files on your DJI Mavic Mini once your drone crashes due to one reason or the other. Sometimes, the drone can be fixed and other times, the damage may be permanent. Either way, your files will be automatically lost.
Formatting: This happens with the storage of your device, either internal storage or external SD card. If you completely format the camera SD card or your drone memory, it will erase all your saved files, including photos and videos.
Improperly Handling the Storage Card: When you mishandle the memory card of your drone, you can lose your saved media files. For instance, if you do not properly eject your memory card before plugging it in and out of the drone, it could cause it to get corrupted, malfunction, and thereby leading to the loss of data from the storage device. Also, if you mishandle the DJI Mavic drone itself, it could lead to damage and eventual loss of files.
System Crash: In order to operate your drone, you need a remote control. However, when you keep abruptly switching the device on and off, it creates an interruption or a break in its transmission. This could lead you to lose important photos and videos that have been saved on it.
Malware Infection: If virus infects your drone's operating system, especially through your external memory card, then there is a very high likelihood that it could lead to your recordings getting missing from your drone storage.
---
Part 2. How to Recover Videos and Photos from DJI Mavic Mini Camera
There are some major solutions you can apply for the recovery of videos and photos that are missing from your DJI Mavic Mini camera. These solutions are discussed below:
Solution 1. Recover Missing Recordings with Recoverit
A third-party software you can rely on for a complete recovery of your lost DJI Mavic camera recordings is Recoverit Data Recovery, which supports file recovery on both Windows and Mac OS. It retrieves lost, formatted or deleted files from hard or crashed drives, to mention a few. More so, this tool supports the recovery of different image and video formats, archives, documents, emails, and so on.
Along the same vein, Recoverit supports the recovery of data from all the major drone cameras including DJI Mavic Air, DJI INSPIRE, DJI Mavic 2 Pro, and of course DJI Mavic Mini. It can also retrieve data from memory cards and that means you can use it to retrieve lost photos and videos from your drone's memory card too.
You can recover all your lost files in no time with Recoverit for a number of reasons. Case in point: It's super clean and simple user interface. The steps involved are simple and straightforward too! Have a look down below.
Step 1: Select the camera or card
Here, you need to choose the location where you want to recover the missing files from and click the "Start" button to set the process in motion.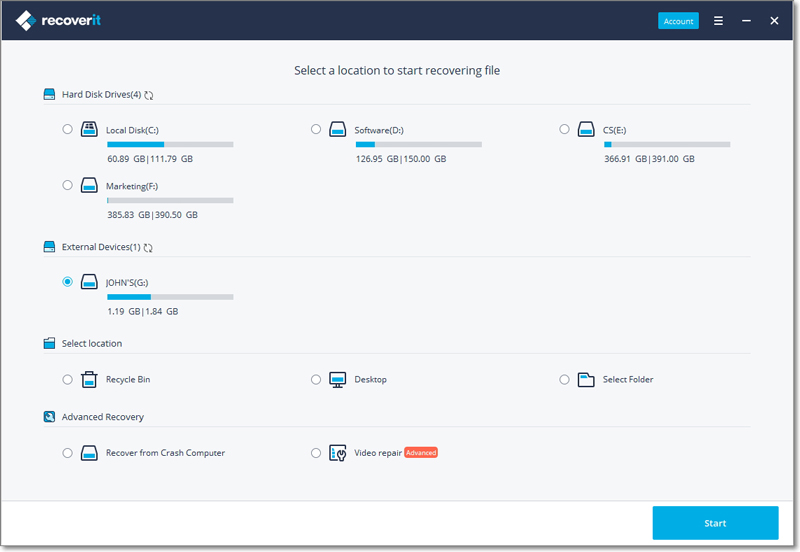 Step 2: Scan the DJI camera drone
This step involves the actual scanning of your selected drone location by Recoverit. All you need to do is wait for a short while for it to complete the process.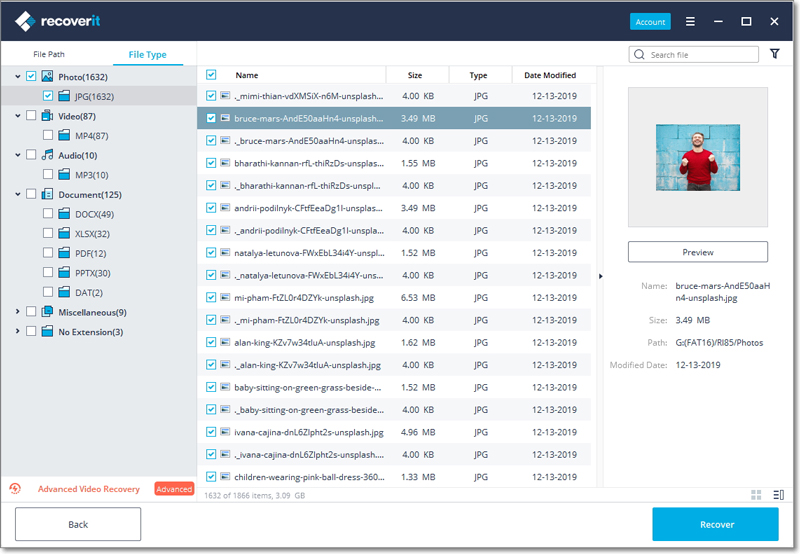 Step 3: Preview and recover DJI files
In this final step, you will be given the opportunity to preview your recovered files and if you are satisfied with the data, you can go ahead to save them by clicking on the "Recover" button.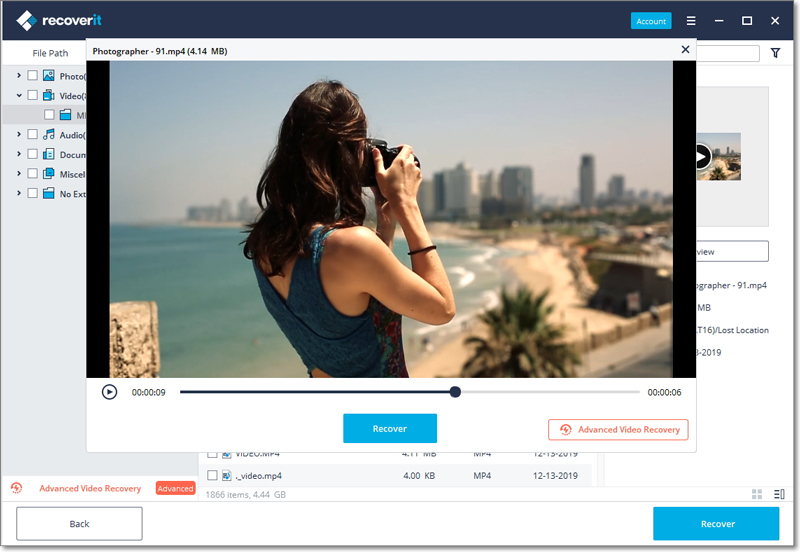 Step 4. Perform advanced video recovery
If you are looking for lost or deleted videos, then you can click on the "Advanced Video Recovery" option that is located at the bottom-left corner on the interface. Or you can see it on the Video preview window. Simply click on it to perform a deep scan to look for large-sized videos.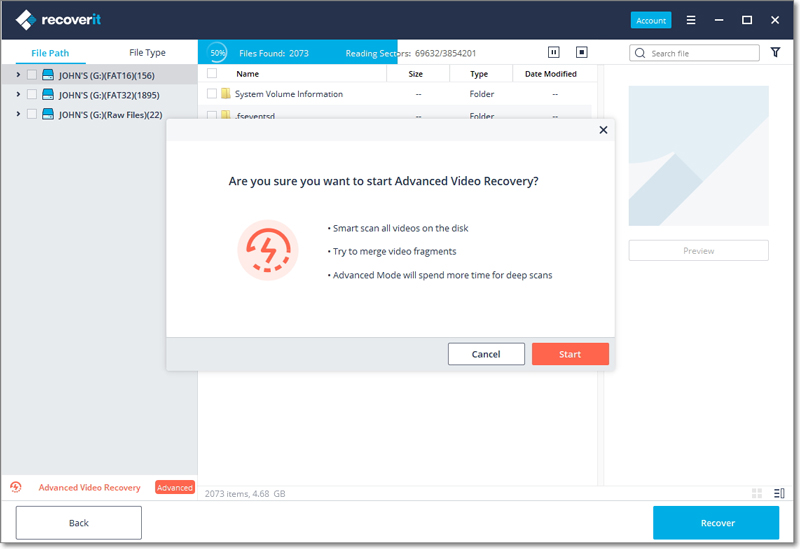 Step 5. Preview and recover
Simply wait for a while as the Deep Scan will take more time to merge and splice the video fragments to recover them.
The application will display the results of the Advanced Video Recovery and will let you preview them. You can look for specific videos and view them on the interface of Recoverit. Select the videos that you wish to save and click on the "Recover" button.
Video Guide on DJI File Recovery
---
Solution 2. Recover Videos from DJI Go App
You can recover your lost DJI Mavic drone camera recordings from your phone or tablet if you use the DJI Go App. This is because as you use the drone camera, the images and videos automatically get saved on the Go App installed on your phone or tablet. Therefore, if your DJI Mavic crashes and leads to the loss of all your recordings, this solution is for you.
The cache video recording of your drone's last flight will be helpful for you to find out what went wrong with your drone in the first place. It is a feature on your Go App which temporarily stores your recordings for accidental malfunctions like this. The steps involved in recovering your videos and photos using the video cache on DJI Go App are:
Launch the DJI Go App and open "Settings" by selecting the three dots on the app's top right section. Here you will see "Video Cache", tap to enable it.

You should enable the audio function too. This will make for good audio quality to go with your video.

Having done this, whenever your drone crashes, you can be able to have access to the "Editor" option on your DJI Mavic's interface.
Here you will see all the recent videos and videos you have taken. With just a click, you can recover them all.
However, you should note that with this solution, you will end up with video and photo files that are of a smaller size than those found on the main SD card of your drone.
---
Solution 3. Perform the "Chkdsk" Function
Sometimes, your drone's SD card will indicate corruption in the error message: "SD card is damaged. Try reformatting it". You can use the steps below to perform a Chkdsk and solve the problem:
Click on the "Start" option of your Windows OS.In the search field, type in "cmd". Opt for "Run as Administrator" after you right-click on "cmd".

You will be directed to "Command Prompt". Here, type the command: chkdsk < SD card drive letter>:/f. Press "Enter" on your keyboard.

Try to access the photos and videos on your DJI Mavic Mini memory card.
In summary, this article has introduced the DJI Mavic Mini and shown you the major reasons why your videos and photos get missing from your drone. More importantly, you can use the solutions provided to recover your lost files from your DJI Mavic Mini.
Find your DJI Mavic Mini videos corrupted? Come to get the solutions for
DJI video repair
.
- 2 minutes to read it.
Solve All Media File Issues
Recover & Repair Photos

Recover & Repair Videos

Recover & Repair Audios

Recover & Repair Cameras