How to Recover Files from DJI Mavic Mini Drone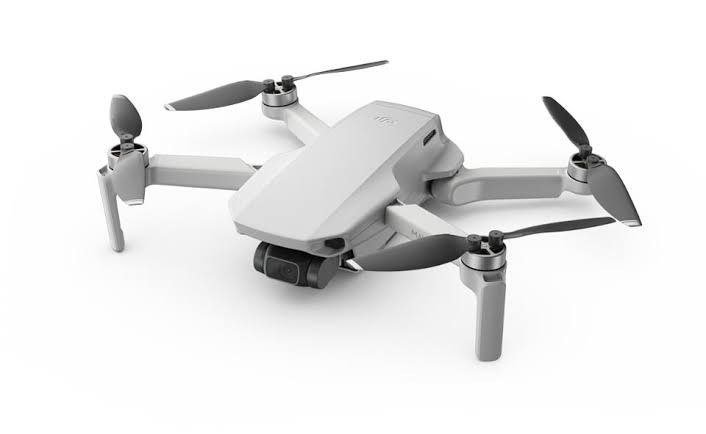 Can I Recover my DJI Drone Videos and Photos?
"Hi. I recently covered the video shoot of a wedding with my DJI Mavic Mini. When I got home to edit the videos, I could not find them. Please if there is a way I can retrieve the videos, I would appreciate the help, thanks!"
The DJI Mavic Mini drone contains various features that support the amazing functions it has become known for, including amazing flight time, precise satellite positioning, portability, a stable camera, and so on. Because of their versatility and production of high-quality footage, DJI Mavic drones are popular among videographers, events photographers, college students, and even organizations.
However, sometimes you can encounter some camera errors and file problems. This shows that it becomes a problem if you lose the videos and photos you have recorded with your DJI Mavic Mini. The solutions provided here are not hard to follow at all. You will learn why you lose your DJI drone camera recordings and how to recover the drone videos.
Part 1. What is a DJI Mavic Mini?
The DJI Mavic Mini is the latest drone in the DJI's list of Mavic drones. This drone maintains the signature design of Mavic drones, and it comes in a lightweight package. The features of the DJI Mavic Mini include:
The DJI Mavic Mini is relatively light in weight, as its name suggests. It weighs only 249 grams which makes it unnecessary to acquire an FAA registration before you can fly it on a recreational basis.
The drone has a 3-axis gimbal-stabilized camera
Its sensor is 1/2.3 inches, which is used to shoot 12MP stills. Also, it can shoot a 2.7K video at 30 fps.
The drone comes with a remote controller to navigate it even from a distance.
Its flight performance has been enhanced and more stable than previous DJI Mavic versions. This allows users to fly the drone for a very long time. It can fly for up to 2. 4 miles on WIFI, giving it the longest flight time for a drone its size.
Why do DJI Mavic Mini Camera Recordings Get Lost?
The DJI Mavic Mini drone is prone to losing saved videos and photos from its SD memory card, just like other memory cards. You can also lose photos and videos stored in the drone's internal memory. The reasons for the loss of data include:
Drone Crash: It is a natural consequence to lose the files on your DJI Mavic Mini once your drone crashes due to one reason or the other. Sometimes, the drone can be fixed, and other times, the damage may be permanent. Either way, your files will be automatically lost.
Formatting: This happens with your device's storage, either internal storage or external SD card. If you completely format the camera SD card or your drone memory, it will erase all your saved files, including photos and videos.
Improperly Handling the Storage Card: When you mishandle the memory card of your drone, you can lose your saved media files. For instance, if you do not correctly eject your memory card before plugging it in and out of the drone, it could cause it to get corrupted malfunction, thereby leading to the loss of data from the storage device. Also, if you mishandle the DJI Mavic drone itself, it could lead to damage and eventual loss of files.
System Crash: In order to operate your drone, you need a remote control. However, when you keep abruptly switching the device on and off, it creates an interruption or a break in its transmission. This could lead you to lose important photos and videos that have been saved on it.
Malware Infection: If a virus infects your drone's operating system, especially through your external memory card, then it is very likely that it could lead to your recordings getting missing from your drone storage.
---
Part 2. How to Recover Videos and Photos from DJI Mavic Mini Camera
As you know, nothing is perfect. If there are chances of losing photos and videos from SD cards, similar is the case with the DJI Mavic Mini drone. Here we have mentioned some practical solutions that you can apply for recovering your lost or deleted photos and videos from the DJI Mavic Mini camera.
Solution 1. Recover Missing Recordings with Recoverit
A third-party software you can rely on for a complete recovery of your lost DJI Mavic camera recordings is Recoverit Data Recovery, which supports file recovery on both Windows and Mac OS. It retrieves failed, formatted, or deleted files from hard or crashed drives, to mention a few. More so, this tool supports the recovery of different image and video formats, archives, documents, emails, etc.
Along the same vein, Recoverit supports data recovery from all major drone cameras, including DJI Mavic Air, DJI INSPIRE, DJI Mavic 2 Pro, and DJI Mavic Mini. It can also retrieve data from memory cards, and that means you can use it to retrieve lost photos and videos from your drone's memory card.
For several reasons, you can recover all your lost files in no time with Recoverit. Case in point: It's a super clean and simple user interface. The steps involved are simple too! Have a look down below.
Step 1: Select the camera or card
Here, you need to choose the location where you want to recover the missing files and click the "Start" button to set the process in motion.
Step 2: Scan the DJI camera drone
This step involves the actual scanning of your selected drone location by Recoverit. All you need to do is wait for a short while for it to complete the process.
Step 3: Preview and recover DJI files
In this final step, you will be given the opportunity to preview your recovered files, and if you are satisfied with the data, you can go ahead to save them by clicking on the "Recover" button.
Step 4. Perform advanced video recovery
If you are looking for lost or deleted videos, you can click on the "Advanced Video Recovery" option located at the bottom-left corner of the interface. Or you can see it in the video preview window. Then, simply click on it to perform a deep scan to look for large-sized videos.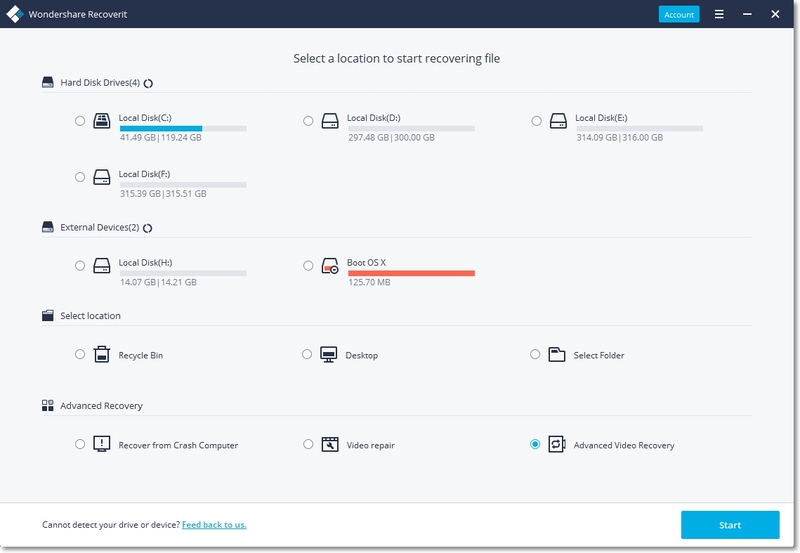 Step 5. Preview and recover
Wait for a while as the Deep Scan will take more time to merge and splice the video fragments to recover them.
The application will display the results of the Advanced Video Recovery and will let you preview them. You can look for specific videos and view them on the interface of Recoverit. Select the videos you wish to save and click on the "Recover" button.
Video Guide on DJI File Recovery
---
Solution 2. Recover Videos from DJI Go App
Accidental deletions can happen anytime and anywhere. However, no need to panic, but you must be prepared for this scenario. To help you deal with this situation, the DJI GO app contains video caching options.
You can recover your lost DJI Mavic drone camera recordings from your phone or tablet using the DJI Go App. As you use the drone camera, the images and videos automatically get saved on the Go App installed on your phone or tablet. Therefore, if your DJI Mavic crashes and you lose all your recordings, this solution is for you.
Why is video caching important?
The cache video recording of your drone's last flight will be helpful for you to find out what went wrong with your drone in the first place. It is a feature on your Go App which temporarily stores your recordings for accidental malfunctions like this.
A cache is a scheme that mechanically and momentarily saves your photos and videos if it is up and running. Additionally, it improves the performance of recently viewed photos temporarily stored in the device's RAM. DJI Cache options help you quickly access your files and recover photos and videos.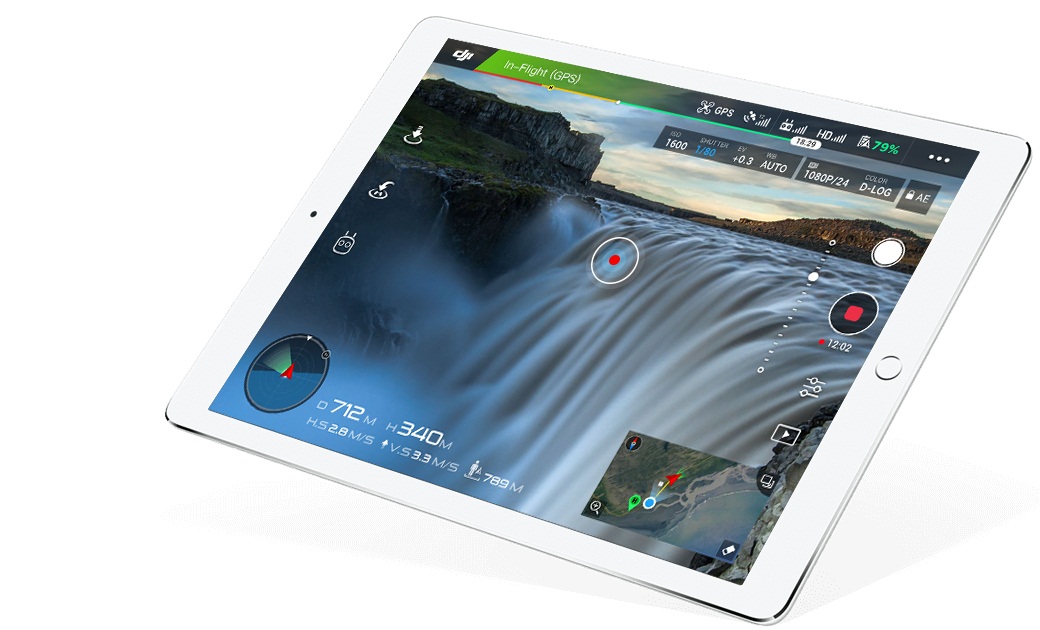 However, not everyone is familiar with this option, and the process to recover lost files through this.
Step 1: Launch the DJI Go app, open "Settings," and tap "Video Cache" to activate it.
You must also activate the audio function. This will ensure good audio quality to accompany your video.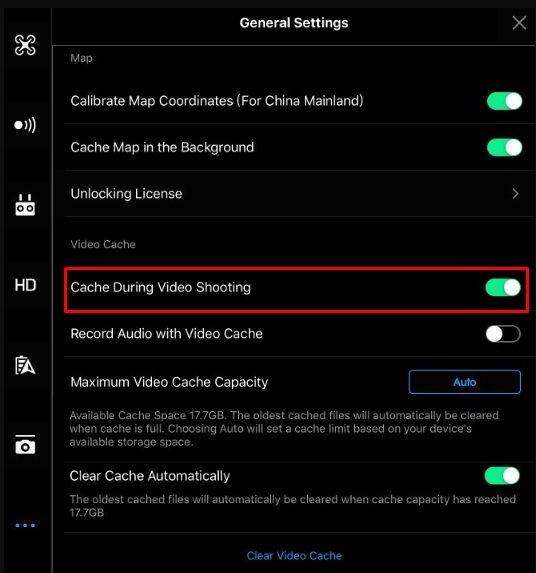 Step 2:After that, click on "Editor" at the bottom of your app interface whenever your drone breaks down.
Now you can see all the recent videos that you have taken. With just a click, you can recover them all.
However, you should note that with this solution, you will end up with video and photo files of a smaller size than those found on the main SD card of your drone.
---
Solution 3. Perform the "CHKDSK" Function
The CHKDSK is a vital system tool to ensure the integrity of the volume file system. Additionally, it is used to repair a faulty SD card or another external drive.
Sometimes, your drone's SD card will indicate corruption in the error message: "SD card is damaged. Try reformatting it". You can use the steps below to use CHKDSK to solve the problem and recover lost photos and videos.
Step 1: Open the Command Line
Click on the "Start" button on your computer and search bar type in "cmd."
Right-click on the "Run as Administrator" option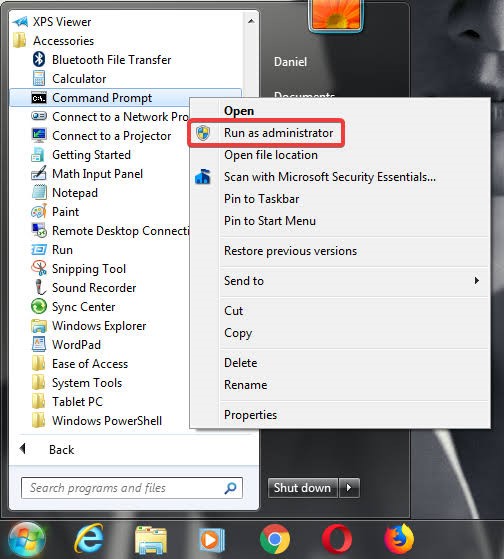 Step 2: Get Damaged Photos and Videos
Type CHKDSK e: / f. The drive letters can vary as per your system. When you type the CHKDSK command, it scans the external drive and fixes the corrupted file.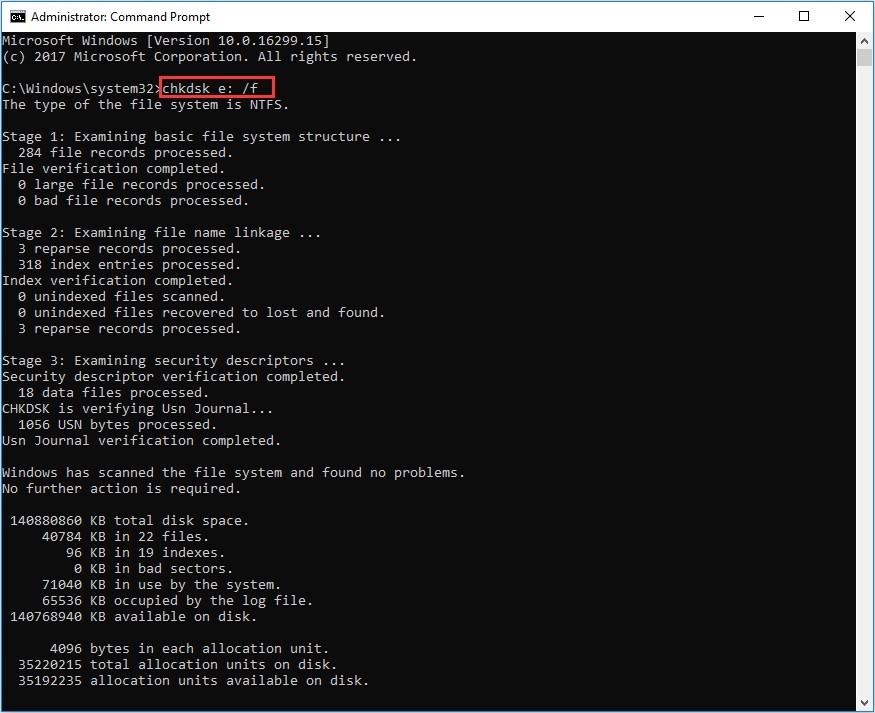 After that, you can try to access the photos and videos on your DJI Mavic Mini memory card.
---
Solution 4. Re-install the Driver
A situation can occur where your personal computer may not identify the drone camera's SD memory card. In such a case, try to reinstall the driver by following the steps below:
Step 1: Go to "My Computer" and click on it. Select the "Manage" option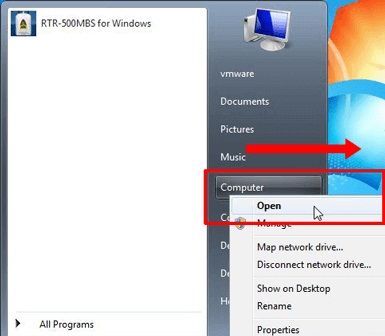 Step 2: Now select the "Device Manager" and double-click on the "Disk Drives" option, right-click on the name of your removable drive.
Step 3: To uninstall the selected files, click on the "Uninstall" tab, disconnect your SD card and restart your PC
After a few minutes, reconnect your SD card again. Hopefully, this time, the system will detect it.
---
Part 3: How to Prevent DJI Drone Crash and File Loss in Future
Now, you will be able to resolve the issue. Additionally, the following tips will help you avoid DJI drone crashes and file loss in the future.
Professional Tips to Protect Your DJI Drone
Use a Fully charged battery.
Check the Propellers if there are any dints, cracks, or dirt on them.
Calibrate the Compass as they determine flight orientation.
Choose the right environment so that there are fewer chances of crashing.
Point the camera down to help find a safe landing spot.
Don't fly indoors and Use lights when flying at night.
Pay attention to the messages displayed in DJI GO while flying.
Format your SD card every 6 to 12 months and check its status with an anti-virus tool to secure it.
Only get an SD card for your camera compatible with it and from a trusted brand.
Try to keep a dedicated card just for your camera, and don't change it frequently (inserting it on other devices).
Ensure your cables are securely plugged in before the flight and carefully unplugged afterward to keep the ports in good condition.
Useful Tips to Prevent Unexpected DJI File Loss
Always turn off the drone before changing or removing the memory card.
Never receive files from suspicious systems to avoid damaging the SD card.
Always create a backup of media files from the SD card regularly. After creating a backup, you can format the memory card to reset it as you have already backed up the media files.
Do not store too many photos, and videos on your SD card and make sure that at least 20% of its storage is available.
Do not try to record video clips when your SD card has insufficient storage space.
Always use the recommended type and brand of camera.
In summary, this article has introduced the DJI Mavic Mini and shown you the major reasons why your videos and photos get missing from your drone. More importantly, you can use the solutions provided to recover your lost files from your DJI Mavic Mini.
Find your DJI Mavic Mini videos corrupted? Come to get the solutions for
DJI video repair
.
- 2 minutes to read it.
What Questions Are DJI Fans Asking
Where Are DJI Videos Stored?
There is an extensive variety of drones in the market. So, different ways to store your drone files, documents, photos, or other data are also there. But it depends on how much time you want to keep them, what kind of drone you use, and what stage of your workflow is.
Internal drone storage
SD cards
DJI CINESSD
External hard drive
LaCie DJI Copilot
Cloud-based storage
What Are the Best Video File Formats for DJI?
Both MOV and MP4 Video File Formats are the best for DJI, but it depends on where you need to view or play the resulting videos and photos.
1. MP4
It supports multiple data bits
Compatible with low bandwidth
Enhances high-resolution content
Supported on various programs and devices - Apple QuickTime 6 and later editions
Great flexibility in the way data is stored in files
Uses Apple's Advanced Video Encoding (AVC) and Advanced Audio Encoding (AAC) technology to enhance the old audio container format
Video output is very high-quality
2. MOV
Media players such as QuickTime Player, Real Player, and Windows Media Player support MOV files
File formats with high quality for storing and sharing digital information
The size of MOV files varies; it depends on the extent and the compression procedure used
How to Connect Your DJI Mavic Mini to PC without Loss?
Connect the USB port to charge the drone and the computer with a USB cable. In the Mavic Mini case, connect to the PC within 20 seconds of turning on the drone. Then the name of the drone is displayed, and click on it. A menu will appear with different folders.
How to Transfer Videos from DJI Mavic to Computer Safely?
Step 1: Save the original photo and video files to the root directory.
Step 2: Remove the memory card from the DJI drone.
Step 3: Insert the memory card into the card reader and plug it into the USB interface of the PC.
Step 4: Copy the file to the root directory on the PC.
How Do You Save Videos from DJI Go App?
When you install the DJI Go app on your device like a tablet, PC, or smartphone, the images and videos are automatically saved to the app. Therefore, if DJI Mavic Mini drones crash and result in a loss of all your data or files, this solution is right there with you!
Fix Media File Issues
Recover & Repair Photos

Recover & Repair Videos

Recover & Repair Audio

Recover & Repair Cameras