How to Recover Deleted Videos from GoPro Camcorder
Can I Recover Deleted Videos from A GoPro Camcorder?
"I have a GoPro Hero 3 camcorder containing some important videos and photos. I connected the storage device to my PC to transfer some videos and couldn't find them. I didnt delete any, and I am surprised that happened. Is it possible to recover deleted videos from GoPro camcorder?"
GoPro camcorder are the go-to devices for adventure sport lovers, and its video format is MP4. Yet, like other digital devices, videos and photos on GoPro camcorders can be lost because of system error, data deletion, card formatting, improper handling and other reasons. The good news is that you can probably recover videos from GoPro camcorder as long as the videos haven't been overwritten by new data. On this page, we will show you the best video recovery software to help you retrieve lost videos from GoPro.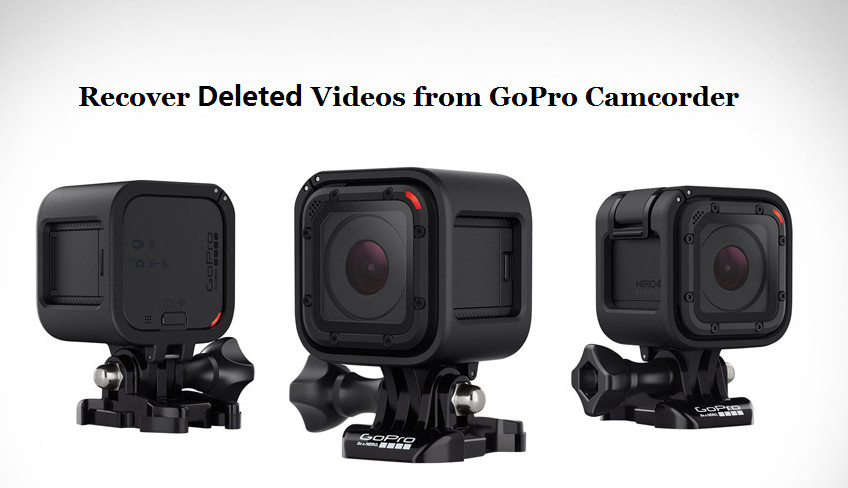 Part 1. Can You Recover Deleted Files From GoPro?
The features of the GoPro camcorders make it a perfect device for recording live actions. However, in other to understand how to recover deleted videos from the GoPro camcorder, we have to understand some other things.
Where do recorded GoPro videos go?
There are two ways by which the camcorder stores videos files, which are the use of SD Card and cloud storage. There are different types of SD cards supported by a GoPro camcorder. Cloud storage, on the other hand, is a feature of all GoPro camcorder using the GoPro Plus service.
Using any of these two comes with its own merits and demerits. With an SD card, it is easy to transfer files from the camcorder to a computer. Although it is also subjected to physical damage or exposure to malware. Cloud storage greatly reduces the chance of malware infection, but it is subscription-based.
You can also import videos into your Mac or Windows computers using Quik, an SD card adapter, or the Image Capture option.
Where do deleted GoPro videos go?
There are many ways to delete videos on the camcorder. Based on what you want, you can choose any of the following methods to delete files:
Deleting the videos using the camcorder itself.
Deleting the videos on your computer.
Deleting the videos using the GoPro App.
Then comes the question where do the deleted files go? Contrary to what many people believe, when you delete a file, it does not disappear immediately. The file is present in the folder it is, albeit unallocated. Below is an illustration of what happens when you delete a file.
If a video named XXXXXX is in a folder, a table will allocate it with a file name. When you delete the video, the file still remains there, but it becomes unallocated. It is not allocated because the first character of the file has changed.
When a file has an unknown first character, it will not be visible. However, when the storage device becomes full, the "drive" can override it. If the storage is not full, the video is there.
Can you recover deleted videos from GoPro?
Yes, if the storage device is not yet full, you can recover them back. However, this action depends on how you deleted the videos. If it is directly from the SD card or using a computer, there are two ways. A data recovery software will work both ways. Recovering from the recycle bin will work if you deleted the files from your computer.
---
Part 2. 2 Methods to Recover Deleted Videos from GoPro Camcorder
Understanding the above things is the prelude to this section. Which is how to recover deleted files from your device. There are two methods, and they have been optimized for the majority of users.
To use these methods to recover deleted videos from GoPro camcorder, you must stop taking pictures or videos on your device.
Method 1. Get Powerful GoPro Recovery Software
A very sure way of recovering deleted files is by the use of a data recovery software. It is recommended as a good method if you didn't make a backup of your videos. It is also the fallback option if you can't view the file on the GoPro app.
Get the powerful and best video recovery software to recover deleted videos from GoPro camcorder. Recoverit Data Recovery is the most effective video recovery program, it can easily to resotre all deleted video files back.
Download and install Recoverit best video recovery software on your computer, on the next tutorial we will perform GoPro video recovery on Windows computer. If you are a Mac user, you should download Recoverit Data Recovery for Mac and go on.
Step 1 Make sure your Gopro camcorder or the SD memory card is connectd to the computer. Select the location and click "Start" to go on.
Step 2 Recoverit Video Recovery will start scanning the lost files. It will take a while to complete the scan.
Desperate for the videos or photos lost from the GoPro Hero action camera? Come here and get the full solutions for
GoPro camera file recovery
.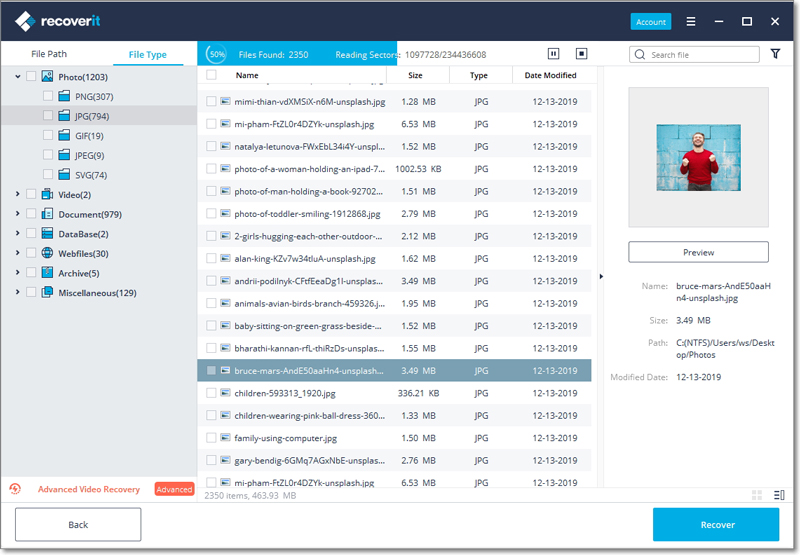 Step 3 The recovery software supports to preview some recovered files, select your video files and click "Recover" buttom to get it back.
Advanced Video Recovery for fragmented video recovery (recommended)
Gopro video can be recovered with ease through above steps. However, you may fail to preview the recovered video in some cases. That's because some video files are stored in drive in fragment format. Faced with this situation, you have to resort to Advance Video Recovery feature. It sweeps, accumulates, and coordinates the sections of your degenerate recordings, and along these lines guarantees the vast majority of your recordings are recouped from DSLR, Digital cameras, Drones, Action Cameras, Dashcams, camcorders, SD card, PC, HDD, and so on.
Output and match video pieces in the entire segment
Consolidation the sections from a similar video
Recuperate boundless video records without defilement
Simply click Advanced Video Recovery alternative to recoup divided video record without any problem.
Get a safe storage device to keep your recovered video files in case data lost again. Recoverit Data Recovery also support the photo/video recovery from any other brand of camcorder and digital camera. Check out the page to get the ways of Canon camcorder video recovery.
---
Method 2. Use the GoPro App on Mobile Phone
The GoPro app is another means that the GoPro company is using to improve its customers' users' experience. It is available on iOS and Android as the GoPro App. On computers, it is known as Quik.
To use this method, you must check if the videos are visible on the app before proceeding.
If the videos are visible on the application, that is good news. The next thing is to back up the files.
Backup Using GoPro's Cloud Service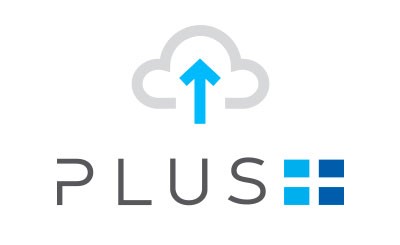 The most effective method is to back up using GoPro's cloud service. For you to use the cloud service, you must subscribe to GoPro Plus. This procedure is the same for the supported operating system. Whether you are using iOS, Computers, or Android.
In this section, we will be using Android since it is the more common one. You can use the cloud service to back up the files you can see by following these steps
Launch the app and select "My account."
Navigate to GoPro Plus and turn on "Mobile Upload."
Select the videos and back them up to the cloud.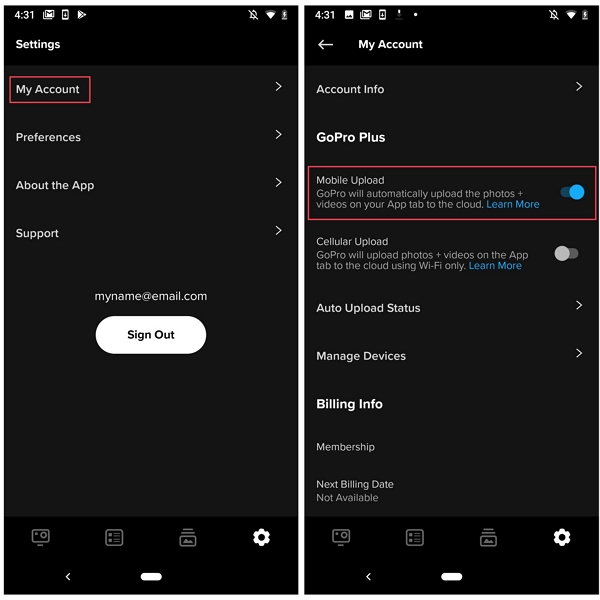 ---
Part 3. How to Use GoPro Camcorder and GoPro Videos Without Loss
Unlike other articles aimed at solving this problem, this article won't end without talking about some things to help users have seamless file transfer. It will also include necessary tips to reduce the probability of your video getting lost.
Tip 1. Take GoPro Videos Without Loss
A transfer without power failure
To avoid video loss, one important factor you must watch out for during transfer is a power failure. While it might be out of hands, it is still in your control. Power failure can be in the form of high voltage or low current, causing your PC to shut down abruptly. If this happens during a transfer of videos, there is a high tendency for your videos to get lost.
To remove such options. Use power failure protectors, e.g., UPS. Also, do not shut down your computer abruptly while transferring files without stopping or finishing the transfer process.
Using cloud storage is a better way to store your videos without having a fear of it getting lost. On the one hand, videos stored in the cloud has little probability of having malware. On the other hand, they cost money. Notwithstanding, they are the best way to keep your files due to the disadvantages of the SD card.
Tip 2. Save Camcorder Files Without Loss
There are a few ways of saving camcorder files without fearing their loss. The recommended ones are the use of SD cards and cloud storage. The use of cloud storage has been extensively discussed throughout the article.
When the camcorder saves the files on the Sd card, you can transfer using a card reader or use the GoPro app/Quik depending on the operating system.
Tip 3. Backup your Files/ Use cloud storage more
In other to avoid file loss, it is important to have a backup. Generally, it is the golden rule of keeping files. With a backup of your videos, you have an original copy in a safer place. There are two common ways of backing up your files. You can check the two methods below.
Method 1. Using an external storage device
You cause a separate storage device for the backup process. This can be done on a computer running the Windows and Mac operating systems. However, it depends on the version of the operating system you want to use.
Users with Windows 10 and 8 use the File History features.
Windows 7 users should use Windows Backup.
Mac users should use Time Machine.
If you use external storage, you must be aware of its advantage and disadvantages. The advantages are it is cheap and very fast. However, the external drive can also be subjected to the scenarios that cause zoom recordings to be lost. Examples of such scenarios are physical damage and malware infection.
Method 2. Using a cloud storage
While GoPro has its own cloud storage feature. You can further harness the best way of backing up your files by using other services. The advantages are humongous, although it might come at a price. Example of services you can try is OneDrive and Google Drive.
Tip 4. Constantly format your SD card on the GoPro Camera
Format your SD card on the GoPro camera to avoid issues related to the file system. If you format it on another operating system, you might unknowingly change the file system. If you format the SD card on the camera, the file system will be the one supported by the camera.
When you format outside and the file system change, it can lead to unrecognized SD cards or files.
Also, constantly format your SD cards. This is to remove the chances of infection by malware that can lead to loss of files.
Tip 5. Use Storage device on only one device
To remove the chances of getting malware on your storage device, use them on only one device. Sharing SD cards on multiple devices increases the risk of them catching viruses.
You can also use an antivirus every time you connect them to a computer. There are many antiviruses in the market.
This article shows hidden things about GoPro camcorder. Especially how to recover deleted videos from GoPro camcorder. It also includes tips and answers to questions that can help solve issues. After going through this article, we believe you have no fear of how you engage your camcorder and relate to issues surrounding its use.
This document has been composed with the instant HTML converter tools. Click hemled it and test it for free.
Solve Media File Problems
Recover & Repair Photos

Recover & Repair Videos

Recover & Repair Audio

Recover & Repair Cameras