Not only can I not find any restore points but it seems many on this forum are having the same issue. Unfortunately it seems as if Microsoft representatives are just giving people the run-around. You used to be able to go to restore, select a restore point and voila, system was restored to a prior build and usually working. I just installed the latest windows update and now my system is jacked and a lot of browsing history is gone (important to me) and when I went to restore... nothing. I even tried just restoring to a previous build and nothing happened. So I guess I have 2 questions: where in the hell are the restore points now? They used to be created automatically and secondly is there nothing that can be done about this or are we just screwed? Oh, and I guess number 3, why can't anybody get a straight answer from Microsoft?
Creating certain restore points for your device saves it against any potential data loss. All you have to do is to reach out to the particular restore point and get back all your data in case of any system crash or failure. If you are finding appropriate solutions for how to restore your computer to a certain restore point, in this case to any earlier date, this article will tell you about the most viable solution for windows system restore.
Before heading towards the reliable solutions, first let's just see what exactly windows system restore means. Microsoft windows has designed a tool/utility to protect or repair the device in case of accidental loss of data due to system failure or system crashes. This built-in mechanism is termed as system restore. The utility works on the principle of creating snapshots of particular system files and windows registry (say it a system image) and save this snapshot as a restore point. This restore point is a check point that helps in the process of state retrieval for backing up the important data. During the installation failures, this restore point will rehabilitate your device in to the last work condition. By default, the utility is scheduled to create a restore point once a day. But in case of activities like installing software, updating hardware drivers, installing new hardware drivers and manual creations of restore points, the restore points ae created multiple times to save changes. This article will explain the ways regarding how to backup computer to a previous date. Here are the topics that would be discussed in detail.
Part 1: How to Restore Your System to an Earlier Point?
System Restore works for Microsoft Windows Millennium Edition (ME), Microsoft Windows XP and Microsoft Windows Vista. Moreover, it does not harm the saved data on the device. How to restore your computer to an earlier date? Here are the steps y follow:
Step 1: Initiate the restoration process by saving all the necessary changes on your device. This step will help to create a string restore point with an updated version of all the data saved on the device.
Step 2: In the main menu, select the option of all programs followed by selecting accessories.
Step 3: in the accessories menu, select the option of system tools and then in next menu, selection system restore an option.
Step 4: A window will pop up showing restore system files and settings. Click next to continue.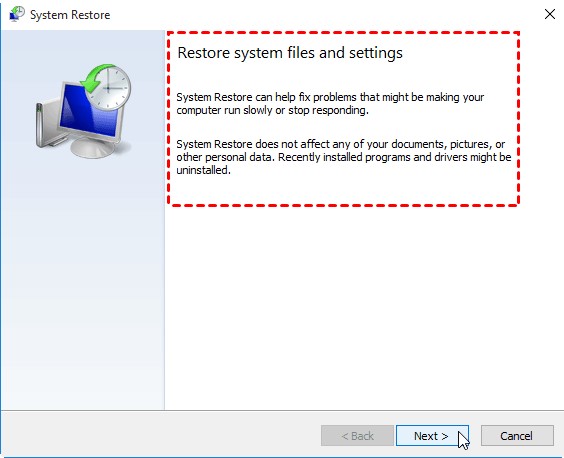 Step 5: Now select a particular restore point i.e. date and click next to continue.
Step 6: After selecting date, confirm the settings and click finish to restore the system to previous date.
Your device is set with a system restore to previous date successfully. In case, if you recently faced a problematic installation failure, you can scan for the process and then backup the data you want prior creating a restore point.
---
Part 2: Free Methods to Restore Your Computer
Restoring your device via windows system restore is a built-in mechanism to protect the device against potential data loss. Here mentioned are two of the methods that could be used to undergo the process of system restoration.
Method 1. Restoring Windows
For all the Windows users, if you are searching for the method to restore windows to previous dates, then here are the steps to follow:
Step 1: Save all the changes made on the device, prior undergoing system restore. Understand how the restore process works. It is going to create a point for the last saved changes. So in case there happens a system failure, the device will be rehabilitated to last working condition.
Step 2: Access the system restore utility either from the main men or simply write System restore in search bar.
Step 3: In system restore settings, select the particular restore point i.e. date and last saved data on system drive.
Step 4: Grant all permissions to the utility and wait for the process to complete. Once completed, your device would be saved for the restore point created.
Method 2. Restoring Mac OS X
If you are using a Mac device with Mac OS, then here are the steps to follow to set the restore point on the device.
Step 1: Save the data to secure changes made on it. In case of any system file recovery, go for a deep scan for rooting out the issue and undergoing data retrieval prior setting any data restore point.
Step 2: Now head towards time capsule utility and configure the backup settings.
Step 3: The backup process will start. Wait for it to complete.
Step 4: Now restore a time machine backup that allows you to restore without a time capsule backup. Set the restore point.
---
Part 3: How to Restore Your Computer with Backup Software?
In case, if the windows system restore fails to create an appropriate restore point for the device, then it must be due to an error i.e. System Restore did not complete successfully, 0x80070002, System Restore failed to extract the file, volume shadow copy service component encountered an unexpected error, etc. in this context, a third party application software is all you need to get rid of this system restore error.
AOMEI backupper standard is a top notch software solution to create backups and restore systems, partitions, disks and documents. It is compatible with operating systems that of Windows 7/8/8.1/10/Vista/XP. Prior employing the software, here are some check points to consider.
Create the system backup image prior creating any system restore point via AOMEI backupper.
Create the bootable media in case your device is unbootable. This media will boot your device and will recover the last system image created to avoid the data loss.
Here are the steps to follow for using the AOMEI backupper standard for restoring the device.
Step 1: Initiate the process with downloading and the installing the software on your device.
Step 2: After installation, in the main interface, select the option of restore. In the next window, click the option of select task or select image file to get the targeted system image.
Step 3: In the next window, select the option of system backup and click next to continue.
Step 4: Next select the option of restore the entire backup. Preview all the settings and click next to complete the process.
Once the process is complete, your device would set up to a particular restore point.
Hence, this article is all about how to backup computer to a previous date via windows system restore. This process helps to avoid any accidental or potential data loss due to sudden system failure. The restore point helps to rehabilitate your device to last working state. In the article various ways are mentioned for resting the device to previous date. One way is to use the windows system restore, the built-in utility. Other freeways are to use the restore settings of your device. If all fails to work, then a third party software solution is recommended with guaranteed results. AOMEI backupper standard is the software solution that can be used to restore the system image created on the device to avoid data loss.
Data Backup Services
Computer Backup

Hard Drive Backup

Mac Backup

Cloud Backup