We all know how important it is to take a timely backup of our data files. Even though there are plenty of new ways to backup content, nothing can compare with the method of taking a backup of hard disk via command prompt. It can be implemented even after a system crash, as it takes a backup of files via command prompt and not the Windows native interface.
While it is recommended to backup content on the cloud, users can always backup hard drive from command prompt directly. It is a secure way to backup your content, even when your system doesn't seem to function properly. It might seem a little tedious, but after following some easy steps, it can be done without much trouble. To help our readers do the same, we have come up with this comprehensive guide on how to backup hard drive from command prompt.
Part 1: Overview of Windows Wbadmin backup command line
Wbadmin is the command line utility that is majorly used to backup folders, files, system states, etc. on popular Windows versions (like Vista, 2008, 7, 8, 2012, and more). Besides taking a backup of your content, you can also use it to restore your backup afterward. It is a disk-based backup utility tool that is used to create a "bare metal" backup. This means the backup can be used to restore the operating system to the same or any other hardware.
The backup files that are created by Wbadmin utility are known as virtual hard disks, with the extension of .VHD. Though, it can also accompany some XML files as well. After opening the command prompt, you can simply provide the "Wbadmin /?" command. It will give you the following options:
Start backup – to run a one-time backup
Stop job – to stop running backup/restore operation
Get versions – to list detail regarding the backup that is associated with the given location
Get items – to list various items that are included in the backup
Get status – to report the present status of the operation
Now when you are familiar with Wbadmin command line utility, let's proceed and learn how to backup hard drive from command prompt in two different ways.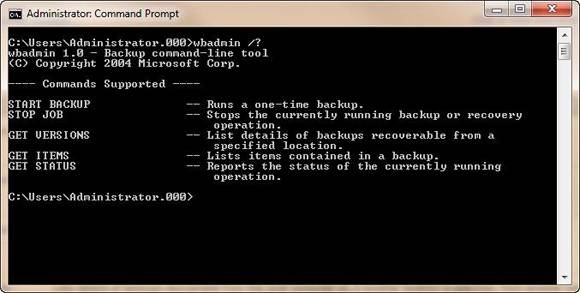 Part 2: How to Backup Hard Drive With Command Prompt and Notepad
In the first technique, we will boot the computer in command prompt to take its backup. As you know, the method can be used to backup content, even when the system is not functioning in the ideal state. Since we would be manually taking the backup, it will let us save selected content to a respective location. To backup hard drive from command prompt, follow these steps:
1. Start by turning on your computer and press F8 button to enter the advanced booting options.
2. After entering the advanced boot option, select the feature of "Repair your computer". This will set your system into recovery mode.
3. In case there is no option for "repair your computer", you need to take the assistance of a system recovery disc. Burn a system recovery disc and select it while booting your PC to perform the recovery operation.
4. While using a system recovery disc, you need to make changes in the BIOS settings. As your system will boot via the system repair disc, it will let you know by displaying a "Windows is loading files" message.
5. Subsequently, you need to make selections regarding your language, keyboard type, etc. to initiate the setup.
6. When the installation wizard would appear, click on the "Repair your computer" option instead of the "Install now" button.
7. This will initiate the Windows recovery options as your system will list the operating systems.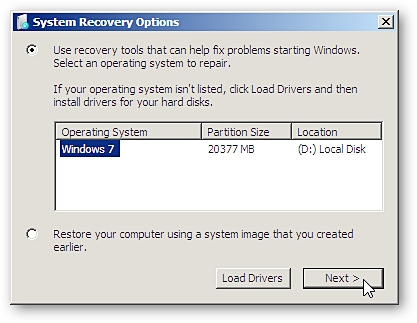 8. Simply make your selection and click on the "Next" button to get access to various recovery tools.
9. From the listed recovery options, select Command Prompt.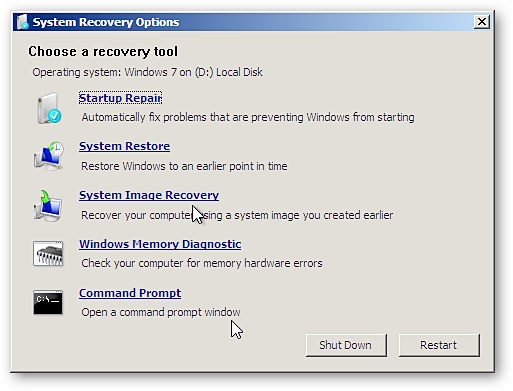 10. After launching the Command Prompt, type "Notepad.exe" to open Notepad's interface.
11. Once the Notepad's interface is opened, go to File > Save as option to launch a new Window.
12. Locate the files you wish to backup and plug in a USB drive (or an external storage)
13. Select the file you wish to save, right-click it, and send it to your external storage device.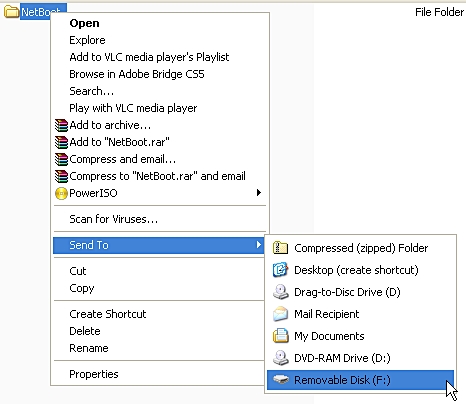 Part 3: How to Backup Hard Drive With Command Prompt and xcopy
While the above-stated method can let you directly send the files to a USB storage, this is a more time-consuming and extensive process. In this technique, we will backup hard drive from command prompt one step at a time via the xcopy command.
1. Follow the above-mentioned steps to launch command prompt from the system recovery option. Make sure that your external drive is connected to the system.
2. Now, instead of opening Notepad, give the "diskpart" command.
3. Subsequently, write the "list volumes" command to view if your external drive has been recognized by your system or not.
4. Write "exit" to leave this window after making sure that you have noted the number (or letter) allocated to your external drive.
5. Now, go to the location of the file that you wish to backup from the command prompt. You can also type the "dir" command to view the directory list.
6. Use the "cd <folder name >" command to reach the location of the files you want to save.
7. Now, give the command "xcopy <Directory-Path-To-Copy Drive-Letter-To-Copy-Into>/E". For example "xcopy D:\Data E\ /E" will copy the data from D drive to E drive. The suffix "/E" denotes that all folders (including the empty ones) would be copied.
Repeat the same for all the files you wish to backup. Since it is a manual process, it might take a while, but it is a foolproof way to yield the desired result.
Now when you know how to backup hard drive from command prompt even when your system is malfunctioning, you can easily keep your data safe. We are sure that this tutorial will come handy to you on numerous occasions. It will let you backup your files and save your important data in an unforeseen situation. Give it a try and feel free to share your experience with us as well.