1

Screen keeps going black at startup?

When I start up my computer everything seems to be working fine, but after a while, the computer's screen turns black, the power light remains green. If I switch off and then switch on again, the screen (again) starts up, and then (again) after a few seconds, shuts down. I can't use my computer now, even the safe mode. Any advice?

The first thing that you would do when you encounter this is to switch to the safe mode, checking whether you can fix this black screen. After all, you can get some computer checking and repairing utilities there, which would be helpful to you. For instance, some black screen on startup is caused by the drive, and you can easily to fix it by updating it. What if this doesn't help or you even can't access the safe mode? Usually, it's about the problem in your system registry. You need a tool to boot your computer and deal with it.

Wondershare LiveBoot Boot CD/USB is a good choice, which can help you boot your computer successfully. After that, you can use it to fix your computer black screen on startup in a few clicks by yourself, even you're a computer novice.

Purchase the program first, then you will receive a register code and a download link for the program. Download and install it on a good-working computer. Then follow the steps below to create your own bootable CD or usb drive and fix your computer black screen on boot in minutes.
2

3 steps to fix your computer black screen at startup
Step 1. Create a bootable CD/usb drive
First of all, you need to create a bootable CD or usb drive to make your computer run smoothly. Run the program and you'll get a wizard interface as follow. Insert a blank CD or usb drive into the computer and click the burning button in the interface. OK now, your work is done. The left thing will be finished automatically by the program, and you only need to take out of your bootable CD/usb drive when the process is completed.
Step 2. Boot your black screen computer
Now, you can insert the bootable CD/usb drive into your black screen computer and restart it. This time, don't let the computer start as usual, and you need to press F12 immediately when the system begins loading. Then you'll get into the Boot Device Menu. Choose "Onboard or USB CD-ROM Drive" under it and you'll get a menu as follow. Select "Boot from LiveBoot" to access your computer.
Step 3. Fix black screen on startup
When you get into your computer, the Wondershare LiveBoot will automatically run for you. Go to the "Windows Recovery" and choose "Boot Crash Solution". Here you'll get some symtoms about your computer black screen and the causes why your computer turns black screen on startup. Find the one describing what you're meeting now and follow the corresponding solution below to fix your issue.
When the problem is fixed, take out of the LiveBoot CD/usb drive from your computer, and restart the computer. Then you'll find that you can boot your computer up successfully. However, if the computer meets black screen of death when running, check this guide to fix it.
3

Recover Lost Data Caused by Blue Screen

Blue screen often comes along with your hard drive data loss.Wrong operations to fix blue screen will result in formatted and inaccessible data from your hard drive. Under these circumstances, you will need a hard drive data recovery software to retrieve your lost data back.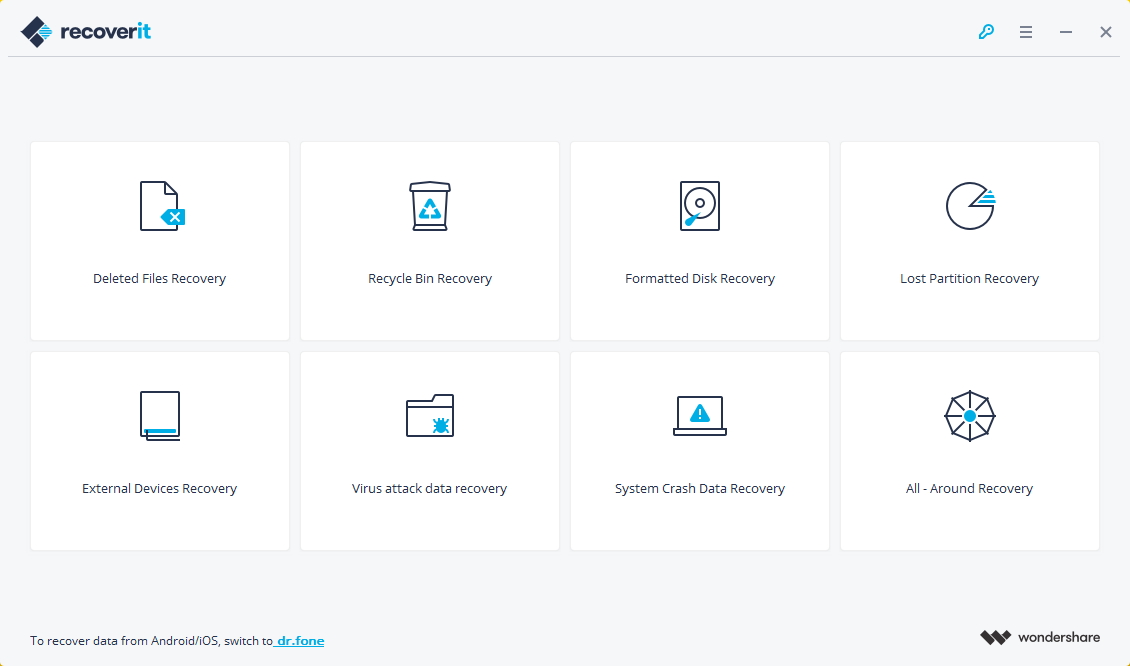 Recover lost or deleted files, photos, audio, music, emails from any storage device effectively, safely and completely.
Supports data recovery from recycle bin, hard drive, memory card, flash drive, digital camera and camcorders.
Supports to recover data for sudden deletion, formatting, hard drive corruption, virus attack, system crash under different situations.
Recoverit is capable of restoring deleted/lost files or formatted partition from hard drive (HDD and SSD),external hard drive, usb flash drive, memory card, digital camera, camcorder, iPod, Music Player and many kinds of mobile devices (Nokia, Blackberry phones and Phones with older Android OS than ICS). While offering the advanced recovery modes like "All-around Recovery" Mode, it`s pretty easy to use:
Computer Data Recovery
Windows PE

System problems

PC Errors